9 Magical Disney-themed Rentals You Can Find In The US (And Where To Rent Them For LESS!)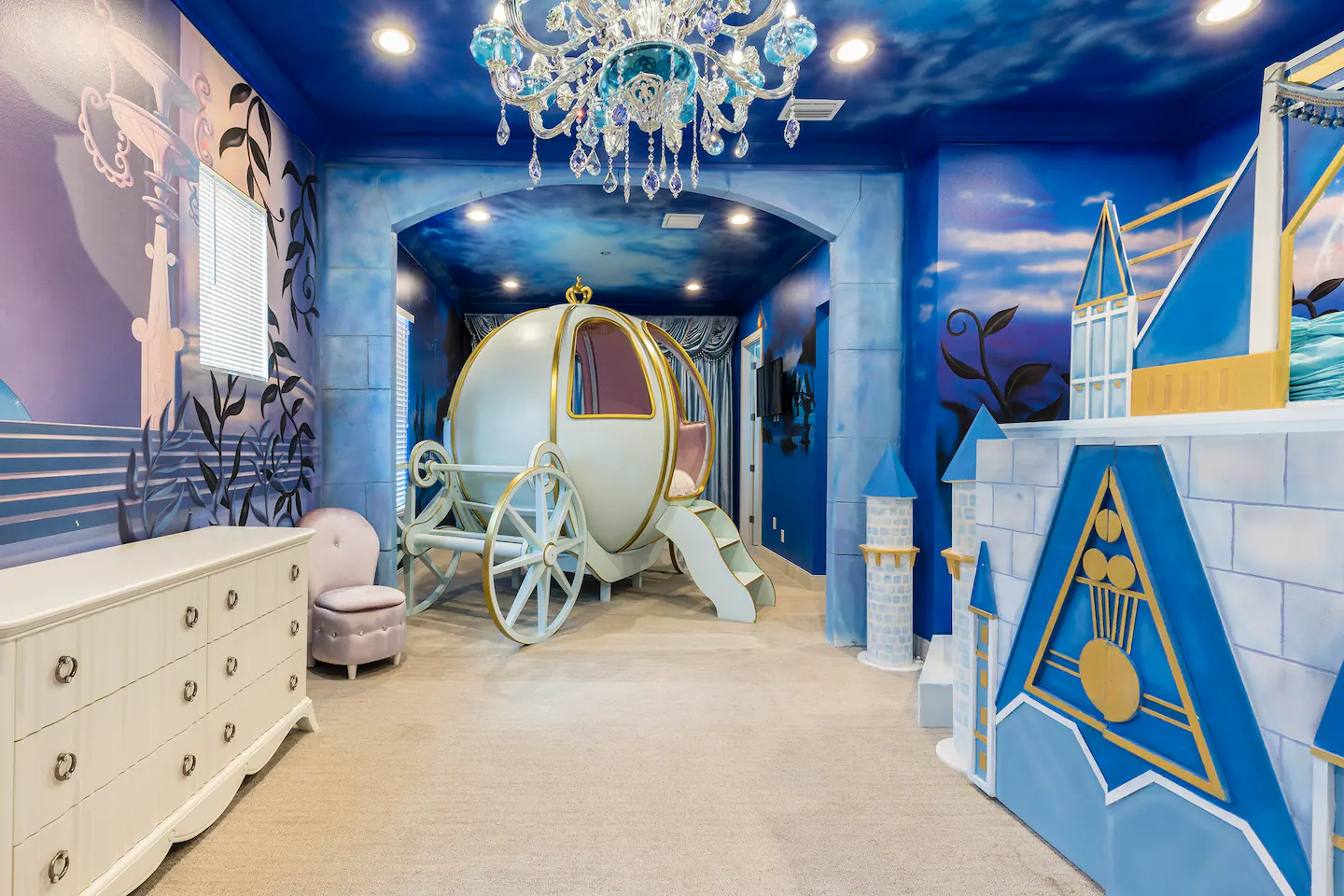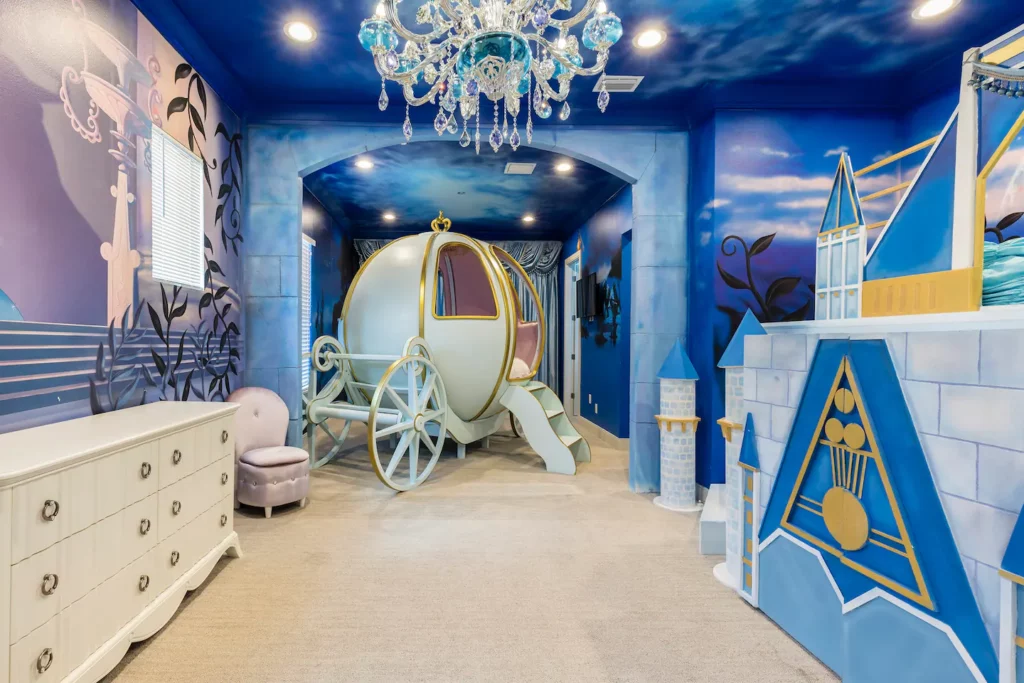 9 Magical Disney-themed Rentals You Can Find For LESS
Release the inner kid in you by staying in one of these rentals!
9 Magical Disney-themed Rentals You Can Find In The US (And Where To Rent Them For LESS!)
Disney has always been a part of our childhood. It played a big role in building what we are in the present. Their movies and series that made us cry, laugh, and even angry live in our minds rent-free. Now that you're an adult, you got the chance to relive that nostalgic experience.
Keep reading up to the last part for the bonus property!
Click any of the pictures below to view the property directly.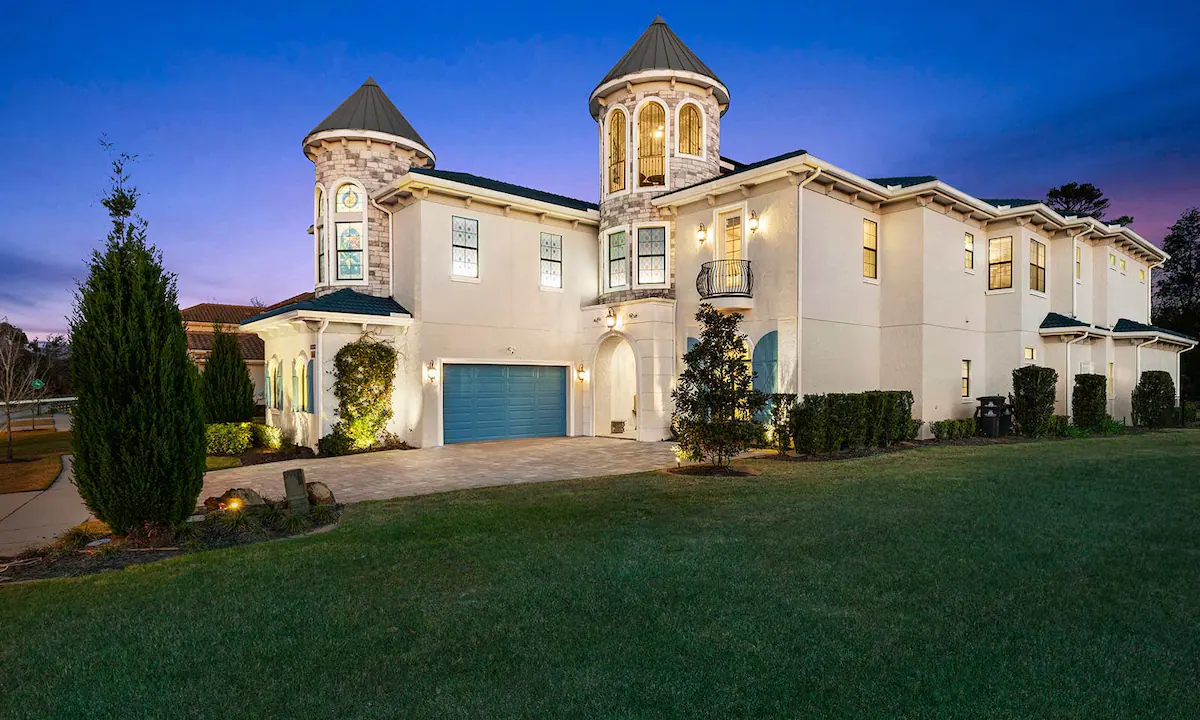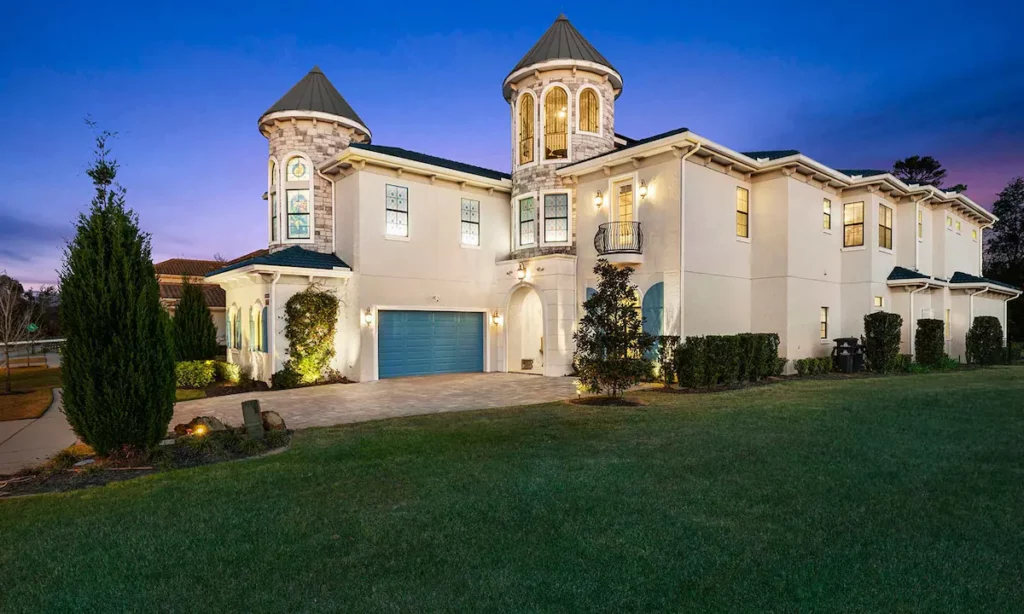 1. Small World Castle
Location: Kissimmee, Florida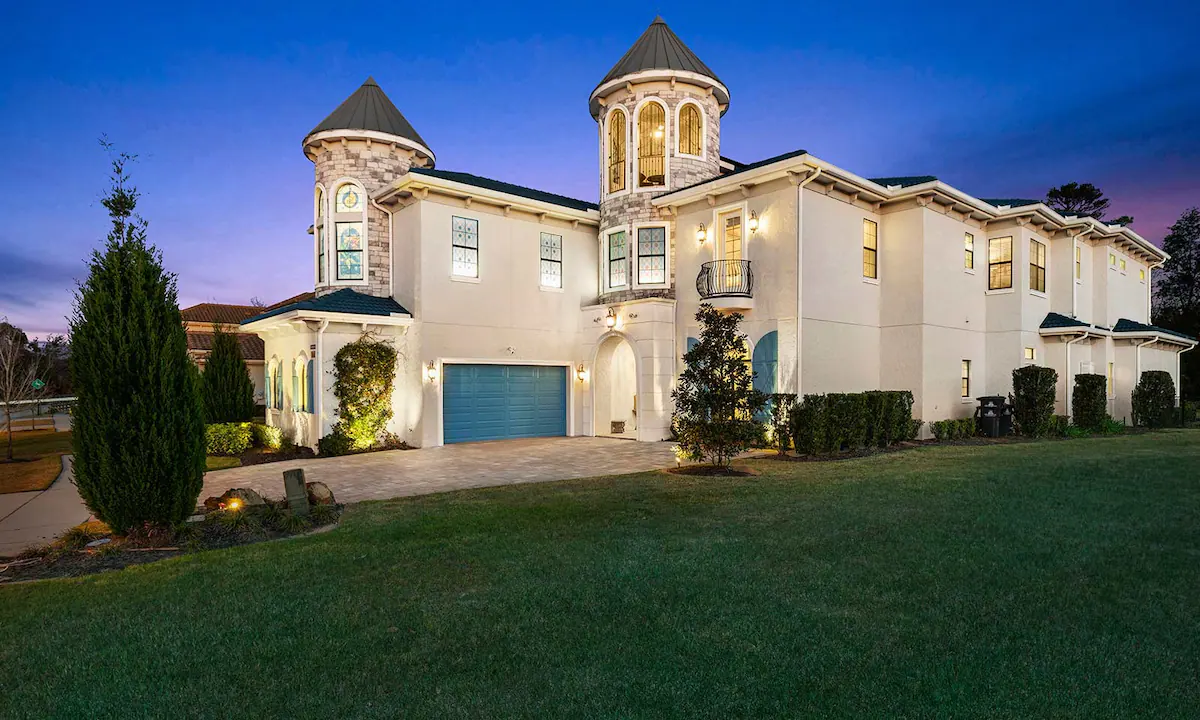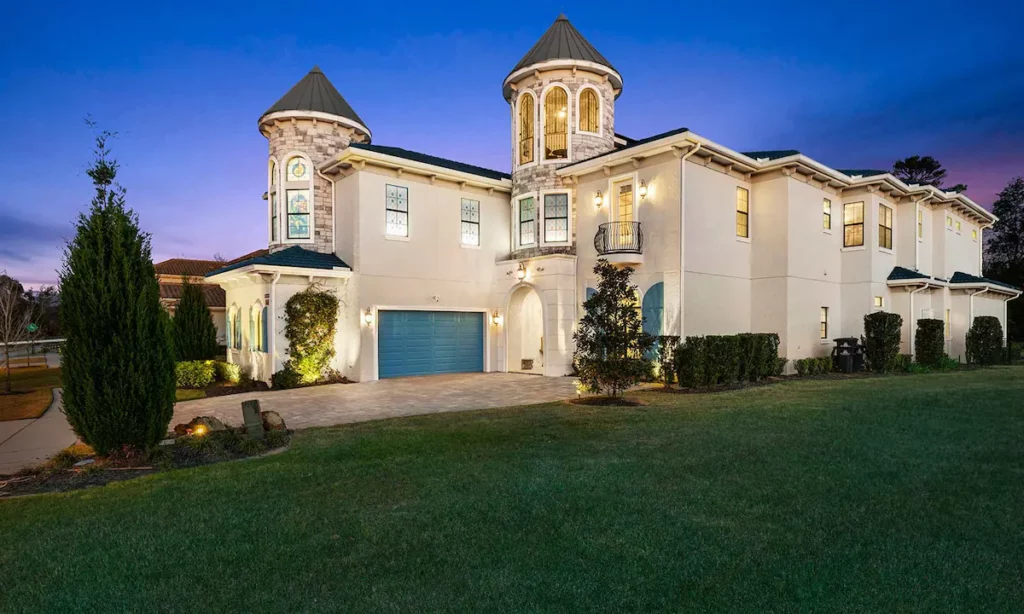 Bring your Disney dreams back to life and live like a Disney princess (or Prince Charming) in this marvelous castle in Reunion, Florida! This rental property is perfect for parties with friends and families with its spacious Grand Room, equipped kitchen, exciting themed playrooms for the kids, and a luxurious large pool for splish-splashing fun!
From the owners:
Pass through the ornate front doors of the castle into a glistening entrance crowned with a large crystal chandelier. Visible from the foyer is one of the most spacious grand rooms in the entire area, designed and decorated by professionals to maximize luxury and the benefits of open design. The Grand room provides a sense of grandeur and warmth for large parties and smaller groups. Gather around the decorative fantasy fireplace and watch your favorite movies sitting on the room's 3 large sofas while watching a giant UHD flat-screen television embedded in the 12-foot decorative stone wall. A conveniently located wet bar, with an endless supply of ice provides a great spot for drinks and snacks.
Small World Castle is unrivaled for entertainment. It was built for family quality time with fun and wonder around every corner. Every area of the home was designed to allow for relaxation, family activities, and pure imagination.
The enchanted area of the castle is an attraction unto itself. A miniature main street leads to two kids' suites and a Karaoke tower. Hidden entrances lead to various play areas. Here is a glimpse of what you can expect to find:
An enchanted forest-themed two-level playroom with a children's second-story slide, conveniently located off of the loft area for parental supervision of little ones;
A galactic-themed playroom equipped with 2x bean bag chairs, an oversized bean bag chair, a multi-arcade video game, and 2x space simulator games;
Themed hidden playrooms with a flat-screen TV, play kitchens, or dollhouses provide the backdrop for hours of fun and imaginative play.
And just so the adults don't feel left out, there is a private observation tower on the third floor. A tall table and four chairs provide a private aerie for drinks or private conversations with a beautiful view of this special area of the Reunion Resort.
Getting The Best Deal
Available on: Airbnb, VRBO, & Alternative Site
Savings: $6,647
Let me introduce you to Hichee. Its website allows you to compare prices on Airbnb, VRBO, Booking (.com), and other accommodation companies. Once you have a link to certain property in either of the sites mentioned earlier, you can paste it on the search bar of Hichee. Then put in your check-in and check-out dates and how many guests are with you. Wait for a few seconds, and voila! Now, you can easily see how much you'll save on your vacation!
This first property, I can see it's available on both Airbnb & VRBO.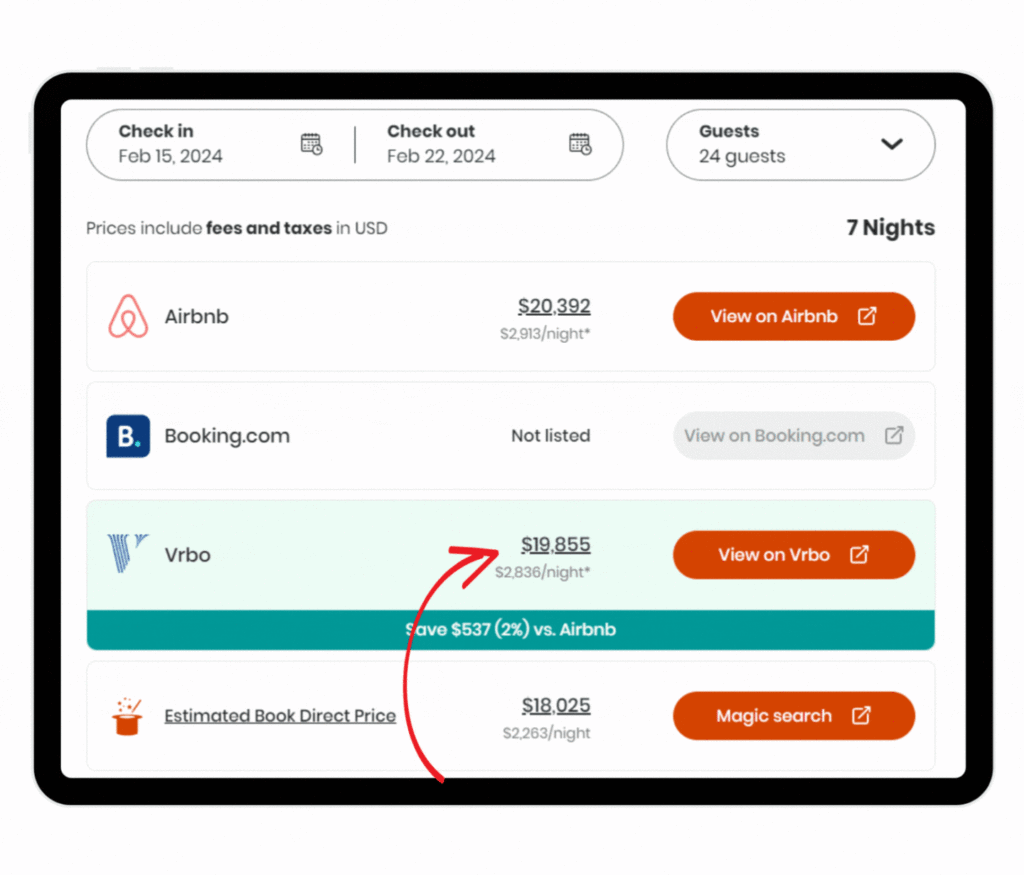 I would've settled for the price of VRBO. But I want to check if I have a much cheaper option. Luckily, Hichee has a tool known as Magic Search. Using this, I can see if there are other sites where I can rent this property for less.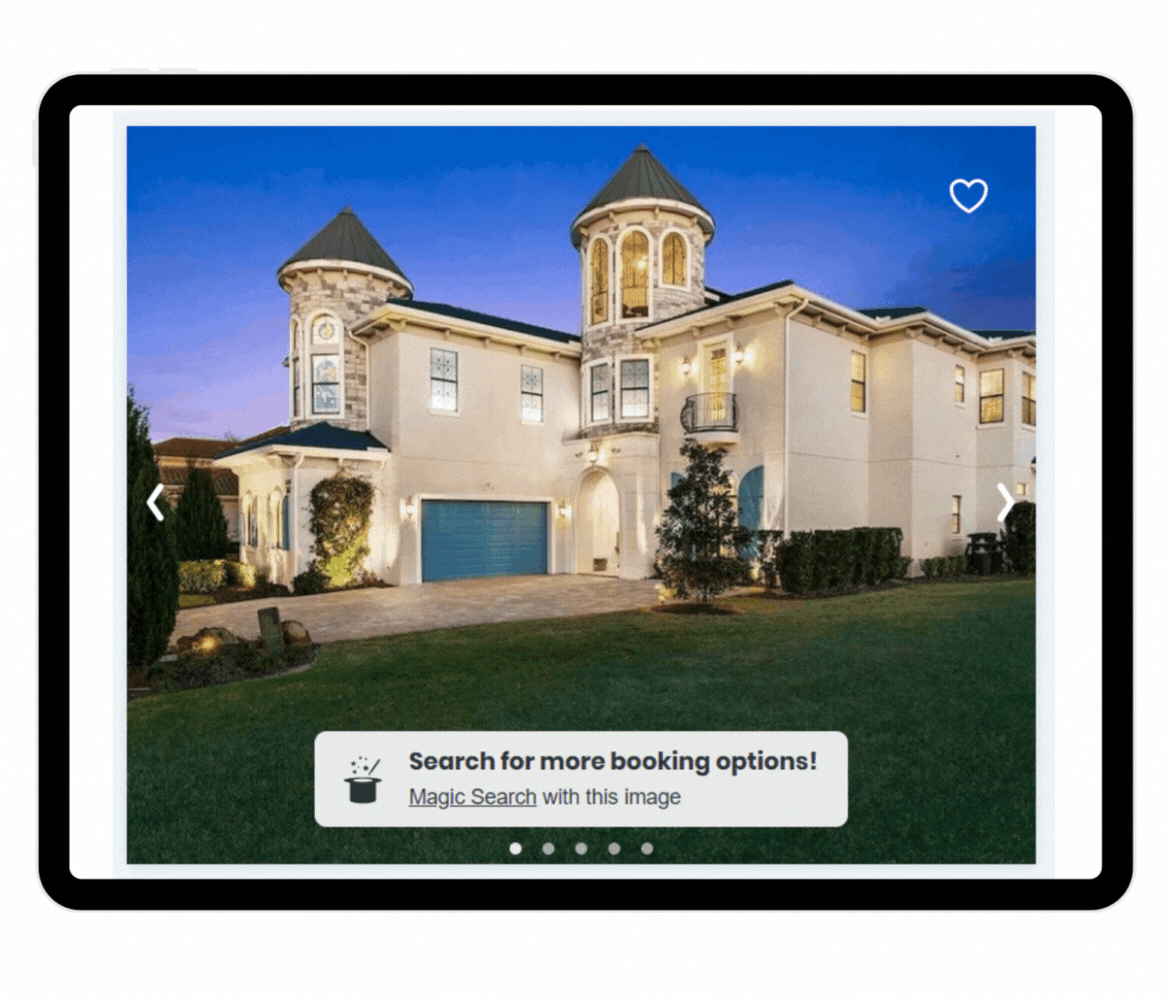 Once I clicked the Magic Search button. I scrolled down a bit and found another site where I could rent this.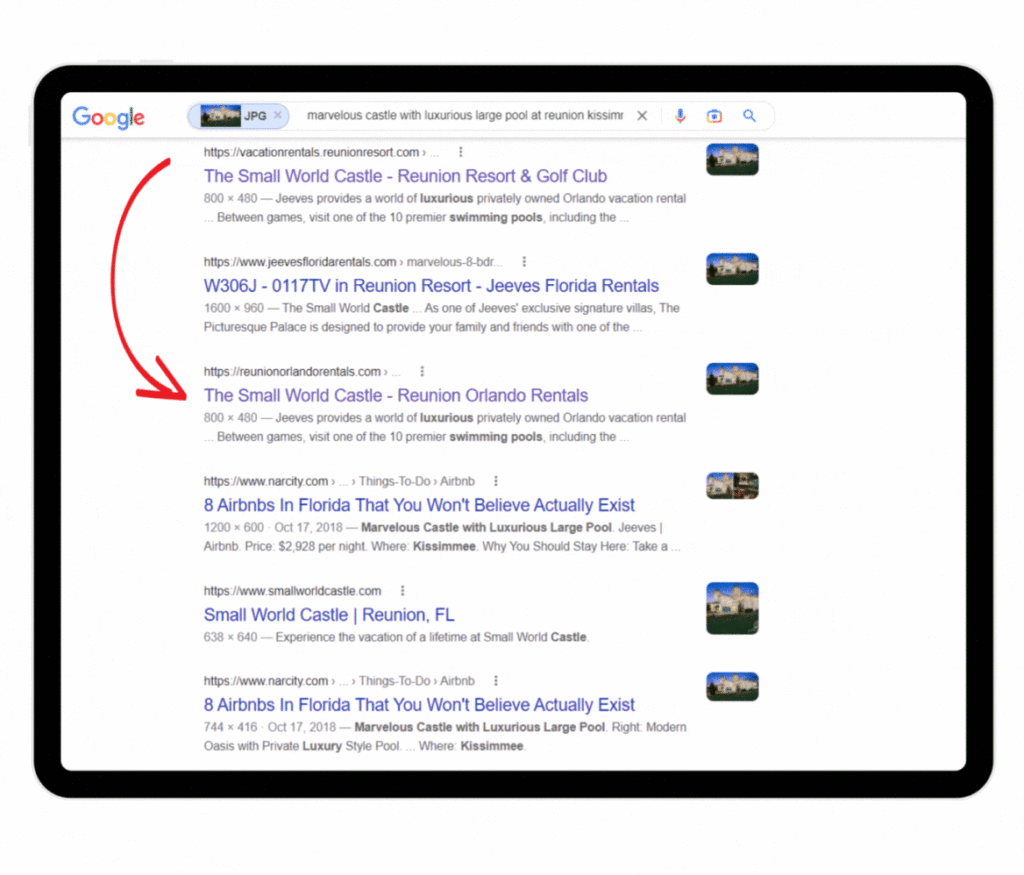 Inputting the same dates and the same number of guests, I can save a lot more!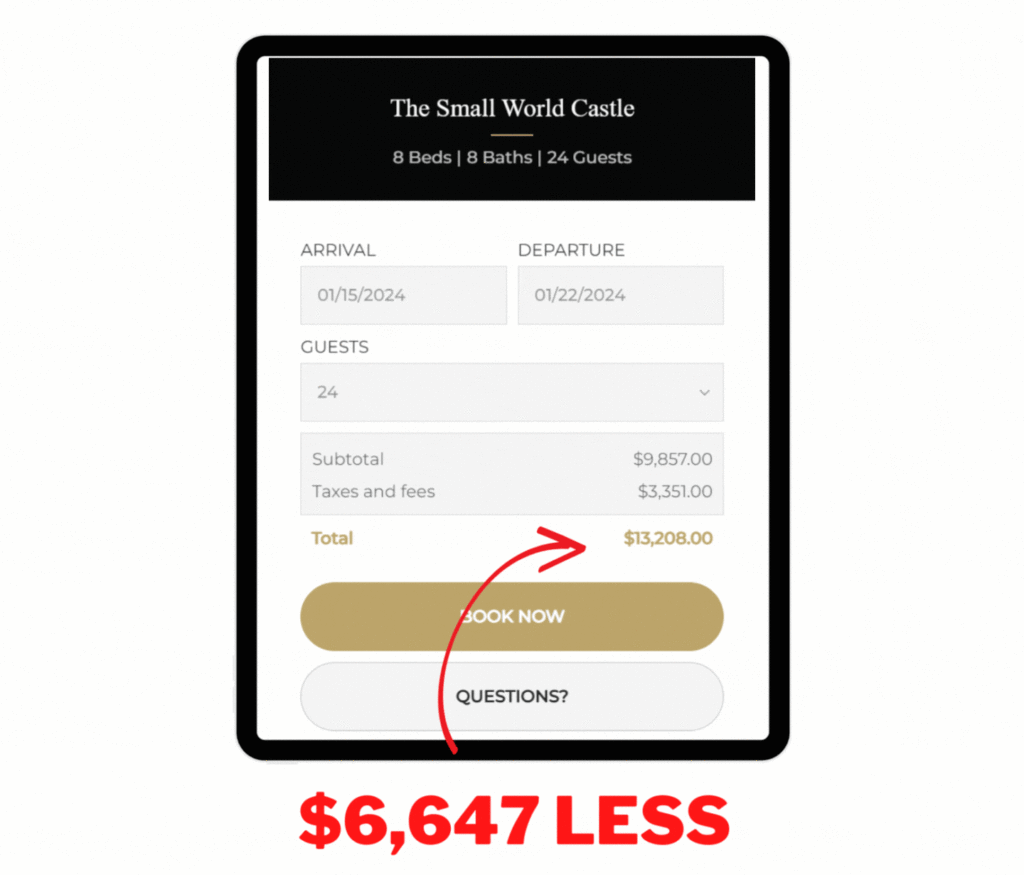 Share This Post With Friends
---
2. "Happily Ever After" Luxury Vacation Playhouse
Location: Kissimmee, Florida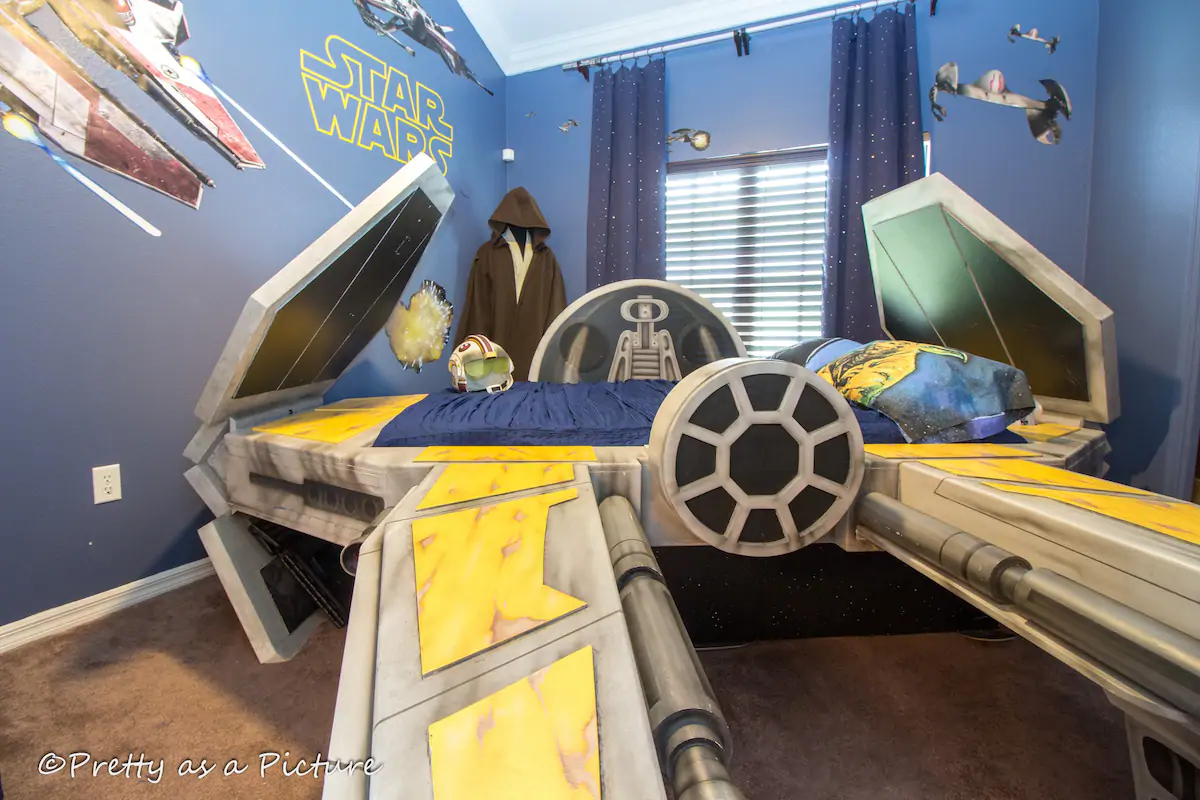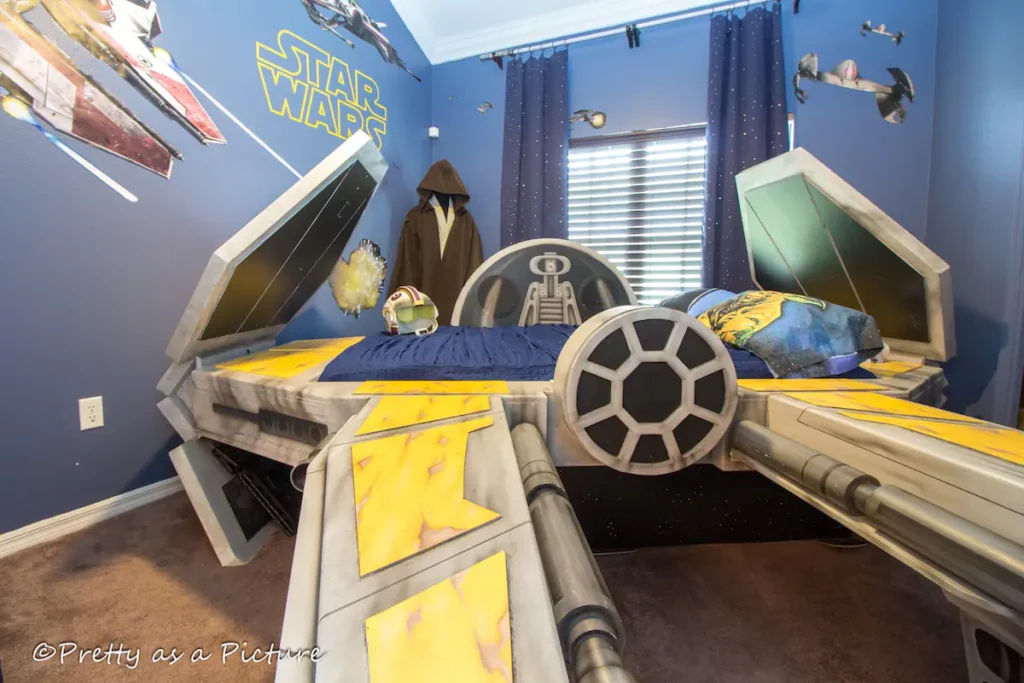 If a whole day of Disney Parks experience won't suffice, extend the fun and stay at this luxurious Disney-themed house in Kissimmee, FL! Aside from the wonderfully decorated and spacious rooms, this rental property also offers Disney-themed amenities, a home theater system for Disney movie marathons, and a comfortably-heated aqua-blue pool and family-sized spa. With this beautiful home, you'll surely have your Happily Ever After!
From the owner:
Guests brag, " 'Happily Ever After' Luxury Playhouses have the best homes for kids in Orlando," our beautifully themed homes offer more fun for kids AND adults than Disney resorts!!! (Yes, your many hours of hunting down the perfect vacation property are finally over… Come find your "Happily Ever After" here in the Ultimate Disney Playhouse!!!) And our proximity to Disney CAN'T BE BEAT… Your arrival at the Disney parks is quicker from here, even than by shuttling from a Disney resort!
Getting The Best Deal
Like the first property, I want to check if I can rent this for less. By booking it on VRBO, I can save $379!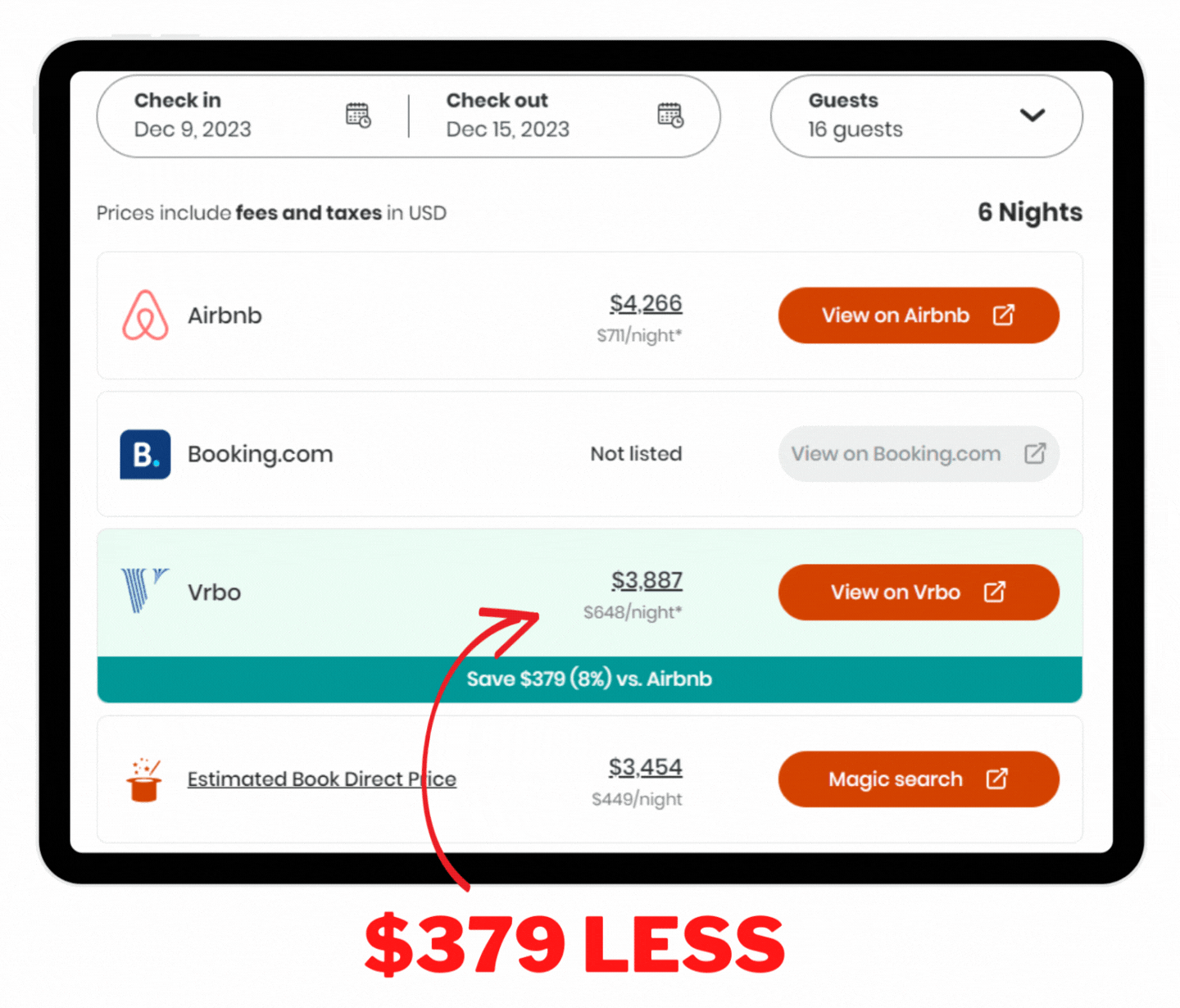 I saw another rental site and I can rent this for only $4134.81!
Share This Post With Friends
---
3. Storey Lake Luxury Villa
Location: Kissimmee, Florida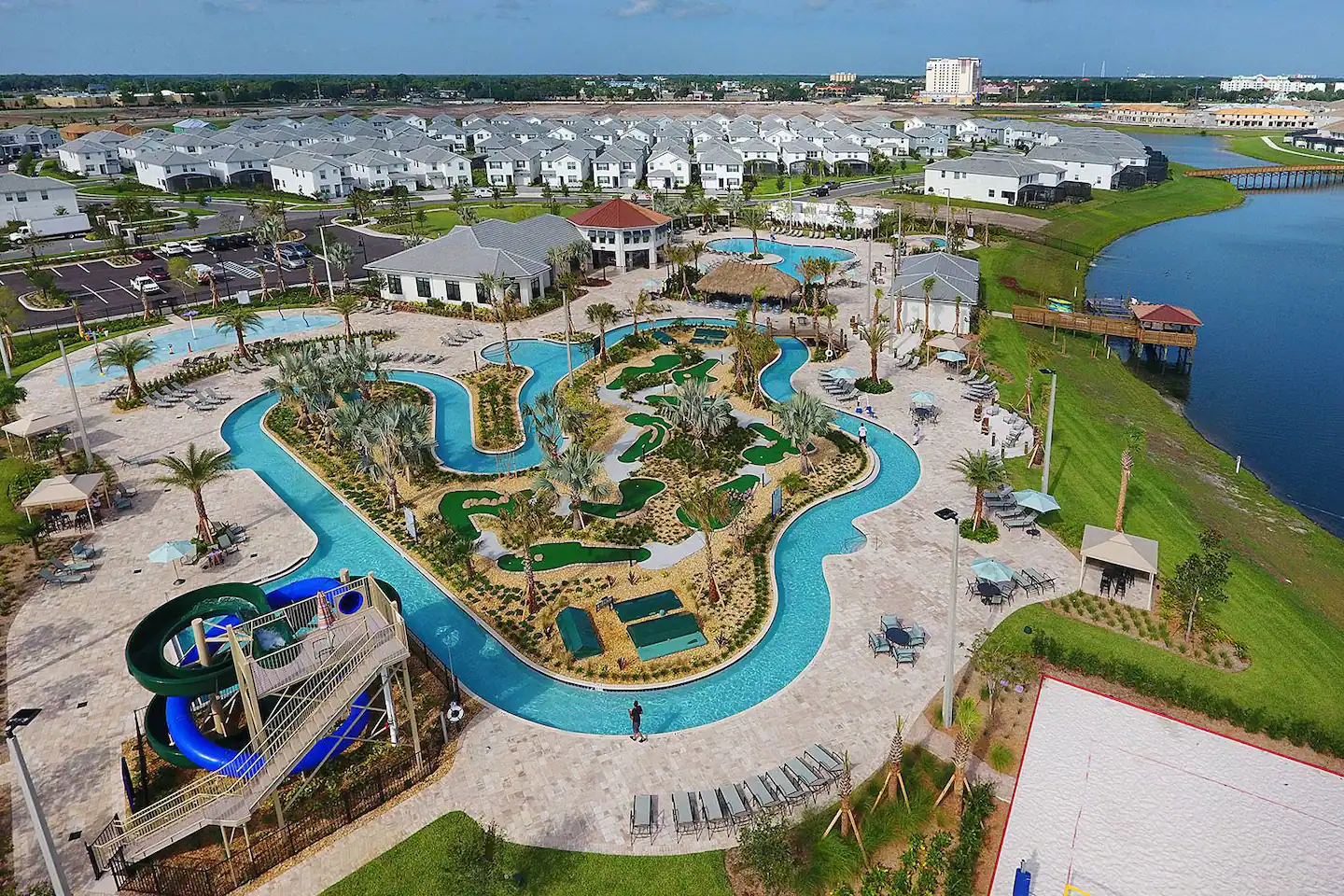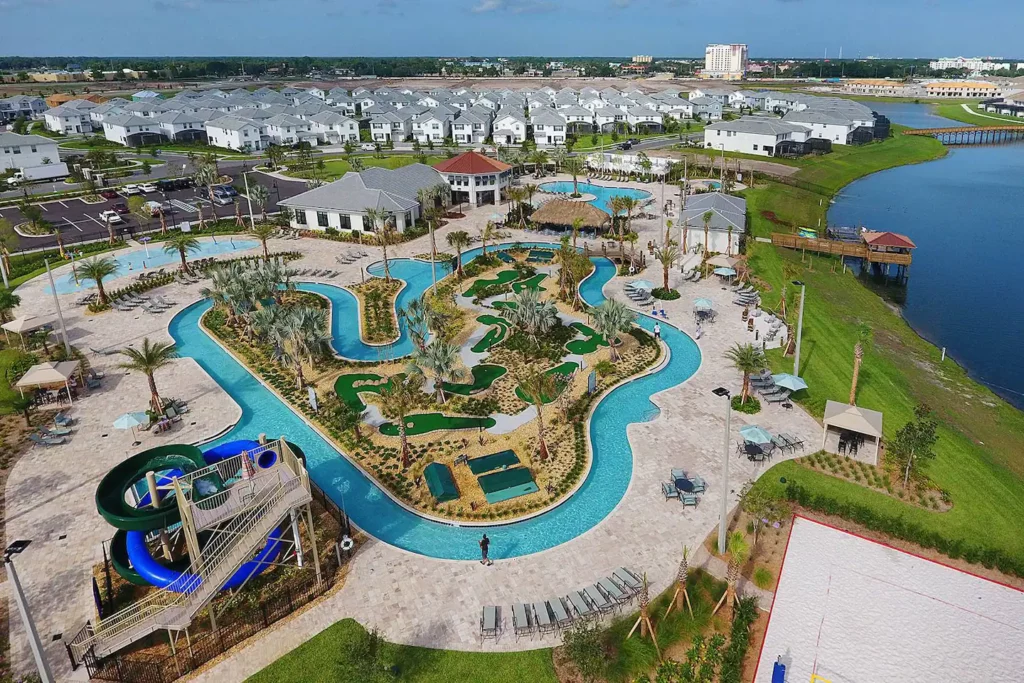 Surely to make your jaw drop with a huge Wow, this rental property in Orlando is professionally decorated with high-end amenities and luxurious furnishings. No corners were cut to ensure you have a stellar stay and loads of fun! It offers an electrifying game room, themed bedrooms, a private pool, and a fantastic home theater system for the entire family! It even has a fully equipped workspace for Mom and Dad and remote school kids.
From the owners:
This Luxury Villa in Storey Lake has the best location in Central Florida's resort-style communities. It has 8 luxury bedrooms, each equipped with Smart HD TVs. It not only has a large Space themed Game Room with unique Space Bunk Beds that sleep 4 and gaming tables including Pool Table, Air Hockey, and Foosball but also have a Luxury Home Theater with 120″ Screen and 10 Reclining Leather Seats on 3 Tiers!
The best part is the Star Wars Themed Bedroom with a unique Custom "Millennium Falcon" Bed and the "Frozen" Themed Bedroom with 2 queen princess beds.
Downstairs Great Room is equipped with 65 inch TV and a Formal Dining Room Seating 10 plus 4 Counter Stools.
Private Pool/Spa* area has a Patio Table Seating for 8, an Outdoor Sectional Sofa, and 4 Pool Loungers with the View of Storey Lake.
This property is equipped with the ultimate workspace with a 10 ft conference table and 8 ergonomic chairs; it has the highest possible Internet package (400Mbps) upgraded as of 2021, perfect for those coming for the convention, working remotely, and distance learning.
Getting The Best Deal
Available on: Airbnb & VRBO
Savings: $250
Have a wonderful stay while pocketing extra money if you rent this property on Airbnb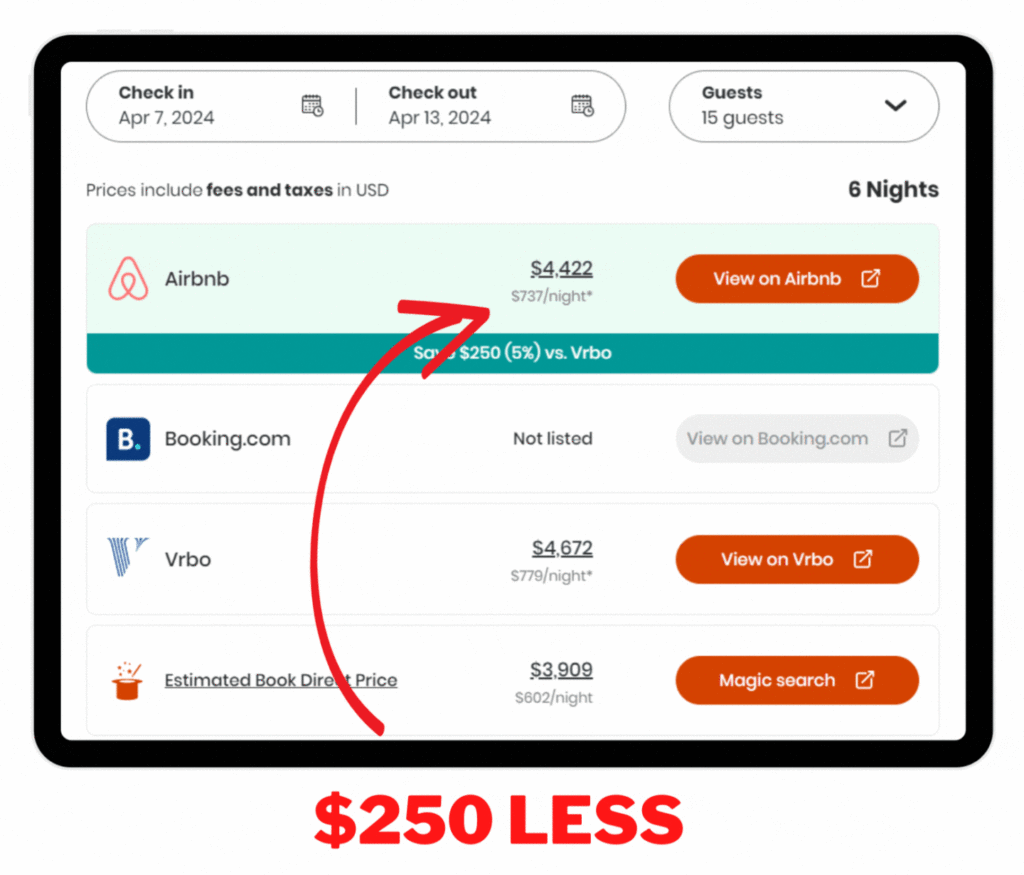 Share This Post With Friends
---
4. Luxury Villa in Reunion
Location: Kissimmee, Florida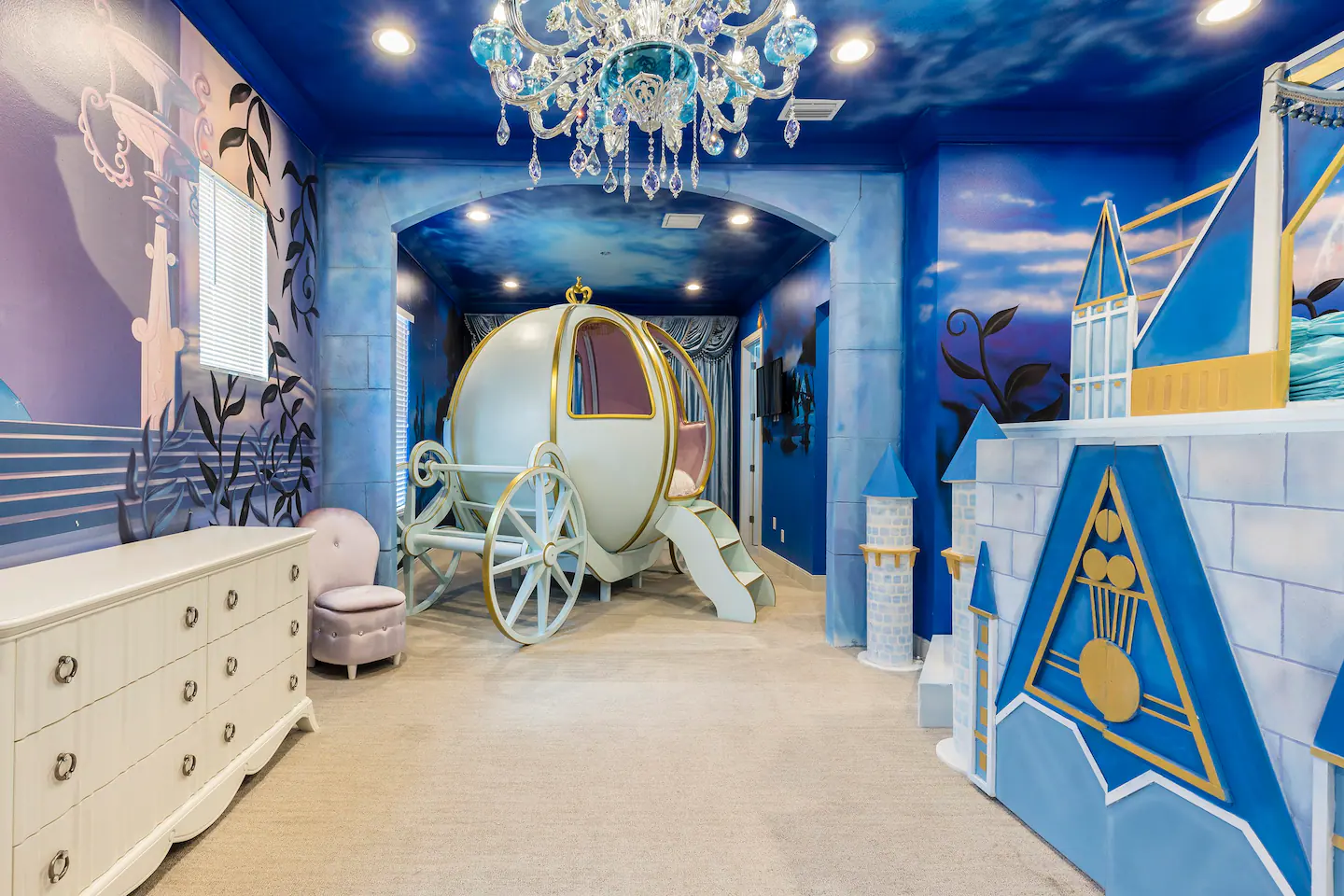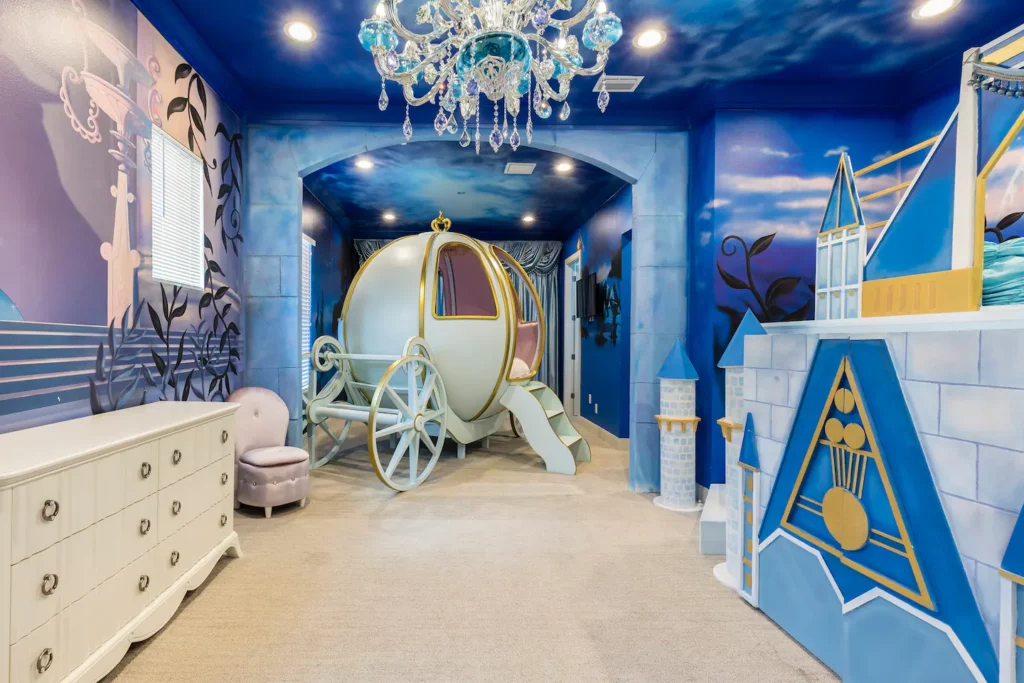 This rental property may look unassuming outside, but the real magic starts when you enter through the door. You'll be welcomed by spacious themed bedrooms, luxurious amenities, and world-class entertainment options. It also features upscale furniture, a large private pool, and a cinema-like home theater! You'll also have full access to the top-of-the-line amenities available at Reunion Resort.
From the owner:
This Luxury Villa in Reunion has 8 bedrooms with 6 Luxury King Bedrooms w/Ensuite Bathrooms, an enlarged Cinderella-themed bedroom with Pumpkin Carriage Bed and Cinderella Castle Bunk Bed w/Twin over Full Bunk, and Star Wars themed bedroom with one twin over twin Space Ship bunk bed and one unique custom Millennium Falcon bed.
This Villa is equipped with entertainment for all ages. The luxury Home Theater has 13 Zero Gravity Heat Massage Reclining Chairs on 3 Tiers with Surround Sound and a 120″ Screen. The 2nd floor Game Room has Billiards and Indoor/Outdoor Foosball, and the Star Wars-themed game room has Glow in the Dark Air Hockey table, Bowling Table, and Ping Pong table. The home features a large private pool with a waterfall and grotto, a spillover spa, a great patio area, and a lanai with a summer kitchen, fireplace, and outdoor TV for fun in the sun. Inside, your entire family or group will be delighted by amenities like an HD cinema-style home theater, game room with arcade machines & a wet bar, living area with 70" LCD TV, loft with an iPad, gourmet kitchen, and two pool view patio balconies. It also has complimentary Wi-Fi Internet access, two laundry areas, and a two-car garage. Reunion® Resort vacation homes are the ideal escape for family vacations and get-togethers that are still close to the fun. Choose from high-end custom vacation homes just 6 miles from Walt Disney World® Resort – the perfect setting for family trips, golf outings, and romantic retreats. This beautiful 8BR/10BA Villa in Reunion has over 6,000 square feet. It features upscale furnishings and décor, courtyards, game and entertainment rooms, home theaters, state-of-the-art electronics, breathtaking views of the resort's championship golf courses, and more. Enjoy Reunion's world-class amenities featuring a fitness center, game room, spa, splash pad, on-site restaurants, and neighborhood pools.
Getting The Best Deal
Available on: Airbnb & VRBO
Savings: $1,359
HiChee listed this property only on Airbnb. By using the Magic Search Option, I can see that it is also available on VRBO. More than that, I can also save a whopping $1,096!
Share This Post With Friends
---
5. Extraordinary Disney Themed Home
Location: Davenport, Florida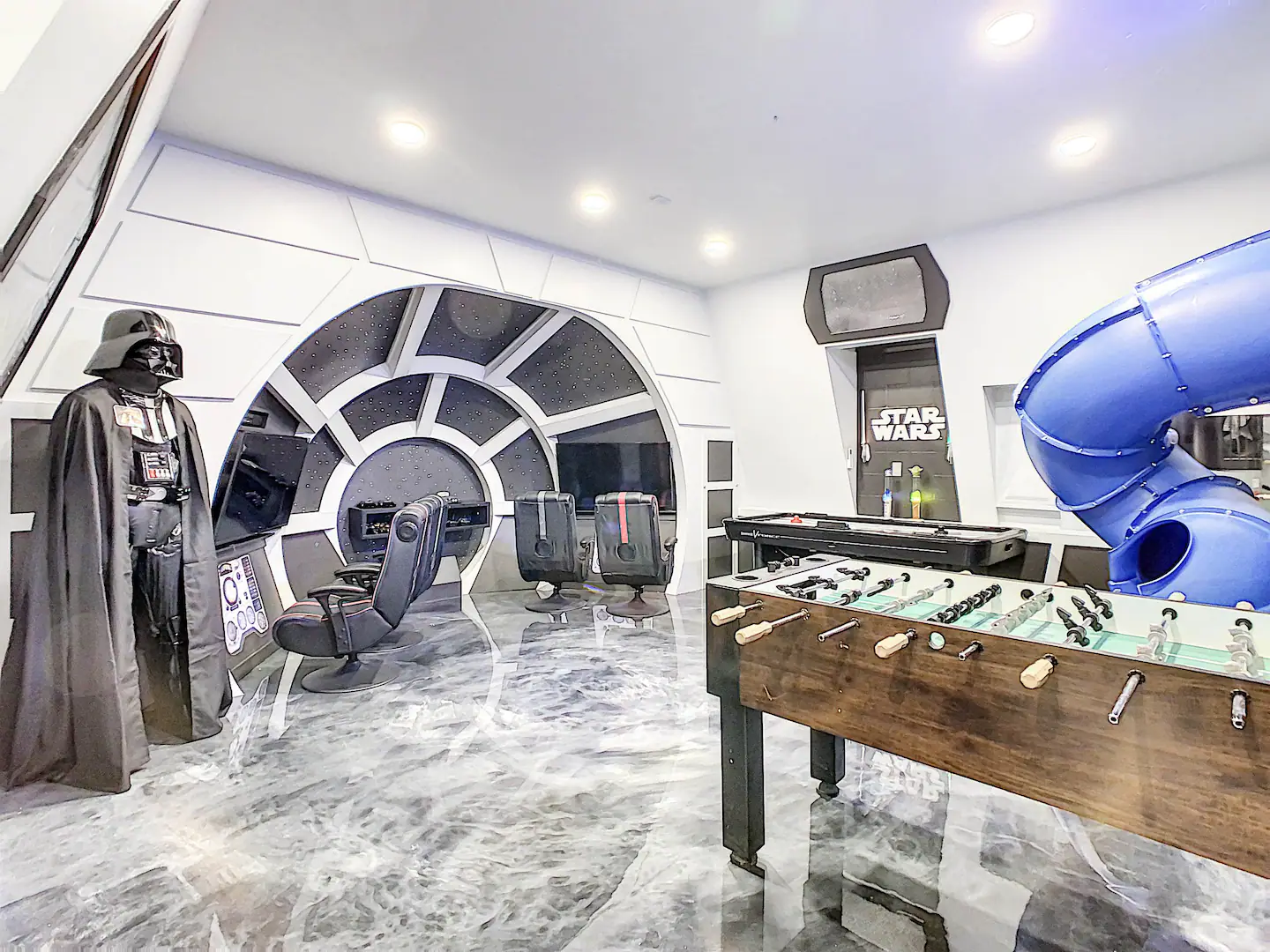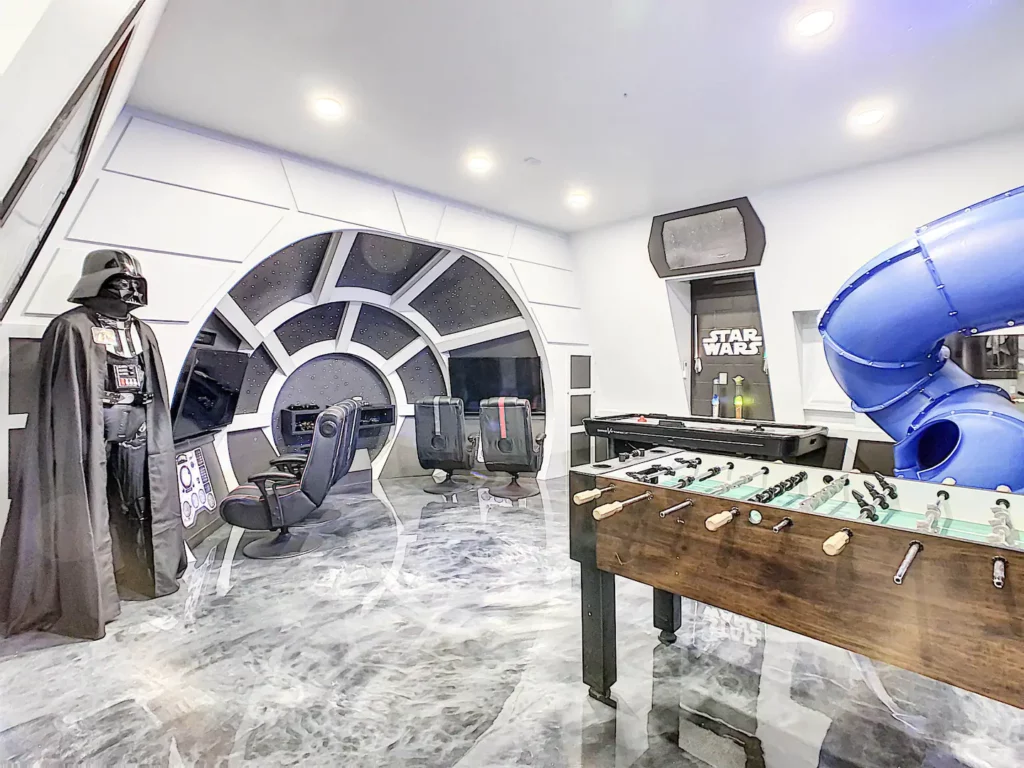 Maybe you have kids who are still into Disney. Maybe you have kids who are into Star Wars and The Avengers. Maybe you already have a terrible headache because you can't decide whether to stay in a Disney or Avengers-themed room. Well, this rental property has it all. You're welcome! Aside from having the best of both worlds, this one-of-a-kind home has a wonderful indoor playroom, an equipped kitchen, a home theater system, and a Star Wars game room! The kids can have their fun while you relax in a spacious superhero bedroom because you're a Supermom/Superdad—and you deserve it!
From the owner:
Our home is truly ONE OF A KIND!! We went above and beyond to provide a world-class vacation experience that caters to everyone's wants and needs. Our home is set up so everyone can enjoy a fun-filled vacation right in our home without ever having to leave. Our outdoor oasis is the BEST around. We spared no expense in making this relaxing getaway with plenty of comfortable seating for adults and kids. Inside and out, we have so much to do! Large outdoor connect four game, pool toys, indoor playground, game room, movie theater room, 320+ movies themed rooms, and game room.
We pride ourselves on an extremely clean home that you will want to return to.
Getting The Best Deal
Available on: Airbnb & VRBO
Savings: $1,313
Thanks to HiChee, I've found an amazing deal! If I book this rental on Airbnb instead of VRBO, I can pocket $1,313!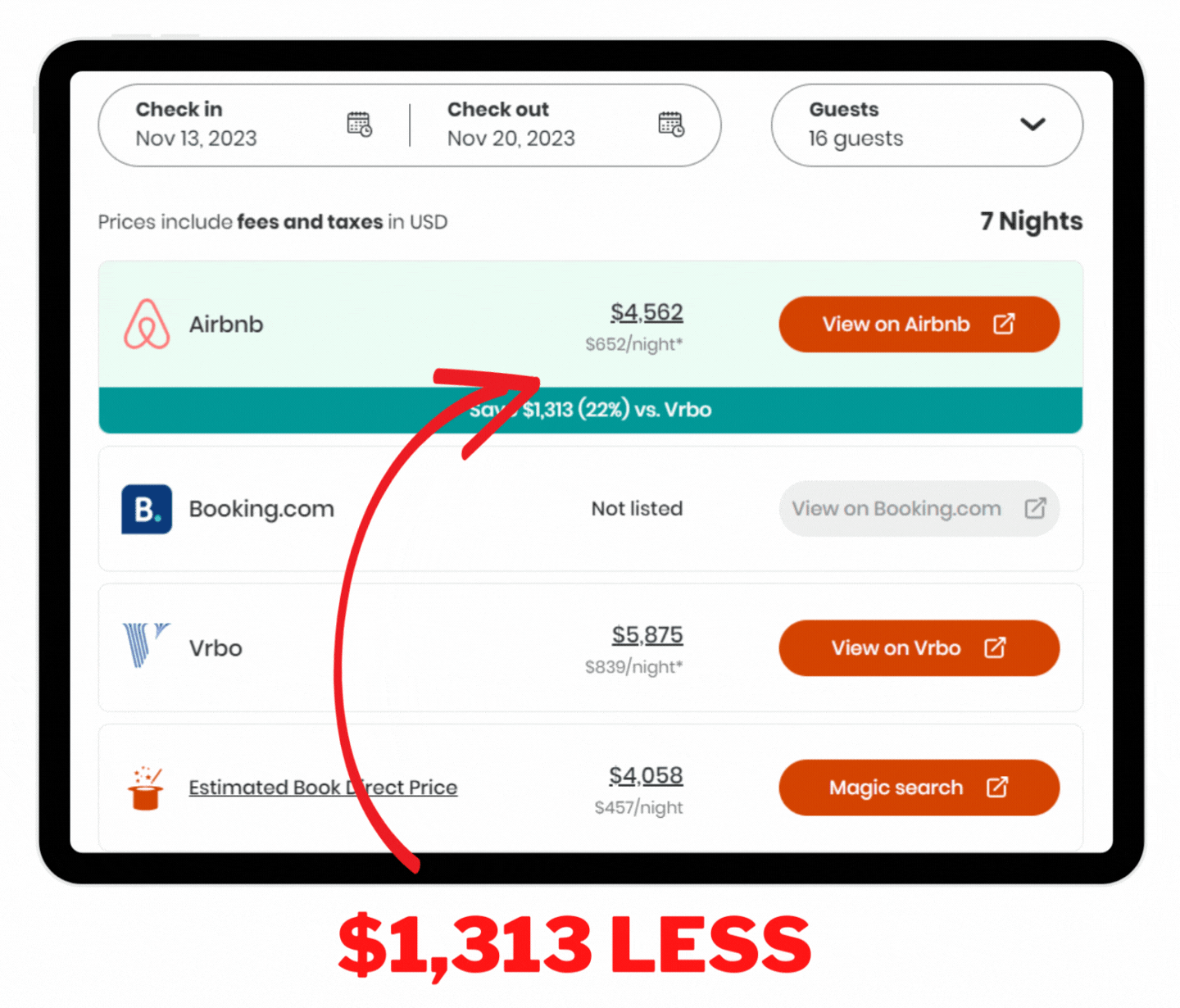 Share This Post With Friends
---
6. Lake View at Storey Lake
Location: Kissimmee, Florida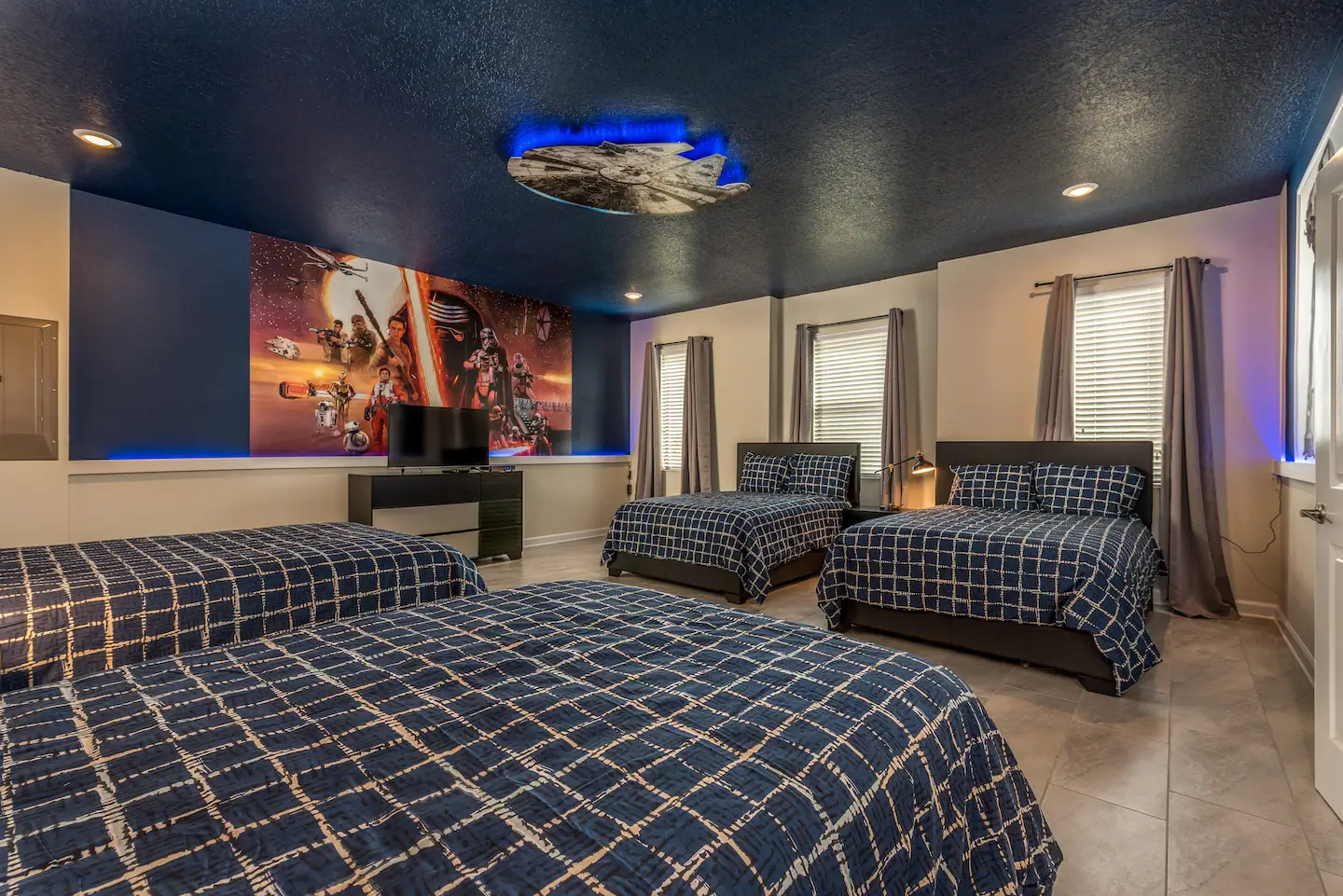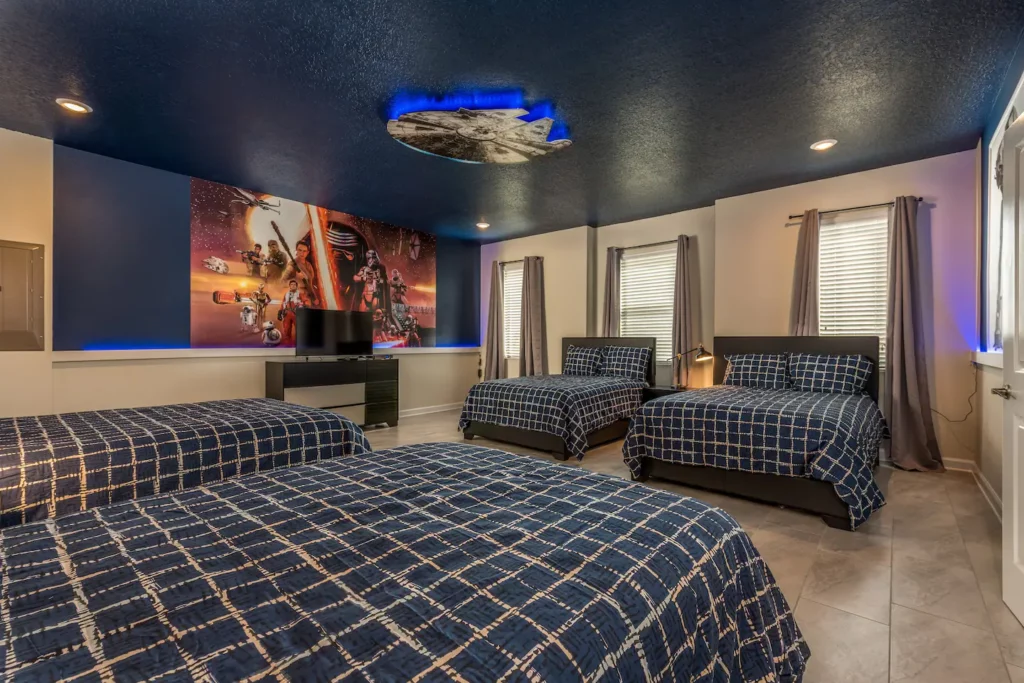 Sitting next to the iconic Walt Disney World Resort and at the heart of Orlando's world-class theme parks and attractions, this rental property gives you not just a place to stay after a whole day of fun at the parks—it also features a cool game room, an upscale home theater system, spacious themed rooms, and a huge pool for some sun and water fun!
From the owner:
Located next to the Walt Disney World Resort and central to Orlando's world-class attractions. From incredible resort-style comforts to convenient access to nearby shopping, dining, and entertainment.
Getting The Best Deal
Available on: Airbnb & VRBO
Savings: $174
Once again, I used HiChee's Magic Search Option and discovered I could also book this rental on VRBO. For lo, I saved $333 by booking on VRBO.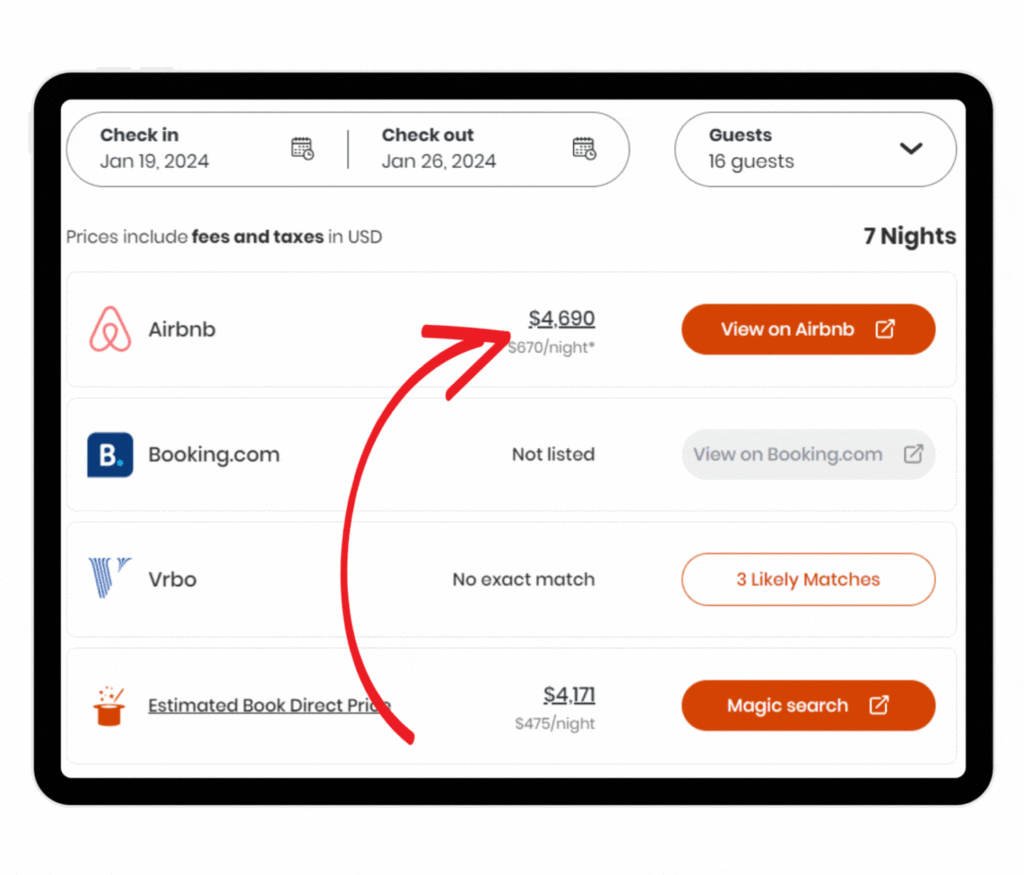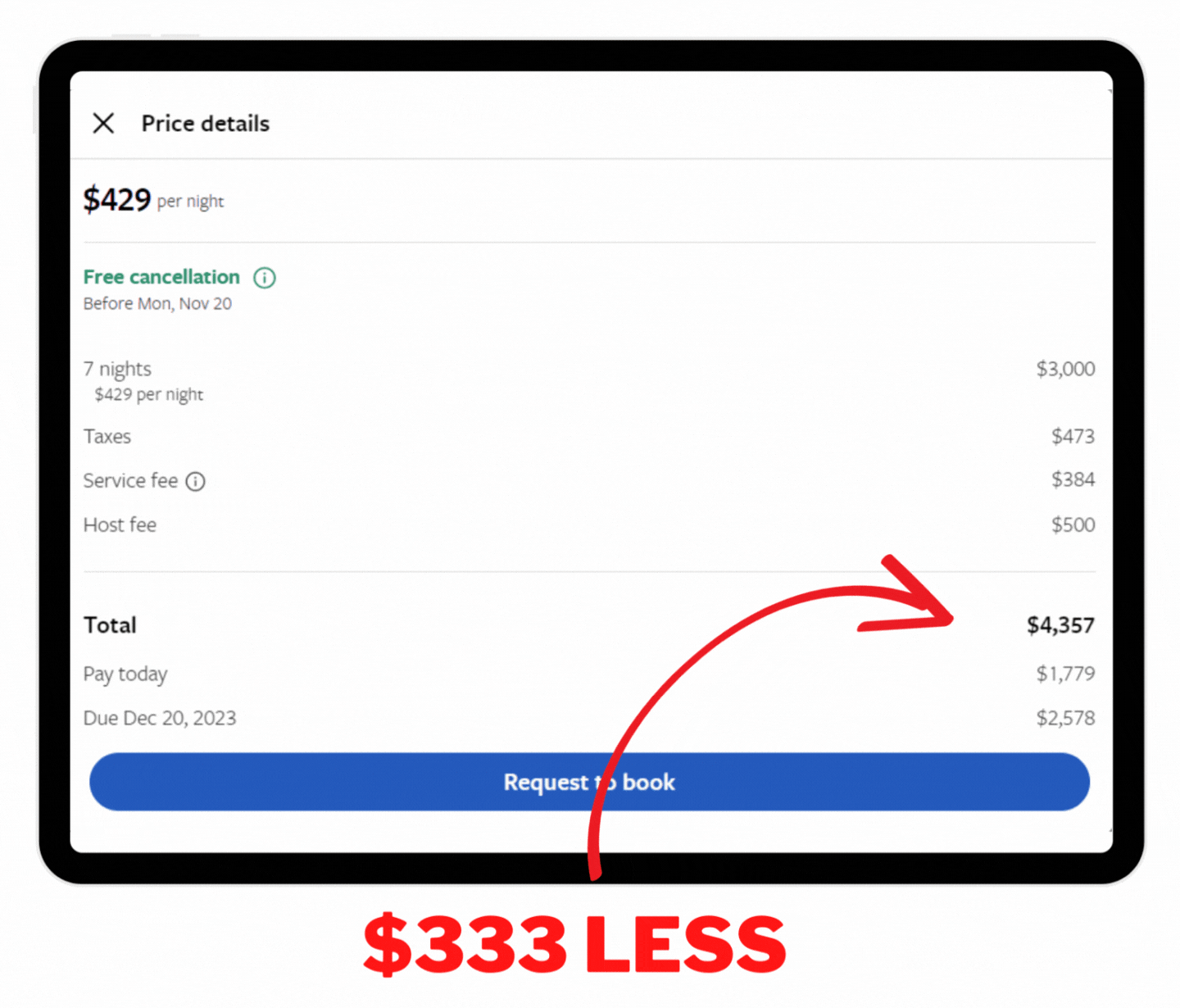 Share This Post With Friends
---
7. Be Our Guest Cottage
Location: Anaheim, California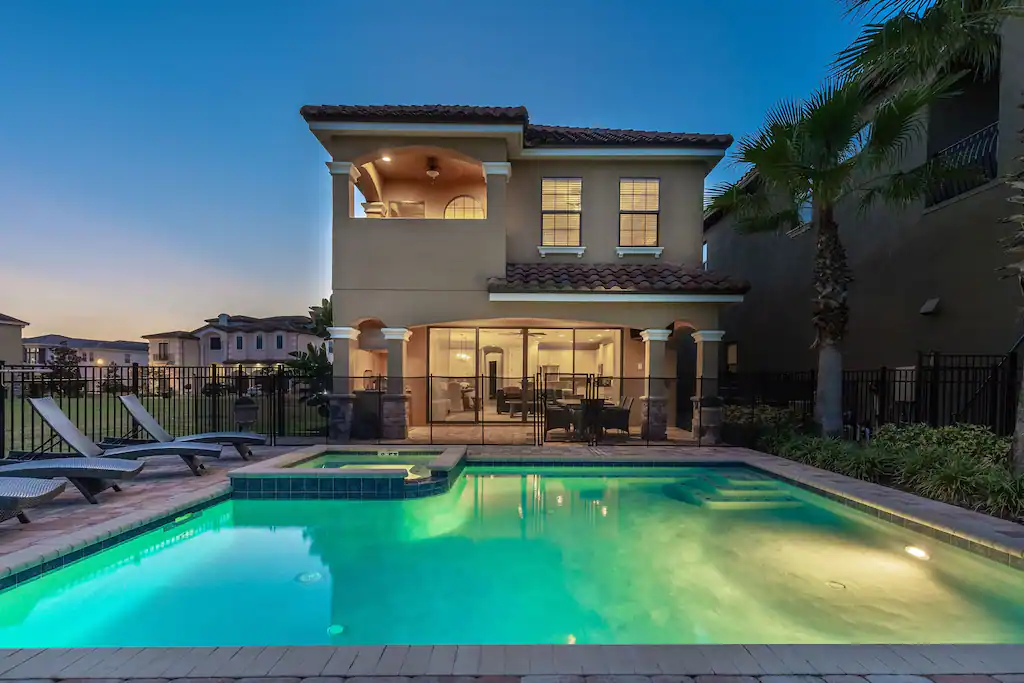 No Lumiere may welcome you and sing, "Be our guest. Be our guest. Put our service to the test." However, you'd still be enchanted with the Be Our Guest cottage that features 5 spacious rooms with themed kids' rooms, not one, but two game rooms, a custom theater and game room, a fully-equipped kitchen with granite countertops, and a private pool with spillover spa—resort-style amenities but in the privacy of your very own villa.
From the owner:
As you enter this villa, you will be greeted by the natural light and large open-concept layout. The living area is perfect for the entire family to relax and unwind while enjoying the 65-inch SMART TV with comfy and ample sofa seating. The villa has a fully equipped kitchen with granite countertops, stainless steel appliances, and everything you need to prepare delicious meals or quick snacks. The kitchen also features a breakfast bar with seating for 4. Adjacent to the living area, the dining area features a beautiful dining table with seating for up to 10 guests. There is a half bathroom and laundry room located on the first floor.
Head through the large sliding doors to soak up all the Florida sun in the private pool and spillover spa. The pool area features 4 sun loungers, a sofa, relaxing chairs, and a fenced-in pool with a self-closing door. You can also dine al fresco with a meal straight off the built-in BBQ grill and outdoor dining table with seating for 6. If you want more relaxation, head towards the first floor's custom theater/game room. The custom theater/game room features theater seats for 7, perfect for hosting a movie night. It also has a Star Wars Trilogy Arcade game to keep everyone entertained. There is more entertainment on the second floor for all to enjoy. As you head upstairs enter the diner-themed game room filled with neon lights. You can play a friendly pool competition in the chrome pool table or just sit back and relax with a 60-inch TV, two 43-inch TV, bar, and bar seating. There is also a multi-arcade platinum version with over 1,000 games to entertain you all day.
Be Our Guest Cottage is the perfect home away from home for you and your family to experience a magical and ultimate family vacation.
Getting The Best Deal
Available on: Airbnb, VRBO, & Alternative Site
Savings: $666
This property is listed on Airbnb and VRBO, as shown on HiChee. I can already book it on any of those two. However, I wish to save more while enjoying my vacation. Through Magic Search Option, I discovered that it is also available on another booking site. This discovery led me to a savings of $666!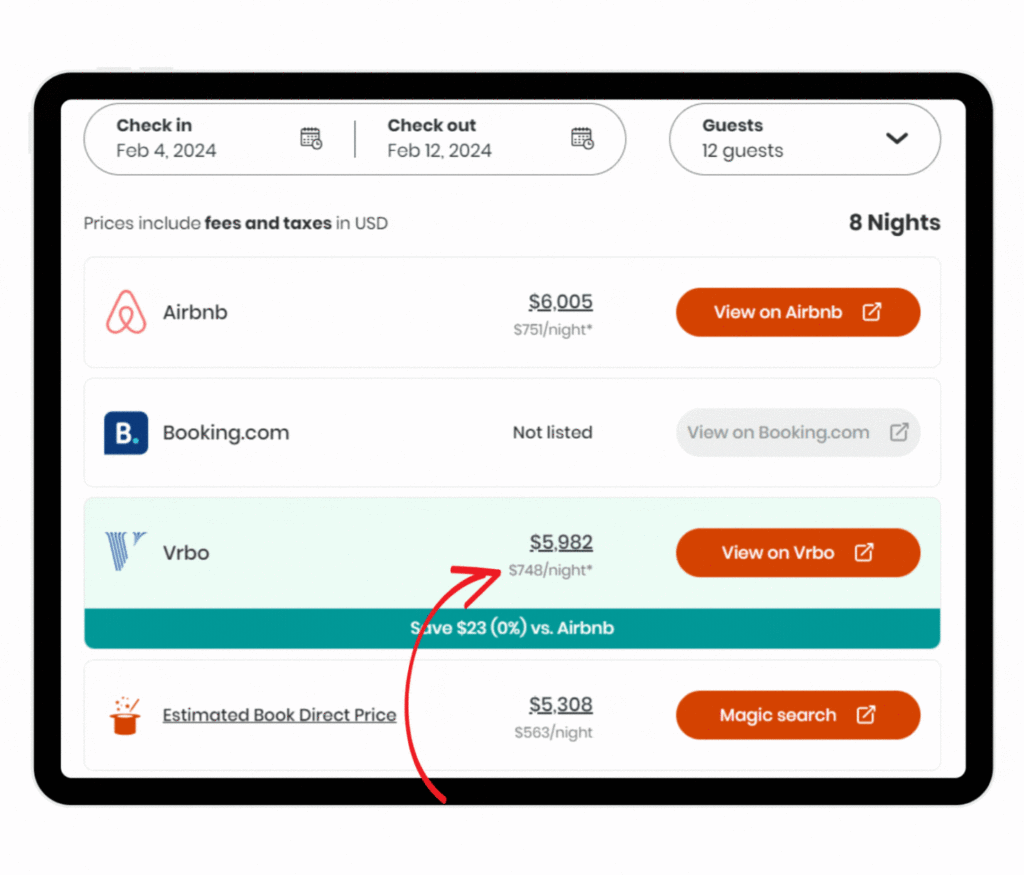 Share This Post With Friends
---
8. Disney Themed Vacation Home
Location: Anaheim, Florida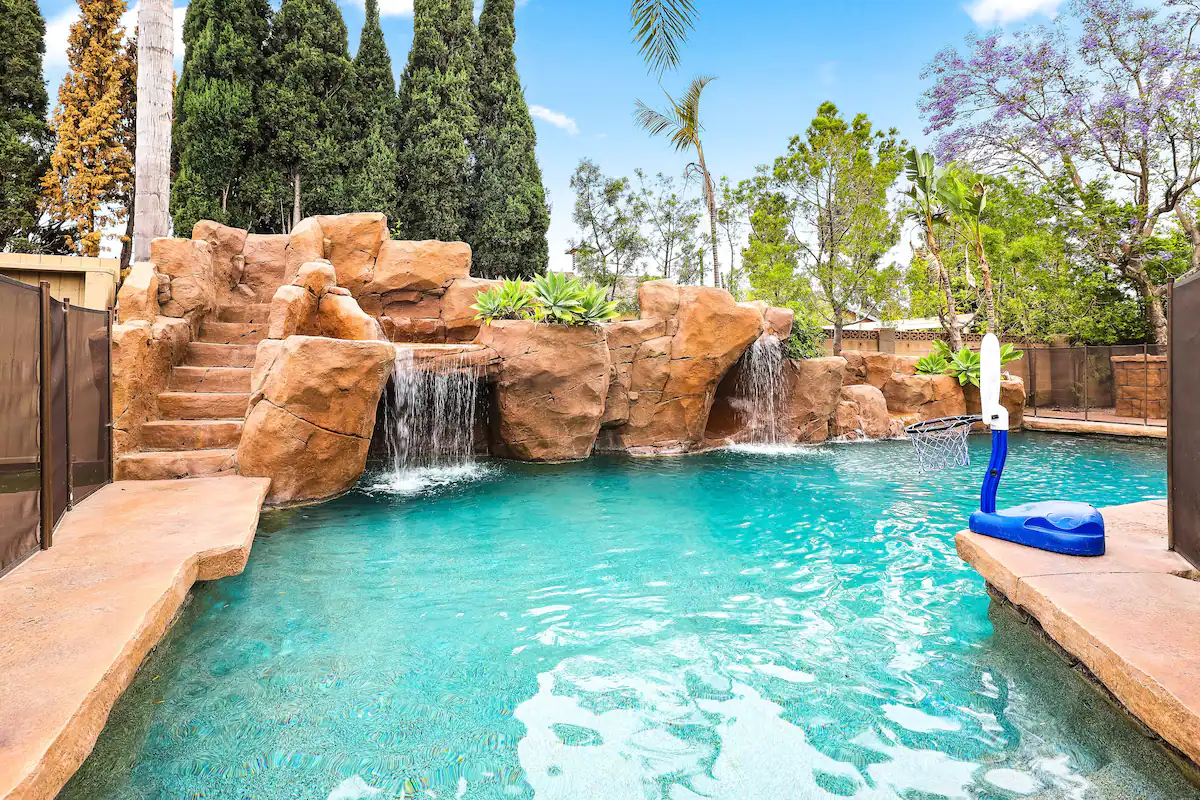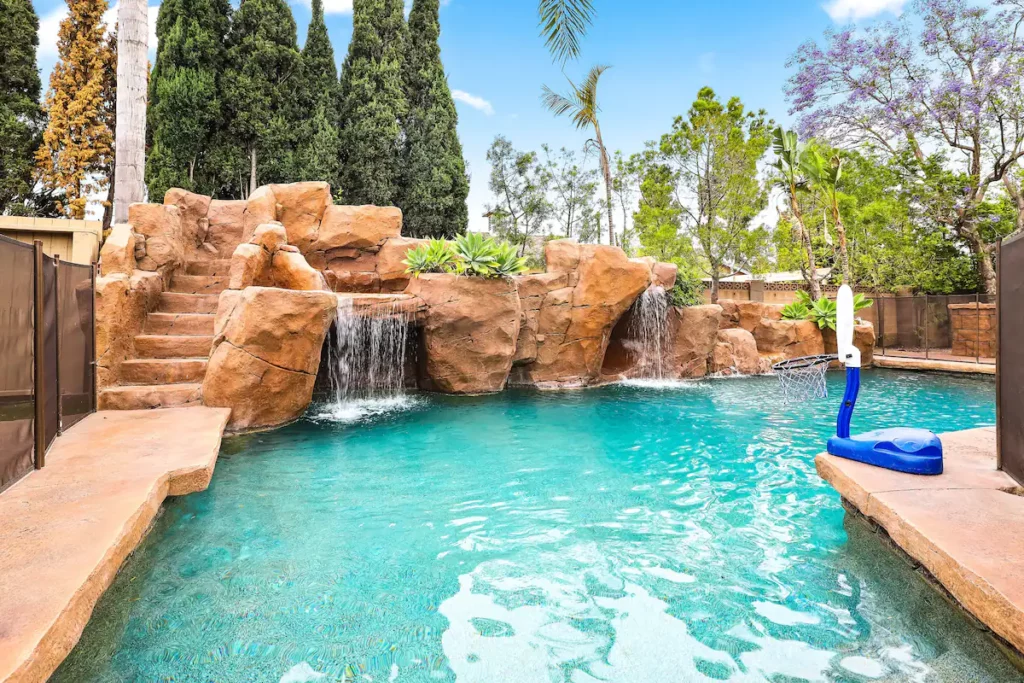 Take the entire family out on the ultimate Disney vacation they will never forget, and be the SuperDad/SuperMom that you are with this rental property in Anaheim, California. The fun doesn't stop after you've left the Disney parks because the magic continues in this cottage with its wonderfully-decorated themed rooms, an engaging playroom for the kids, and an exciting heated rock pool and slides! It also features a mini golf course and a charming, relaxing patio after a long fun day.
From the owner:
This spacious home provides ample room for everyone to spend time together or to enjoy in smaller groups. There is a fully equipped kitchen with a large island. We have everything you need to make a five-course meal, or you may choose to cook outdoors with our natural gas grill and bar. Gather around and have a hot cup of coffee from the Keurig (K-cups provided) at the kitchen island, the large dining table, the patio dining table, or the outside bar around the grill and outdoor mini fridge.
Enjoy your own personal oasis/backyard. You can spend hours in the rock pool with its waterfalls and slide (pool toys and floaties provided).
Your up-and-coming Broadway Stars can show off their talents on the stage with stage lights in the playroom. There are a variety of Disney Character costumes for your little ones to get into their roles. The playroom also has a TV, Nintendo Switch (with four controllers), toys, and board games. There is even a foosball table in the living room.
Watch your favorite Disney Movie on us during your stay. All the TVs include Disney +, Hulu, and ESPN + subscriptions. You also have the option to log in to your own subscription streaming services. All Televisions run on Roku, which offers local channels and free content.
This home has everything you will need and then some. For our younger and youngest guests, we provide a baby bath, dining booster seat, crib with sheets and strollers. You only need to bring yourselves, clothes, toiletries, and personal items. When it is time to say goodbye, take the wonderful memories to last a lifetime!
Getting The Best Deal
Available on: Airbnb & VRBO
Savings: $592
I first saw this stunning property while searching through VRBO. With the help of HiChee, I can save $592 more if I book this on Airbnb!
Share This Post With Friends
---
9. Positive Latitude Villa
Location: Kissimmee, Florida
Get ready for a magical vacation at Positive Latitude Villa! This Disney-themed rental offers an incredible private waterfront oasis with a renovated pool, spa, and stunning pond views and fireworks. Located in the sought-after Emerald Island Resort, just minutes from Disney and other attractions, this luxury home boasts 8 bedrooms and 4.5 bathrooms. Relax and unwind in the spacious pool area, surrounded by nature and wildlife, or gather on the covered lanai with comfortable furniture for your entire group. The home has been recently updated with new furniture, paint, kitchen cabinets, and all the amenities you could ask for. You'll find a Harry Potter-themed game room with a 75″ smart TV! Plus, for extra fun, a golf cart is available to explore the resort's fantastic amenities. We've poured our hearts into making this your dream vacation home, and we can't wait to share it with you!
From the owner:
Located <5 min from Disney! You will have a renovated private pool & spa with pond and fireworks views with fun updated patio furniture! The home offers 8 brs with 14 beds, sleeping 21 (3 kings, 2 queens, 2 fulls, 7 twins), a custom Harry Potter game & media room with a skee ball table, air hockey table/ping pong top, 75″ smart TV, beverage cooler and more. Located in one of the closest gated communities to Disney, it is the perfect home for your family's getaway. NEW – a golf cart to enjoy!
Getting The Best Deal
Available on: Airbnb & VRBO
Savings: $700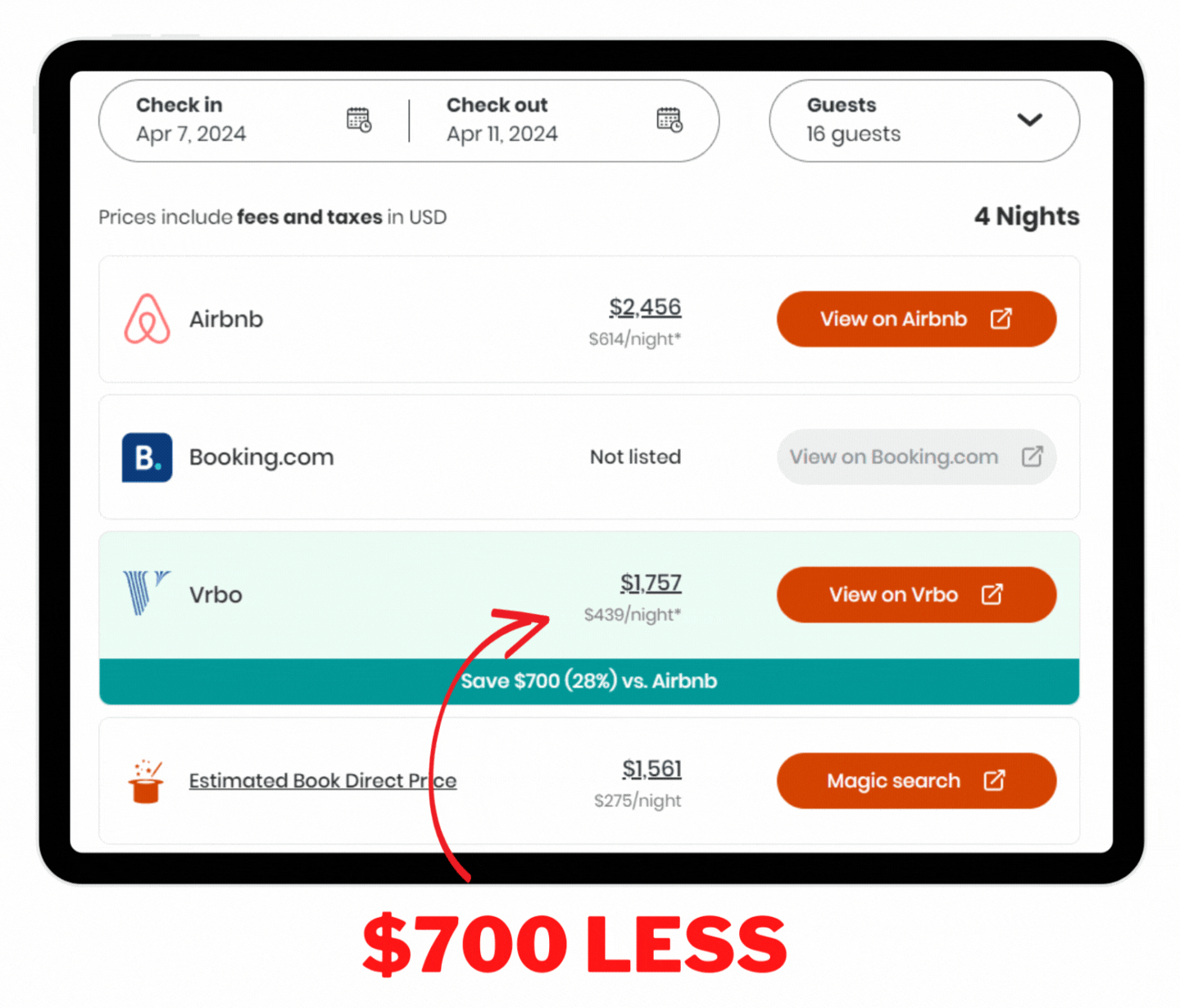 Share This Post With Friends
---
BONUS PROPERTY
Mickey Mouse Villa
Location: Kissimmee, Florida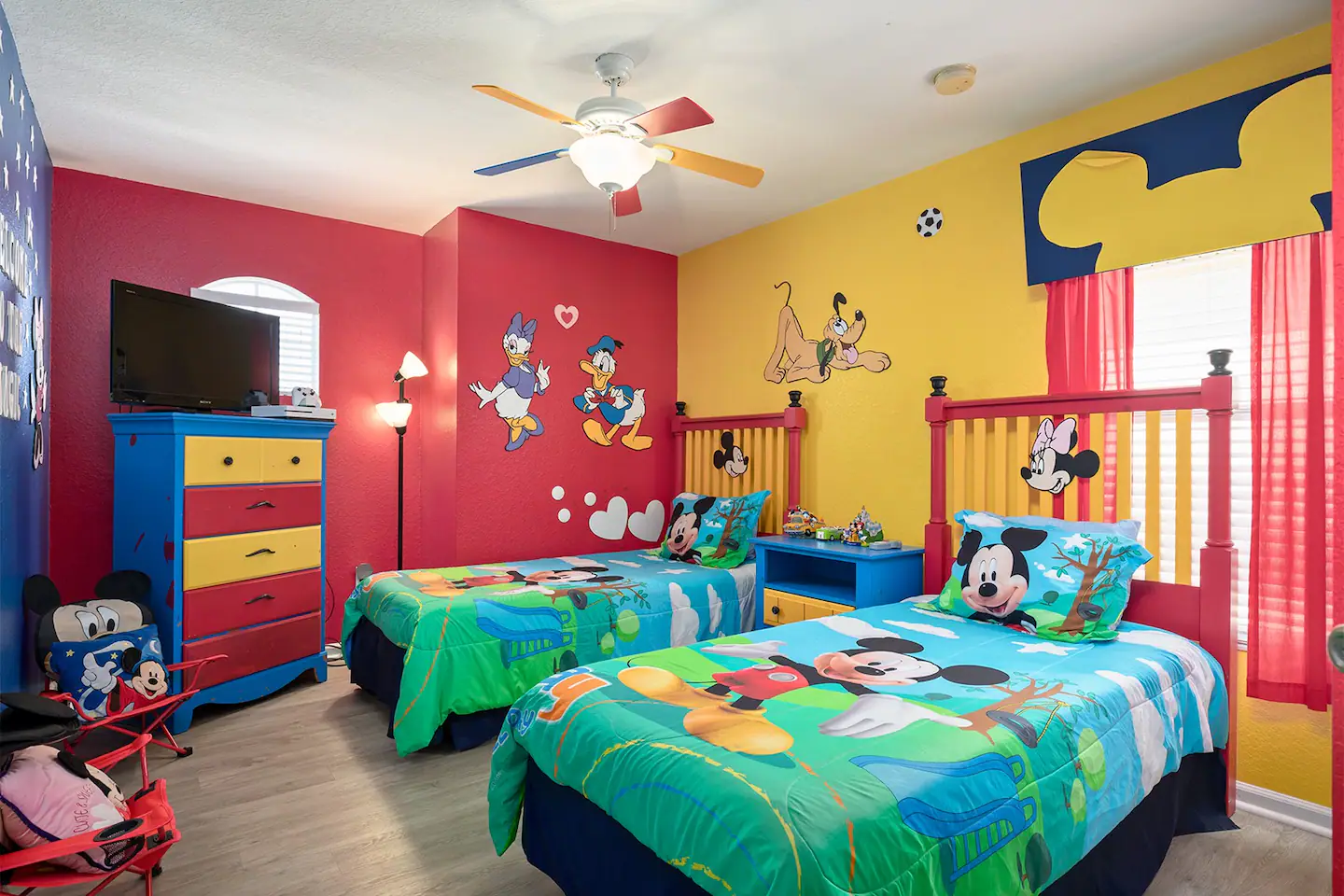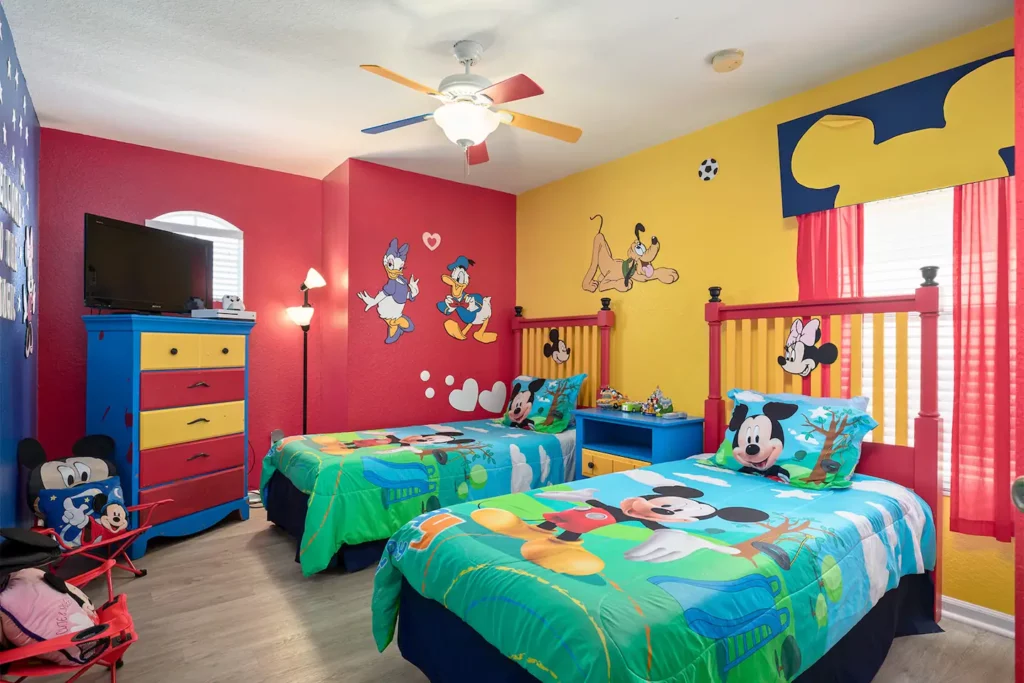 Step into the enchanting world of Mickey Mouse Villa! This newly decorated 5-bedroom, 5-bath pool home is a dream come true with its game room and fabulous upgrades. Accommodating up to 12 guests, our villa is nestled in the prestigious gated resort of Windsor Hills, just a stone's throw away from Disney World's magical gates. You'll be delighted that the entire home was renovated from top to bottom in July 2016, boasting brand-new flooring, furniture, appliances, and designer touches. Enjoy the convenience of being mere steps away from the resort clubhouse and pool and a delightful children's playground. Make your vacation special at one of the closest homes to the heart of Disney magic!
From the owner:
Welcome to Mickey Mouse Villa, our brand new, professionally decorated 5 bedroom 5 bath pool home with game room and upgrades galore! Our home can sleep 12 people. We are located in the prestigious gated resort Windsor Hills – less than 5 minutes from the gates of Disney World.
Our home is less than a minute's walk to the huge children's playground and a short walk from the Windsor Hills clubhouse and resort pool. We are one of the closest homes to the resort clubhouse.
The entire home was renovated from the ground up in July 2016 with brand-new flooring throughout, brand-new furniture and appliances, and high-end designer touches. Practically everything you see in the house is brand new! The lower level has three bedrooms, including the two master suites overlooking the pool. The upper level has two bedrooms.
Getting The Best Deal
Available on: Airbnb & VRBO
Savings: $105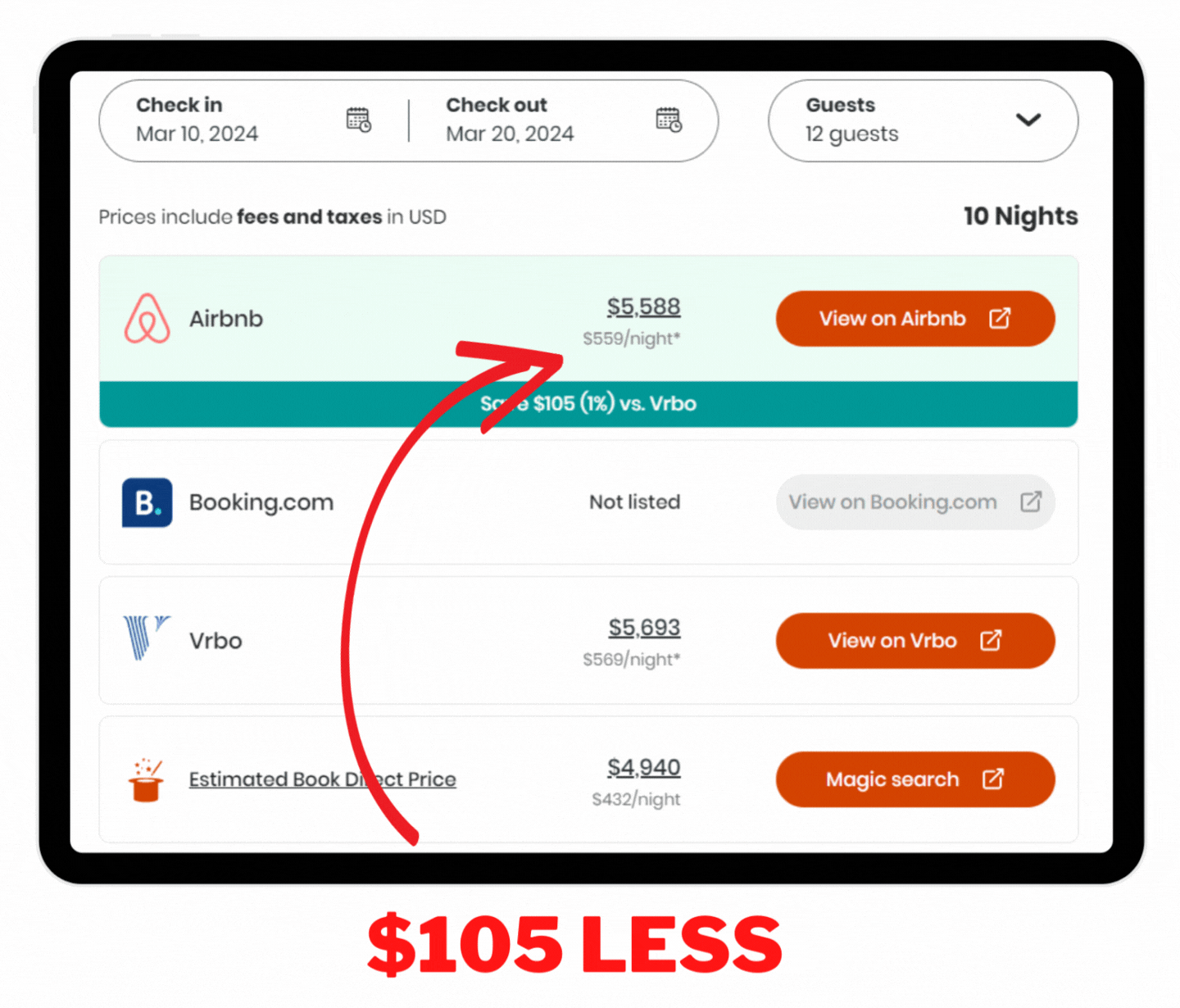 Share This Post With Friends
---
Similar Articles
If you liked this article, you may like these articles too.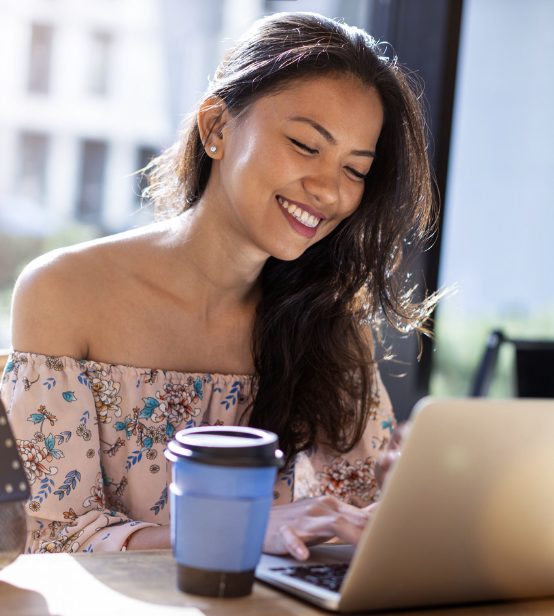 Tiffany Martin, a 33-year-old travel content contributor based in Manila, Philippines, brings the world's beauty to your screen through her writing, narrating the best places in the globe with a charm that resonates.
Aside from being a travel writer and an all-around digital nomad, she's also a wifey, a mom to two girls, and a licensed educator. During her downtime, she loves traveling, cooking, and playing with her energetic Dachshund and cuddly Golden Malinois.