9 Of The Best Glamping Rentals You Can Find In The US
What's better than going camping? Going camping in style of course!
Experience camping like never before. The properties listed below are 9 of the best glamping rentals in the US.
Click any of the images below to view that property directly.
1. Moon Camp
Location: Joshua Tree, California
Offering an off-the-grid retreat from the hustle and bustle of city life, this glamping property in California has more to it than meets the eye. This rustic home is surrounded by majestic Joshua trees, solar-powered, and offers modern amenities. It is also surrounded by beautiful mountains, so you're always greeted with a gorgeous view whenever you look out the windows.
From the owner:
Moon Camp is a truly unique off-grid desert retreat. The home is modern, airy, solar-powered, and surrounded by Joshua Trees. Guests have access to the main dome house, a unique guest house shipping container, and a newly constructed lounge shipping container.
This is a place for relaxation, exploration, and innovation. Between the guest house shipping container and the main home are a peaceful outdoor area with a fire-pit, grill, hammocks, and lounge chairs.
Surrounded by beautiful mountains and a Joshua tree-filled landscape for as far as the eye can see, the property is a perfect home base for a trip to the park or just as a place to decompress.
•SURROUNDING AREA•
While Moon Camp may feel miles away (it is on a short stretch of groomed dirt road), it is conveniently close to most anything you might need. A Yucca Valley shopping center complete with Walmart, Home Depot, fast food restaurants, Petco, and other vendors is just a 5-minute drive away. Additionally, you can hike or drive directly into the Covington Flats (an area of the national park), about 5 miles past Moon Camp up La Contenta Road.
Moon Camp is located within the town of Joshua Tree and is a 7-minute drive to Park Boulevard, where you can find local favorites like Joshua Tree Coffee Company, Pie for the People, and Natural Sisters Cafe. You can drive just 5 minutes from Park Boulevard to the formal West Entrance of Joshua Tree National Park.
Getting The Best Deal
Available on: Airbnb & VRBO
Savings: $1,476
Before I tell you how much you can save on this rental, first let me tell you about HiChee. HiChee is a tool where you can compare the price of a certain property on different rental sites such as Airbnb, VRBO, & Booking (.com). To use this tool, just copy the property's code on your chosen website. Then, you can paste it on HiChee's search bar. After a few seconds, you'll see if it's available on other rental sites and compare their prices!
Share This Post With Friends
---
2. The Dome Home
Location: Weaverville, North Carolina
Reconnect with nature in style with this exotic dome home nestled in one of the best mountain views in the world! You can enjoy peace and tranquility, feel the healing energy of nature, and embrace the mountains in this rustic dome. It features a deluxe outhouse, a comfy bed, and a functional kitchenette with a hot plate for your convenience.
From the owner:
It's so quiet, wild, and peaceful here. The mountain view is breathtaking. You won't believe you're only 20 minutes from Asheville.
The dome is rustic. The deluxe outhouse is a few steps away. There's a wood stove, gas heater, outdoor shower on the deck, a comfy queen-sized mattress, and a kitchenette with a hot plate.
This time of year, the dome can be very hot in the afternoon. Also, if you have the door open or the flaps up, which you need to do when it's hot, there is no way to keep the bugs out.
You must park a 4-minute walk to the dome, so pack light! Towels are not provided.
. You can feel the energy healing you when you are inside. And there is an incredible view. You hear the wildlife all around you. It's quite private.
Getting The Best Deal
Available on: Airbnb & VRBO
Savings: $86
Share This Post With Friends
---
3. Udoscape
Location: Lago Vista, Texas
Adulting is not something that many people would look forward to, but being a grown-up is a blessing in this adult-only glamping home in Lago Vista, Texas. This deluxe glamping resort on a hill offers breathtaking views, plush bedding, convenient restrooms, and even a hot tub to delight in a good soak after a day of hiking and enjoying everything that nature offers has to offer. It even has heated blankets and air-conditioners/heaters to ensure comfort and convenience.
From the owner:
UDOSCAPE – a unique, heart-throbbing ADULTS-only eco-Glamping resort in the Texas Hill Country. The site currently has 8 luxuriously furnished pods ranging from 'Deluxe' to 'Deluxe-plus', all nestled up a hill with amazing hill country views. Amenities include grills, fire pit, and hammock sites. Each Pod comes with a dedicated hot tub. All Pods are luxuriously furnished with plush beddings, en-suite restrooms, kitchenette, dining area, etc. Get ready to experience camping like never before!
THE SPACE
Pod #11 is one of our four 'deluxe-plus' classes of pods. With this pod, you are located on the high end of our hilly resort, with the pod further lofted 14' above ground, therefore offering among the most amazing views resembling being in a tree-house and views extending all the way to Lakeway and Spicewood. It is also the most private/secluded of all 8 pods on-site.
With our deluxe-plus pods, you get a private deck-recessed hot tub, dedicated on-deck electric grill, and personal under-deck hammock and swing chair. This pod allows up to 4 adults (maximum) as it is uniquely furnished with a "floating" queen-size bed on the main floor and a queen-size mattress on the loft/mezzanine. The queen bed on the main floor has been thoughtfully under-lit to set whatever mood you desire in the evenings.
You don't have to worry about getting cold or hot as the space has an air-conditioning/heater to adjust to your temperature needs. We also provide heated blankets. The space is posh, very beautiful, cozy, and intimate, and it has been thoughtfully laid out.
The kitchenette is furnished with a toaster, coffee maker, microwave, mini-fridge, silverware, plates, and cooking bowls (no hot plates, stove, oven, pots, or pans, are allowed in any of our pods, please). Let us know, and we can provide you our GoSun solar cooker for your cooking needs!
You are up on a hill; therefore, it is usually breezy or windy. You will absolutely enjoy the deck space with our on-deck furniture. You also have full access to all our other general on-site amenities.
Getting The Best Deal
Available on: Airbnb & VRBO
Savings: $768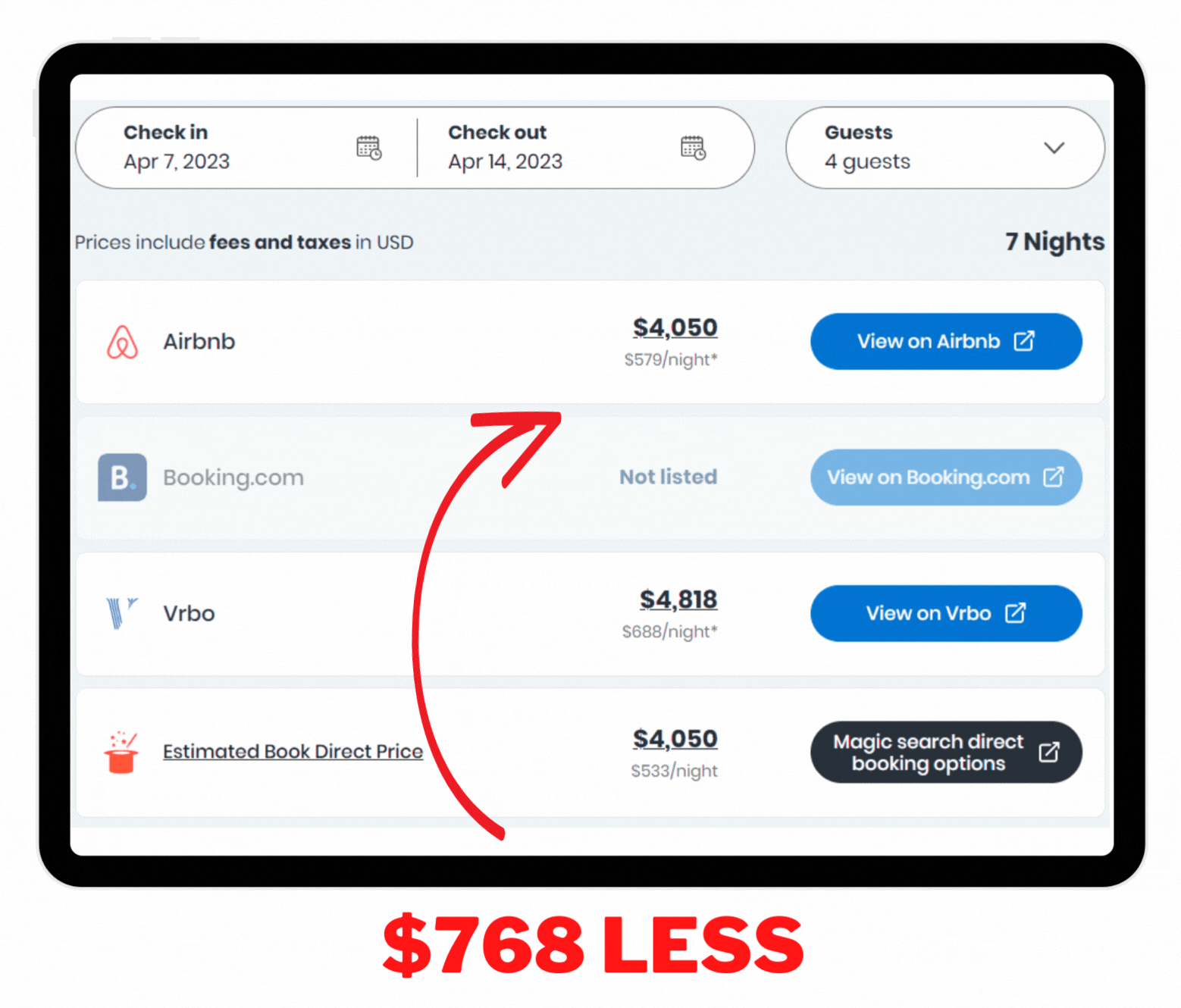 Share This Post With Friends
---
4. Riddles Hideaway
Location: Candler, North Carolina
Experience glamping at its finest in this lovely camper tucked away in the majestic Blue Ridge Mtns. You can embrace nature and watch wildlife while enjoying the conveniences and luxuries of hotel accommodations. It offers basic amenities, a comfy queen-size bed, indoor plumbing, and hot water! It also has a firepit and charcoal for a lovely Smores night!
From the owners:
Sit back and relax while enjoying your coffee by the fire. You might be able to see some of our neighboring deer and other wildlife during your stay. Stay at our camper and get this and still be within 20 minutes to all of the great things Asheville offers, including AVL Hot Air Balloons. Ask about my discount code!
Our camper offers a queen size bed in the bedroom and a sofa that folds out to a full-size bed.
There is a full-size kitchen equipped with all of your basic cooking needs.
The bathroom has a stand-up shower available for use. We have indoor plumbing and hot water. No need to go outside on cooler mornings!!
Extra pillows, linens, and towels are available if needed.
We have chairs to enjoy the campfire and wood, so there is no need to bring any! Charcoal is also available for your use to grill with.
Getting The Best Deal
Available on: Airbnb & VRBO
Savings: $136
Share This Post With Friends
---
5. The Dome
Location: Idyllwild-Pine Cove, California
This rental property in Idyllwild, California, is the best epitome of Glamorous Camping. This home sits on the edge of Crestview Drive, so you can expect impressive ocean views on clear days. But the picturesque ocean views don't leave a dent in the list of amenities and features that this high-end glamping home offers. It has a steamy hot tub, three interior fireplaces, spacious rooms, and designer towels (Hi, Ralph Lauren!) It couldn't get any more glamorous than this!
From the owners:
Unlike many houses in Idyllwild nestled completely in the pine trees, the Dome is perched on the edge of Crestview Drive and offers vistas to the ocean on the clearest days. The Dome covers over 1.5 acres of land. Watch the sunset every evening from the steamy hot tub or adjacent deck, eat outside or in or cuddle up in front of one or all of the three interior fireplaces arranged off of the central lava rock chimney. The living room has a soaring 26-foot ceiling encompassing one-third of the dome. The house is built adjacent to a 40-foot high rock formation with Native American acorn grinding bowls carved into the rock at the highest point, with the best views of the valley below. Imagine standing on the deck and watching the deer climb up the hillside. Spend your evening gazing at the stars as they appear close enough to touch. Enjoy your moment on top of the world in the ever-famous "Dramatic Geodesic Dome."
Getting The Best Deal
Available on: Airbnb & VRBO
Savings: $97
Share This Post With Friends
---
6. Super Cute Retro Airstream
Location: Wimberley, Texas
Time travel is the stuff of sci-fi movies, but you don't need a time machine to go back and enjoy the retro era! This charming Airstream trailer is the perfect glamping home if you want to take in the beauty of the hillsides while still enjoying the comforts of home. This trailer has a spacious deck, string lights to set the mood, and a cozy hot tub to unwind in. The owners also aim for your utmost satisfaction and provide fresh eggs and coffee every morning.
From the owners:
This cute Airstream trailer has been completely renovated with a retro twist. It's the perfect place to escape for a relaxing Wimberley vacation surrounded by Hill Country nature yet equipped with the conveniences of home. Grill up a yummy dinner with your honey and dine al fresco on the large deck, take a morning stroll along the creek, turn on the string lights for some mood lighting, take a dip in the hot tub, enjoy your morning shower under the trees in the private, spacious outdoor shower (room for two!), and end your day relaxing by the fire with an ice cold beer. This is life!
Our Airstream provides all the comforts of home in one cute, cozy package. The antique iron bed frame holds a queen memory foam mattress, the bathroom has a small interior shower with a real toilet, the kitchen is fully equipped with dishes and utensils, and alongside the deck is a charcoal grill and fire bowl for your night-time fire. The owners go out of their way to add those special touches to make your trip complete, such as leaving fresh eggs in the fridge (as long as the chickens keep up) and coffee from our local roaster. They also strive to make this property as green as possible by using environmentally friendly dish soap and laundry detergent, recycling recycled paper products and full recycling, using low-wattage light bulbs, and more.
Getting The Best Deal
Available on: Airbnb & VRBO
Savings: $62
Share This Post With Friends
---
7. The Double Domes
Location: Eden Prairie, Minnesota
Whoever came up with the phrase "Go big or go home" probably has this 8000-square-foot of luxurious geodesic dome home in mind. This architectural wonder is perfect for huge families who want to be one with nature while still enjoying the finer things in life. It has spacious rooms, a large European hot tub, your own private mini gym, a high-end functional kitchen for your convenience, and even a small stage for a stellar talent show from the kids.
From the owners:
Let me start by telling you that you haven't played the best game of hide n' seek until you've played in this house. Oh, the nooks and crannies are so fascinating and fun! Again, the pictures just don't do it justice.
When you walk in the front door, you are greeted with a view like no other. You see the curved wall, beautiful kitchen, and window formation that will take your breath away. As you peek further, you notice what appears to be the other dome and can't wait to explore! Don't forget your Harry Potter map, because you might get lost! 😉
As you enter the kitchen, you will soon realize that it is perfect for dining and equipped with everything you might need. It has a new Viking gas range, a new dishwasher, a new kitchen sink and faucets, a new double oven and microwave, and a huge fridge. Seating for dining is located with the table in the kitchen, four barstools, and the kitchen island, or head over to our Italian- made glass table in the dining room.
If you feel like heading up the spiral staircase in dome 1, which you access from the living room (furnished with everything you would need, including a 3-sided wood-burning fireplace and all the wood you could ever ask for)… you will reach the Master suite.
The main/master bedroom has a nice temperpedic king-sized bed, and the bathroom has a large European soaking tub.
This home is full of love and life. Down in dome 2, we have a mother-in-law kitchen full of board games and a mini stage for talent shows and performances!
Guests can enjoy an afternoon of fun and relaxing by the waterfalls and streams (excludes winter) or perhaps enjoy themselves on 3 season porch and listen to the frogs sing and feel the breeze come through… it's truly a slice of heaven.
The home is also equipped with a workout room, exercise bike, MIRROR, free weights, many mirrors and ballet, and pull-up bars.
Play golf? Try to golf in our hallway putting green…… this place has it all. There are also 2 excellent public golf courses within a ten-minute drive.
Getting The Best Deal
Available on: Airbnb & VRBO
Savings: $2,285
Share This Post With Friends
---
8. Cherry Blossom Yurt
Location: Rising Fawn, Georgia
If the orchestra of wildlife and nature sounds is your favorite kind of music, then this glamping home is for you. It is perched on the top of Lookout Mountain and is surrounded by glorious trees, mesmerizing views of the Chattanooga valley, and the freshest air. The yurt itself is also a winner, in our honest opinion. It has a fully-functional kitchen, cooling/heating systems, a comfy king-sized bed, and a reliable WiFi connection for your convenience.
From the owners:
The Cherry Blossom Yurt is the Ultimate mountain retreat to get away from it all. Wanna unique lodging experience in a natural setting? star-gazers? Our mountain top location of Lookout Mountain has many faces to show. Our yurts are surrounded by the mountains trees, and with colorful scenery, you would feel autumn dancing in the mountain breeze. In winter and spring, the beautiful vistas of the Chattanooga valley provide total serenity. During summer, you would find yourself tucked away in a peaceful forest.
Getting The Best Deal
Available on: Airbnb & VRBO
Savings: $125
Share This Post With Friends
---
9. Tiny Geopod
Location: Todd, North Carolina
Living in a bubble takes a new meaning with this charming glamping geopod in North Carolina. Tiny Geopod, as it is aptly named, is designed with nature and a reduced carbon footprint in mind. All that you could need for camping comfort and convenience—including a high-speed WiFi connection—is packaged into this 130-square-foot property. However, it still has room for a few luxuries, like access to a private hot tub where you can soak in a while enjoying the views.
From the owner:
Have it both ways with the Tiny Geopod – a retreat in nature AND a 5-minute walk to historic downtown Todd or a 15 to 20 min. drive to downtown Boone and W. Jefferson. Enjoy the well-appointed Tiny Pod and three unique outdoor spaces, with private access to a hot tub, fire table, gazebo, and comfy outdoor furniture. Cook meals in the Pod's outdoor kitchen or outdoor grilling area. Relax and refresh while experiencing the joy of tiny living! The Tiny Geopod was designed and built with the vision of simple yet comfortable living that supports a deep connection with nature and a smaller footprint on the planet. The meticulously designed 130 square-foot Tiny Geopod uses every inch and lacks for nothing.
With the small interior footprint, most of the space is dedicated to three truly magical outdoor areas. The outdoor main deck has a breakfast bar area, gas fire pit, and seating area to relax and enjoy nature. The second outdoor space brings you even further among the trees, accentuating the winter views of the mountains. Read a good book, take a nap, enjoy the view of the trees while relaxing on the outdoor patio furniture, or relax in the hot tub after a nice day of hiking. The third space is a unique outdoor kitchen and bathroom (partially used during winter). Cook delicious meals on the cute small gas stove top or grill to your heart's content on the stainless 3-burner gas grill. You can expect to see birds, deer, and other wildlife while you enjoy the outdoors.
The Tiny Geopod was built with all the essentials and packaged into a cozy, comfortable, and retreat-like space. With an emphasis on sustainability, the Geopod is powered by the nearby community solar garden, and guests can reduce waste by recycling and composting on the property. A well-equipped kitchen (please note: kitchen sink will be closed during winter and only disposable plates/cups cutlery provided during this time; the grill will still be available for cooking; water is available from the bathroom sink inside the insulated/heated bathroom), unique high-end bathroom, convertible working/dining area, and comfy sleeping space with cozy sheets are a few of the features. Use high-speed Wi-Fi to watch a movie on your laptop or tablet while relaxing after a day of exploring. A coffee and tea bar, along with shampoos/soaps, are just a few other amenities.
Getting The Best Deal
Available on: Airbnb & VRBO
Savings: $289
Share This Post With Friends
---
BONUS PROPERTY
Sweet night under the stars
Sure, camping or backpacking in a tent is nice, but why not enjoy the same perks(i.e., taking in the majestic views, spending the night underneath the stars, and watching wildlife in their natural habitat) but with a little more convenience? This glamping home in Caylus, France, offers a comfortable bed, a functional bathroom, and an electric kettle for your convenience while you unwind with nature.
From the owner:
Located in a village, this 1-bedroom, 1-bathroom vacation home brings Caylus within your reach. Fans of nature and the outdoors will love being 61 minutes by car from Massif Central and 49 minutes from Gorges de l'Aveyron. Jump into your car and make short of the 28-minute drive to Chateau de la Reine Margot or the 38-minute drive to Beaulieu-en-Rouergue Abbey (and enjoy the property's convenient onsite parking in the meantime). You'll find the convenience of an electric kettle available during your stay.
Getting The Best Deal
Available on: Airbnb & VRBO
Savings: $131
Share This Post With Friends
---
Similar Articles
If you liked this article, you may like these articles too.