9 Best Chocolate-Box Cottages You Can Rent In The UK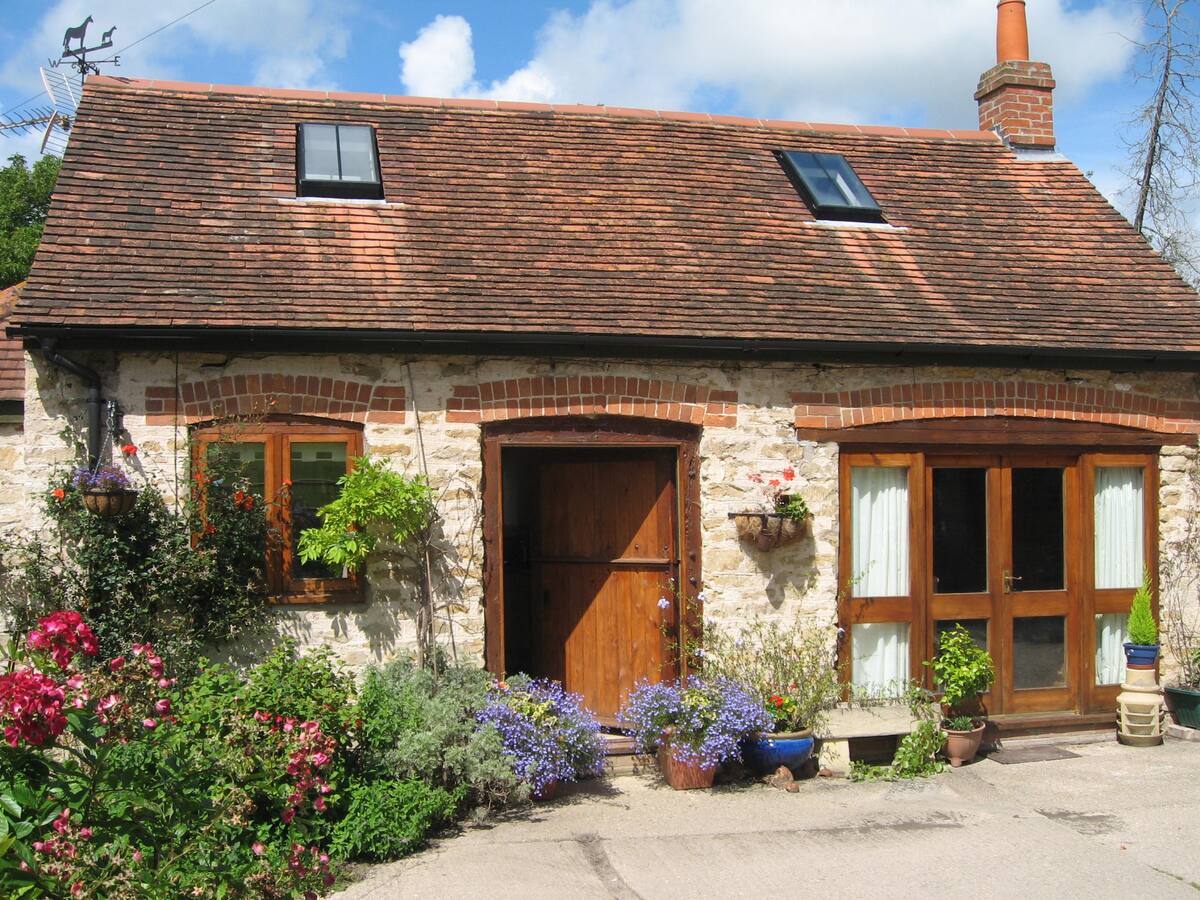 9 Best Chocolate-Box Cottage Rentals In The UK (And Where To Rent Them For LESS)
9 Best Chocolate-Box Cottages You Can Rent In The UK
Do you want to escape the city and have a unique vacation?
These rentals are perfect for you!
Chocolate box cottages originated in the late Victorian times. But you might be wondering why they're called as such. No, they don't look nor taste like chocolates (We're no Willy Wonka here!), but a popular chocolate brand made way for the creation of these cottages but putting photos of these cottages on the lids of their boxes. In the present, chocolate box properties are known for their unique, dainty, and charming style that perfectly matches it name. Now, you can rent these properties, and we'll also tell you where you can get them for less!
Click any of the images below to view the property directly.
Best Chocolate-Box Cottages You Can Rent In The UK
1. The Chocolate Box
Location: Brighton & Hove, East Sussex
They say that life is like a box of chocolates; you never know what you will get. But with this chocolate box cottage in the heart of Brighton, you know exactly what you'll get: luxury and comfort throughout your stay. This five-bedroom cottage features a 1920's vibe with its gorgeous art deco interior (Move over, Jay Gatsby!), plush furniture, and basic amenities to ensure you're comfortable during your staycation.
From the owner:
Beautiful five-bedroom, three-bathroom Grade II listed house in the very center of Brighton to sleep 18 people in 14 individual beds. Just a stone's throw from the beach, shops, Lanes, clubs, and restaurants.
The Chocolate Box is styled in the 1920s, art deco design, all with a modern edge offering a sense of luxury and a chocolate twist! Period chocolate advertisements & designer statement wallpaper adorn the walls, and signature furniture pieces add that touch of luxury.
This property certainly ticks the location, location, location box! Situated on a quiet city-center road, the house is just a short walk to the beach, Brighton's famous Lanes with its windy & narrow streets, boutique shops, and countless restaurants and bars. There's no need for taxis or buses- just a hop, skip, and jump, and you'll be home!
Getting The Best Deal
Before I tell you how much you can save on this rental, first let me tell you about HiChee. HiChee is a tool where you can compare the price of a certain property on different rental sites such as Airbnb, VRBO, & Booking (.com). To use this tool, just copy the property code on your chosen website, as you see below.
Then you can paste it onto the search bar on the HiChee website. After a few seconds, you can see how much you can save on other rental sites!
Available on: Airbnb, VRBO & Booking (.com)
Savings: $176
Share This Post With Friends
---
Best Chocolate-Box Cottages You Can Rent In The UK
2. Groom's Cottage
Location: Weymouth, Dorset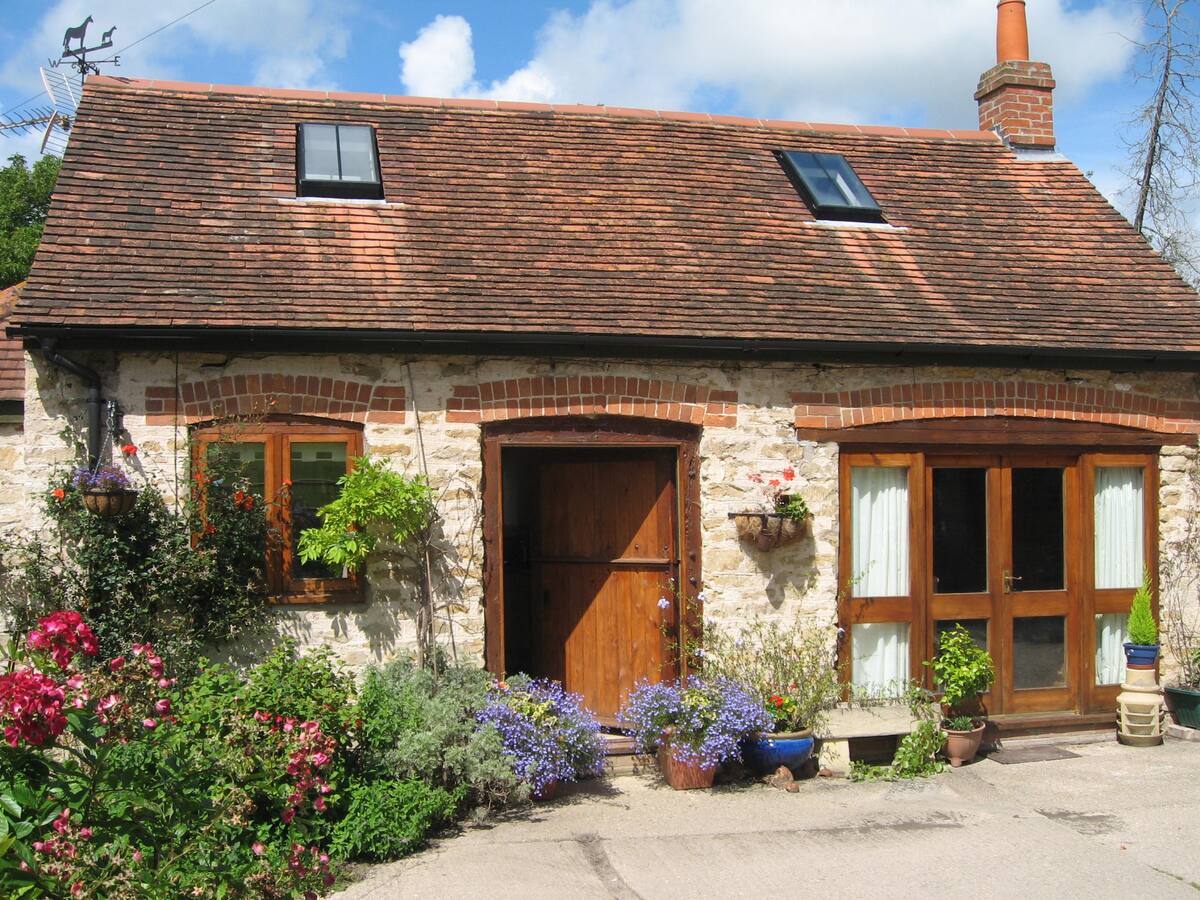 Chocolates have always symbolized romance, but it doesn't get any more romantic than staying in this early Victorian-era chocolate box cottage with character, charm, and a homey feel. Situated amidst woodlands and fields, this rental property offers a sanctuary away from the hustle and bustle of the city, tranquility, and romantic eves where you and your significant other can gaze upon the stars.
From the owner:
Far from the madding crowd, it set down its own private leafy driveway nestled in 8 acres of fields and woodland. Peace & Tranquility can be found at the old cottage, which dates back to the early Victorian age and is full of charm and character. It has an open fire, central oil-fired heating, and a warm home-from-home feel. The cottage has a large 5′ bed and romantic eves with skylights to gaze upon the stars.
A large deep bath with shower attachment is on the ground floor, with a small toilet/washbasin upstairs. The kitchen is extremely well equipped with a dishwasher, microwave, fridge, and freezer. A table and chairs overlooking the fields for breakfast, or a private garden with a fire pit and sun loungers to relax and enjoy the peace and quiet, but still close to all amenities. Just a place to unwind.
Getting The Best Deal
Available on: Airbnb & VRBO
Savings: $200
Share This Post With Friends
---
Best Chocolate-Box Cottages You Can Rent In The UK
3. Badgers Dens
Location: Par, England
There's surely no sweeter treat than staying in this rural retreat! This charming chocolate box cottage may look unassuming outside. Still, when you step inside, you'll be greeted with charming rustic decors, luxurious beddings, and a well-equipped kitchen so you can prepare for your romantic dinners together. This gorgeous rental property is nestled between Fowey and Par, so you can enjoy peace and serenity while picking your own juicy apples in the summer!
From the owner:
Badgers Dens is a wonderful rural retreat. Perfect at any time of the year! A big comfy king-size bed, central heating, luxurious power shower and heated towel rail in the ensuite, a well-equipped kitchen, outside space with the use of a charcoal bbq, and you can pick your own apples in late summer as we have many apple trees! It is situated at the end of a farm track surrounded by fields. A lovely peaceful location between Fowey and Par.
You can park outside the front door; a sensor light will come on when it gets dark. There is a step down to the front door, up into the living/bedroom, and down into the ensuite! We have a handheld shower outside for washing muddy boots/dogs, and it is also great for washing off your wetsuit!
The historic port of Fowey is a 2.5-mile drive or a 6-mile walk around the coastal path (or 3.5 miles if you take a shortcut inland)! You can take a boat trip from Fowey in the summer months or hire and captain your own boat through the harbor! Polkerris is a short walk around the coastal path, a beautiful small harbor, and a beach with a pub and a restaurant, and a beach café, the perfect place to watch the sun go down. The famous Charlestown is a 3-mile walk on the coastal path or a 10 min drive.
It's featured in many films and is one of Poldark's filming locations. The Eden Project is 2.5 miles away, the lovely working port of Mevagissey is 11 miles, Truro 20 miles, Looe 20 miles, Padstow is 24 miles, and Falmouth 30 miles. Staying here is a fantastic base as nowhere in Cornwall is more than 1.5 hrs drive away. Par is a mainline train station, so getting around even without a car is very easy.
Getting The Best Deal
Available on: Airbnb & VRBO
Savings: $54
Share This Post With Friends
---
Best Chocolate-Box Cottages You Can Rent In The UK
4. Chocolate Box Cottage
Location: St Agnes, Mithian
Nope, you're not on Pinterest, but this charming chocolate box cottage is indeed Pinterest and Instagram-worthy with its quirky interior, aesthetic decors, and a lovely little courtyard worth taking a selfie (or a whole album of selfies) in. But aside from being pretty, this cottage is also comfortable and well-equipped. But if you don't want to spend your vacation cooking, a good pub and a hotel restaurant are just a stone's throw away.
From the owners:
This charming cottage really lives up to its name. Chocolate Box Cottage is a Grade II listed, thatched, pretty property with a cozy wood-burning stove and quirky cottage features. Ideal for year-round Cornish escapes.
Lovingly refurbished, the accommodation is both comfortable and very well-equipped. A delightful, walled cottage garden provides garden furniture, including sun loungers for long lazy afternoons in the Cornish sunshine. The little courtyard area is perfect for enjoying your morning cuppa before heading off to the beach. On your return, a very handy storage shed is provided for those wetsuits and surfboards.
A good pub and hotel restaurant are both a short stroll away, with St Agnes a short drive, energetic walk, or bus ride away.
Getting The Best Deal
Available on: Booking (.com) & VRBO
Savings: $66
Share This Post With Friends
---
Best Chocolate-Box Cottages You Can Rent In The UK
5. Cotswold Cottage
Location: Coln St Aldwyns, Gloucestershire
If you're looking for an idyllic vacation home where you can enjoy peace and tranquility, the Cotswold Cottage is perfect for you. You can drop your hectic schedule, slow down your fast-paced lifestyle, and enjoy this property's blissful calm. This property offers a relaxing garden, spacious rooms, and high-end amenities to ensure comfort and convenience. Unwind, unplug, and relax in this charming chocolate box cottage, so you'll be energized to take on the world again!
From the owner:
Cotswold Cottage is an idyllic Cotswold home for families or friends looking for utter peace and quiet. One thing that may strike you about Coln is its blissful feeling of calm. Guests who are fortunate enough to enjoy sunny days at Cotswold Cottage will be able to appreciate the tranquillity of its gorgeous garden. Providing plenty of open space and room, Cotswold Cottage is an ideal base to explore the undulating Coln Valley and rushing waters of the River Coln or venture further afield.
Step out of the front door, and you're straight into miles and miles of walking, including an idyllic 4- or 6-mile route to Bibury (famed for its Arlington Row cottages, possibly the most photographed tourist location in the Cotswolds!), where you can have a bite to eat at The Swan, The Catherine Wheel or in the café at Bibury Trout Farm.
If you're staying with little ones, down the road to a safe, secure, and immaculate adventure playground with picnic tables and benches. Then wander downhill to the River Coln, flanked by rolling hills home to flocks of sheep and herds of cows – a truly bucolic scene. If you're lucky enough to catch a sunset, it'll be one of the most beautiful you're ever likely to see!
Getting The Best Deal
Available on: Airbnb & VRBO
Savings: $164
Share This Post With Friends
---
Best Chocolate-Box Cottages You Can Rent In The UK
6. Lantern Cottage
Location: Near Bidford-upon-Avon, Warwickshire
Take a much-needed break from the stresses of your daily life and enjoy slow relaxing days at the Lantern Cottage, just a 15-minute drive away from Stratford-upon-Avon. This nostalgic cottage takes you back to the days with its charming and warm interior, open fire, pretty walled garden, and antique furniture. But it doesn't mean they're outdated; they provide excellent 21st-century amenities, including reliable wifi for emails that just can't wait.
From the owner:
Just 15 minutes drive from Stratford-upon-Avon, Lantern Cottage offers a refuge from the stresses of modern life. This detached cottage takes you back in time to the coziness of an open fire, exposed beams, antiques, and curtains drawn against the cold . . . but with 21st-century amenities.
On summer days, you can sunbathe in our pretty walled garden or eat on the patio as the fountain plays nearby.
Inside, there's a log burner (as well as central heating) with free logs, CDs, and a smart TV downstairs. Upstairs, you can work online at the antique desk in the study or read one of our books (currently in storage because of Covid) in an easy chair. Alternatively, with Wi-Fi, you check your emails in the comfort of the living room – or in the garden on a fine day.
Getting The Best Deal
Available on: Airbnb & VRBO
Savings: $114
Share This Post With Friends
---
Best Chocolate-Box Cottages You Can Rent In The UK
7. The Old Rest
Location: Radlett, England
If you're looking for a historic yet still gorgeous chocolate box cottage in the heart of a quintessential English village, the OId Rest cottage is the perfect treat. It has interesting features highlighting the property's character, like old log beams, charming fireplaces, and lovely wooden interior touches. Nonetheless, it also features modern amenities like an equipped kitchen, plush bedding, and a beautifully-kept garden that you can relax in.
From the owner:
The Old Rest is a historic Grade || listed detached house in the center of a quintessential English village, boasting a green duck pond and pub only steps away from the front door. The house is full of character (think fireplaces and log beams) but is also modern and comfortable inside. There is a private garage available and plenty of parking around the green. From the beautifully kept garden, there's direct access to beautiful playing fields and a children's park.
Transport links are excellent. Radlett is 5 mins away, and regular trains to Kings Cross St Pancreas take approximately 25 mins. Stanmore station on the Jubilee line is 15 mins away. The M1 and A41 are 5 mins away with direct routes into Hyde Park, and the M25 is 15 mins away.
Getting The Best Deal
Available on: Airbnb, VRBO & Booking (.com)
Savings: $1,418
Share This Post With Friends
---
Best Chocolate-Box Cottages You Can Rent In The UK
8. Captain's Cabin
Location: Bourton-on-the-Water, England
Nothing else is sweeter than chocolates and staying in this romantic chocolate box cottage in the Cotswolds, Bourton. This lovely cottage offers the best of both worlds: it features a nostalgic and traditional charm with its reclaimed oak flooring, rustic fireplace, and Cotswold stone walls. It also offers modern conveniences like internet access, central heating, and a fully-functional kitchen. This property also offers a relaxing patio where you can enjoy lazy afternoons eating—well, you guessed where we're going with this one—a box of chocolates.
From the owner:
Romantic Grade II listed cottage in arguably the prettiest chocolate box town in the Cotswolds, Bourton On The Water 'Little Venice.' Captain's Cabin has one allocated parking space for a mid-sized car directly in front of the cottage. Check-in time is 3pm, and strict check out 10am. Tassimo coffee maker and retro Bluetooth radio plus SMART TV. Bourton is around 40 minutes from Oxford and is centrally located to visit other Cotswold villages such as Chipping Norton, Burford, The Slaughters, Chipping Camden, Moreton in Marsh, and Broadway.
This cozy cottage boasts plenty of traditional charm with characteristic features. Set on three floors, the property has exposed beams, reclaimed and restored oak flooring downstairs with a huge inglenook fireplace, logs provided for one fire during winter months, exposed honey-colored Cotswold stone walls but with on-demand central heating, and dual fuel traditional log burner for those cozy evenings.
NOTE: There are two low beams downstairs.
One central beam on the ground floor's height is 5'7, the lowest beam in the cottage. Full free internet access with all amenities and dining table and chairs for three. The table will be folded in between stays to maximize space. The ground floor houses the main living area and kitchen. The first floor has a very pretty and romantic double bedroom with a Grade II status stone mullion window as the centerpiece and a good-sized full-height triple cupboard.
Also on the first floor is a modern bathroom housing bath, shower over bath, dual towel rail radiator, vanity units with touch-free LED mirrors, basin & toilet. 2nd floor takes you to the single bedroom with views over the rooftops and rolling hills beyond. There is a patio area to the front with two seats, a sunspot each afternoon in the Summer months, or al fresco dining. To the back of the property, you can access footpaths via a pretty lane and a historic church graveyard.
Getting The Best Deal
Available on: Airbnb & VRBO
Savings: $301
Share This Post With Friends
---
Best Chocolate-Box Cottages You Can Rent In The UK
9. Thatch Cottage
Location: Buckland Newton, South West England
If you and your family of 6 or your group of friends are looking for a retreat to take a break from your busy lives, you'll love this dainty chocolate box cottage in Buckland Newton, Dorset. Aside from the natural beauty of the environment (think of the Dorset's Jurassic Coast stunning beaches) that will surely leave you in awe, this property offers basic amenities and more to make your stay as comfortable as possible. It features a charming fireplace, central heating, a fully-functional kitchen, and a decent Wifi connection, so you can still post travel photos on 'Gram!
From the owner:
This detached cottage rests in Buckland Newton, Dorset, and can sleep six people in three bedrooms.
Thatch Cottage is a detached property resting within Buckland Newton, Dorset. It has three bedrooms comprising a double with an en-suite, a ground-floor double, and a twin, sleeping up to six people. Here, you will also find a ground-floor bathroom with shower over bath, basin and WC, a kitchen, a utility, a sitting room with open fire, and a conservatory. Outside, there is a large garden with a stream, garden bench, wooden swing, and off-road parking. Thatch Cottage is a wonderful getaway to Dorset. P
Amenities: Oil central heating and open fire. Electric oven and hob, microwave, fridge/freezer, dishwasher, washing machine, tumble dryer, 2 x TV, DVD Player, WiFi. Fuel and power inc. in rent. A small basket of logs supplied for winter lets. Bed linen and towels inc. in rent. Stairgate, travel cot, and highchair available on request.
Off-road parking for two cars. Enclosed lawns with a stream, garden bench, and wooden swing. Two small or one medium well-behaved dog is welcome. Sorry, no smoking is allowed. Shop 1.2 miles, pub within 0.8 miles. Note: there is a £21 pet charge per pet per week. Note: An additional pull-out double sofa bed in the conservatory and a trundle bed are available in the twin bedroom upon request before arrival.
Getting The Best Deal
Available on: Booking (.com) & VRBO
Savings: $115
Share This Post With Friends
---
Best Chocolate-Box Cottages You Can Rent In The UK
BONUS PROPERTY
Hobleys Cottage
Location: Stanton, England
Sitting at the edge of what is considered one of the most beautiful places in the Cotswolds, Hobleys Cottage in the village of Stanton is also an exquisite piece of art. This refurbished luxurious chocolate box cottage offers a stunning view as it overlooks pasture fields where horses and sheep graze. It also features wonderful amenities such as underfloor heating to keep you warm and cozy, antique and high-end furniture and decors, spacious rooms with plush beddings, and a fully equipped kitchen where you can whip up your favorite meals, and a fast internet connection so you can relax by the fire while watching Netflix without lags.
From the owner:
Hobleys Cottage is positioned on the edge of the charming village of Stanton, which is widely regarded as one of the most picturesque in the Cotswolds. The refurbished detached Cotswold stone cottage overlooks the adjoining countryside with walks directly from the door. It is a perfect place to unwind and relax.
Recently refurbished, the luxury accommodation is light and spacious with a fantastic well-equipped kitchen and open plan dining and sitting room. On summer days, French doors open to the garden and terrace, perfect for alfresco dining or barbecues while watching the sunset over adjoining farmland. Underfloor heating and a wood burner ensure you are always warm and cozy on cooler days. The cottage is furnished with a mixture of designer and antique furniture. White cotton bed linen, dressing gowns, and towels make your stay as comfortable as possible.
Getting The Best Deal
Available on: Airbnb & VRBO
Savings: $123
Share This Post With Friends
---
Similar Articles
If you liked this article, you may like these articles too.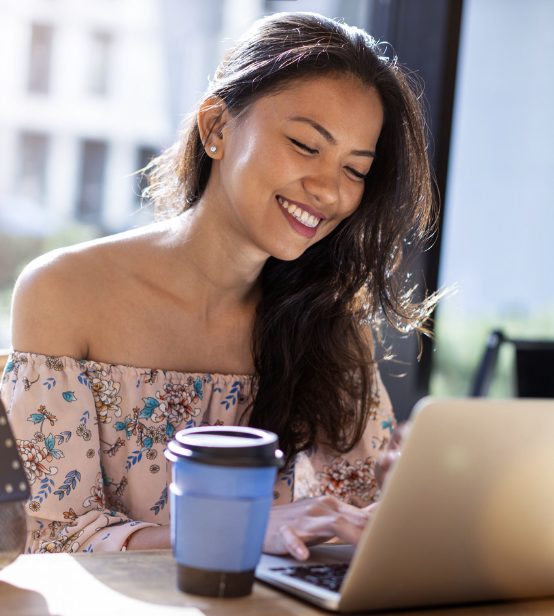 Tiffany Martin, a 33-year-old travel content contributor based in Manila, Philippines, brings the world's beauty to your screen through her writing, narrating the best places in the globe with a charm that resonates.
Aside from being a travel writer and an all-around digital nomad, she's also a wifey, a mom to two girls, and a licensed educator. During her downtime, she loves traveling, cooking, and playing with her energetic Dachshund and cuddly Golden Malinois.