Best Travel Apps for Stress-Free Journeys In 2024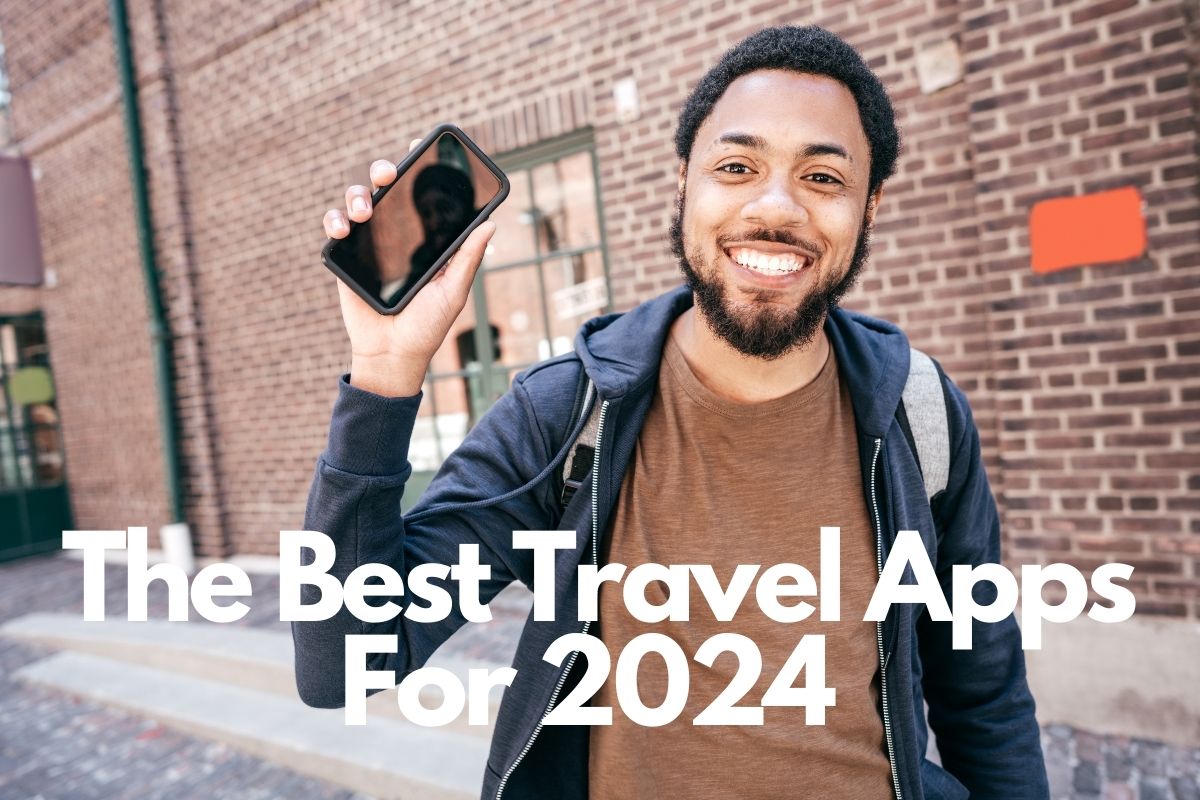 In today's digital and fast-paced world, travel apps have become indispensable for casual vacationers and globetrotters. From accommodations to translators, travel apps have revolutionized and innovated how we envision and experience our travels.
To help you choose the apps to download before your next trip, here are the top 10 travel apps that can help your journeys become easier and more convenient, so the only thing you have to worry about is how to have fun!
Best Travel Apps
1. Google Maps
Google Maps has secured its spot on the digital toolbelt of many individuals worldwide. Why? It's more than just an app. With coverage spanning over 220 countries and territories, it's an encyclopedia of streets, landmarks, and local haunts. Thanks to its real-time updates, traffic jams are no longer a guessing game. And if public transport is your thing, the app's got timely schedules to keep you on track.
But Google Maps isn't just about getting from A to B. Curious about that mural you pass on your morning commute? Or that hidden taco place everyone's been whispering about? Dive in and discover. It offers the best of both worlds: trusted navigation and the thrill of spontaneous exploration. So, the next time you're out and about, remember: it's not just about the destination, but the journey—and Google Maps makes sure it's memorable.
Top Tips
Watch this short video for tips on using Google Maps offline and other map providers that you may well find useful.
Best Travel Apps
2. Skyscanner
Navigating the world of flight deals can feel like a maze, but Skyscanner changes the game. It delves deep, analyzing millions of flights across countless airlines to get you that sweet deal you've been eyeing. Simplicity is its mantra, with a user-friendly design so intuitive, it'll feel like second nature—even for those not-so-tech-savvy folks in our lives. But the real MVP? Those price alerts.
No more FOMO; they ping you right when fares plummet, ensuring you always nab flights at their best rates. Think of Skyscanner as your savvy travel agent in app form, taking the guesswork out of flight bookings. Dive into hassle-free travel planning with this app in your corner, and you'll wonder how you ever did it any other way.
Top Tips
Watch this video for the lowdown on using Skyscanner.
Best Travel Apps
3. Airbnb
Nobody wants to spend the rest of their vacation looking for a place to stay. This is why Airbnb has transformed how people find hotels and rental homes, offering fantastic stays in over 6 million accommodations worldwide. The application allows users to browse and book various board and lodging options, from hotel rooms to entire apartments, ensuring a truly memorable and personalized travel experience.
Airbnb's got your back, ensuring you don't get tangled up in the digital maze. It's not just a booking tool; consider it your passport to personalized adventures. Lose yourself in the character of local communities, uncovering those secret spots that redefine what travel memories are all about—far beyond the usual touristy stuff.
Top Tips
Many Airbnbs are listed on other platforms; some are bookable directly with the host. Booking directly is nearly always cheaper. HiChee.com has a Magic search tool to help you find other booking options.

This 2-minute video shows you HiChee's Magic Search in action.
Best Travel Apps
4. TripIt
TripIt consolidates all your travel reservations into a single itinerary, including flights, car rentals, and hotels. You only need to forward your confirmation emails to the app. It will automatically (and conveniently) organize your plans, making it easy to access all your travel information in one place.
It's like having your travel life sorted in one place, making it a breeze to keep tabs on everything. Say goodbye to the jumble of emails and hello to travel organization made simple. TripIt – because who needs the hassle when you can have your travel plans neatly wrapped at your fingertips?
Top Tips
Watch the video and discover the incredible world of travel made easy with TripIt!
Best Travel Apps
5. Duolingo
For everyone bitten by the travel bug, Duolingo is your trusty sidekick. Why? Because language shouldn't be the roadblock between you and your next adventure. Offering 35 languages, from the romance of French to the melody of Portuguese, Duolingo ensures you're never at a loss for words.
Beyond just vocabulary, the app delves into each language's soul, ensuring you can order that espresso or ask for directions like a true local. Short, snappy lessons mean you can learn on-the-go, whether you're lounging at a cafe or waiting for that delayed flight. And hey, the community aspect is a bonus! Get feedback, make friends, and maybe even find a travel buddy. In a world where connection is key, Duolingo is more than just an app – it's your passport to a global conversation.
Top Tips
Discover the world with the amazing Duolingo travel app! Join us on a virtual journey like never before – click the video to explore how this app will make your globetrotting dreams a reality. Bon voyage!
Best Travel Apps
6. XE Currency Converter
XE Currency Converter provides real-time exchange rates for more than 180 currencies, ensuring you're always updated when making purchases or budgeting during your travels. XE Currency Converter's offline access and historical charts make it a useful app for helping you handle your money while abroad.
Moreover, this app doesn't ghost you when you're offline – yes, it's committed. With its offline access, you can say goodbye to those nerve-wracking moments when you can't find a Wi-Fi signal. Travel smart, travel with XE Currency Converter.
Top Tips
Watch the video and embark on a digital journey with the "XE Currency Converter" app! Say goodbye to currency confusion while traveling – this app is your passport to seamless transactions worldwide. Click the video to unlock the secrets of stress-free travel budgeting!
Best Travel Apps
7. PackPoint
PackPoint is the ultimate sidekick for every modern traveler. Gone are the days of scribbling down hasty, last-minute packing lists. This sleek app crafts tailored checklists for your trips, factoring in everything from weather forecasts to planned activities. Going on a winter retreat or beach getaway? PackPoint's algorithms have meticulously considered every scenario. What sets it apart is its meticulous attention to detail.
Imagine having a concierge for your suitcase, ensuring you never forget those small yet crucial items. And it's not just about clothes; the app thinks of chargers, travel documents, and even niche accessories for specialized activities. Embrace the future of travel with PackPoint and revel in the confidence that nothing's left behind. It's not just packing; it's an elevated art of travel prep. So, gear up, jet-setters; PackPoint always prepares you for the next big adventure.
Top Tips
Unveil the secrets of stress-free packing and effortless travel planning. Watch the video now and embark on your next adventure with confidence!
Best Travel Apps
8. Google Translate
Every wanderlust-driven soul knows the magic of connecting across cultures. But let's be real; language barriers can be tricky. That's where Google Translate hops in. It's not just a translator—it's your global BFF. Ever found yourself craving a local delicacy and didn't know how to ask? Or maybe stumbled into a scenic spot and wanted to know its story? This app is the MVP.
Snap a pic of foreign text, and bam, it's translated. Voice chats with locals? Smooth sailing with its conversation feature. With support for a staggering array of languages, from the bustling streets of Tokyo to the serene landscapes of Tuscany, you're set. The world is vast, but language shouldn't limit your experiences. With Google Translate in your pocket, you're not just traveling; you're truly immersing.
Top Tips
Embark on a linguistic adventure with Google Translate! Say goodbye to language barriers and hello to seamless conversations. Click the video and unlock a world of endless possibilities!
Best Travel Apps
9. Visit a City
When wanderlust strikes, 'Visit a City' has you covered. This clever app, featuring over 1,000 destinations, takes the guesswork out of your travels. Fancy three days in Tokyo or a quick stop in Barcelona? No sweat. 'Visit a City' lines up the must-sees, ensuring no landmark goes unnoticed. Adjust your schedule on the fly, or lean into the app's smart suggestions.
And when you're roaming those charming alleys without internet? Offline maps keep you on course. No more juggling schedules or missing that hidden cafe everyone's been raving about. You'll also find handy tidbits like ticket prices and venue timings at your fingertips. It's more than an app; it's your pocket-sized travel guru. Traveling is an art, and with 'Visit a City', you have the perfect palette for crafting memorable journeys.
Top Tips
Join us on a virtual journey of discovery with 'Visit a City.' Click the video now and let your wanderlust take flight!
Best Travel Apps
10. WeatherPro
Travelers everywhere know the sting of unexpected weather ruining their meticulously planned day. 'Weather Pro' has emerged as a game-changer in this scenario. This handy app offers reliable forecasts for an impressive 2 million locations worldwide. So, whether someone's exploring the bustling markets of Marrakech or hiking through the serene trails of Patagonia, 'Weather Pro' ensures they're not unaware.
Beyond just predictions of sun or rain, the app offers a range of detailed insights. Details like snow conditions or UV levels are readily available for ski enthusiasts or beach bums. It's akin to having a reliable, weather-wise friend who is always ready to advise, ensuring every journey, no matter where, remains smooth.
Top Tips
Ready to elevate your travel experience? Dive into the world of adventure with WeatherPro, the ultimate travel app that ensures you're always one step ahead of Mother Nature. Watch the video now and discover how this app can make your journeys unforgettable!
Conclusion
With these top 10 travel apps for 2023, planning your trips has never been more convenient. These apps offer helpful resources and support for all travel needs. What are you waiting for? Go to the App Store or Play Store to download your favorites and give in to your wanderlust confidently and easily.
Similar Articles
If you liked this article, you may like these articles too.