9 Of The Best Cabins To Relax In For A Cozy Vacation And How To Get The Best Price
Gear up and spend your long-awaited vacation where you can relax your body and soul.
9 Of The Best Cabins To Relax In For A Cozy Vacation And How To Get The Best Price
Cabins are known to offer their visitors peace, relaxation, and tranquility that you cannot get even in 5-star hotels. Most of them are found within the woods, by a body of water, or in an open area with access to breathtaking views.
Use them as an escape from the busy city life full of toxicity and other things that can harm your physical and mental health. In this article, we will give you 9 of the best cabins you can rent in the US. We will also teach you how to save money for your accommodation.
Stay tuned for the bonus cabin that you can see in the last part of this blog.
Click any of the pictures below to view the property directly.
1. Ross Creek Cabin
Location: Belgrade, Montana
If you're looking for an intimate getaway to escape from the stresses of your daily routine, this cabin in Montana is perfect for you. This gorgeously rustic accommodation offers a serene retreat with all the comforts of home and even more. It features unobstructed views of the breathtaking Bridger Mountains and the Gallatin Range, complete amenities, and a lovely hot tub to complete your relaxing experience.
From the owner:
Ross Creek Cabins offer rustic-style accommodations layered with the comforts of home. Wake up to breathtaking views of the Bridger Mountains and the Gallatin Range and enjoy your morning coffee on the cabin's front porch breathing in the brisk mountain air. A full kitchen allows for cooking your own meals or serving evening appetizers with some locally brewed beer on the shady front porch. These cabins offer a great "base camp" for wedding parties or adventure expeditions in Bozeman, Montana.
Getting The Best Deal
Available on: Airbnb, VRBO, & Direct Booking
Savings: $257
Let me introduce you to HiChee. It's a website that allows you to compare prices on Airbnb, VRBO, Booking (.com), and other lodging companies. Once you have a link of certain property in either of the sites mentioned earlier, you can paste it on the search bar of Hichee. Then put in your check-in and check-out dates as well as how many guests are with you. Wait for a few seconds and voila! Now, you can easily see how much you'll save on your vacation!
In these case, VRBO has a bit of an issue and I want to see if I can rent it for less.
I can use the Magic Search tool that can be found on the lower part of the image seen on the left side of the screen.
Here's what the magic search showed up on this cabin
Turns out. I can also rent it directly to the owner!
Share This Post With Friends
---
2. Wilder at Hocking Hills – Aspen Haus
Location: New Plymouth, Ohio
A modern cabin expertly designed by talented interior decorators nestled between the trees in a private woods? Definitely worth a stay! But aside from its charming design, it has more in store for friends and families looking to unwind, relax, and just enjoy nature and appreciate the beauty of the wilderness. This cabin also offers a relaxing hot tub, fire pit, spacious rooms, and a myriad of activities that you won't ever get bored!
From the owner:
Each property that is part of the Wilder collection has been uniquely designed by a different interior designer from across the US and Canada. Aspen Haus was conceptualized and designed by Michelle Roderick-Lee, who resides in Northern New York with her husband. Her hope for this cabin is that it feels like a calm retreat inspired by the unlimited beauty found in nature. Michelle and her diy/design work can be found on IG at @dreaminghomeblog.

The cabin has a bedroom with a king bed and room darkening blinds, full bathroom with shower, and an open concept living room, dining room and kitchen space. Large windows in the living room and bedroom look out onto a private deck, hot tub, fire pit, and of course, the tranquil woods of Wilder. A 3 seater sofa pulls out into a queen bed in the living room to accommodate 2 more guests.

At Wilder, one of our goals is being eco-friendly and kind to the land we've been blessed to own. Because of that, we disturbed very few trees to build our modern cabins, so you get to walk up to your cabin through the woods (like sleepover camp for adults!) instead of drive right up to the door.

Getting The Best Deal
Available on: Airbnb & VRBO
Savings: $482
Share This Post With Friends
---
3. Romantic Log Cabin on Smith Creek
Location: Wimberley, Texas
There are a lot of technological advancements and conveniences that come with the 21st century, like Wi-fi and state-of-the-art kitchens, but when we feel overwhelmed and drained because of the stresses of work and our daily lives, this romantic and rustic cabin in Texas could just be what the doctor ordered for that much-needed and much-deserved rest and relaxation.
You can unplug and unwind in this lovely log cabin that has a relaxing hot tub, a vintage-style wood-burning stove, and a quaint fire pit for some intimate Smore's!
From the owner:
Three Graces Cabin is a true retreat from the hustle and bustle of city life, yet only five minutes from the wonderful shopping and dining of downtown Wimberley. This romantic one bedroom log cabin is nestled along the banks of Smith Creek on a secluded section of 10 gorgeous Hill Country acres that are shared with the owners. At this charming cabin you can take a stroll along the creek, watch the deer graze as you enjoy your morning coffee, strum your guitar beside the fire pit, view the stars from the hot tub, have a picnic in the tree house, get cozy alongside the old fashioned wood-burning stove, and shower under the trees in the private outdoor shower.


Getting The Best Deal
Available on: Airbnb & VRBO
Savings: $44
Share This Post With Friends
---
4. Renovated Hillside Cabin
Location: Gatlinburg, Tennessee
If you're a fan of gorgeous rustic cabins and majestic views of mountains, then this rental property is perfect for you. This lovely cabin offers a spectacular view of the Great Smokey Mountains National Park, and stunning interiors designed by a popular HGTV/DIY designer. This property offers all the comforts of home, and even more (i.e. a relaxing hot tub with a view), while fully embracing the mountain life.
From the owner:
Stare at the top of Mount Leconte right from the king bed of this cabin, decorated by a famous HGTV/DIY designer. The wood-rich interior includes high vaulted ceilings, while the deck hot tub looks out across the Great Smoky Mountains National Park. You won't find a better view in Gatlinburg, TN or The Great Smoky Mountains area. Enjoy what it truly feels like to visit the mountains. Come visit this beautiful cabin today!

Getting Around:

We recommend 4×4 wheel drive anywhere in The Great Smoky Mountains. This cabin features paved roads all the way up and is easy to reach but we still recommend 4×4 wheel drive.
Getting The Best Deal
Available on: Airbnb & VRBO
Savings: $231
Share This Post With Friends
---
5. Sage Canyon Cliff House
Location: Cortez, Colorado
If traditional cabins are not your cup of tea, you're in for a treat with this rental property. This cabin is built into the rock of a real canyon. How cool is that? Aside from this unique and rocking feature (no punt intended), this property will wow you with its contemporary design, and its light wood, huge windows, and modern furnishings that highlight the cabin's focal piece. However, we thought you'd like to know that they don't have televisions, so you don't take the beauty of the cabin for granite—I mean granted. They do have fast internet connection for work and uploading those gneiss Instagram pics (no more rock puns, we promise!)
From the owner:
Stay on the flank of Sleeping Ute Mountain in historic McElmo Canyon just 40 minutes from Mesa Verde and 20 minutes from the town of Cortez. Featured in Better Homes 2012, the Cliff House is built right into the red rock cliff wall of a private canyon alcove with comfortable amenities, internet, nearby petroglyphs and sweeping views down canyon. A perfect place to base yourself for your next creative endeavor or for rejuvenating and exploring in the wilds of the four corners.

In addition to being built into sandstone rock, the Cliff House is landscaped with native species that bloom all summer. Around the corner from the house, in another private rock alcove, is a little lawn. Enjoy comfortable porch seating with a stunning view.

We purposefully do not provide a TV and hope our space is a nature-inspired respite. That said, we also know you might want to get away and retreat to the Cliff House in order to do some work in-between exploring the Southwest. We have fast, broadband wireless internet with Eero WiFi. Stream music to our Apple HomePod with your iPhone or AirPlay-enabled device. We have a network extender for strong Verizon LTE service.


Getting The Best Deal
Available on: Airbnb & VRBO
Savings: $73
Share This Post With Friends
---
6. Dreamtime A-Frame Cabin
Location: Berkeley Springs, West Virginia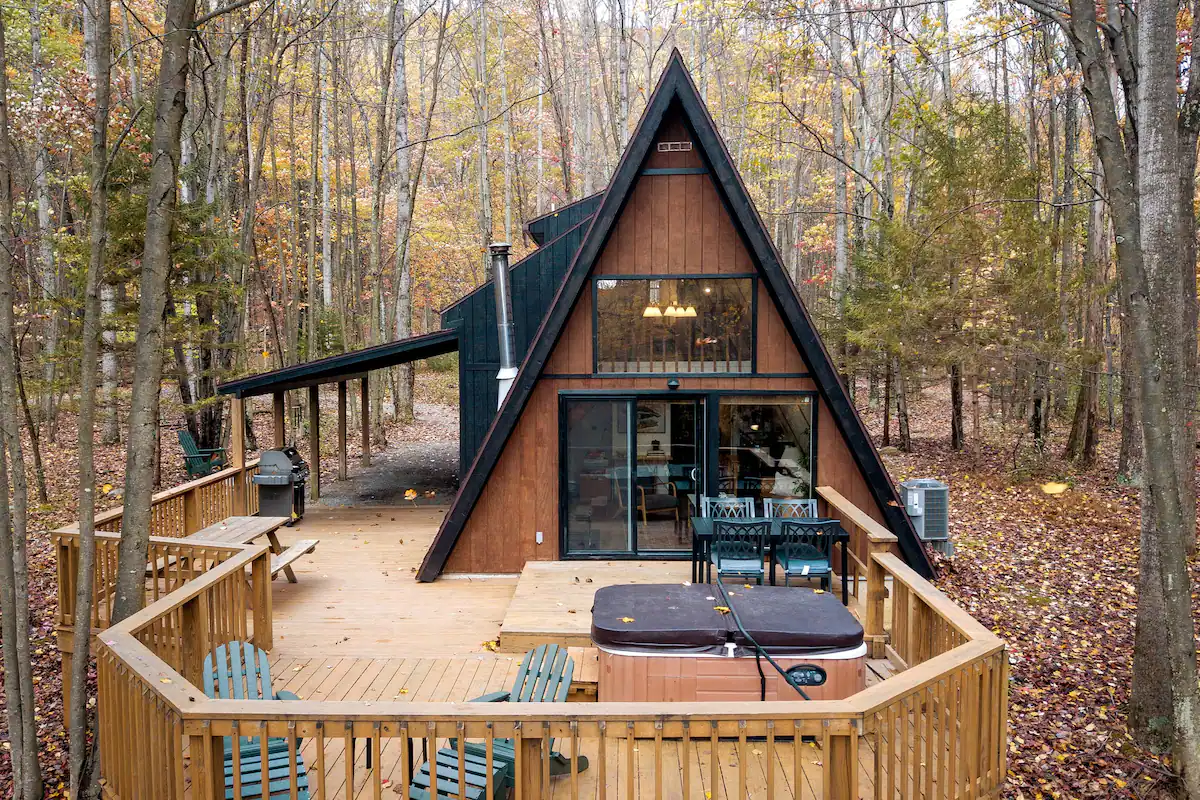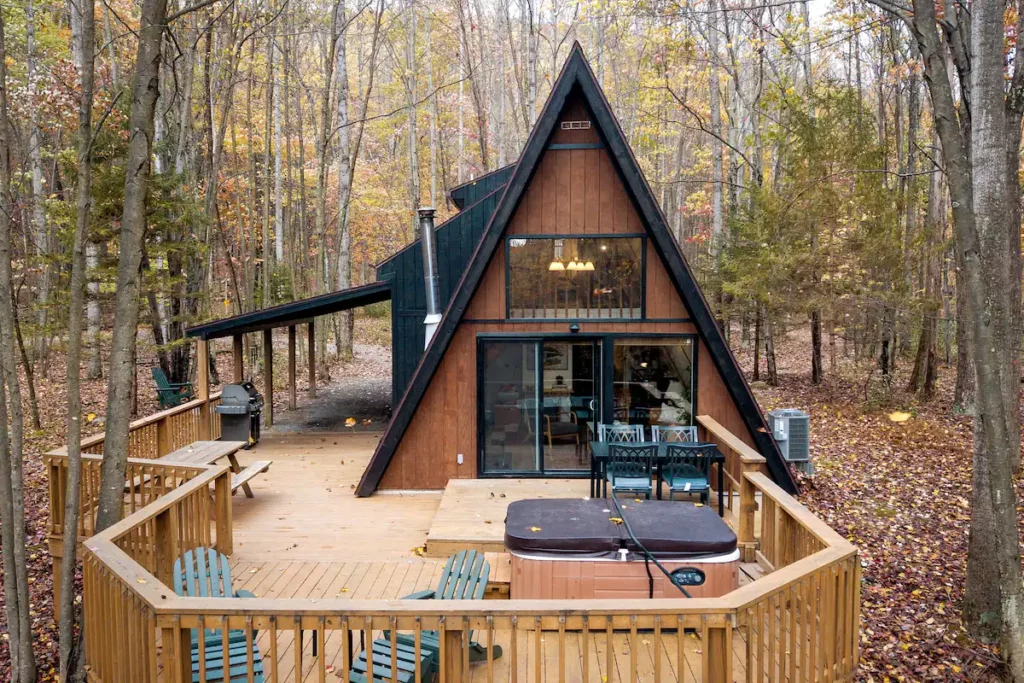 Staying in this rental property in West Virginia s like living in an ethereal dream, with its charming A-frame cabin, fully-furnished kitchen, luxurious room, and picturesque views. This cabin is nestled in a semi-secluded area so you can unwind and relax, away from the hustle and bustle of the city, but still close enough to the town center with a myriad of dining choices. But with this gorgeous property, who'd want to get out of it? We get that. That's why the kitchen is equipped with everything you'd need to make your coffee, tea, and meals! It also features a fast Wifi connection if you choose to enjoy nature while streaming your favorite movies and TV shows
From the owner:
Welcome to @dreamtimeaframe. A fantastic, owner renovated & designed, two bedroom, two bathroom A-frame cabin tucked away in a semi-secluded area, close to town of Berkeley Springs, West Virginia. The cabin and the entire community it's part of is surrounded by tall trees on the mountainside.

Quick access to nearby trails, minutes to both Berkeley Springs Brewing Co. and Cold Run Valley Winery, as well as Cacapon Resort State Park. Find yourself in the town center with many highly rated local restaurants & cafés.


Other important notes: We have security cameras outside for the safety of the property and our guests.
Getting The Best Deal
Available on: Airbnb & VRBO
Savings: $75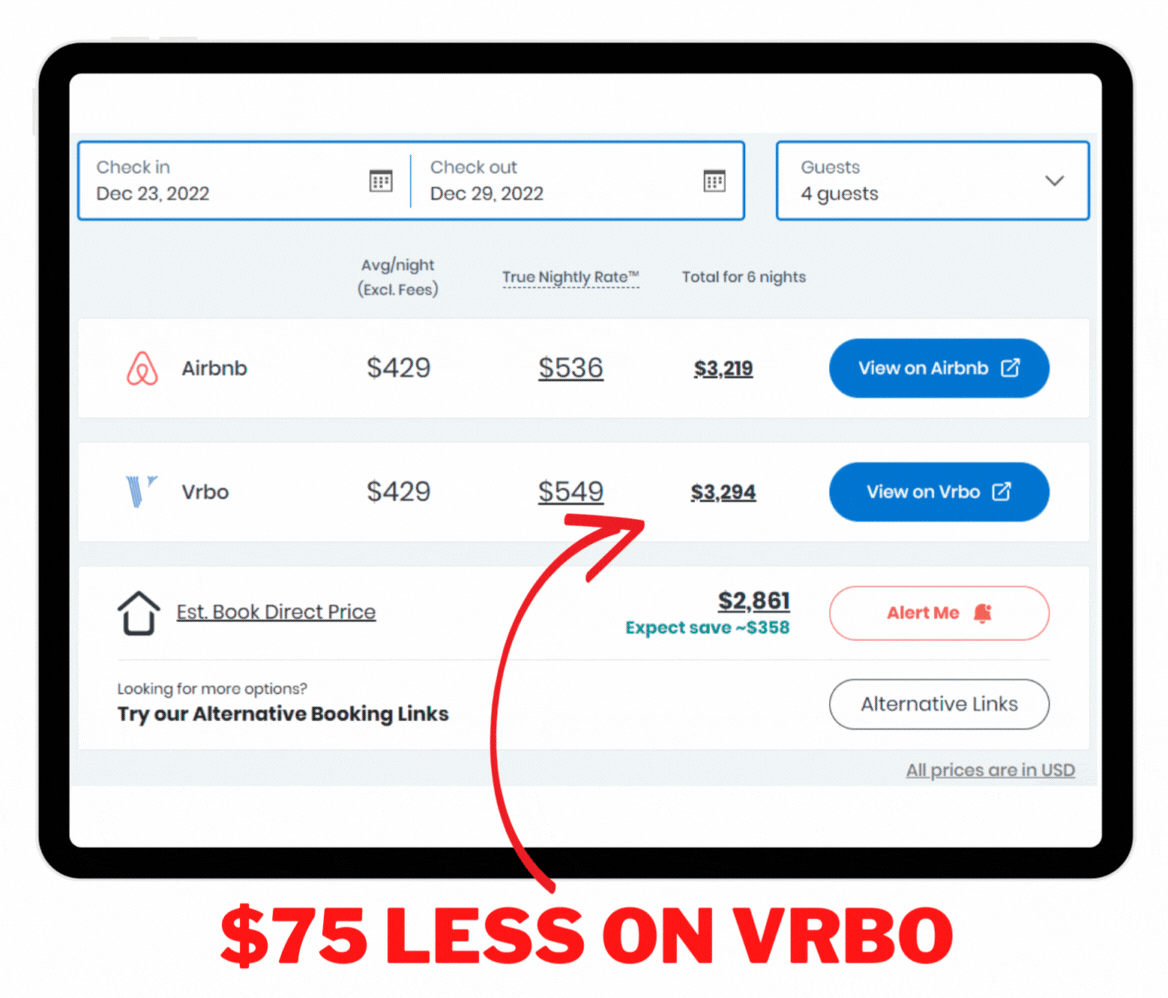 Share This Post With Friends
---
7. Private Indoor Pool Cabin Retreat
Location: Sevierville, Tennessee
When we hear the word "cabin", what most of us would imagine is a boring log property in the middle of the woods. This cabin, however, will make you reconsider. From the outside, it looks like a regular 'ole rustic log cabin, but the fun starts as soon as you step inside. It has its own arcade, a private deck with a lovely hot tub, and… are you ready? A heated pool! You're spoiled for activities when you choose to stay in this property—you can play pool or arcade game with friends, swim and have barbecue with your family, or just relax in a hot tub while marveling at the majestic beauty of the tall trees around this cabin.
From the owner:
Come stay and relax in an updated cabin with your own Private Indoor Heated Pool! This 3 story cabin sleeps 6 people comfortably. Perfect for a romantic getaway or family vacation. Entertain yourself and your guest by swimming, playing pool, gaming on the multicade, and watching movies on the 3 large TVs! Cook and eat in the Updated Fully stocked kitchen and private deck with a brand new bbq grill.



Getting The Best Deal
Available on: Airbnb & VRBO
Savings: $228
Share This Post With Friends
---
8. Pearly Gates Cabin
Location: Sevierville, Tennessee
"Pearly gates" is known to be the entrance to heaven and with this posh cabin in Tennessee, you're sure to feel like you're staying on a patch of heaven on Earth—more so with the one who holds your heart! (See, just the sight of this cabin already made us a hopeless romantic!) The Pearly Gates cabin is best for couples, and aside from the majestic views from its deck, it also offers luxurious amenities, like a gorgeous hot tub, a lovely electric fireplace, plush linens, and a wonderful wet bar!
From the owner:
Pearly Gates is a semi-secluded, luxurious log cabin for couples looking for a memorable getaway with the most phenomenal views of the Smoky Mountains! Setting atop Wolverton Mountain, Pearly Gates is the place for relaxing in the beautiful hot tub on one of two private outside decks overlooking the most majestic mountain view you will likely ever see, especially when the sun sets! In the beautiful Wears Valley area. 10 mi to Pigeon Forge, 15 mile beautiful drive to Gatlinburg, 5 mi from Park!

THE SPACE

We are so proud to announce that Pearly Gates cabin has recently been voted "Best Cabin for Couples" for 2020!

Pearly Gates is not managed by a property management company. Everything we provide is top quality, the furniture (inside and out), towels, toilet paper, linens, dishes, etc. We really do strive to make a luxury stay for our guests. To see drone footage and the area it's in, please go to YouTube and search for the title "Pearly Gates cabin". There is also a video walk-through so that you can get a better visual idea of the entire cabin! Just search for the Pearly Gates cabin channel on YouTube.


Getting The Best Deal
Available on: Airbnb, VRBO, & Smokiestime.com
Savings: $309
As seen below, VRBO's price is lower and I would've settled for it.
But using Hichee's Magic Tool, I can see that I can also book it on another site.
Inputting the same check-in and check-out dates as well as the total number of guests, I can save $309!
Share This Post With Friends
---
9. Eagle's View Cabin
Location: Sevierville, Tennessee
You don't need an eagle's view to take in the majestic sights that this rental property has to offer. The fittingly named Eagle's View cabin sits atop the Bluff Mountain and it offers 180 panoramic view of the stunning nature around you. It also offers a fully equipped kitchen where you'll enjoy whipping up delectable dishes in, luxurious beds to rest in after a full day of hiking, and a lovely hot tub to relax in after a long day. The experience is absolutely surreal!
From the owner:
Whether you're looking for a romantic couples retreat or a family getaway, Eagle's View is the cabin for you!

Sitting perched atop the peak of Bluff Mountain, Eagle's View offers views that simply cannot be matched. Panoramic views spanning 180 degrees offers little to the imagination. Stretching from Pigeon Forge to Gatlinburg, you can sit back and take everything in from the viewpoint of a soaring Eagle.

Eagle's View is an upscale luxury cabin offering everything one could need, making it feel like a home away from home. With it's tasteful rustic décor, full list of amenities, and the feeling of total privacy, guests can be assured that this is the cabin for them. Located atop Bluff Mountain, it is the last cabin on the road ensuring a feeling of seclusion and privacy. Location is key in the Smokies as being close to the attractions is a must. Eagle's view is located only 5 miles from downtown Pigeon Forge.

Getting The Best Deal
Available on: Airbnb & VRBO
Savings: $130
Share This Post With Friends
---
BONUS PROPERTY
10. Heart of the Country Cabin
Location: Sevierville, Tennessee
With its panoramic views, spacious rooms, high-quality amenities, and old rustic charm, this cozy cabin has the allure of an intimate mountain retreat. This rental property, lovingly called "Heart of the Country" features a loft that offers a stunning view, a romantic jetted tub, and an equipped kitchen that will make you not miss home. This is the perfect place to unplug and relax while taking in the unique mountain life experience that the Heart of the Country offers.
From the owner:
Perfect for romantic get-a-way or small family. If you are looking for a cabin with a truly breathtaking view with privacy, visit "Heart of the Country"! Heart of the Country is a TRUE log cabin. It's rustic with simplistic beauty. It has an amazing view of the vast mountain ranges, our cabin will take your breath away!
The cabin is the perfect setting for the vacationing honeymooners, or just a family getaway. Your vacation dreams become a reality as you enjoy the wrap-around deck while viewing the gorgeous mountains. Here you will have the feeling of being in seclusion and away from it all, when in reality you are only 10 minutes from Pigeon Forge and all the major attractions of the area including Dollywood, Splash Country, Dolly Parton's Dixie Stampede, Titanic Museum, Hatfield & McCoys Dinner Show, as well as some of the best restaurants and shopping centers.

The open floor plan features vaulted ceilings with floor-to-ceiling picture windows for a panoramic views. Furnished with a leather sleeper sofa with memory foam mattress, a rustic stone fireplace, and a flat screen TV to enjoy your favorite show or game. The kitchen is fully equipped and the dining area provides a gathering table. You will enjoy privacy in a beautiful, serene setting!


Getting The Best Deal
Available on: Airbnb & VRBO
Savings: $1,299
Share This Post With Friends
---