9 Most Expensive Airbnb Luxe Properties in The US
Do you have a passion for luxury and deep pockets to go with it? Or maybe you're just into the finer things in life? Hold on to your Gucci's because we will explore the 9 most jaw-droppingly expensive rentals that will blow your mind!
We're not discussing your typical run-of-the-mill beach house or cozy mountain cabin. Heck no, we're setting the bar higher – much higher! These ritzy retreats are reserved for those with money to burn and a taste for the luxuries of life. These vacation rentals give new meaning to "living the high life."
Click on any of the images below to view that property directly.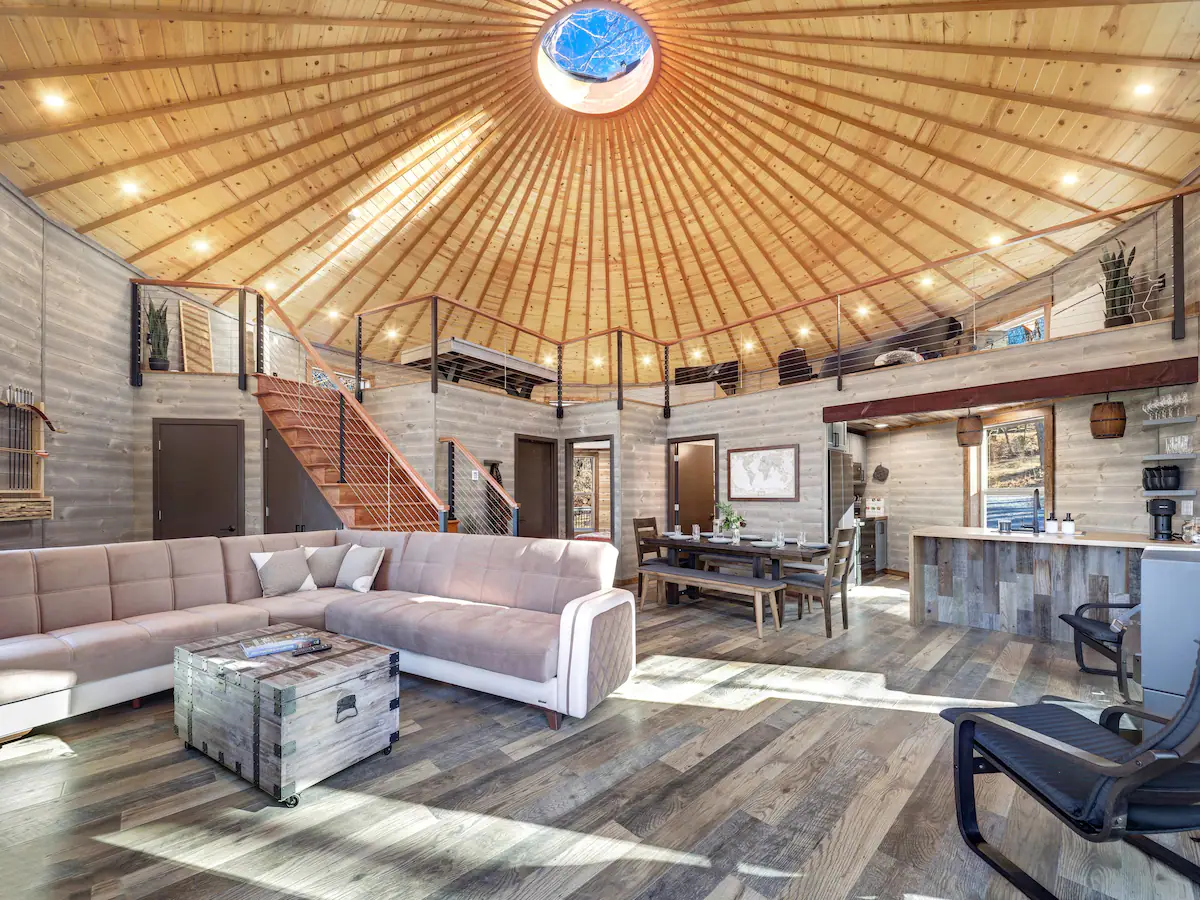 9 Most Expensive Airbnb Luxe Properties in The US
1. Shenandoah Yurt
Location: Stanley, Virginia
Taking glamping to a whole new level
With superior construction, world-class and modern amenities, and post furnishings, this luxurious retreat home nestled at the heart of the mountains takes glamping to a new level! Just a couple of hours away from Washington, DC, the one-of-a-kind Shenandoah Yurt is surrounded by the vibrant beauty of Shenandoah National Park and perched at over 2,500 feet.
But if the spectacular views don't sweep you off your feet, the fantastic modern amenities will! This property boasts a climate control system, a hot tub, a fully-equipped kitchen, Playstation 5, and access to e-bikes for your enjoyment!
From the owner:
Shenandoah Yurt is a unique luxury retreat perched in the serene seclusion of the mountains. You'll find no compromises concerning premier cabin-like construction, modern amenities, a hot tub, a wood-burning stove, archery, an EV charger, a sizable elevated deck, a pool table, board games, and so much more! This extraordinary stay is surrounded by the colorful environs of Shenandoah National Park at an elevation of over 2,500 ft! Experience #YurtLife—just 2 hours away from Washington, DC!
Shenandoah Yurt is a custom wooden yurt nestled 1 mile away (as the crow flies) from Shenandoah National Park. Constructed using the finest materials and significant attention to detail, this space invites you and your family and friends to immediately make yourselves home. Furnished with plenty of modern conveniences, the yurt sets out to provide a unique experience offering comforts akin to those of a chic boutique hotel. Whip up an omelet with the dozen fresh organic local eggs awaiting you, embrace your inner yogi with a morning routine on the large deck, or soak in the outdoor hot tub under a starry night sky—the choice is yours! As our property was designed with nature in mind, we also provide an EV charging station for those in need.
Getting The Best Deal
Get the most out of your vacation rental with these huge savings. Using HiChee, you'll see where you can get savings through its feature comparing prices from different booking websites. Just input your desired dates and number of guests, and you'll be able to see the difference in their prices.
In this first property, I can book it through Airbnb, Booking(.com), and VRBO. I can save up to 3,748 by booking through VRBO.
However, I would also like to know if I can get more savings. I used another HiChee feature called Magic Search Direct Booking Options. You can see it in the lower right part of the image above.
Using this feature, I'll be able to see other booking options other than the three listed on HiChee. I tried booking the property on this alternate booking site and saved another $231!
9 Most Expensive Airbnb Luxe Properties in The US
2. Bella Mare
Location: Oceanside, California
What's screams luxury louder than a deluxe covered deck that leads down to a private beach yard?
And there's even more where that came from! Bella Mare, a posh waterfront home features sweeping ocean views, a stocked kitchen for your convenience and enjoyment, spacious rooms, plush down comforters, and hypoallergenic pillows, as well as a high-speed Wi-fi connection, so you are still connected while having some fun under the sun and enjoying the amenities that this lavish home has to offer.
From the owner:
Bella Luxury Rentals is delighted to offer this stunning waterfront home to our sun-loving guests. The main floor consists of two bedrooms and attached bathrooms/baths, and beautiful ocean views from the kitchen, family room, and dining room – which opens to a sunny outdoor living deck.
The downstairs floor consists of a large master suite with a private bath. It has a king canopy bed pullout sofa and sweeping ocean views. The master opens into a deluxe-covered outdoor deck leading to the private beach yard.
The first upstairs bedroom has a queen bed, and the second has a bunk bed with a Full-over-Full configuration. The bunk bed also has a pull-out trundle. These two bedrooms are compact but have plenty of space for your belongings, hanging space for your clothes, and private bathrooms.
The kitchen is well stocked and has everything you may require during your stay. Spices, coffee, tea, sugar, honey, non-dairy creamer, cooking oil, and vinegar are all available. And a charcoal grill, a large cooler, and ice packs are ready for your beach BBQ plans.
The house has a high-speed WIFI modem and Eero boosters to ensure you can work, play, stream, and connect efficiently while enjoying your time at our beachside oasis.
Getting The Best Deal
I first saw this property on Airbnb, then checked it on HiChee to see if I could save more. This oceanfront rental can also be booked on VRBO, wherein I can save $3,197!
9 Most Expensive Airbnb Luxe Properties in The US
3. Malibu House
Location: Cleveland, Wisconsin
Feel and live like an A-list celebrity
with this private luxury beach home in Wisconsin! Sprawling across 7000 square feet of property, this vacation home has an indoor pool, a private movie theater, an expansive game room, and—yes, this property is a gift that keeps giving—the best access to Lake Michigan!
This rental property also features bedroom suites with jetted soaker tubs, access to a private chef, and even a Fast and the Furious driving simulation! Staying in this vacation home is truly a one-of-a-kind experience!
From the owner:
This beachfront property is just minutes from Sheboygan and Manitowoc, which offer boating, surfing, water sports, bars/restaurants, summer music, sandy beaches, and more. Just 6 minutes to Whistling Straits, a World-Renowned Golf Course. Also close to Kohler Village Resort, Elkhart Lake/Road America, and a beautiful ride just north, you will find Door County. So much to do!
The House:
Main floor –
Enjoy the sunrise over the lake from your main floor master suite or unobstructed views on your wraparound deck. You'll love cooking in your chef's kitchen or relaxing in front of your 20ft custom fireplace. Looking for a second bedroom on the main floor? We've got you covered!
Lower level –
The lower level is where the action is at! Are you ready to laugh, play, and create lifelong memories? Walking down the steps, you are immediately surprised by an impressive game room featuring a PlayStation 5 setup, Fast and the Furious driving simulation, foosball, card table, and pinball!
What's next? Fire up the popcorn maker, grab your favorite movie, and relax in the top-notch private movie theater. The movie theater features 9 new chairs, a projector featuring the latest technologies, and an impressive surround sound system. Think Marcus Theater, only way better!
Finally, we leave the BEST for last! Grab your beach towels and inflatables, then head to the massive 45-foot indoor pool (yes, you read that correctly!). Make a splash, shoot some hoops, or relax poolside while watching the big sports game on the 85" TV!
Upper level – The second floor has yet another 3 private bedroom suites, each with jetted soaker tubs, walk-in closets, and a huge children's room. The children's room was designed to be a children's paradise featuring two fort-style trundle beds, play sets, slides, books, and even a "surf shack." Time for a sleepover!
Getting The Best Deal
I can rent this property already on Airbnb. However, HiChee said it's $797 cheaper if I book it on VRBO.
9 Most Expensive Airbnb Luxe Properties in The US
4. Beverly Hills Maison
Location: Beverly Hills, California
"Luxury" just reached a new level
with this stunning, gated French country chateau-inspired home that sits on nearly 2 acres of land, boasts breathtaking canyon views, and offers convenient access to Beverly Hills and the Valley.
The lavish 5-bedroom estate features a master ensuite with a smart TV, fireplace, lounge area, king-size bed, walk-in closet, bathtub, and his and her sinks. The property likewise features a fully-equipped theater, a large indoor gym for those #gains, a spectacular dining room, and a luxurious pool to complete the boujee experience.
From the owner:
A private, gated French country chateau-inspired home sits at the end of a cul de sac on nearly 2 acres of land surrounded by stately trees, mature landscaping, and verdant canyon views. Beautifully living room with fireplace, formal dining room, large kitchen, and light-filled breakfast area. There are spectacular canyon views from every room and nearby access to Beverly Hills and the valley. It has an expansive backyard and pool area.
Getting The Best Deal
This luxury rental is available on both Airbnb and VRBO. But thanks to HiChee, I can already see that I can save $1,833 through VRBO.
9 Most Expensive Airbnb Luxe Properties in The US
5. Quiet Pines Retreat
Location: Prescott, Arizona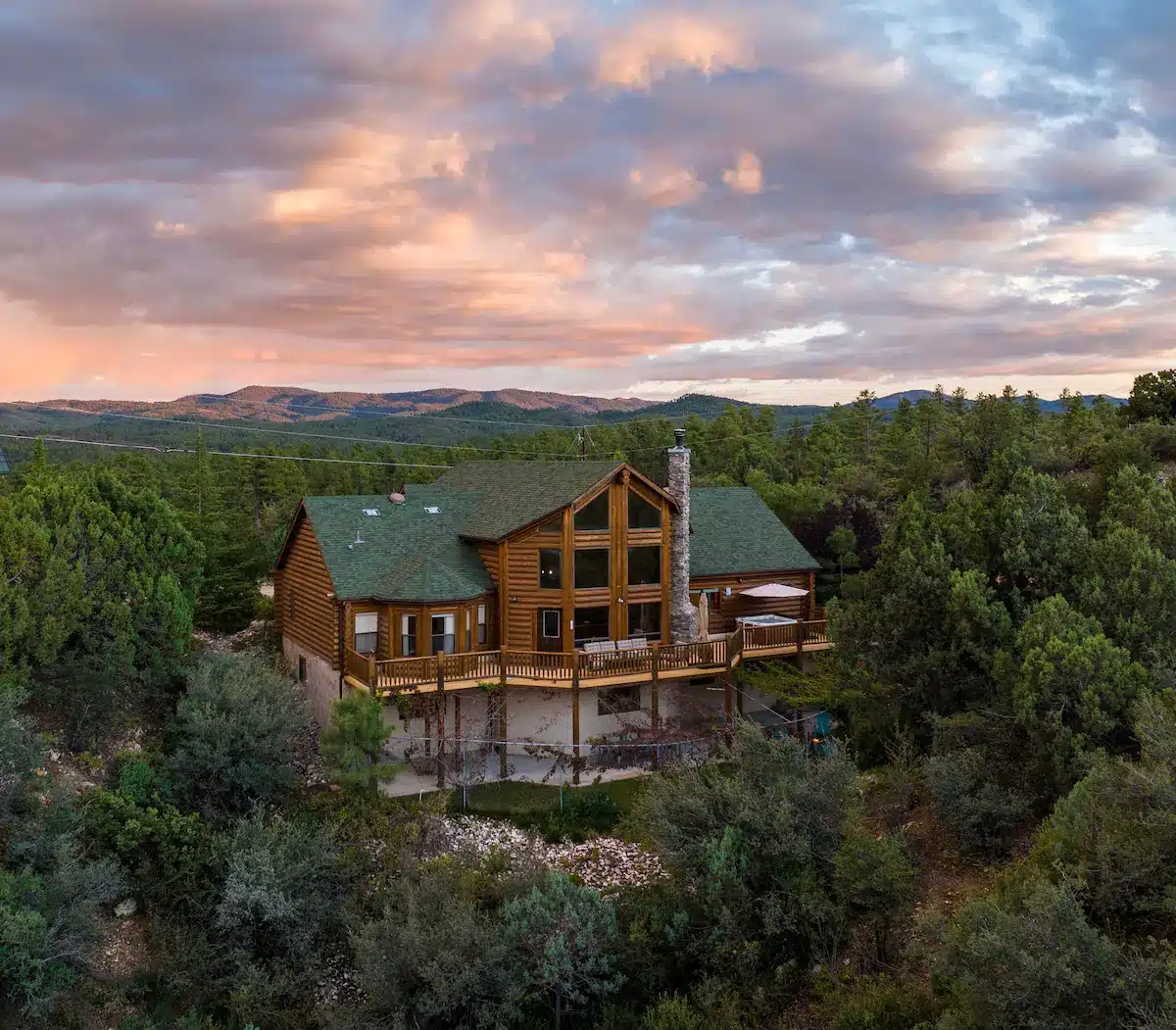 Nestled in the heart of the mountains, this chic cabin redefines traditional charm with a twist of minimalist contemporary vibes. With the private spa oasis featuring a sauna and hot tub – the perfect spot to unwind and recharge, it's a challenge not to be blown away by this property's luxurious amenities. The majestic vaulted ceilings create an airy ambiance, while the fully-equipped kitchen has everything you need to create a culinary masterpiece. It also features Smart TVs in every room, a movie theater, and a backyard for gatherings and BBQs.
From the owner:
As soon as you enter the stunning three-floor getaway, you're welcomed by a stylish yet highly comfortable open-concept living area. It is designed and furnished with numerous contemporary amenities that span throughout the entire interior of this magical cabin in the beautiful city of Prescott, AZ.
The fully equipped kitchen and inviting dining area open onto the relaxing living room with the intimate fireplace, setting the stage for many memorable evenings. Sun shines through large windows throughout the day, making the entire space bright and warm, enhancing the soothing ambiance under the majestic cathedral ceilings.
Once you are ready to rest and relax, retreat to five cozy bedrooms to recharge after an exciting day of outdoor adventures and sightseeing.
But wait! The best is yet to come – step out onto the outdoor deck to catch a breath of fresh mountain air and marvel at the breathtaking views from the luxurious hot tub. The covered back patio opens to the fully fenced backyard with a dreamy fire pit, offering a fantastic setting for outdoor relaxation and activities.
When you've had enough of the great outdoors, come to the game loft and have hours of fun playing foosball, board games, roulette, and poker.
The spectacular cabin also features a theatre room and the designated office space.
There are numerous options, and we can't wait for you to experience them all!
Getting The Best Deal
I can save $1,676 through VRBO than by booking it on Airbnb. What a deal!
9 Most Expensive Airbnb Luxe Properties in The US
6. Del Mar Villa
Location: Dundee, Oregon
Sitting at the heart of Oregon's Wine Country,
the breathtaking Del Mar Villa is a ritzy Italian Chateau-inspired retreat that'll sweep you off your feet. Sprawled across 46 acres of land, this 26,000 sq ft villa is a stone's throw away from Portland and surrounded by charming hazelnut and blueberry groves.
This Go Big or Go Home property boasts 11 luxurious bedrooms with swanky bathrooms. Its kitchen has top-of-the-line appliances for feasts fit for a king (or queen). It also features classy, manicured lawns and access to more than 200 tasting rooms and wineries. Whether you're a wine aficionado or just a fan of the finer things in life, this property will make you feel like a home away from home.
From the owner:
Welcome to Del Mar Villa, a 26,000+ sq ft luxury 'Italian Chateau-inspired Villa on 46 acres in the heart of Oregon Wine County (less than 1 hour southwest of Portland, Oregon). Sprawling out behind hundreds of acres of hazelnut and blueberry groves, Del Mar Villa has an impeccably maintained lawn, patio areas, sports courts, walking paths, an arbor, and much more. Perched above the Willamette River, the Villa features 11 bedrooms (8 luxury suites and a 3-bedroom family suite), 10+ bathrooms, private and gathering spaces, a ballroom, a chefs' kitchen, 3 kitchenettes, a pool table with entertainment area, 3+ dining spaces, and endless outdoor spaces!
Getting The Best Deal
This property is listed on Airbnb and VRBO, as seen on HiChee. Through booking on VRBO, I can save as much as $5,618.
9 Most Expensive Airbnb Luxe Properties in The US
7. The Colorado River – Spectacular Riverfront
Location: Bullhead City, Arizona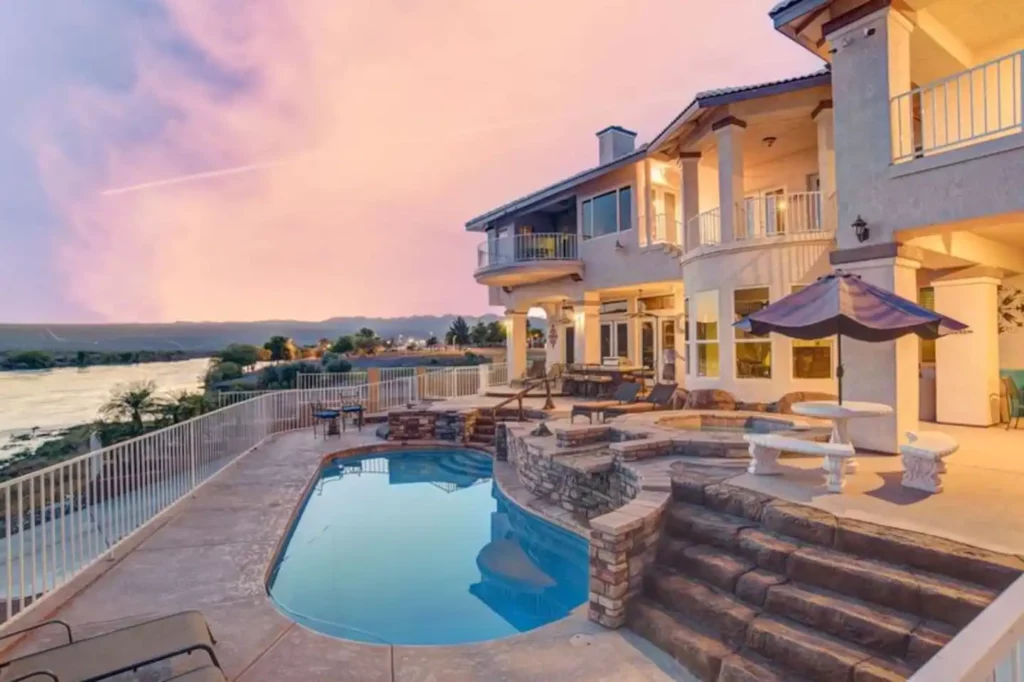 This next property on our list will give you The Great Gatsby vibes
with its spacious great room, dining area, and well-equipped kitchen. It features your sauna room and two opulent master suites, each with a unique touch and spectacular river views. It also boasts a spacious great room, dining area, and a well-equipped kitchen to whip up your favorite fancy dishes.
With a personal pool and private dock to enjoy and lounge in, this vacation home is a perfect blend of elegance and comfort that will give you unforgettable experiences.
From the owner:
Where you want to be a fantastic home on The Colorado River! Grand foyer and open living space, gas fireplace. The ground level has a great dining room, kitchen, guest bedroom, and Sauna room. The second level consists of 2 Master suites and 4 guest bedrooms. One master bathroom overlooks the river, and the other with a personal fireplace. Outback becomes part of your oasis with a private pool, spa, built-in barbecue, gazebo, and private dock.
Getting The Best Deal
HiChee shows that I can rent it on either Airbnb or VRBO. But the cheaper option is VRBO, as I can save $2,463!
9 Most Expensive Airbnb Luxe Properties in The US
8. Luxury 8 BR Estate with Pool and Tennis court
Location: Mount Kisco, New York
Escape the hustle and bustle of city life and embrace the serenity and luxury
this 10-acre vacation home offers. It is a swanky and secluded retreat property with a private tennis court to live your Wimbledon dreams in, a pool to help you cool during hot days, and a lovely porch to admire the entirety of the property. The house boasts spacious rooms, luxurious bedding, and posh furnishings that seamlessly blend leisure and relaxation to make you feel like you're living the dream!
From the owner:
Beautiful 8BR estate perfect for your needs! The house is a beautiful 10-acre home in Bedford Corners with 8 Bedrooms. It is perfect for family gatherings or groups of friends. Located minutes from downtown Mount Kisco. Pick up any of our provided rackets and play a set of tennis. Take a jump into our pool and cool off on a hot summer day. Enjoy our Eero mesh integrated WiFi system throughout the house with speeds up to 300 Mbps. You have found your place if you are looking for a quiet, secluded place north of New York.
Getting The Best Deal
I saw this property first on Airbnb. I tried checking if I can book it on other booking sites, and HiChee showed that it is also available on VRBO. This way, I can save $3,343!
9 Most Expensive Airbnb Luxe Properties in The US
9. Battenkill Valley Mansion
Location: Manchester, Vermont
Nothing screams "luxury" quite like a private mansion, right?
If you're throwing an intimate party for a small group and want the best property that money can rent, the Battenkill Valley Mansion is for you. This ritzy estate is nestled on a whopping 5-acre land, and the mansion can accommodate up to 34 guests! It features a commercial kitchen, spacious rooms including a bridal suite, an electric fireplace, world-class amenities, and close proximity to many fun activities and facilities!
From the owner:
The Battenkill Valley Mansion was built in 1904 as a wedding present for the daughter of the man who built our sister property, the majestic Wilburton mansion.
The Wilburton Destination Resort, less than half a mile away, accommodates up to 100 guests in 7 buildings of different sizes and styles. It is an ideal private getaway for destination weddings, corporate retreats, family reunions, and private celebrations.
Getting The Best Deal
I can rent this already on Airbnb, but it's $1,376 less on VRBO.
BONUS PROPERTY
Central Scottsdale
Location: Paradise Valley, Arizona
When we hear "mansion," you may tend to picture a rustic estate with character and some old-world charm. However, this vacation home in Central Scottsdale is about to give you a different view. Boasting a private soccer field, a chic pool, and an elevated spa, this swanky modern mansion is truly a jaw-dropping property about luxury, comfort, and style. Aside from the posh amenities, it also features a sunken fire pit, plush furnishings, and stunning interior décor.
From the owner:
We believe that you deserve an extraordinary vacation experience. When you book this home, you'll enjoy unrivaled features, amenities, and services. We provide a five-star check-in and tour of the home, elevated concierge services, excellent cleanliness standards, deluxe resort-style towels and linens, and access to the best massage therapists, personal chefs, tour guides, and childcare in the Scottsdale area.
Getting The Best Deal
This property is listed on Airbnb and VRBO. I can save up to $5,683 already.
However, upon using the Magic Search Direct Booking Options feature, I saw that it's also listed on another booking site wherein I can save $2,064 more!
Similar Articles
If you liked this article, you may like these articles too.