The Most Expensive Airbnbs In The Caribbean
The Most Expensive Airbnbs In The Caribbean
Are you ready to live like royalty in the most stunning homes on the mesmerizing islands of the Caribbean? Imagine waking up each day to the captivating sight of brilliant blue skies and shimmering waters as you step right out onto the patio of one of the Caribbean's swankiest rental properties.
These aren't your run-of-the-mill holiday flats, folks—trust me, these dreamy homes are the gold standard of luxury! Fancy soaking up the Caribbean sun, lounging in Instagrammable infinity pools, or sipping your morning brew while awing at the sweeping ocean vistas from your swanky living room? You'll feel like a million bucks, nearly the amount you need to shell out to enjoy these properties, but it will be absolutely worth it!
Every inch of these vacation homes exudes elegance and lavishness, giving you a front-row seat to the good life in one of the most jaw-dropping corners of the globe. Planning a dreamy couple's escape, a family adventure, or a crazy fun friends' trip? These premium Caribbean rental homes dish up the ultimate in going extra and deliver a priceless and unforgettable experience you'll surely cherish.
Yes, a boujee vacation will cost you, but with resourcefulness and a little bit of Hichee magic, you wouldn't have to spend that MUCH. HiChee offers a wide range of vacation rentals on Airbnb, VRBO, and Booking(.com) so you can compare prices and find the best deals that suit your needs and budget. By making the most of this unique Hichee feature, you can find affordable, Instagrammable, and high-quality vacation homes that offer huge savings, so you have more resources to spend on other memorable experiences during your trip. Trust us, your wallet will thank you.
Click any of the images below to view that property directly.
The Most Expensive Airbnbs In The Caribbean
1. Cabuya
Location: Leeward Settlement, Caicos Islands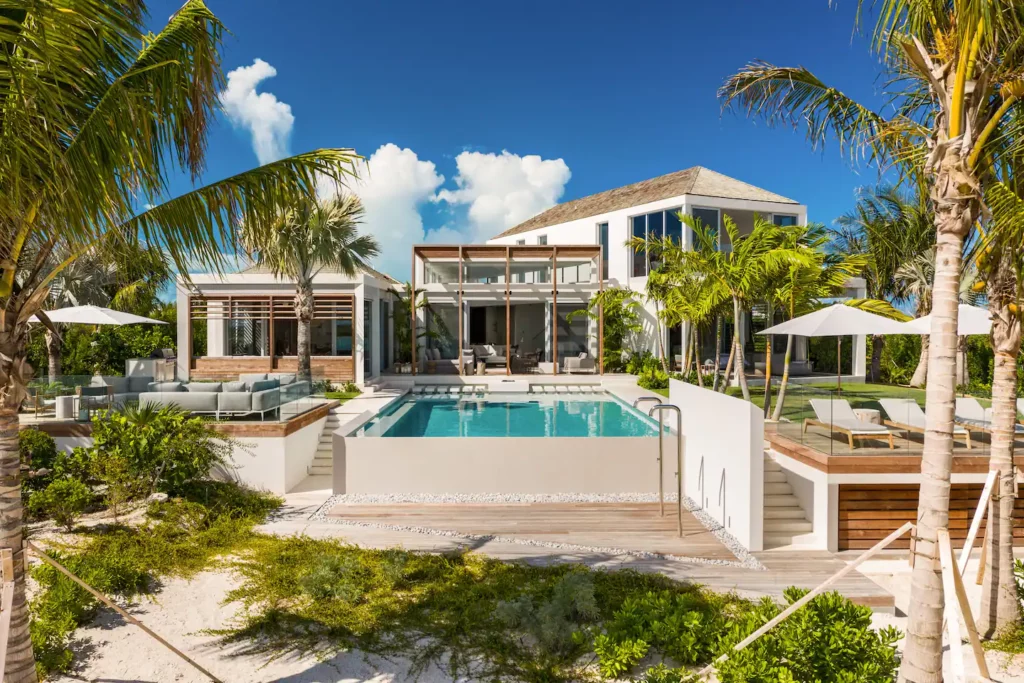 Experience the best that coastal luxury offers at Cabuya, a breathtaking 6-bedroom beachfront haven in the heart of Providenciales in Turks and Caicos. This ritzy vacation home, arguably the most luxurious on our list, exudes unparalleled indulgence, offering an exquisite blend of indoor and outdoor living spaces. Each uniquely designed suite is an oasis, boasting stunning ocean vistas, alfresco rain showers, private balconies, and high-end furnishings. This rental property offers spacious rooms and deluxe amenities, including a fully outfitted gourmet kitchen, a shaded outdoor dining area, and a state-of-the-art poolside sound system.
From the owner:
Welcome to Cabuya, a splendid 6-bedroom beachfront property represented by Exceptional Villas, a top-rated luxury villa rental company supported by Trustpilot reviews. Arrive at your Turks and Caicos villa in an exclusive gated community in Providenciales to find a gorgeous and welcoming paradise with every amenity, service, and feature designed for your comfort and enjoyment. With seamless grace, CABUYA merges expansive indoor spaces with the loveliest outside imaginable to offer a unique travel experience.
Getting The Best Deal
I couldn't believe it when I saw this stunning property on HiChee. And guess what? By choosing VRBO over Airbnb, you'll pocket a fantastic $112,019 in savings, giving you more financial freedom to indulge in local delicacies or treat yourself to a memorable shopping spree.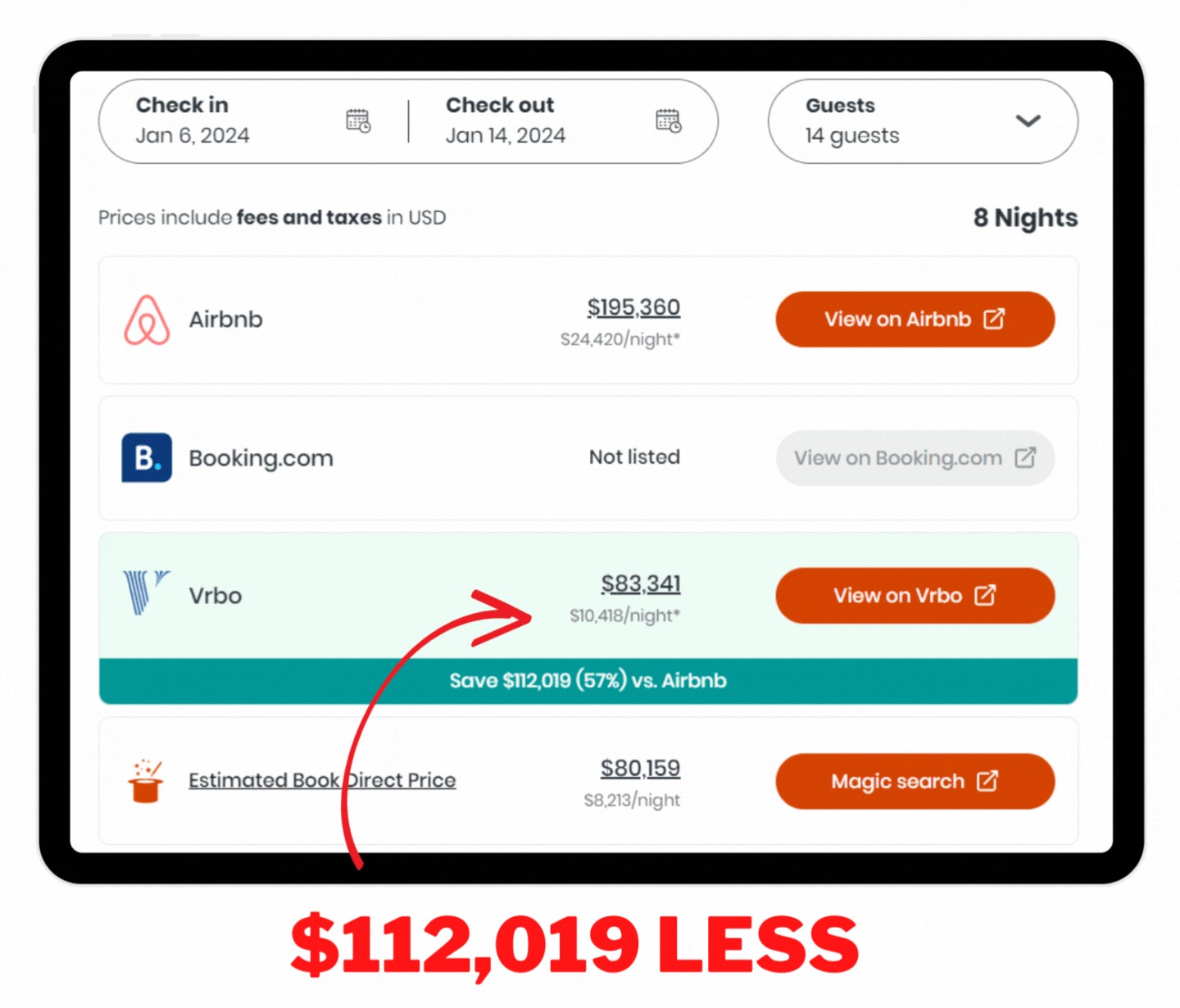 The Most Expensive Airbnbs In The Caribbean
2. Hawksbill Villa
Location: Leeward Settlement, Caicos Islands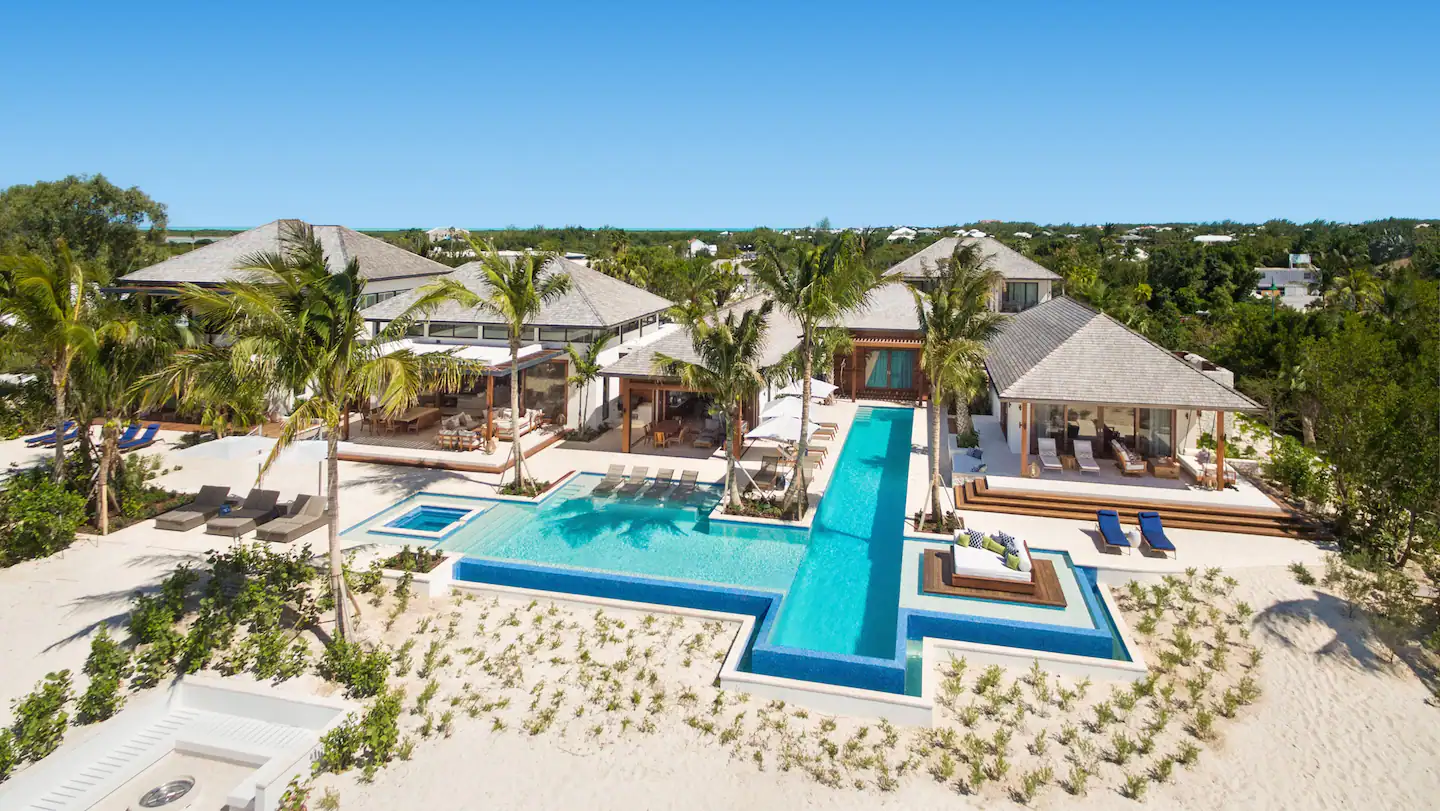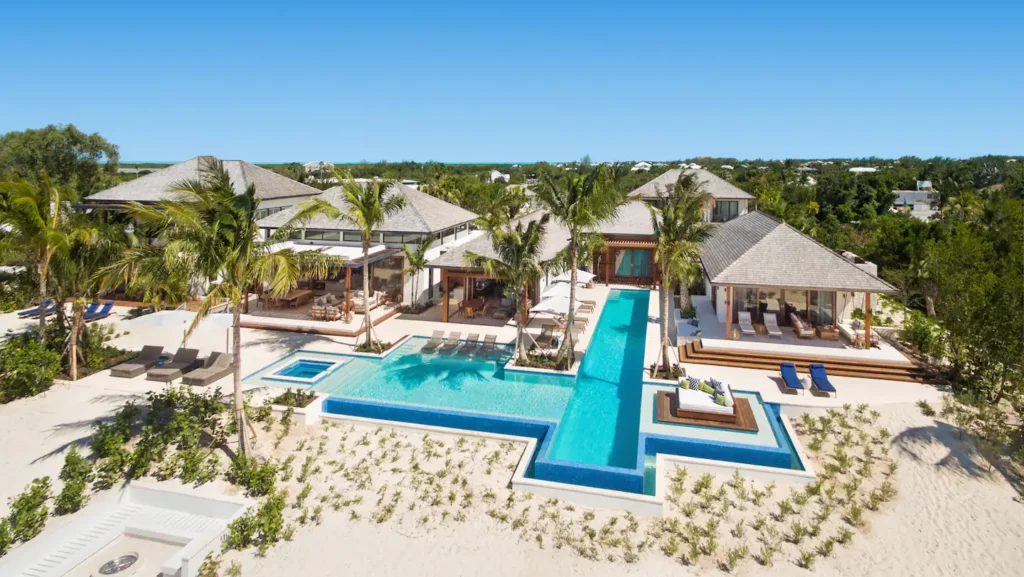 Immerse yourself in lavish Caribbean elegance at Hawksbill Villa, an expansive estate that beautifully marries natural materials for a rustic touch with minimalist, modern design. Radiating warmth and opulence, this expensive home offers unique features like a stone-wall cantilever staircase, an outdoor shower, a private dock, and a beautiful fire pit. It also offers world-class amenities and services, including a private chef, two butlers, and a housekeeper.
Indulge in the on-site gym with a Peloton bike, a massage room, a media room, and sports facilities. Outdoor living is accentuated by alfresco dining, a gorgeous lap pool, and speakers to play your beat while you take in all the luxury this home offers. With its unique and premium features, Hawksbill Villa is an exclusive sanctuary of unparalleled island luxury.
From the owner:
Hawksbill Villa is a transitional contemporary Caribbean estate home. Varied roof lines and a creative building layout reduce the mass of the building, despite its size. Natural materials have been used throughout the property, and this palate of different woods and stones softens the overall ambiance bringing warmth to the property. Walnut treads cantilever from an indigenous, split-faced stone wall to form a dramatic staircase and a focal element from the Great Room. A visitor experiences a sense of place, beautiful Caribbean colors, and light throughout the home through generous openings.
Getting The Best Deal
By making the smart decision to book through Airbnb rather than VRBO, you'll unlock an incredible savings of $6,969. Just imagine all the incredible experiences you could have with that extra cash in your pocket!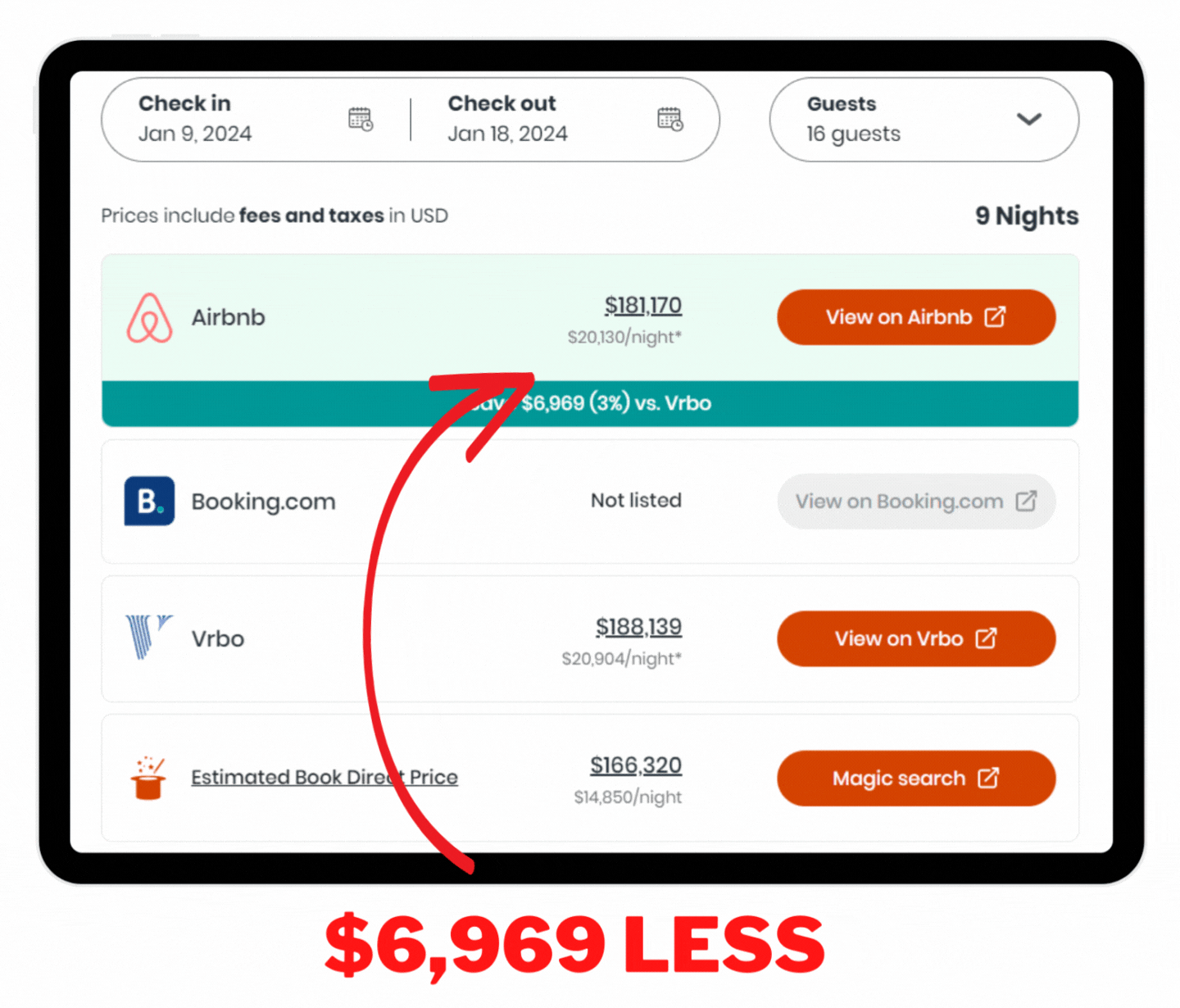 The Most Expensive Airbnbs In The Caribbean
3. Sentosa
Location: Leeward Settlement, Caicos Islands
Nestled in the heart of the stunning Caribbean, Sentosa, an extraordinary oceanfront villa poised on the pristine shores of world-renowned Grace Bay, continues to symbolize luxury and comfort in the islands of Turks and Caicos. Designed to uncompromising standards of luxury and elegance, Sentosa epitomizes the essence of sophisticated beachfront living. Sprawling across 12,000 sq ft of beachfront property, this spacious, high-end vacation home features an infinity-edge pool, a hot tub cabana, and a jaw-dropping ocean view.
A private beach deck further enhances the lavish beachfront experience. Inside, natural light illuminates the open-concept living space, enriched by a contemporary design and high-end appliances, including a chef-ready kitchen. With full-service staff, water sports equipment, and a separate guest house, Sentosa offers a sublime blend of elegance and comfort for an unforgettable Caribbean retreat.
From the owner:
With some of the most picture-perfect and naturally beautiful beaches in the Caribbean, the Turks and Caicos Islands have established themselves as one of the world's most desirable luxury tourist destinations. Sentosa is an oceanfront Grace Bay villa recently constructed to exceptionally high standards in terms of architectural style and interior design, offering the pinnacle of modern, refined beach luxury.
Providenciales' incredibly low population density in the Turks and Caicos Islands sets the scene for this private-gated oceanfront Grace Bay villa. Sentosa enjoys the tranquility of 1.5 acres of land in a double lot that opens out directly onto 240 feet of powder-like white sand – Grace Bay Beach – one of the highest-rated beaches in the world. All of the 6 bedrooms in the main house of this oceanfront Grace Bay villa benefit from unobstructed views of the breathtaking turquoise reef waters.
Getting The Best Deal
I was amazed by this grand luxury beachfront villa. And here's the best part: by opting for VRBO instead of Airbnb, you can enjoy a remarkable $4,296 savings! From thrilling excursions to delightful souvenirs, that extra money can make your vacation dreams a reality.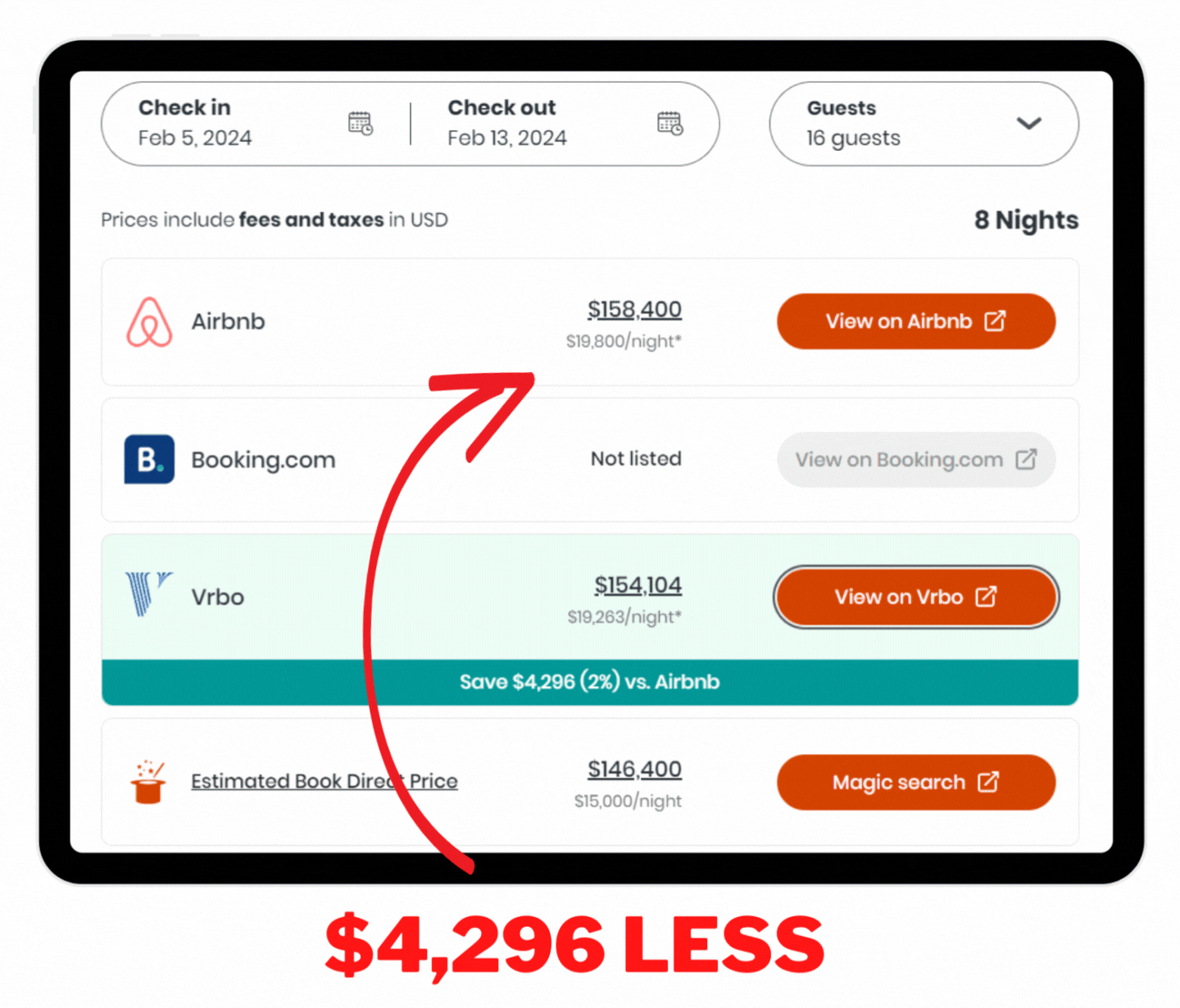 The Most Expensive Airbnbs In The Caribbean
4. Reigate
Location: Fitts Village, Saint James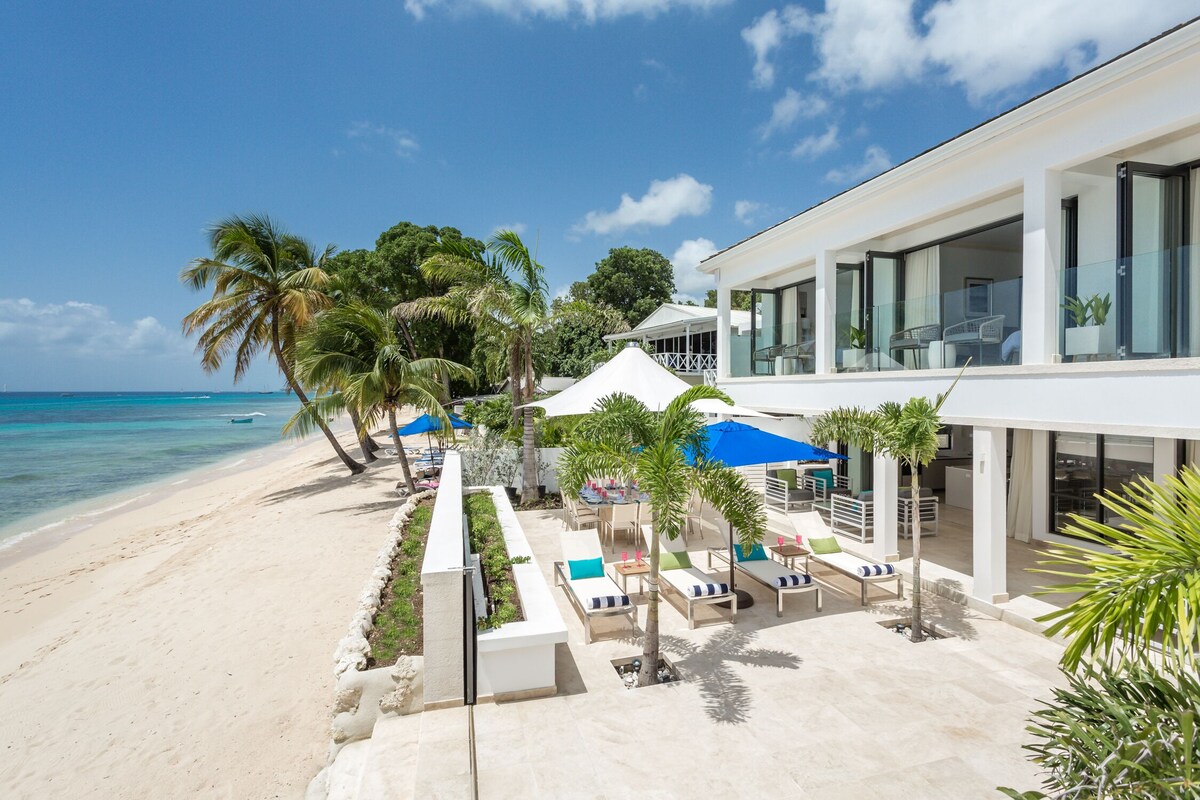 Nestled on the West Coast of Barbados, Reigate is a beachfront haven. This six-bedroom luxury villa balances modern convenience with classic Caribbean charm, boasting a sleek kitchen, private courtyard pool, and spacious terraces that offer uninterrupted sea views. The property's elegant interiors come adorned with designer furnishings integrated with smart home technology for effortless comfort. A dedicated villa team ensures personalized service from dawn to dusk, from serving island-style breakfasts to preparing sunset cocktails and starlit dinners. Enjoy the luxury of fully air-conditioned space, a sun deck for leisurely afternoons, and proximity to local attractions.
From the owner:
Reigate is an exceptional 6-bedroom luxury villa on the beach on the West Coast of Barbados. This brand new villa comes complete with spacious indoor and outdoor seating areas, well equipped and sleek kitchen, a private courtyard swimming pool and patio area, expansive beachfront covered and uncovered terraces, sea views from almost every room and living area as well the most direct beach access imaginable.
Unlike most beachfront villas, 3 ensuite and air-conditioned bedrooms have direct sea views with private sea-facing balconies. The luxury lifestyle comes complete with the latest designer furniture and smart home technology and entertainment systems allowing you to enjoy the ancient sights and sounds of the Caribbean whilst relaxing amongst cutting-edge interiors and effortless modern conveniences.
From morning to night, your every moment will be catered to via management, a concierge, and an experienced villa team, including housekeeping/laundry, cook, and security. Sit back and relax in the comfort of this modern and impeccable villa whilst enjoying the best of beachfront experiences, from island-style breakfasts and freshly brewed coffee as the island wakes to expertly make canapés and cocktails at sunset, followed by unforgettable fine dining under the stars.
Getting The Best Deal
I discovered this remarkable home away from home listed on HiChee that will take your breath away. Opting for VRBO instead of Airbnb can unlock fantastic savings of $69,418. Those extra dollars will make your trip even more extraordinary.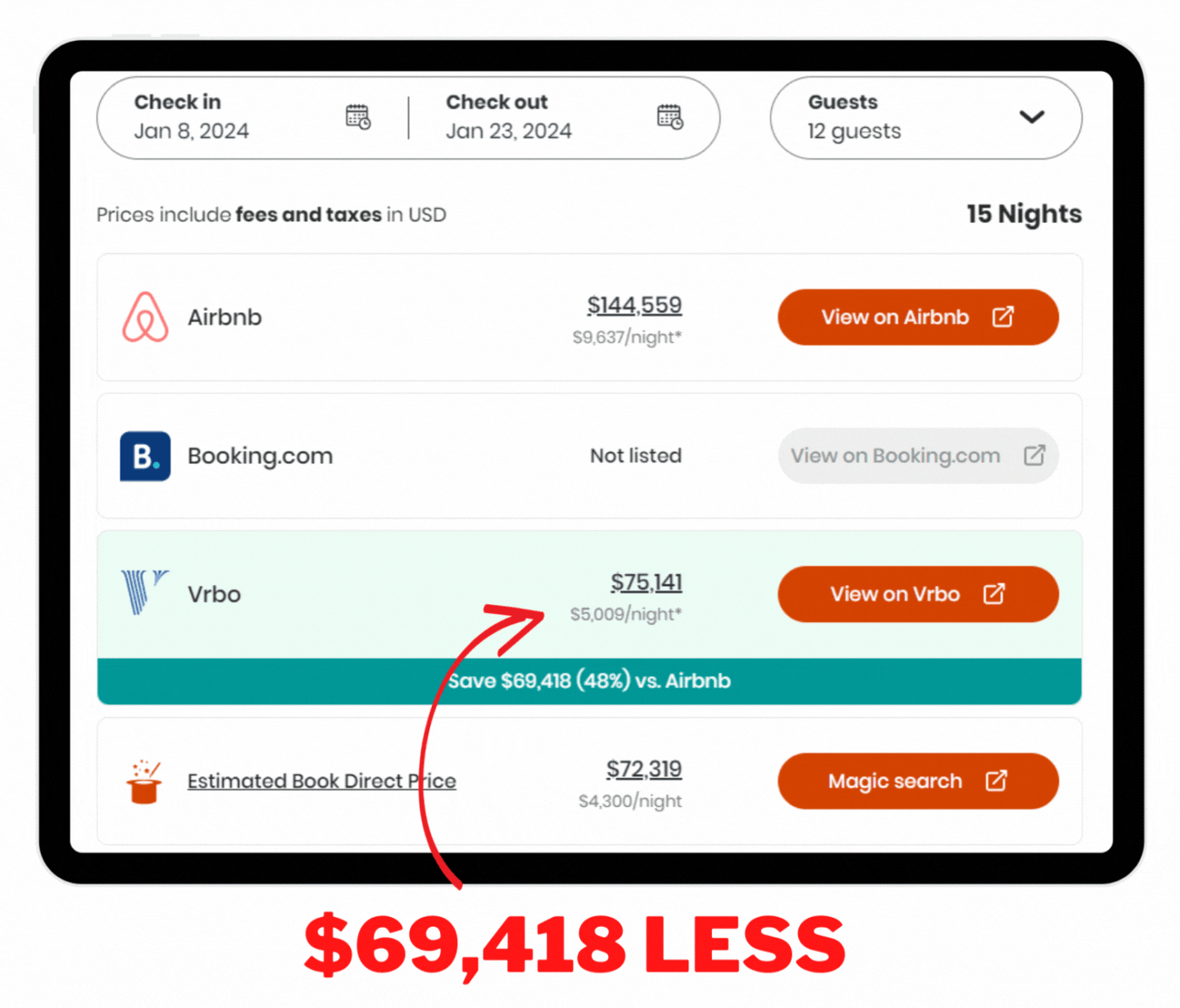 The Most Expensive Airbnbs In The Caribbean
5. Nevaeh Villa
Location: The Valley, Anguilla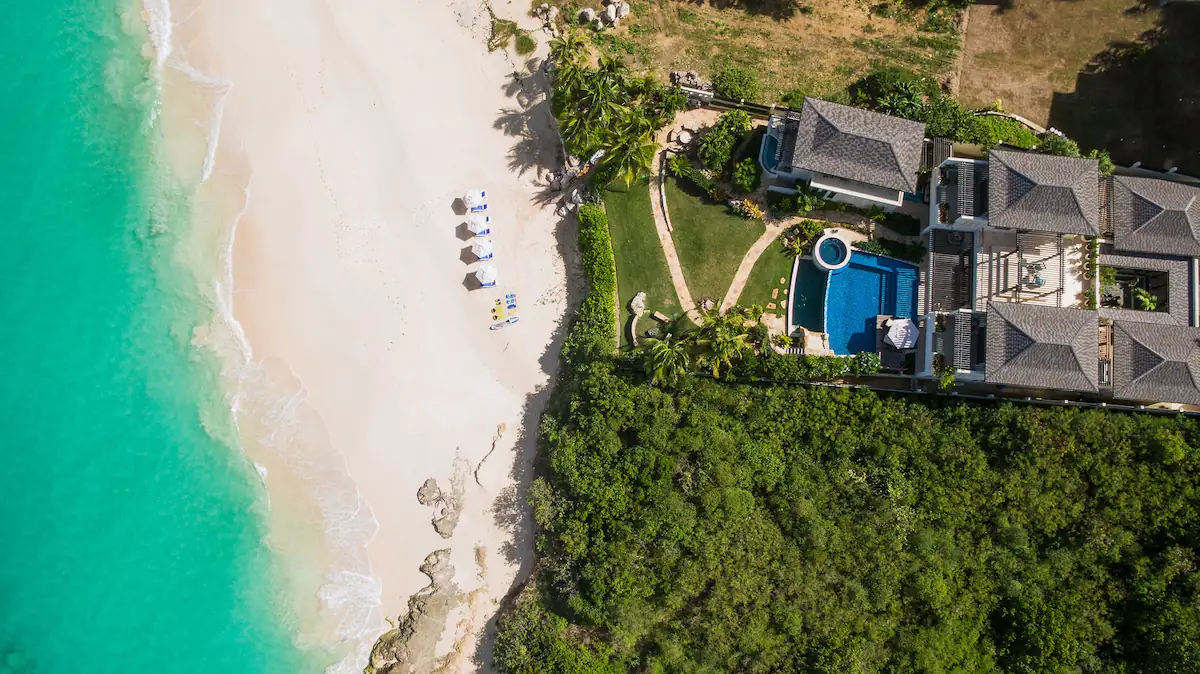 Experience the sweet life at Nevaeh, a ritzy, Balinese-themed beachfront estate on Anguilla's Long Bay. A haven of elegance and serenity, this paradise is ideal for family vacations, memorable celebrations, and romantic weddings. Housing nine deluxe bedrooms spread across the main and guest houses, Nevaeh ensures privacy and comfort. Each room has premium features like smart TVs, Blu-ray players, and iPads. For entertainment, plunge into the split-level heated infinity pool, test your Wimbledon skills on the tennis court, sweat it out in the fully-equipped gym, or unwind in the private cinema. This luxurious vacation home also includes exceptional staff services, golf carts, and a UTV for local exploration.
From the owner:
Exclusive, Balinese-inspired beachfront estate with direct access to a half mile of pristine white sand beach on Long Bay. Just minutes from the fashionable west end of Anguilla, Nevaeh is heaven-spelled backward, and this top-of-the-line retreat certainly lives up to its name. Perfectly suited for multi-generational families, groups of friends, milestone celebrations, and weddings.
9 luxurious bedrooms are spread between the main and guest houses to optimize privacy. 7 have king-size beds and ensuite bathrooms, and 2 have 2 queen beds and share a full bath and separate powder room. 4 bedrooms also feature separate outdoor showers; all rooms have air conditioning, telephones, smart TVs, BluRay DVD players, and Ipads.
Getting The Best Deal
You got this picturesque paradise waiting for you. By selecting VRBO over Airbnb, you can save an unbelievable $14,524, allowing you to upgrade your getaway in ways you never thought possible. With these savings, you can indulge in luxurious spa treatments or embark on unforgettable day trips.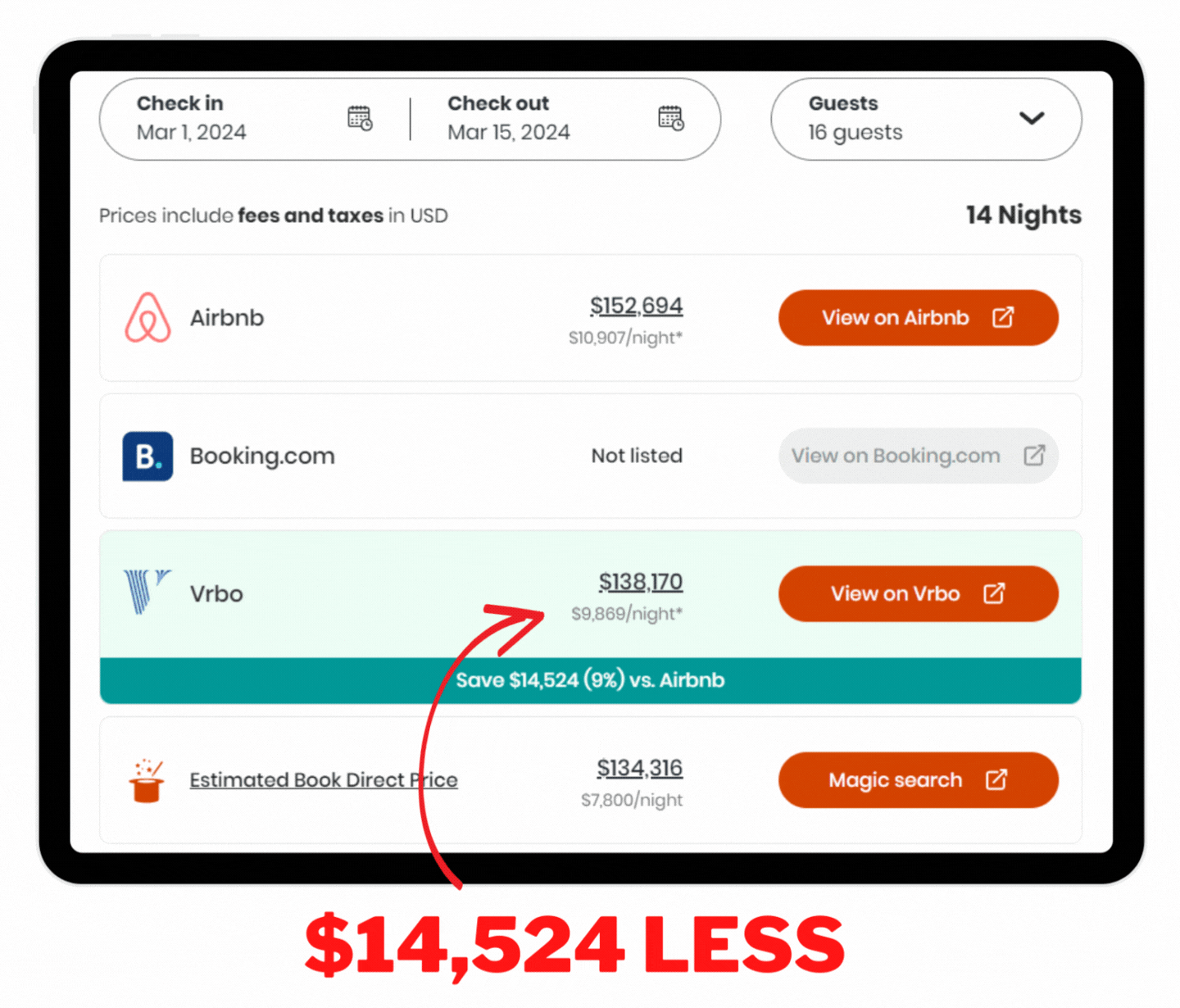 The Most Expensive Airbnbs In The Caribbean
6. Seaclusion
Location: Derricks, JAM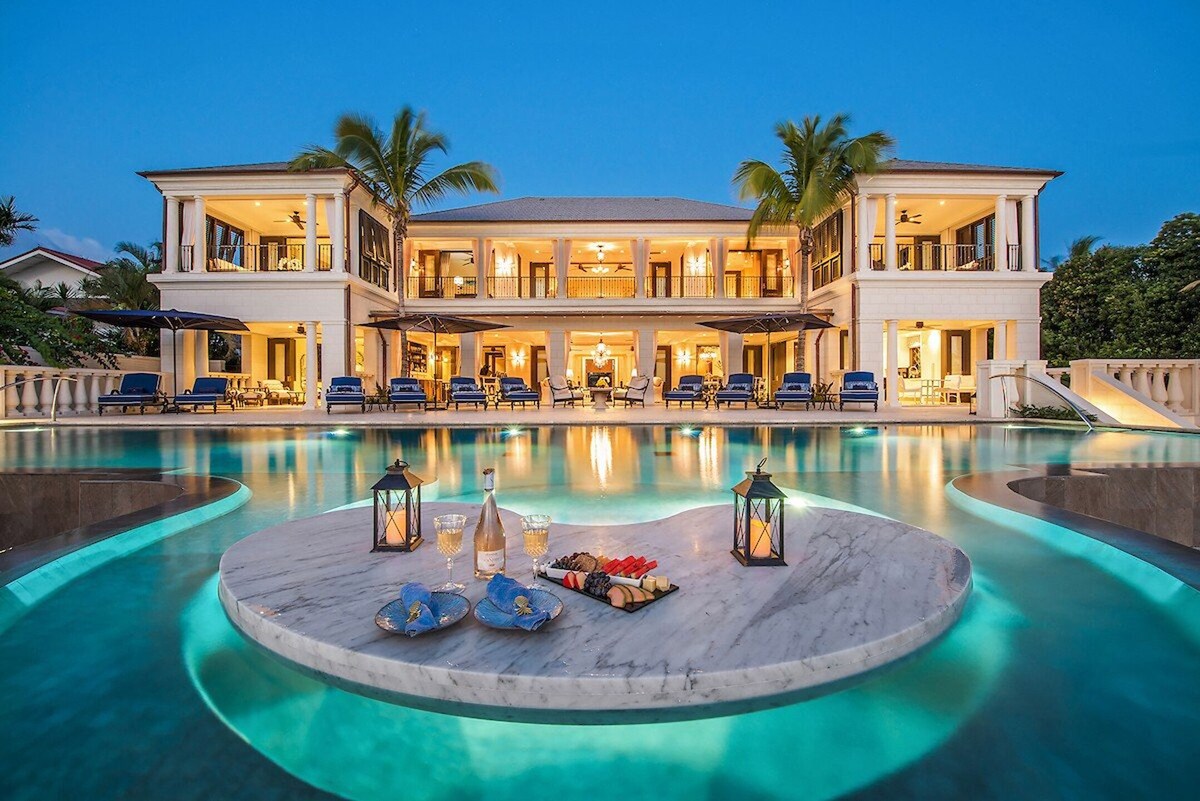 Next on our list of the most bujee property rentals in the Caribbean is Seaclusion in Barbados, where luxury meets tranquility in a spacious beachfront villa that exudes lavishness in every inch of this space. Sitting at the heart of a stunning tropical garden on a bluff, this gem offers an unparalleled panorama of the Caribbean Sea.
It boasts a blend of sophistication and comfort, with five sea-view bedrooms, a cocktail bar, a media room, a grand piano, and a fitness room. It also features an ocean-facing terrace with a cocktail bar and informal dining in an ocean-front gazebo. Make a splash in the unique infinity-edge lap pool with open seats, explore the zen gardens, koi fish pond, and your private access to a secluded beach.
From the owner:
Seaclusion is an outstanding six-bedroom beachfront luxury villa in Barbados. The property sits on one acre of tropical gardens on a bluff overlooking the beach and the Caribbean Sea. This extraordinary high-end home features unparalleled sea views from all living areas and 5 bedrooms. The elegantly furnished interiors include a cocktail bar, living and reception areas, and a media room.
There is also a formal dining room, entertaining kitchen, grand piano, and fitness room. The main house has four bedroom suites, each with a terrace or balcony. A stunning spiral staircase leads to the master suite on the upper level. The master also includes a private terrace, walk-in wardrobes, and mesmerizing sea views. In addition, there is a further bedroom in a self-contained apartment cottage. The cottage is perfect for those traveling with staff or teenage children.
Getting The Best Deal
Picture this: a sunny destination, cozy accommodation, and an extra $26,606 to splurge on memorable excursions. Your dream vacation can get sweeter thanks to HiChee and the magic of choosing VRBO over Airbnb!
The Most Expensive Airbnbs In The Caribbean
7. Villa Bom
Location: St. Jean Beach, Saint Barthélemy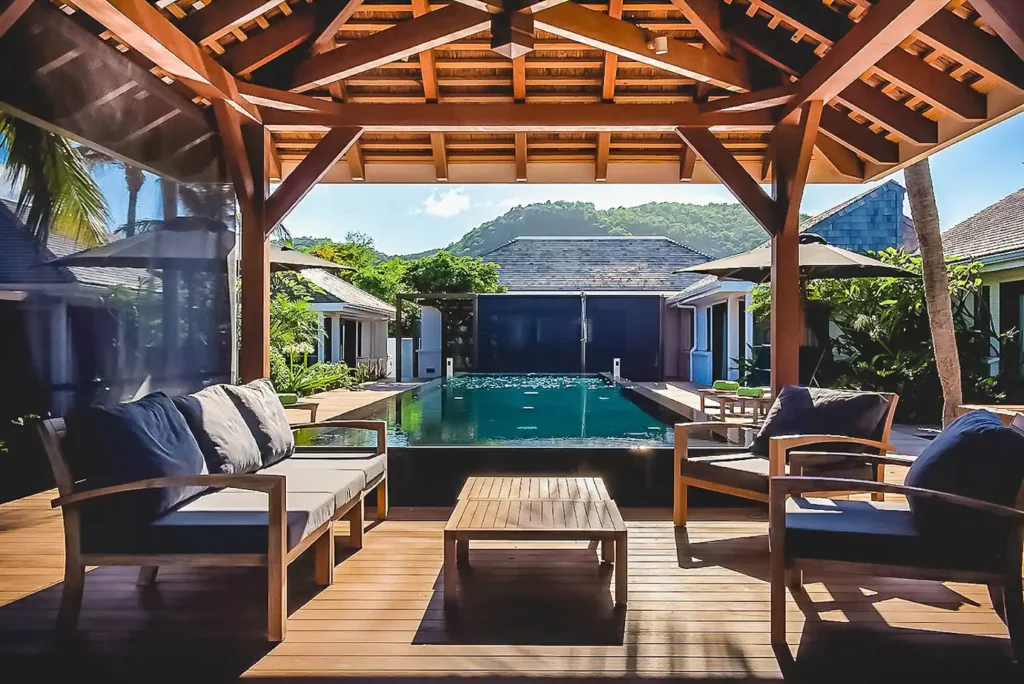 Experience the breathtaking fusion of Balinese charm and Caribbean allure at Villa BOM, an architectural marvel by the much-celebrated François Pécard, on the prestigious island of St. Barth. Greeting you with an impressive seascape the moment you step in, this luxury villa effortlessly creates a soothing, exotic ambiance. Its defining features include elegantly sweeping rooflines and airy pavilions, conjuring images of South Seas' breezy bales.
Walk on the exotic wenge wood floors, relax in the gorgeous black lava-tiled pool that majestically rises and overflows in four directions, basking on a vast wood deck. The villa's whitewashed wood ceilings hold undeniable Caribbean charm, marking it as one of the West Indies' most distinguished vacation homes.
From the owner:
Upon entering Villa BOM (BOM), you're immediately seduced by the breathtaking sea view and the warm, comfortable-yet-slightly-exotic feeling of the interior design. Although this luxury villa is the work of architect François Pécard, who has spent the past 30 years designing many of the most prestigious homes on St. Barth, something about it may briefly transport you to Bali.
The property has graceful rooflines and open pavilions that bring to mind breezy South Seas bales, exotic wenge wood floors, and a stunning black lava-tiled pool that rises from an expansive wood deck and overflows on all four sides. But as you settle in under the whitewashed wood ceilings, it becomes undeniable that you're in the Caribbean—in fact, in one of the finest vacation homes in the West Indies.
Getting The Best Deal
When it comes to travel, I'm all about maximizing value. HiChee showed the way, revealing that booking through Airbnb instead of VRBO could stretch your budget by $38,899. Now that's savvy saving!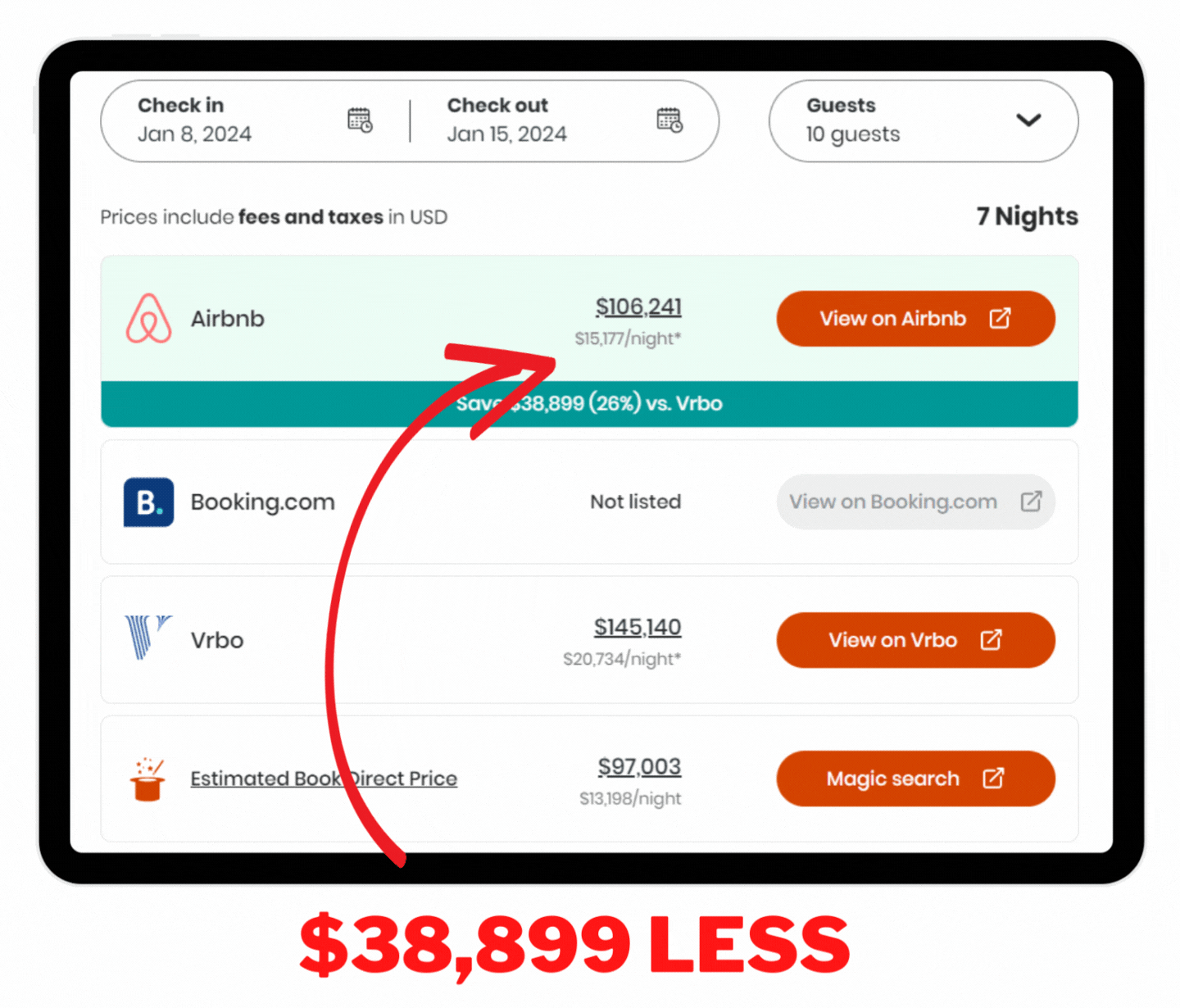 The Most Expensive Airbnbs In The Caribbean
8. Sea Villa
Location: Long Bay Village, Anguilla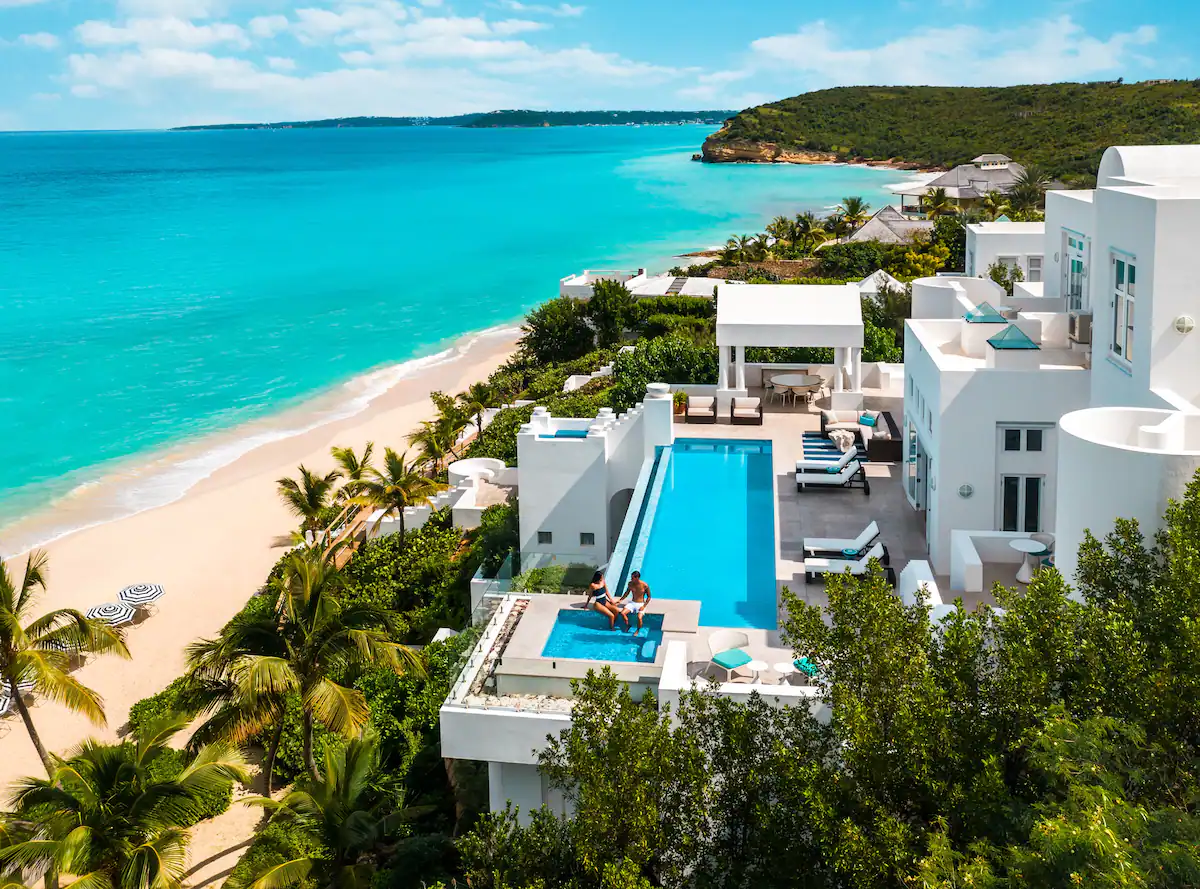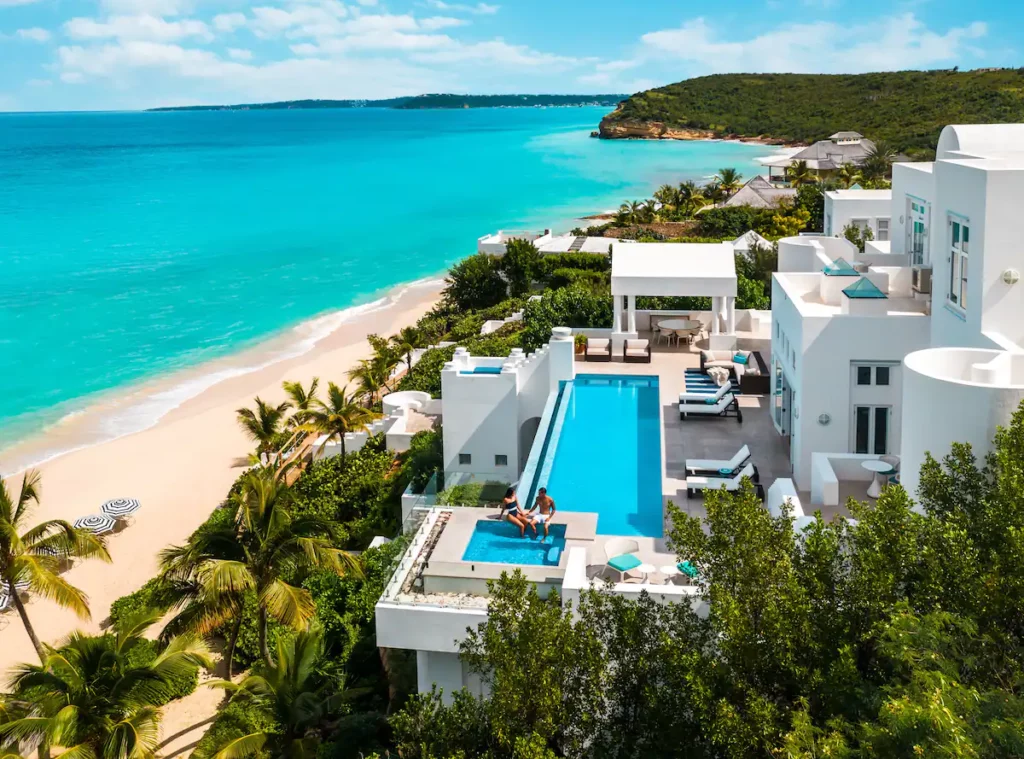 Perched on the secluded Long Bay Beach, the ultra-luxurious, fully-staffed Sea Villa at Long Bay Villas Anguilla offers you the ultimate vacation of your dreams. This modern minimalist haven has a personal butler, concierge, oceanfront terrace, heated infinity pool, hot tub, al fresco dining pavilion, and a BBQ grill. Enjoy panoramic views from expansive living areas and access to shared amenities like a beach cabana and an onsite gym so you can still be on track with your fitness.
This dreamy home's master suites boast spa-like ensuite bathrooms with indoor/outdoor showers, giving guests the privacy of their own luxury home with the service and amenities of a boutique resort.
From the owner:
Sea Villa is one of a trio of ultra-luxury, 5-bedroom villas at Long Bay Villas on secluded Long Bay Beach and 5 minutes from golf and West End restaurants. It is featured in Netflix's "The World's Most Amazing Vacation Rentals" Season 2. Butler, concierge, breakfast, maid, WIFI, and beach service are included. Enjoy the privacy of your pool, hot tub, and oceanfront terrace with the 5-star service and amenities of a boutique resort with tennis. See the Anguilla Tourist Board for protocols.
The space
Hello, we are the owners of Sea Villa. One of Anguilla's newest and most private luxury properties, we opened Sea and its sister, Sand, and Sky, at Long Bay Villas in December 2018 after a multi-million-dollar transformation. Celebrity favorites, each separate home has its own private amenities, including an oceanfront terrace with a heated infinity pool and hot tub, an alfresco dining pavilion, a BBQ grill, a kitchen, and spacious living and dining areas that showcase the panoramic views.
Getting The Best Deal
It's amazing how a simple decision can lead to extraordinary savings. By opting for VRBO rather than Airbnb, you can tuck away an impressive $46,758, transforming your travel plans into a true budget-friendly escapade.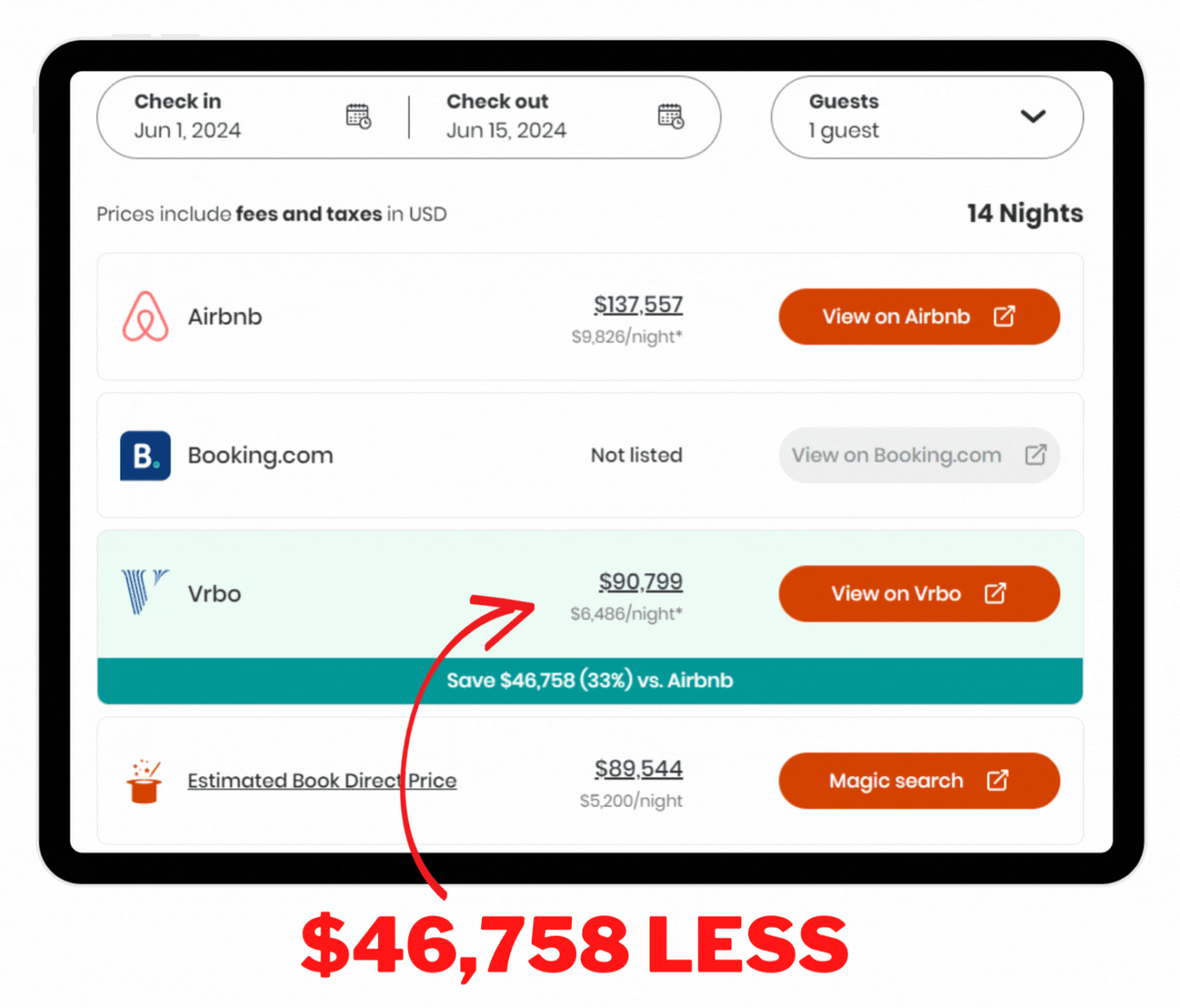 The Most Expensive Airbnbs In The Caribbean
9. Domingue
Location: Villa Domingue, SBH
In the heart of St. Barths, Villa Domingue is a spacious and ritzy home that offers a jaw-dropping view of the paradisical Caribbean Sea. This 3-bedroom luxurious rental home harmonizes luxury with meaningful experiences. It features a 45-foot pool ideal for refreshing swims, a state-of-the-art fitness room with eco-conscious gear, and access to high-speed Wi-Fi for seamless connectivity. All rooms flaunt contemporary Italian designer furniture, adding to this vacation home's lavish and modern appeal.
From the owner:
Discover Maison Domingue, the 3-bedroom St Barts villa your loved ones deserve. Private designer villa overlooking the Caribbean Sea. Create lifelong memories in this newly built villa.
Concierge and maid included. Heated pool and private gym. Located atop a sea cliff in the upscale Pointe Milou area of the island.
Getting The Best Deal
Booking that fabulous property on VRBO rather than Airbnb can feel like a victory lap, celebrating a memorable stay and the extra $8,379 in your pocket!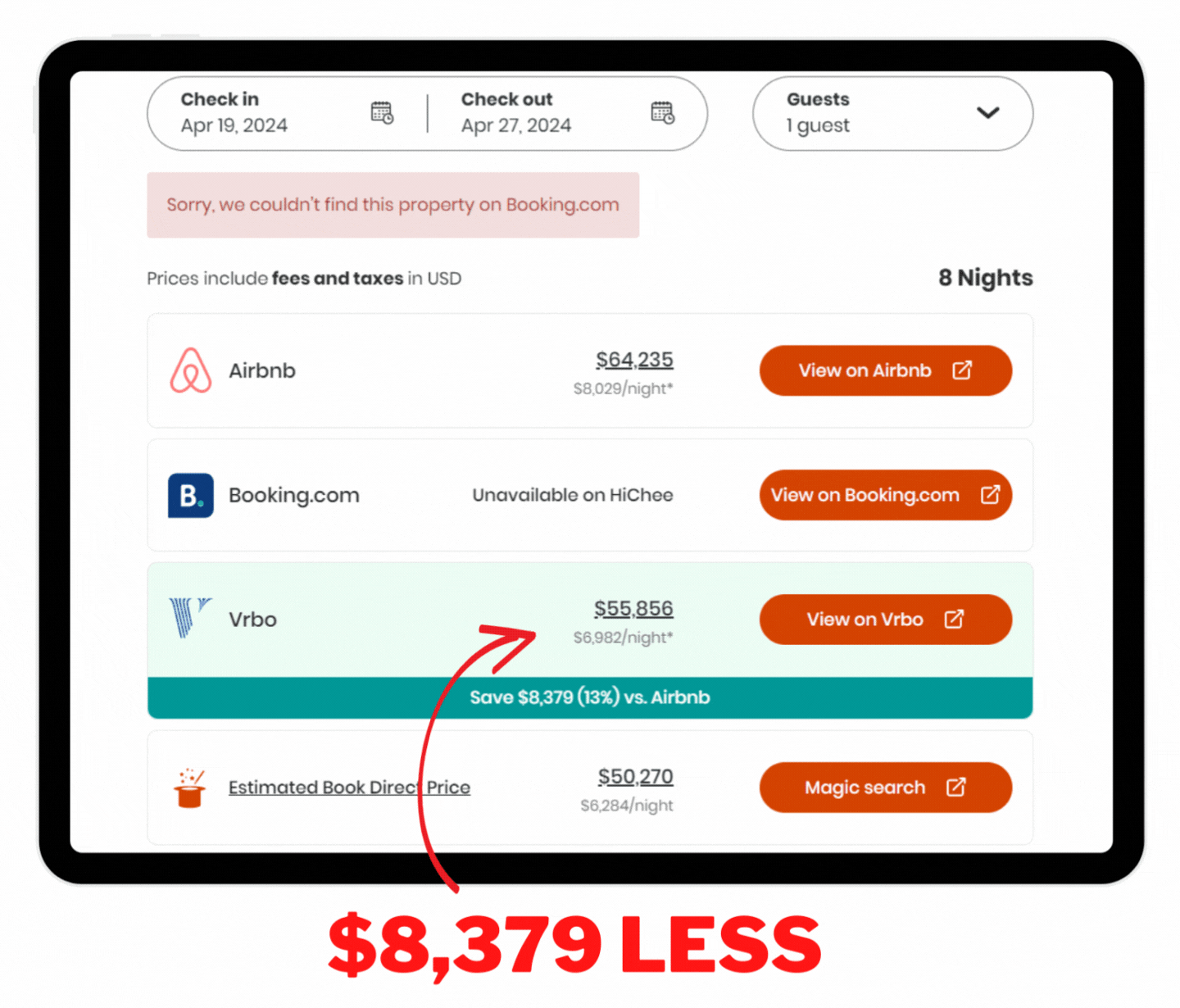 The Most Expensive Airbnbs In The Caribbean
BONUS PROPERTY
Sunny Vibes Villa
Location: Grand Cul-de-Sac, St Barthélemy
Experience beachfront luxury like never before at this elegant Villa. Located on the stunning Grand Cul de Sac turquoise lagoon, this unique villa offers direct access to a private beach and panoramic views of the azure sea. Step out onto the warm sand and dive into the crystal-clear waters, or simply relax on the spacious sun terrace and comfortable loungers.
The villa boasts a stylish living room with a dining area that opens onto the pool deck, creating a seamless indoor-outdoor experience. With six ensuite bedrooms, including two magnificent master suites, every guest will feel pampered. Plus, being located next to a luxurious 5-star hotel and spa offers additional perks and amenities. Indulge in the ultimate beachfront getaway and enjoy the convenience of nearby restaurants, bars, and water sports rentals.
From the owner:
The elegant Villa is a unique beachfront villa located directly on the turquoise lagoon of Grand Cul de Sac, with private access to the beach in front of the large infinity pool and enjoying panoramic views of the warm and azure waters of the sea. A breathtaking view of the lagoon is the first thing to seduce the guests, and go out on the warm sand and dive straight into the blue-green ocean water that comes next. Outdoor living at this Villa is premium, with a large sun terrace, comfortable sun loungers, and an outdoor lounge at the water's edge. The spacious living room includes a dining room that opens with a French bank door on the pool deck and an outdoor area.
The indoor dining room and the fully equipped kitchen provide a friendly sharing space for meals with friends and family. The six ensuite bedrooms include four magnificent guest suites on the waterfront ground floor. Two master suites overlook spectacular scenery and offer divine amenities: a dressing room, a private balcony, and a living room. Located next to one of the most luxurious 5-star hotels and spas, guests can easily enjoy the benefits and pleasures of being close to such a world-class luxury establishment. The nearby short walk to two casual restaurants, bars, three 5-star hotel restaurants, and water sports rentals are a "location bonus."
Getting The Best Deal
Indulge in the lap of luxury at a lavish villa boasting a private pool and breathtaking views of the turquoise lagoon of Grand Cul de Sac. VRBO offers you the chance to save $8,620 compared to Airbnb. You can savor exquisite moments in this opulent sanctuary without a hefty price tag.