The Best Airbnb Wedding Venues in the US
With all the magic and thrill of planning a wedding, choosing the perfect venue is arguably one of the most exciting. It's where fairy tales meet reality, where you promise and commit your life to your partner, in sickness and health, for better or worse, till death do you part. So, why not set the stage in a way that truly reflects you and your bride or groom's unique love story?
Gone are the days when weddings were restricted to traditional church halls or cookie-cutter ballrooms. Today, it's all about painting your love on a canvas that's as distinctive and vibrant as your bond. Let's take a deep dive into the world of dreamy homes that double as wedding venues, offering a blend of practicality, personality, and panache.
So, get ready, lovebirds, as we show the ultimate guide to property rentals that will transform your wedding from simply special to utterly spectacular. After all, love isn't every day—it deserves a setting to match.
Now, let's find your forever venue.
Click any of the images below to view the property directly.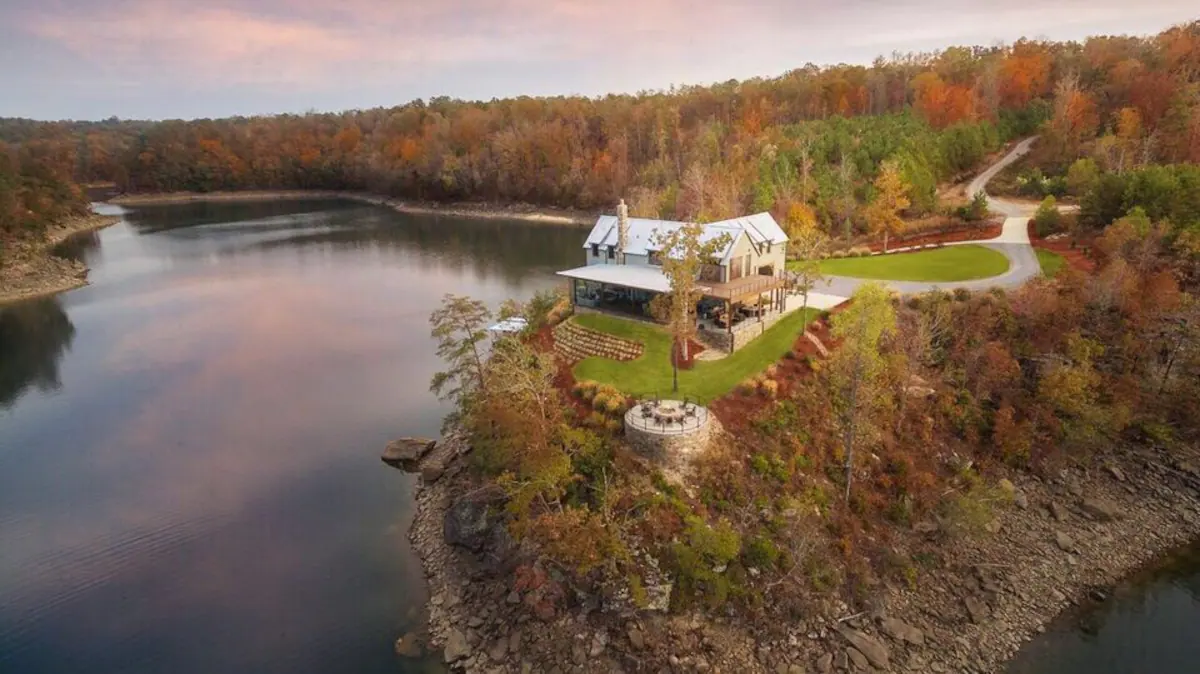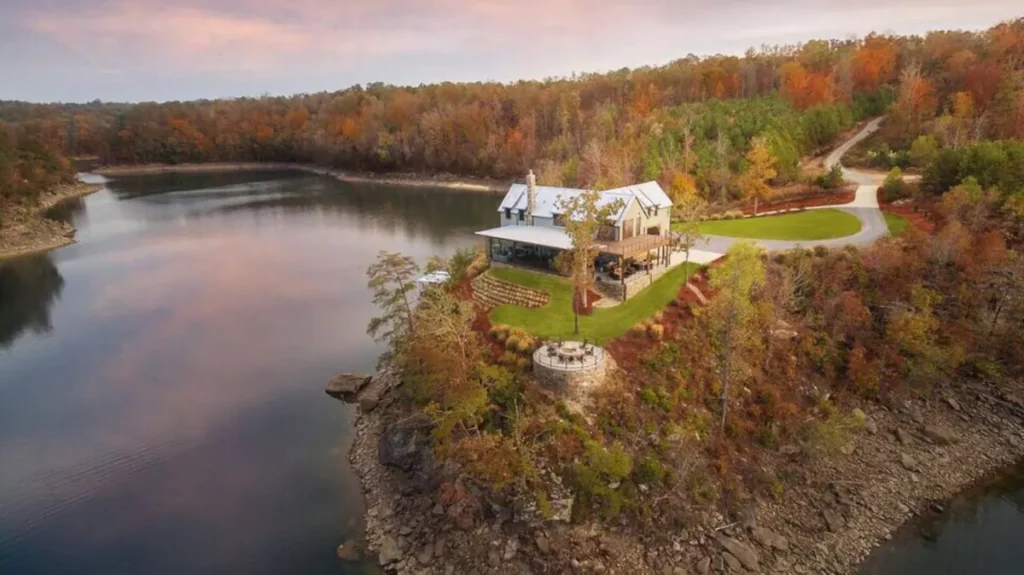 The Best Airbnb Wedding Venues in the US
1. The Glass Farmhouse on Smith Lake
Location: Bremen, Alabama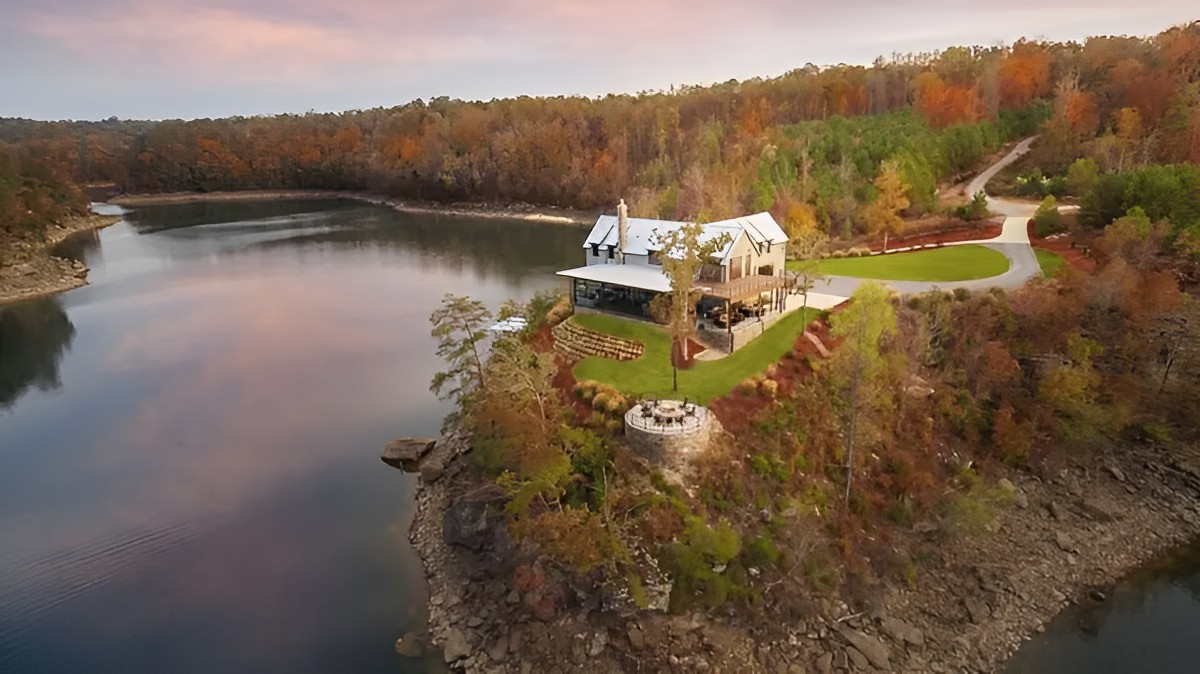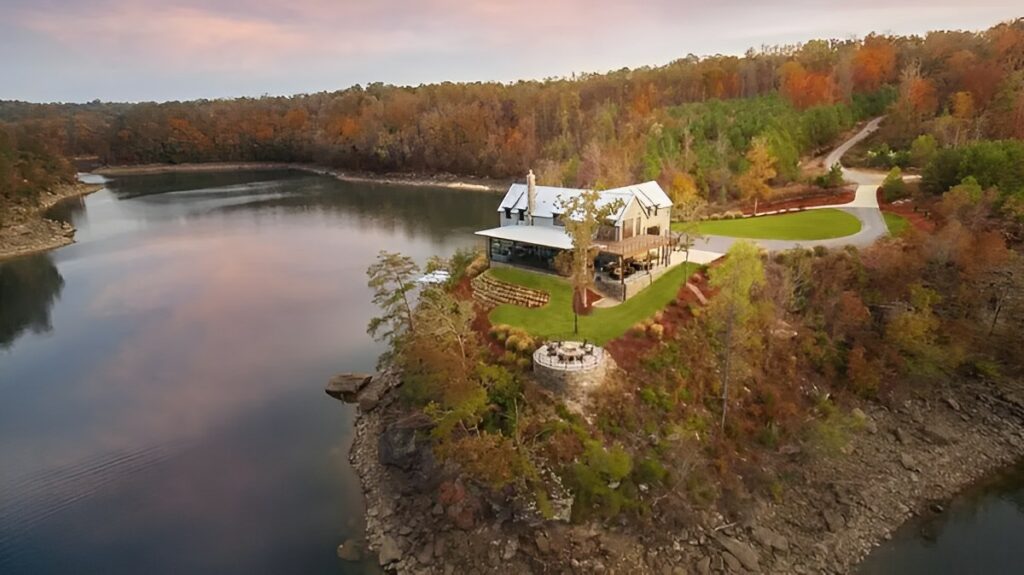 Are you planning a rustic and intimate wedding? Sitting at the heart of a 40-acre peninsula on Lewis Smith Lake, just a 45-minute drive from downtown Birmingham, this dreamy lakeside home offers breathtaking 360-degree water views perfect for a romantic honeymoon.
A beacon of architectural brilliance, the home features 5 generous bedrooms, 4.5 lavish bathrooms, and versatile bunk spaces. With amenities like a private boat dock and kayaks, every day is an adventure here. The property's vast expanses, infused with natural light, make it a dream setting for memorable weddings. This is where serenity meets sophistication, your perfect venue to say your "I do's."
From the owner:
Nominated for "House of the Year" by Arch Daily (the world's most-visited architectural website), this property has been featured in numerous architectural magazines for its unique design and panoramic views. The property is located on a unique point lot surrounded by water on all sides. You'll love my place just 45 minutes from downtown Birmingham on Lewis Smith Lake because of the amazing panoramic views, the natural light, and the 40 acres of private lake living. The house has an attached boat dock, with access to kayaks for exploring the lake.
It has 5 bedrooms, 4.5 bathrooms, with 4 bunk beds that can sleep adults or kids.
Getting The Best Deal
By booking on VRBO instead of Airbnb, as listed on HiChee, I can save $2,398 and enjoy a unique wedding experience in this cozy home.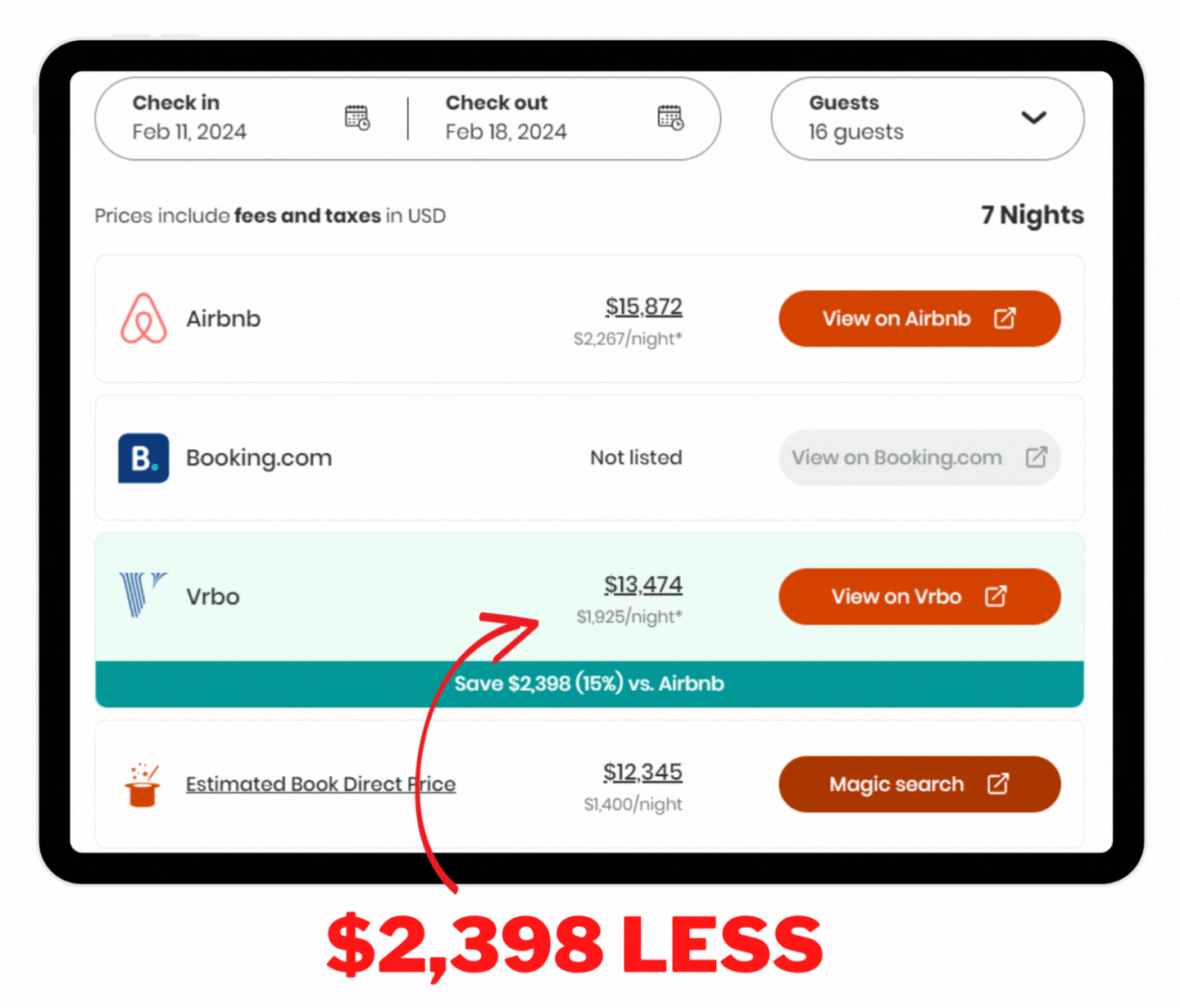 The Best Airbnb Wedding Venues in the US
2. Villa de San Rafael
Location: Albuquerque, New Mexico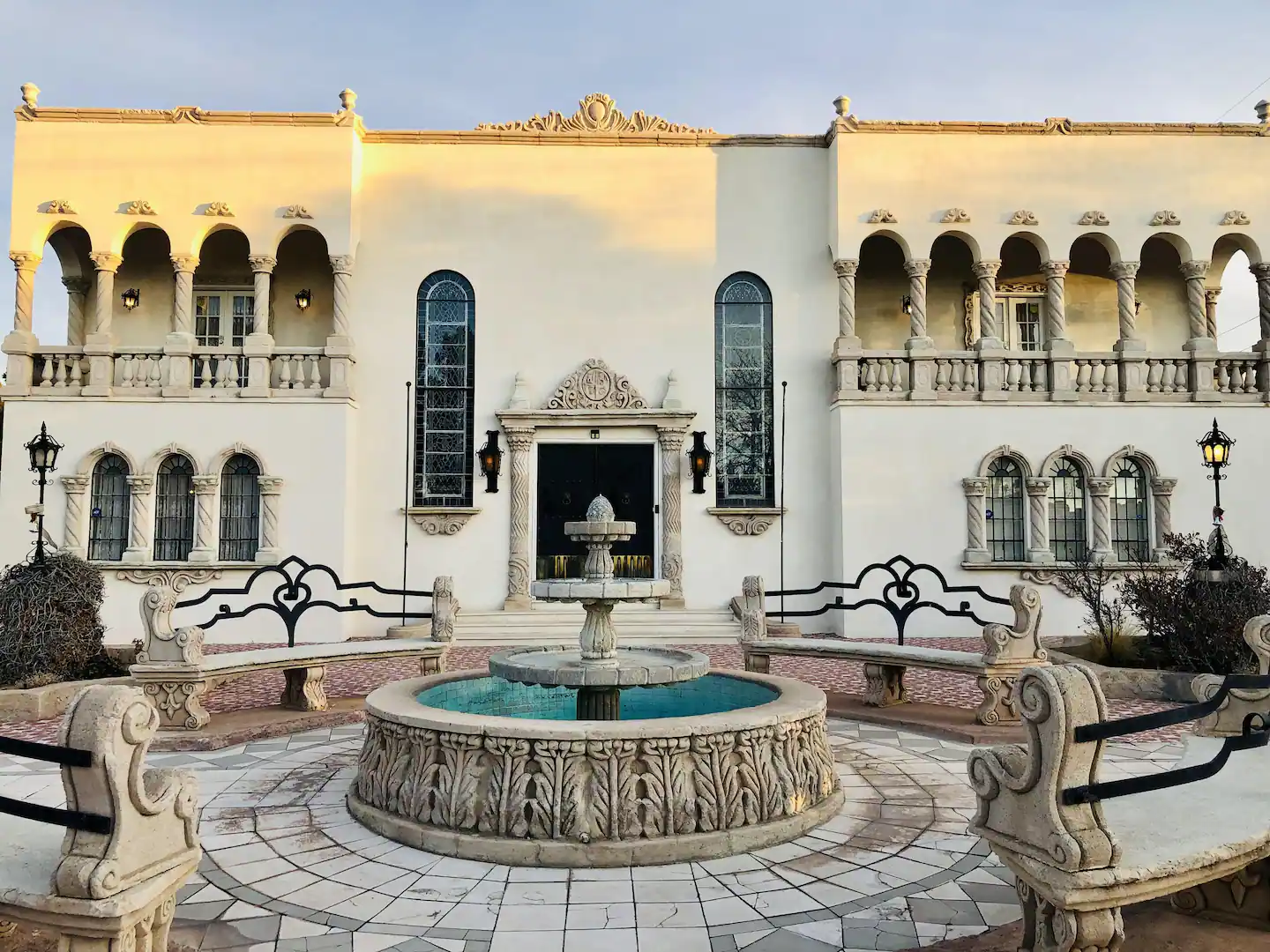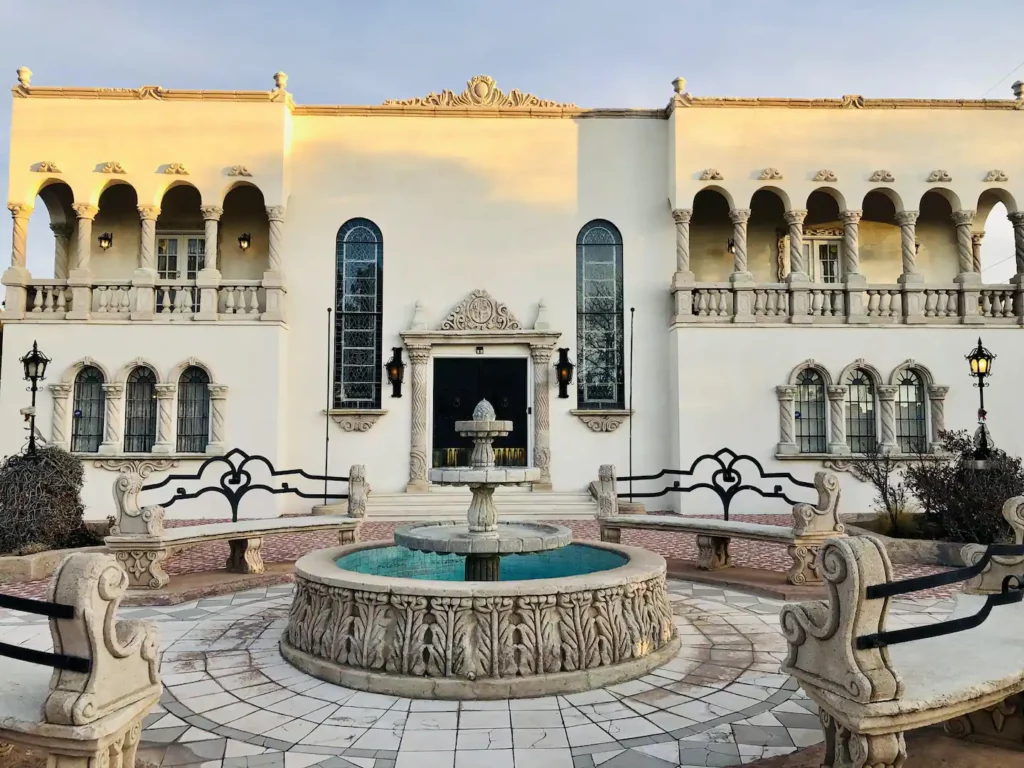 Nestled across Burton Park, minutes from UNM/CNM, this gated villa exudes refined sophistication. This dreamy home greets you with majestic trees, stunning landscape designs, mood-setting lighting, tranquil patios, and a soothing hot tub. Marble steps and ornate stained windows guide you to a grand room warmed by the first of four fireplaces.
Sweeping staircases lead to the sumptuous master suite, perfect for the honeymoon night. The enchanting European-style fountain complements your morning coffee or evening meal on the picturesque patio. And, with a formal dining room seating 12, it's an idyllic setting for intimate wedding receptions.
From the owner:
Elegance. Enjoy your own Villa near UNM/CNM across from Burton Park with a masterful landscape, lighting, patios, hot tub, fountains, mature trees, and a totally gated for privacy. The marble steps and stained glass windows lead you into the great room with the first of 4 fireplaces. Elegant Staircases on either side lead to the second story to the master bedroom. The back patio is perfect for morning coffee & evening dinner as you watch the European-style fountain. Formal dining room w/ seating for 12. Also, for events, you would likely want to reserve the guest house due to a shared courtyard.
Getting The Best Deal
Choosing Airbnb over VRBO will enable me to pocket an extra $1,764, making my travel budget go further without compromising quality.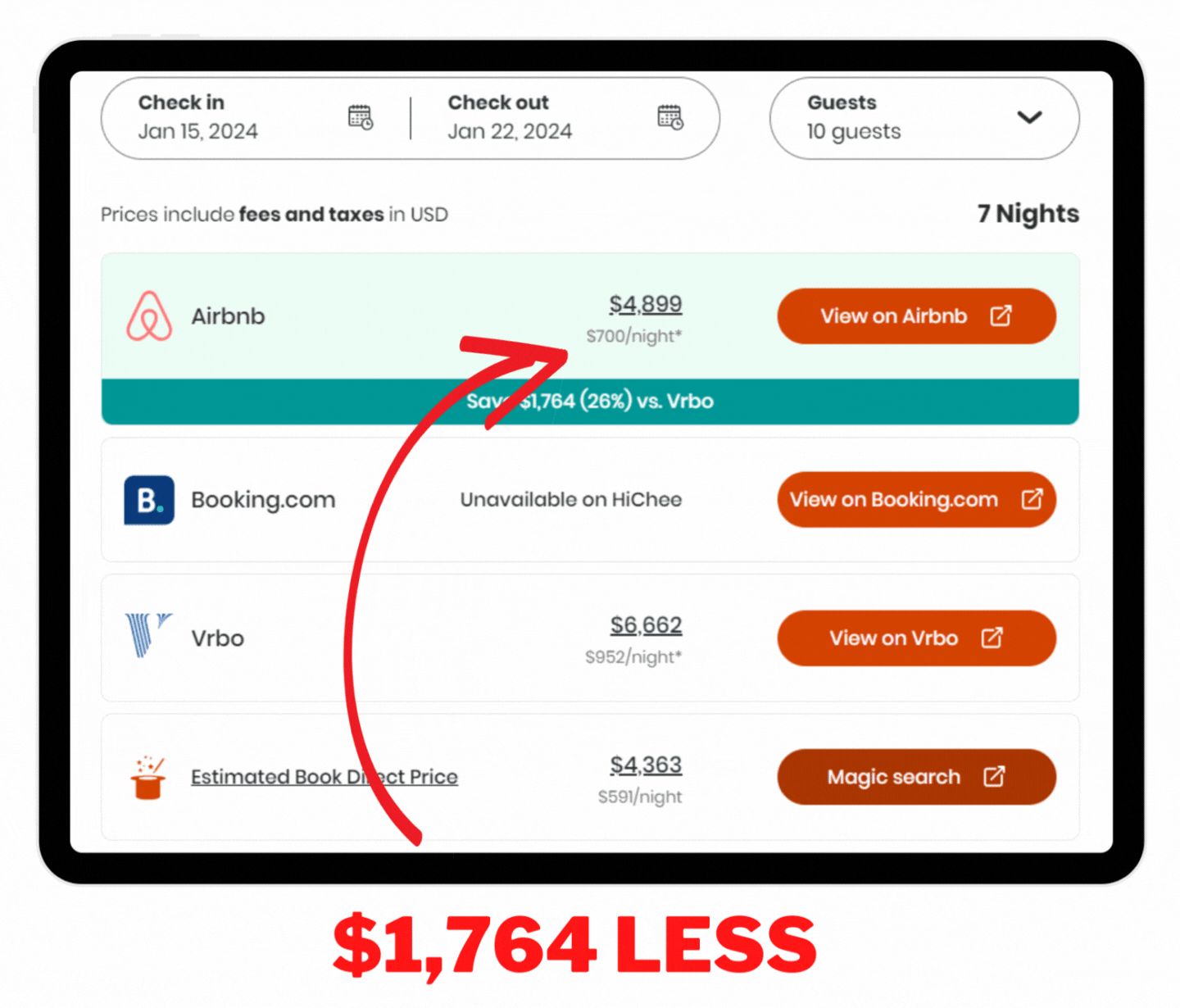 The Best Airbnb Wedding Venues in the US
3. Del Mar Villa
Location: Dundee, Oregon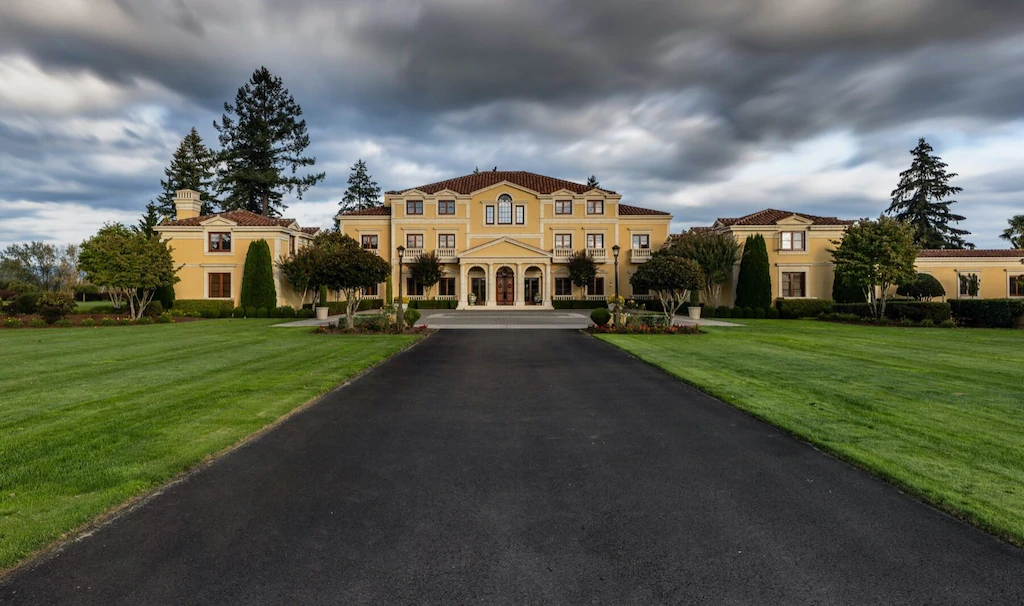 Del Mar Villa, a sweeping estate in Oregon's Wine Country, sits on 46 acres amidst lush hazelnut and blueberry fields. This 26,000+ sq ft luxury villa boasts 11 tastefully decorated bedrooms and more than 10 bathrooms, ideal for large gatherings.
The state-of-the-art kitchen with top-grade appliances is a chef's delight. With spectacular indoor and outdoor spaces, from a grand ballroom to manicured gardens, it's the perfect venue for unforgettable weddings. Bonuses like sports courts and a games room ensure fun-filled days for everyone. Luxury, style, and comfort find a beautiful balance in this dreamy vacation home.
From the owner:
Welcome to Del Mar Villa, a 26,000+ sq ft luxury 'Italian Chateau-inspired Villa on 46 acres in the heart of Oregon Wine County (less than 1-hour southwest of Portland, Oregon). Sprawling out behind hundreds of acres of hazelnut and blueberry groves, Del Mar Villa encompasses an impeccably maintained lawn, patio areas, sports courts, walking paths, an arbor, and much more. Perched above the Willamette River, the Villa features 11 bedrooms (8 luxury suites and a 3-bedroom family suite), 10+ bathrooms, private and gathering spaces, a ballroom, a chefs' kitchen, 3 kitchenettes, a pool table with entertainment area, 3+ dining spaces, and endless outdoor spaces!
Our Villa offers the perfect blend of gathering places and group private spaces!
Getting The Best Deal
HiChee's comparison feature revealed that I could save $709 by booking on VRBO instead of Airbnb, allowing me to splurge on activities or souvenirs during my trip.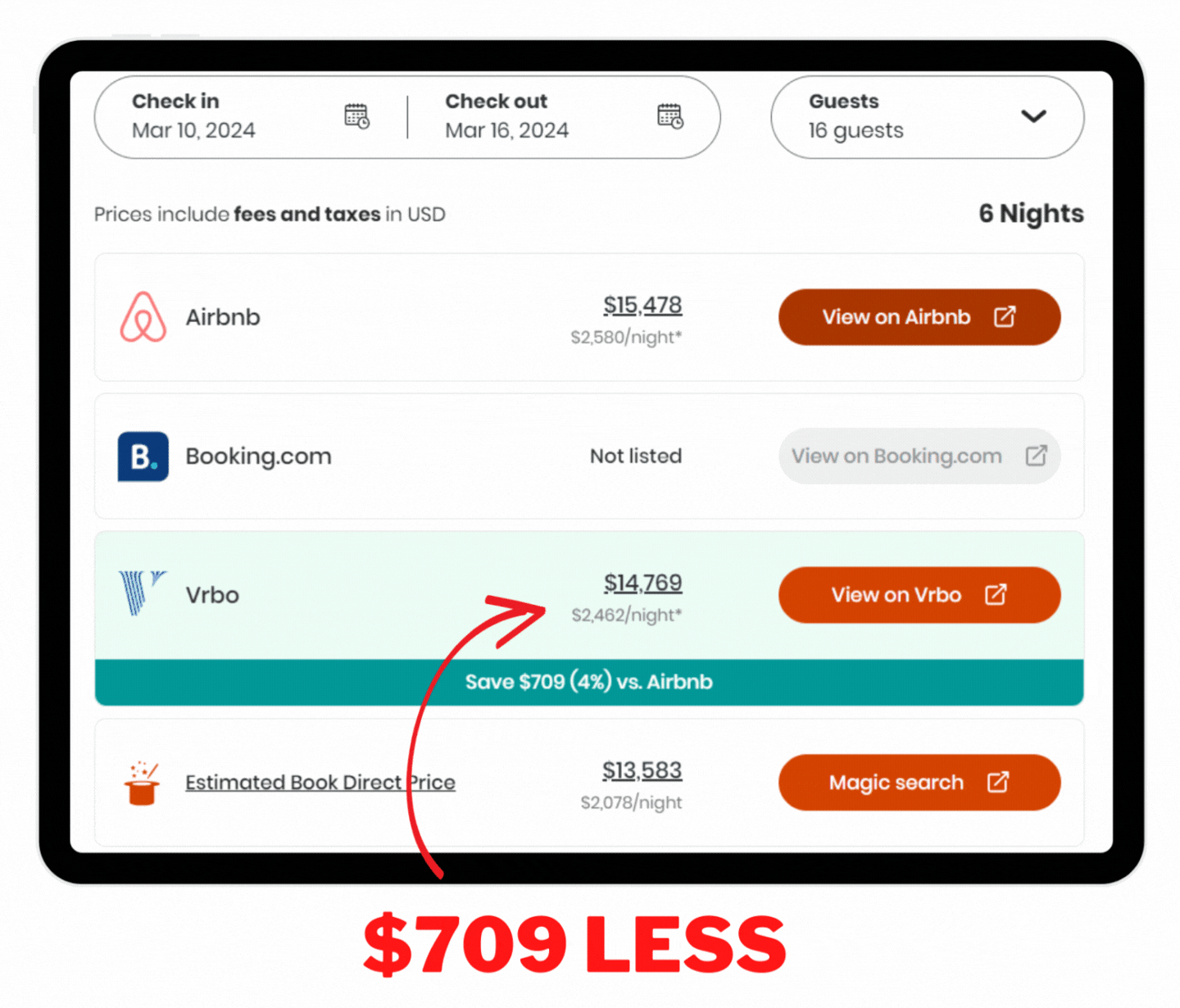 The Best Airbnb Wedding Venues in the US
4. Huge Ski House on Golf Course
Location: Angel Fire, New Mexico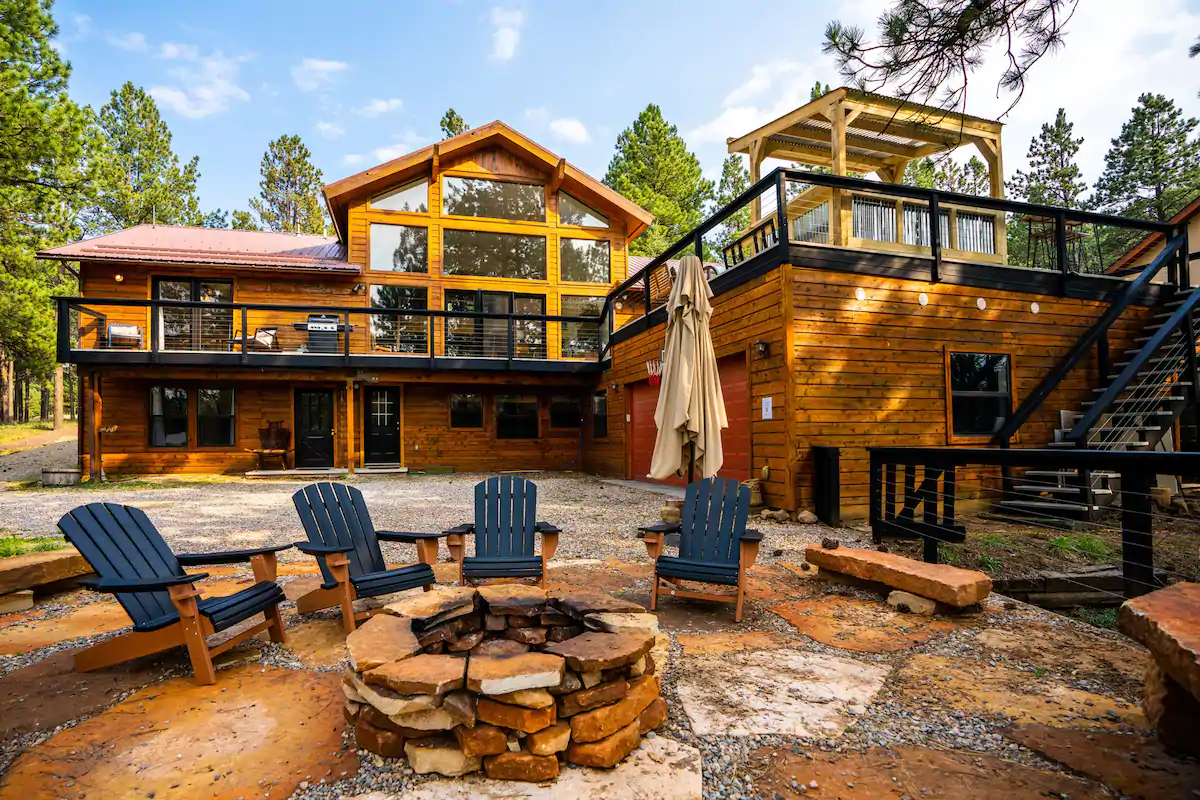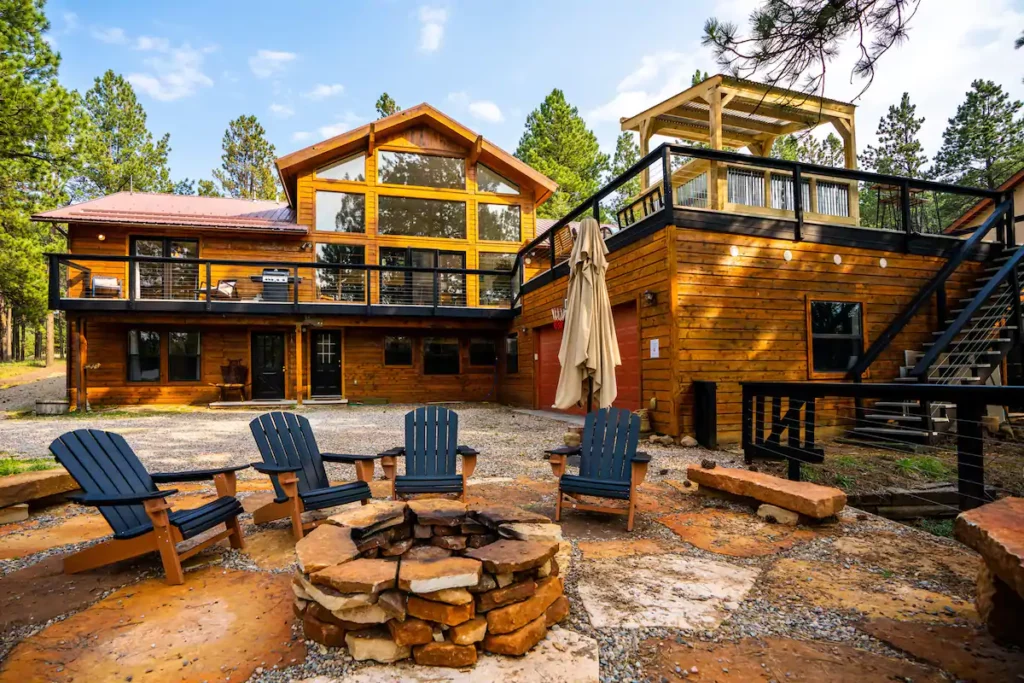 The next on our list is a rustic and luxurious vacation home perfect for ski-loving lovebirds! This jaw-dropping 4,200 sq ft posh home, a prime setting for an unforgettable wedding, promises more than stunning views and proximity to ski lifts. Its expansive outdoor deck featuring a large hot tub is perfect for romantic pre-wedding relaxation under the stars.
It also offers a well-equipped kitchen, an impressive 12-foot dining table, gorgeous floor-to-ceiling windows, and a fireplace for an elegant reception area. Enhanced by top-speed internet and professional cleaning, this home blends luxury and practicality, creating an idyllic wedding venue.
From the owner:
This massive 4200 sq. foot luxury house is a very quick and easy 7-minute, 2-mile drive to the ski lifts, and the house sits directly on fairway #4 of the Angel Fire Country Club golf course. Huge hot tub on the outdoor deck where you can watch the stars above you at night or the bull elk fighting below you in the day. Bring the whole family or even combine two or three families in this mountain getaway dream house for skiers, golfers, mountain bikers, and nature lovers.
Getting The Best Deal
HiChee's recommendation to book on Airbnb rather than VRBO will help you save $244, providing you the extra financial freedom to explore your destination fully.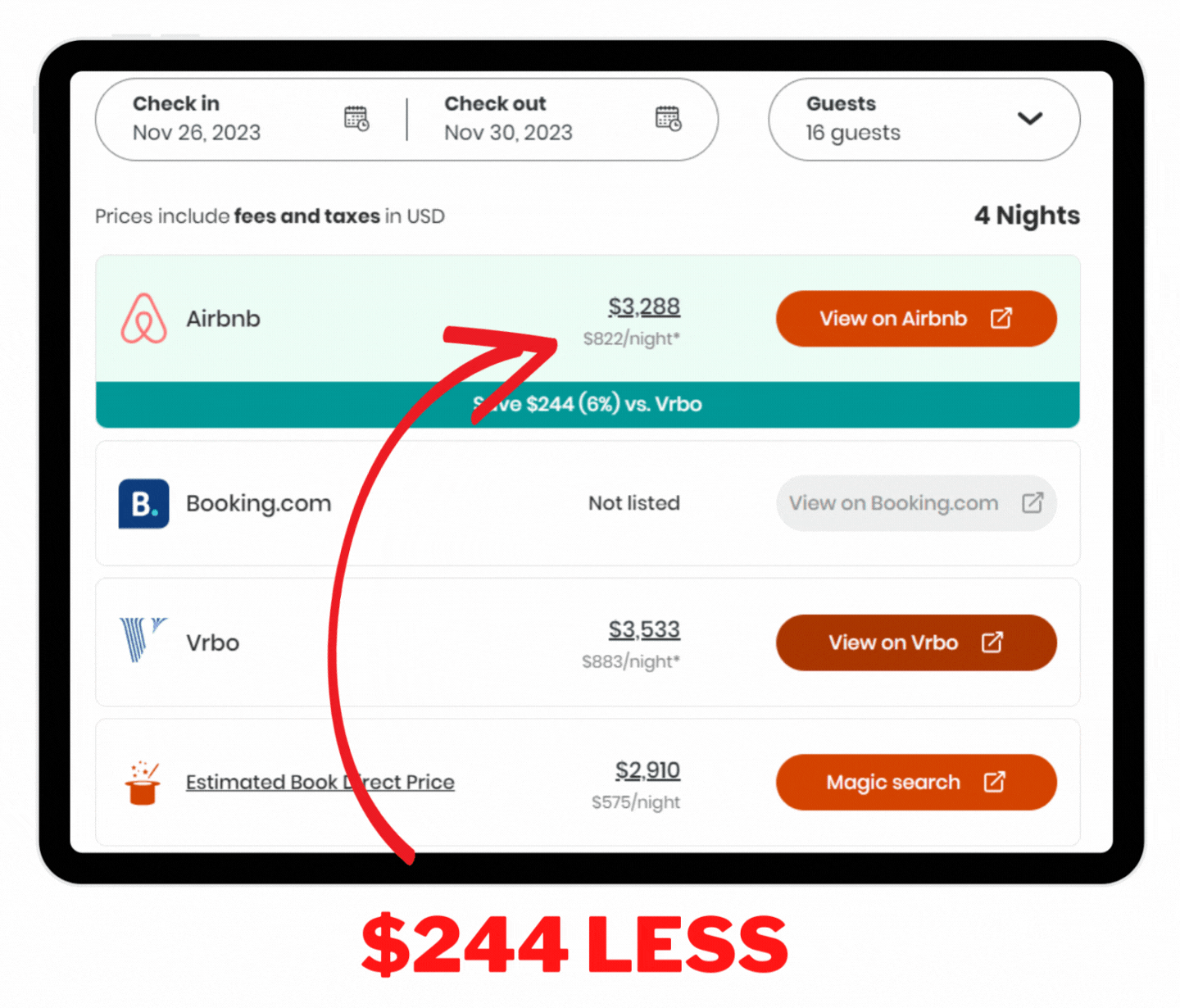 The Best Airbnb Wedding Venues in the US
5. Bay Break
Location: Rock Hall, Maryland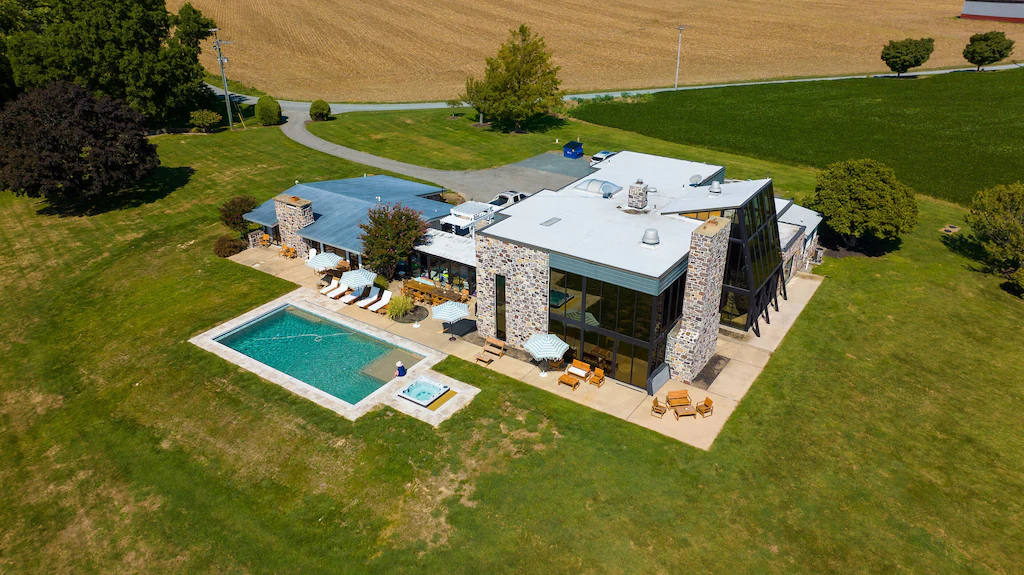 Imagine exchanging vows at this stunning Chesapeake Bay property, where stunning 360-degree views decorate your special day. Set within 5 acres, bordered by 75 acres of pastoral farmland, this venue promises a unique experience. Since no other properties are nearby, you and your spouse-to-be can cherish your once-in-a-lifetime moment together in full solemnity.
This dreamy vacation home features nine bedrooms, including bespoke bunk rooms, comfortably accommodating your guests. The spacious great room, boasting an 80-inch TV and mesmerizing bay views, doubles as an elegant reception area. It also offers a heated pool where you can unwind after dancing all night, offering a wonderful experience you will never forget.
From the owner:
Heated pool and hot tub!
Amazing 360 degrees of the Chesapeake Bay in the front yard and farmland on the other side. Sits on 5 acres, and is adjacent to 75 acres of farmland, an experience you won't forget!
Coming soon: rooftop deck & boat dock
Launch kayaks easily into the Chesapeake Bay
Sports room, with two 65" TVs and a pool table
9 bedrooms, including 2 rooms with built-in bunk beds, 5 bedrooms on the ground level
2 gas fireplaces!
Great room complete with 80-inch big-screen TVs and breathtaking views of the Bay
Come enjoy the Chesapeake Bay in style!
Hot tub & sauna open year-round
Heated pool open mid-April-end of October
Getting The Best Deal
Opting for Airbnb rather than VRBO will allow you to save $332.
However, you can save more through HiChee's Magic Search feature. By clicking the Magic Search button, you can see more lists of booking options that may be cheaper than those listed on HiChee. Using this feature, I discovered that this property is also available on another site. Now, you can save $2,171 more!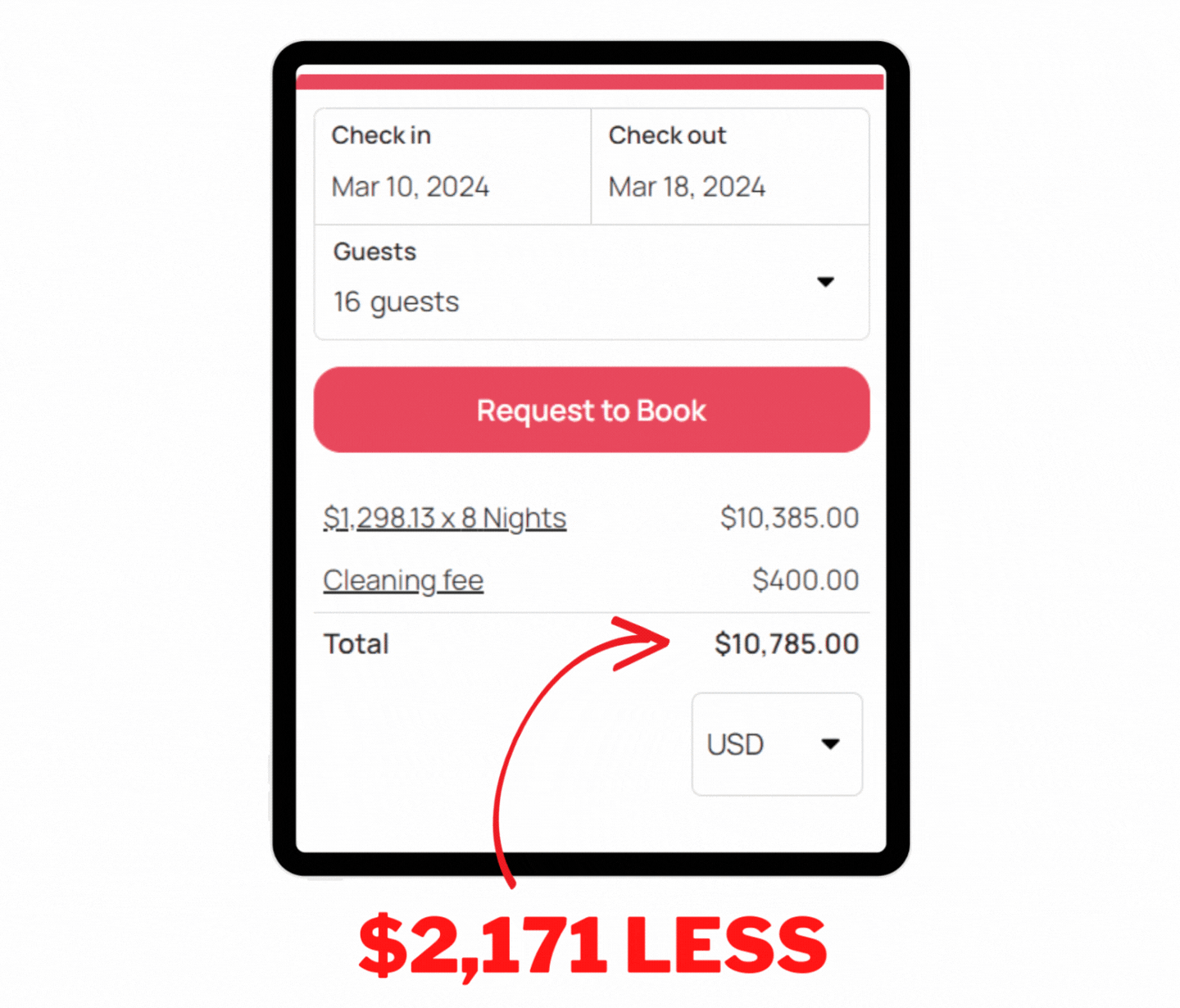 The Best Airbnb Wedding Venues in the US
6. Hermosa Estate
Location: Manuel Antonio, Costa Rica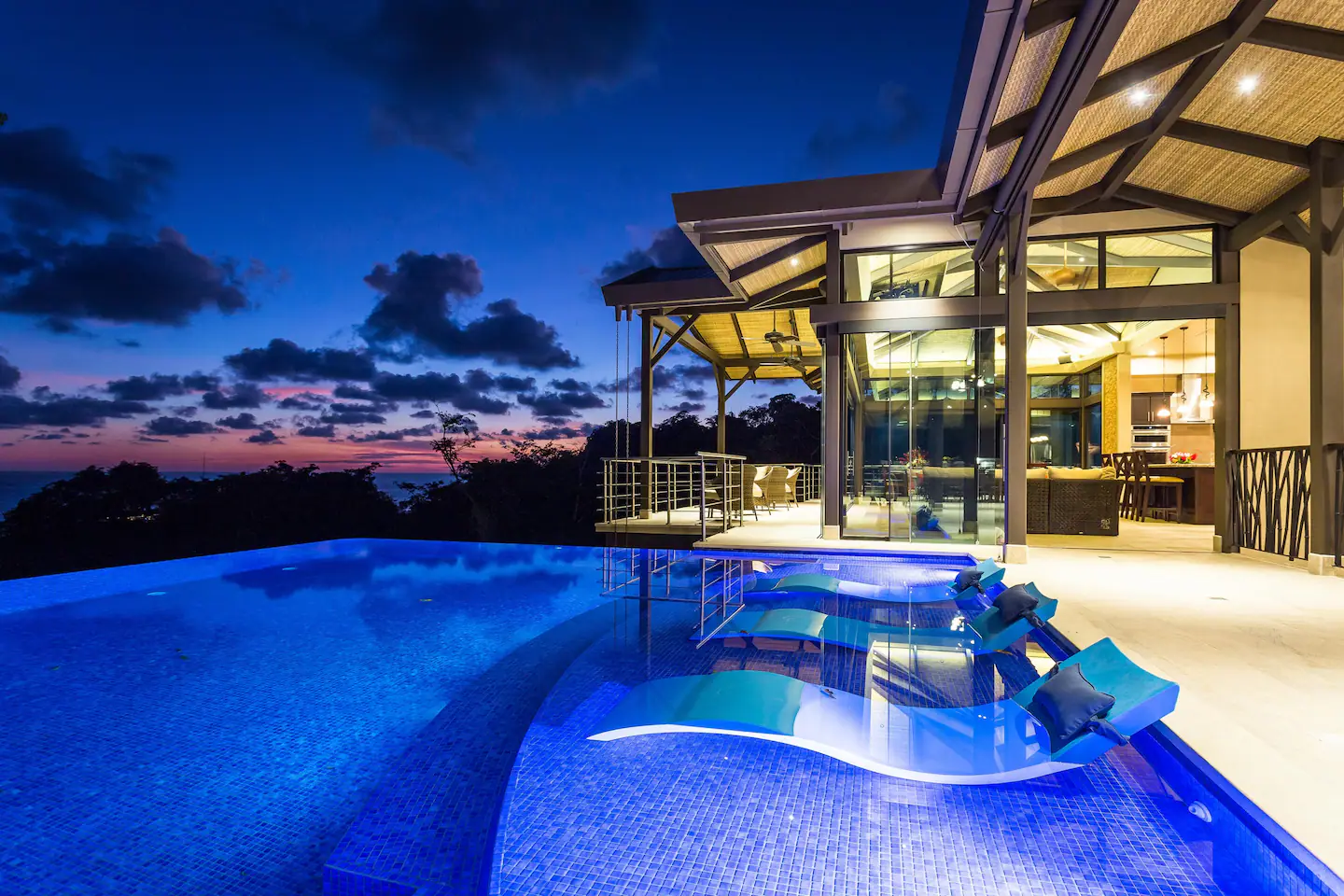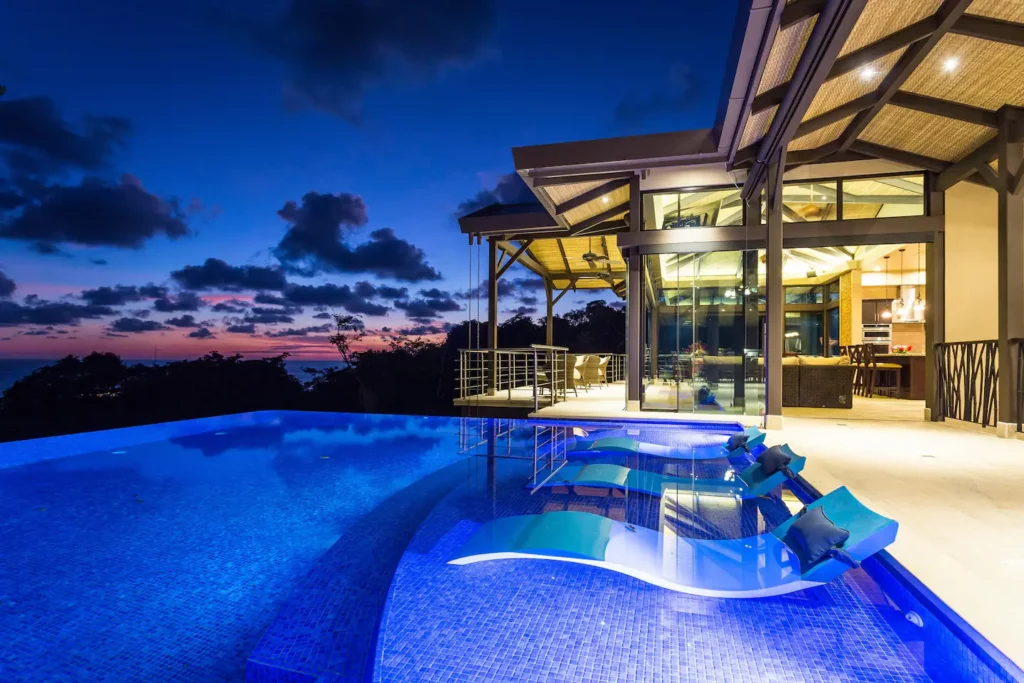 Nestled in the heart of Manuel Antonio, the luxurious Vista Hermosa Estate sprawls across a two-acre expanse of lush tropical flora with breath-stealing ocean views. This architectural marvel, featuring 4 levels of elegance and style, can breathe life into your wedding dreams and transform them into reality.
The top floor, a paradise for entertainment, hosts an air-conditioned Great Room with a chef's kitchen and a stunning balcony overlooking the 180-degree ocean vistas. Immerse in the infinity-edge pool, or hold your nuptial reception by the BBQ grill, bar, and outdoor seating area. Just steps away, the renowned Playa Espadilla offers tropical bliss for your guests and a Costa Rican tropical wedding experience they will surely enjoy.
From the owner:
Spectacular Vista Hermosa Estate is the ultimate Luxury Vacation Destination for Multi-Families, Weddings, and Retreats. Located in Manuel Antonio and on two acres of prime tropical jungle, Vista Hermosa Estate has become one of the region's most distinguished, architecturally crafted luxury villas. This stunning four-story estate's unique design embodies Costa Rican elegance and beyond. Constructed in an impeccably centralized location in town, this luxury beach villa is immersed in tropical vegetation with breathtaking ocean views from every floor.
Getting The Best Deal
HiChee's comparison feature shows that it's $1,432 less to book this property on VRBO than on Airbnb.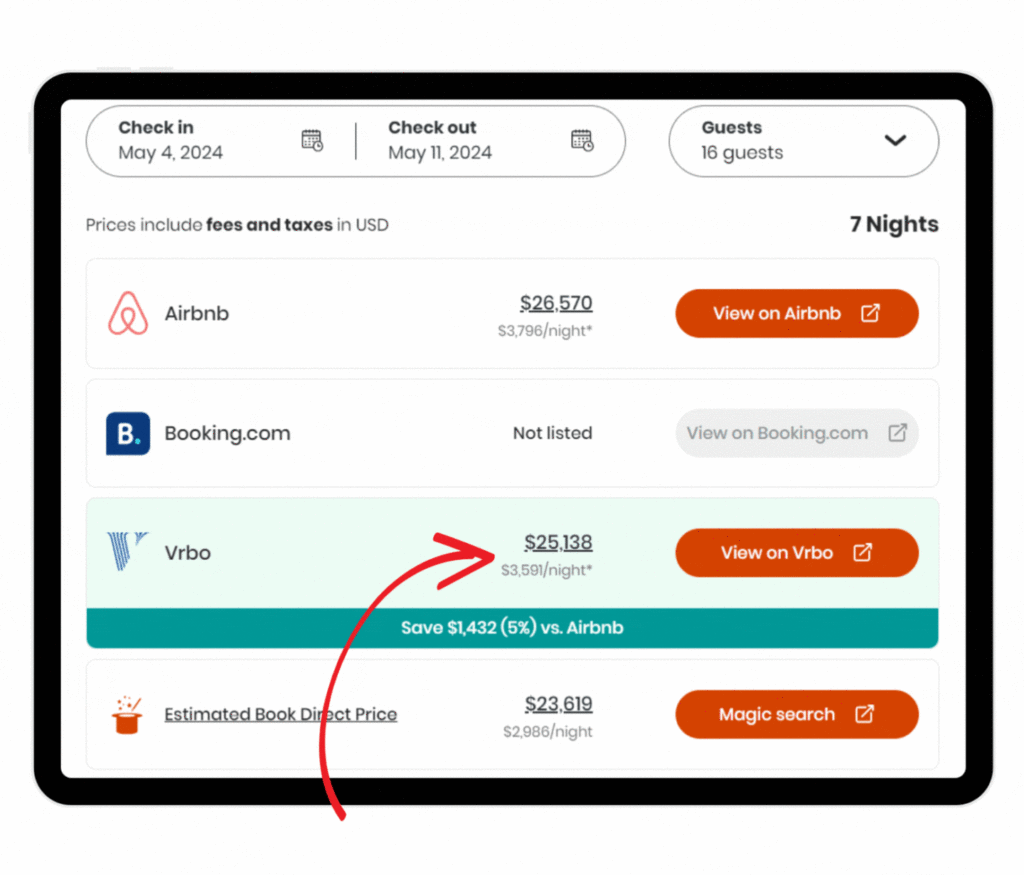 You could book this on an alternate site similar to the previous rental. You can now pocket an extra $771, making it the obvious choice for a traveler like you.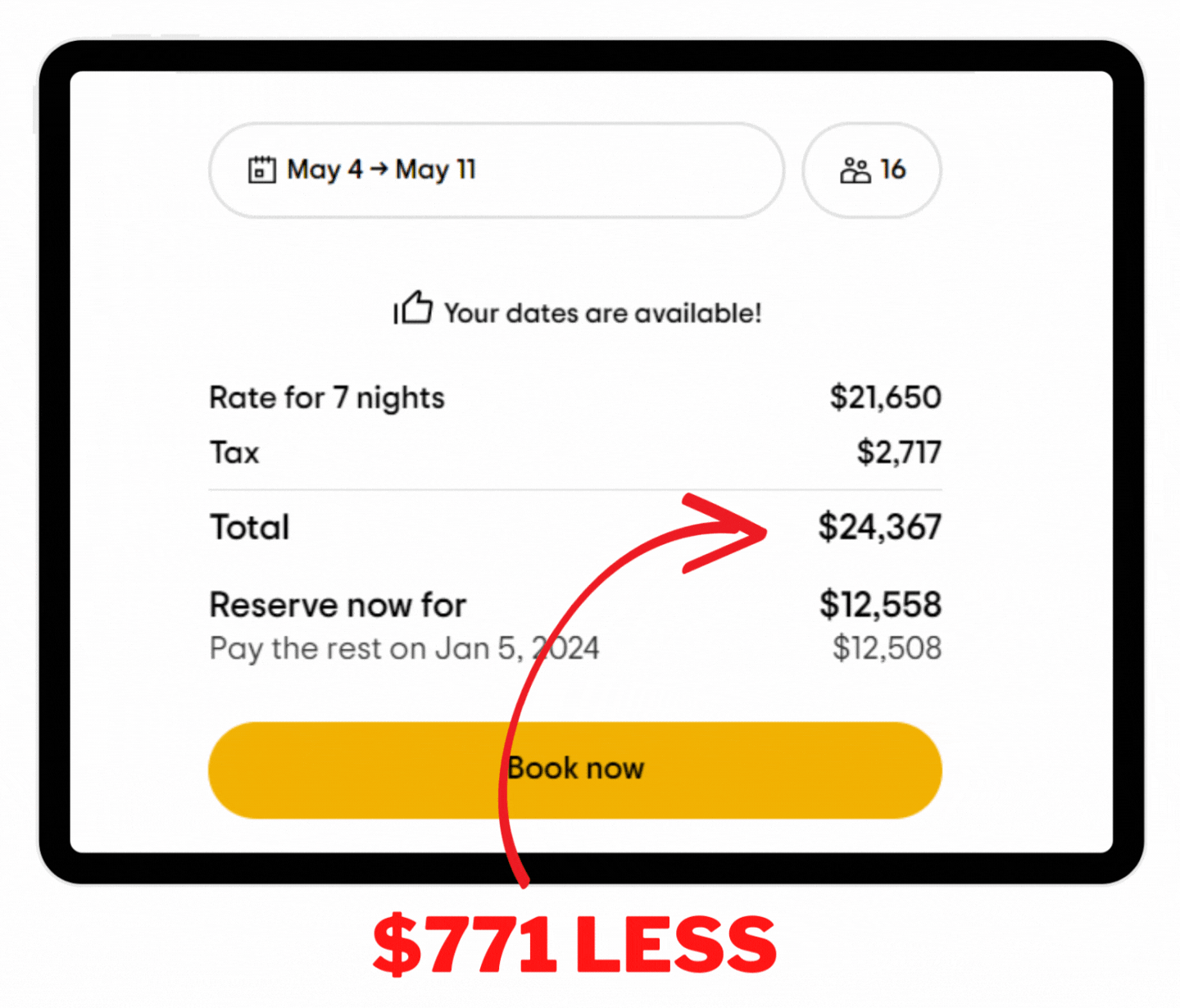 The Best Airbnb Wedding Venues in the US
7. Kingston House
Location: Kingston, Washington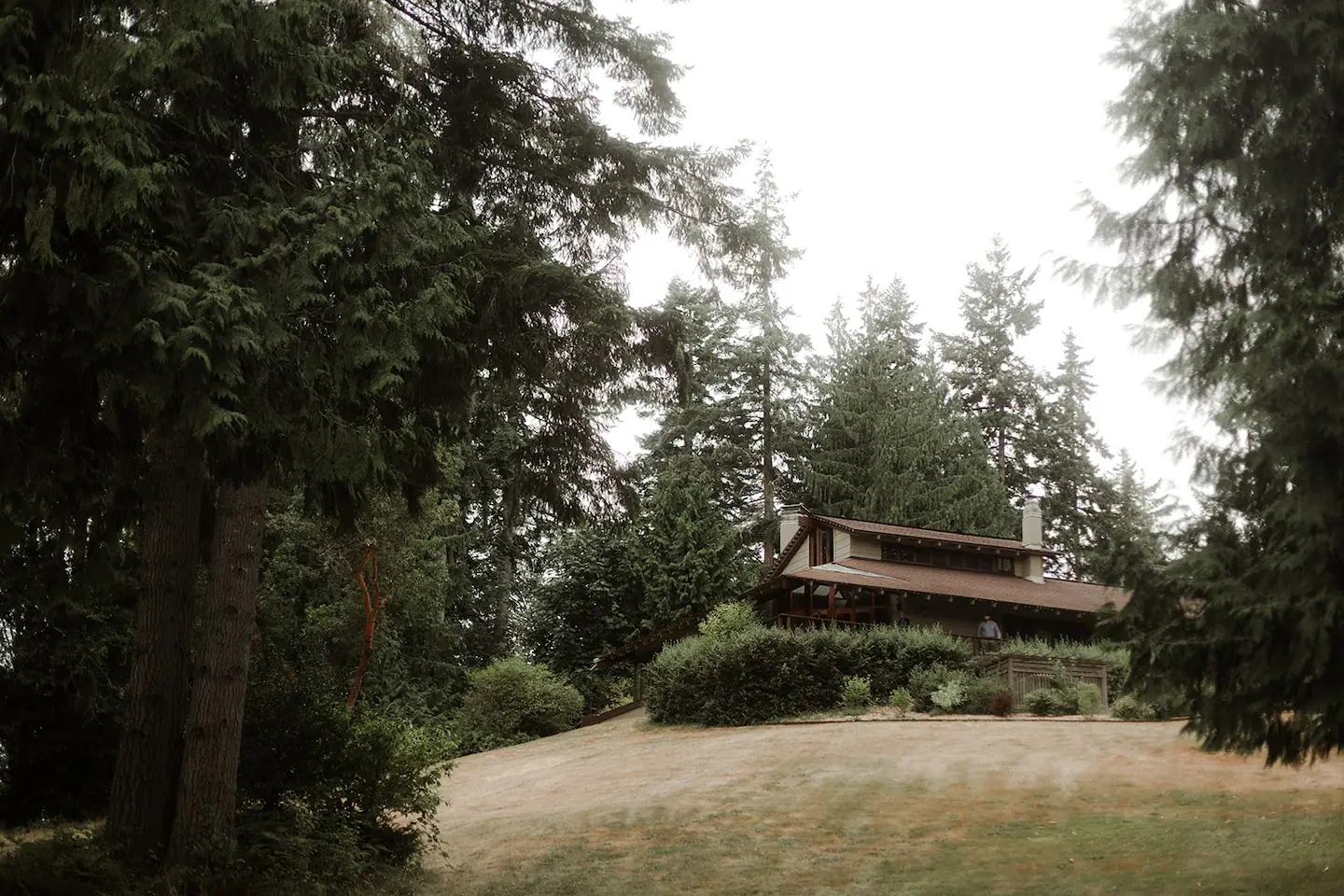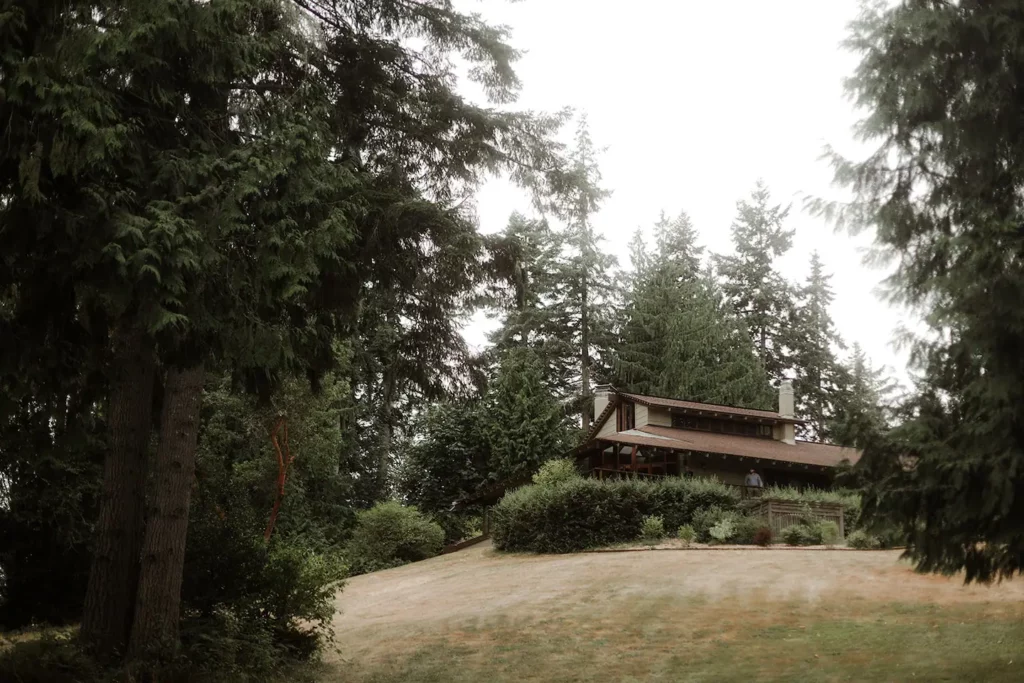 Kingston House, a mid-century architectural gem surrounded by 27 acres of verdant hills and a working lavender farm, offers the perfect setting for an idyllic Northwest wedding. Just a stone's throw away from the Kingston Ferry, this rustic retreat effortlessly marries comfort and style. It features a 4000 sqft living space, a sunken conversational area with a rock fireplace, a fully-equipped kitchen, and a Steinway grand piano perfect for wedding pictures.
The grounds boast walking trails, an outdoor hot tub, two fire pits, a canoe-friendly pond, and garden gazebos.
From the owner:
Kingston House is an Anker I. Molver-designed, mid-century "masterpiece" on 27 private acres of rolling hills, towering cedars, and a working lavender farm.
Located on the Kitsap Peninsula between Bainbridge Island and Olympic National Park, we are a quintessentially Pacific Northwest setting for your getaway or celebration.
Kingston House feels remote but is just 2 miles from the Kingston ferry (to Seattle & Edmonds) and 11 miles from the Bainbridge ferry (to Seattle).
A beautiful natural setting for a self-care retreat, private getaway, or a large space where family can gather safely.
Fans of Pacific Northwest mid-century design love the residence, which was designed by an architect with roots in Norway and Japan from Douglas-fir timbers milled on-site.
Guests describe the house as an "architectural delight" with "beautiful touches throughout" and the grounds as "gorgeous and spacious" (the word "magical" has been used more than once).
Kingston House has been updated with modern comforts while respecting its architectural integrity.
Getting The Best Deal
With HiChee's unique comparison feature, you can save $1,033 on your wedding accommodation when you book VRBO compared to Airbnb rates.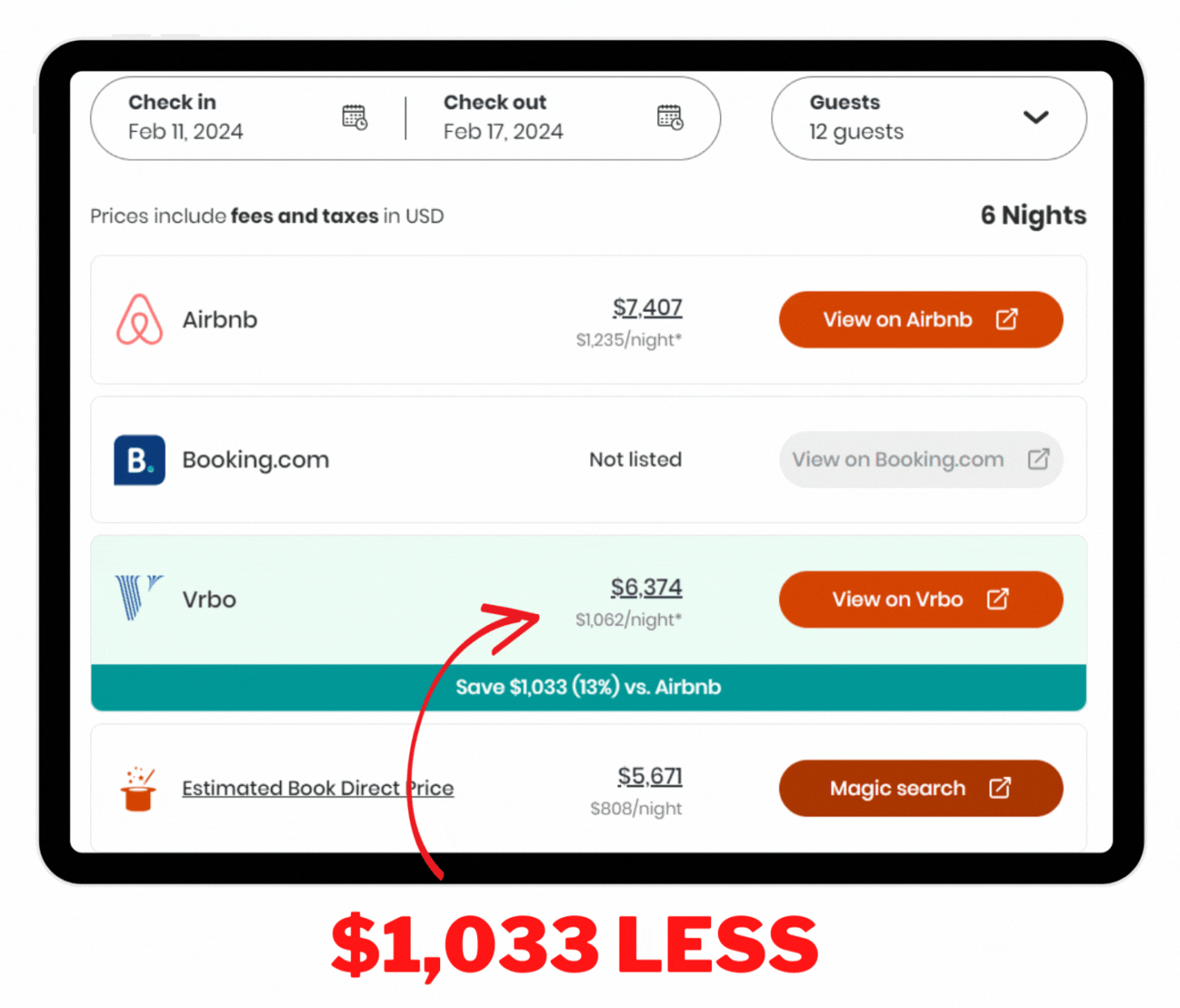 The Best Airbnb Wedding Venues in the US
8. Montana Lodge
Location: Hamilton, Montana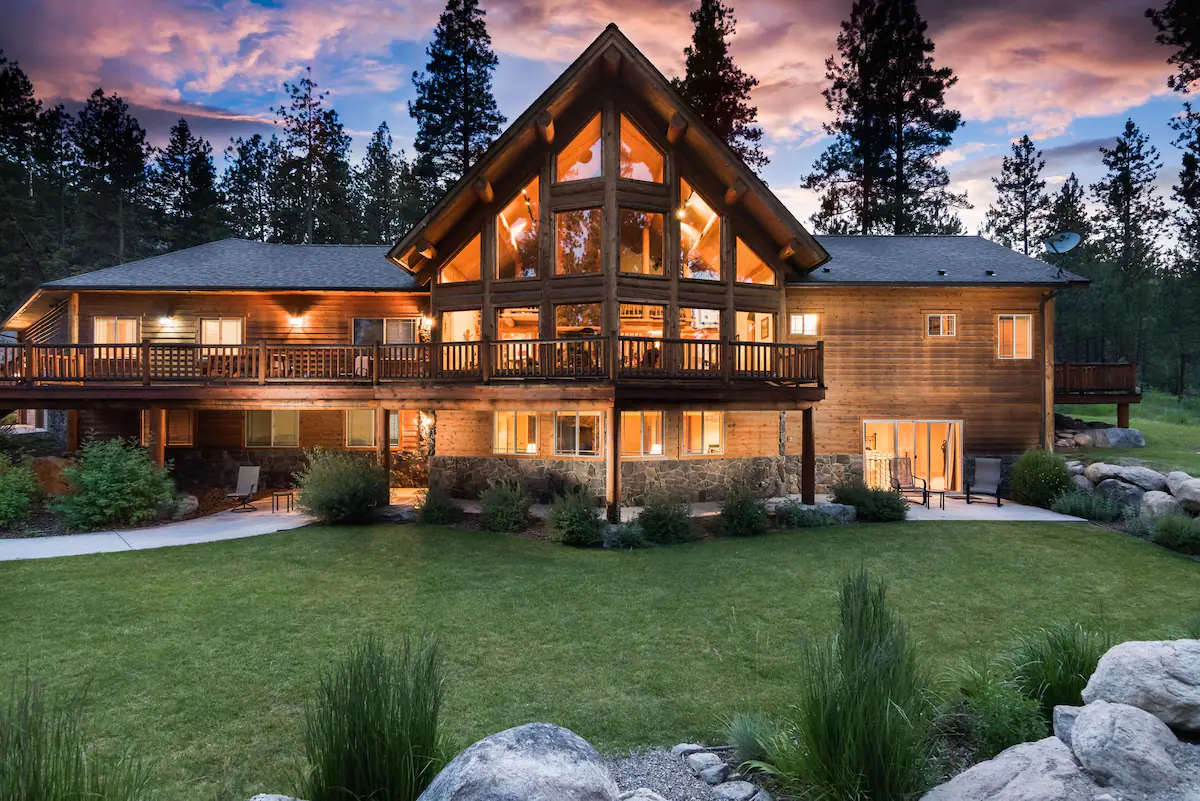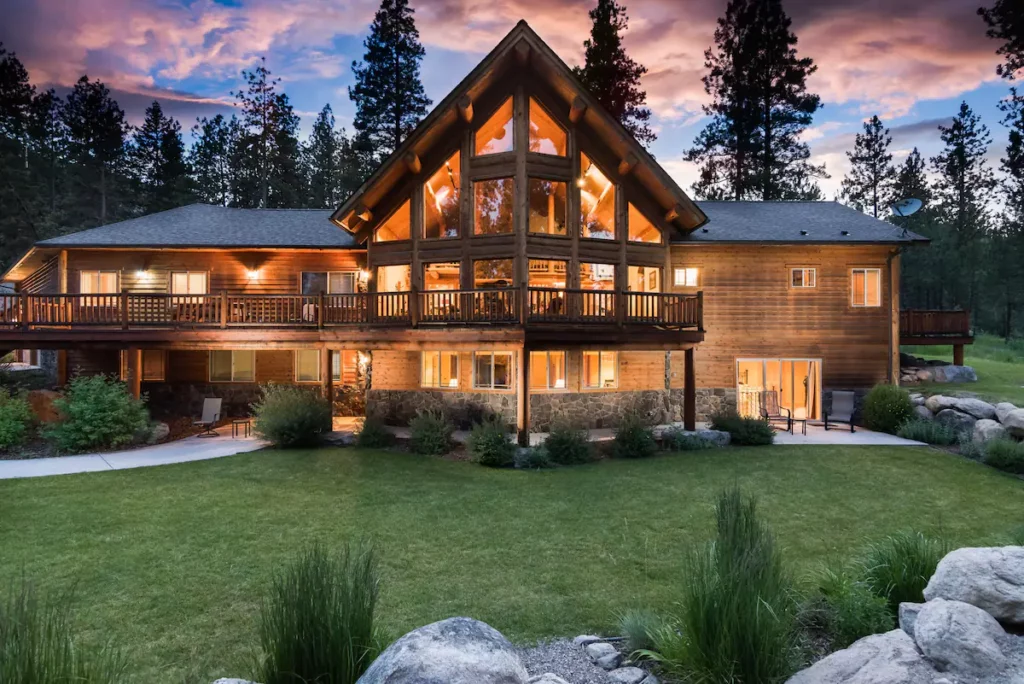 Tucked in the heart of Montana's Bitterroot National Forest, this stunning 6,000 sq ft timber retreat offers a magnificent wedding venue. Nestled on 13 acres of private woodland, the handcrafted home provides a scenic backdrop for your special day, featuring two luxurious master suites, private patios for wildlife gazing, and a gourmet kitchen.
The property's grand cathedral ceilings, charming fireplace, and spacious dining area offer an elegant atmosphere, whilst the sunken garden and terraced woodland create perfect outdoor ceremony spaces. Only a short drive from Hamilton, this secluded sanctuary comfortably sleeps 20, making it an enchanting woodland escape for your wedding party.
From the owner:
My place is close to art and culture, great views, restaurants and dining, family-friendly activities, and the beach. You'll love my place because of the location, ambiance, outdoor space, people, and neighborhood. My place is good for couples, solo adventurers, business travelers, families (with kids), big groups, and furry friends (pets).
The space
This home is a handcrafted log-accented home on the edge of the Bitterroot National Forest. The area teems with wildlife, and the home is close to several hiking entry points.
In addition, there are great trails for cycling, walking, dog walking, and running.
The home is close to great skiing at Snowbowl (Website hidden by Airbnb) and Lost Trail.
Getting The Best Deal
Unlock significant savings of $2,618 by choosing the VRBO option over the higher-priced alternative on Airbnb.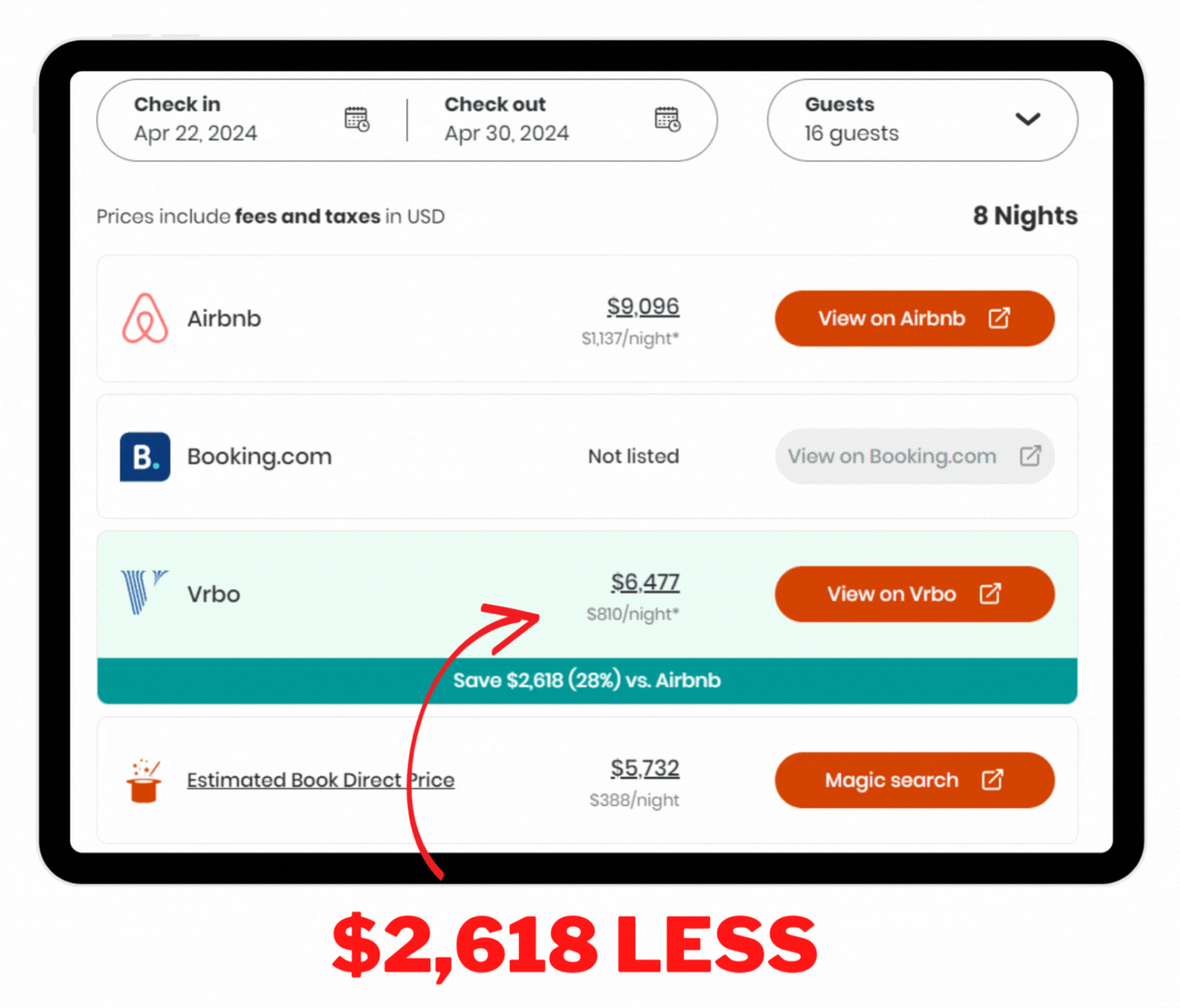 The Best Airbnb Wedding Venues in the US
9. The House that Jack Built
Location: Gallatin Gateway, Montana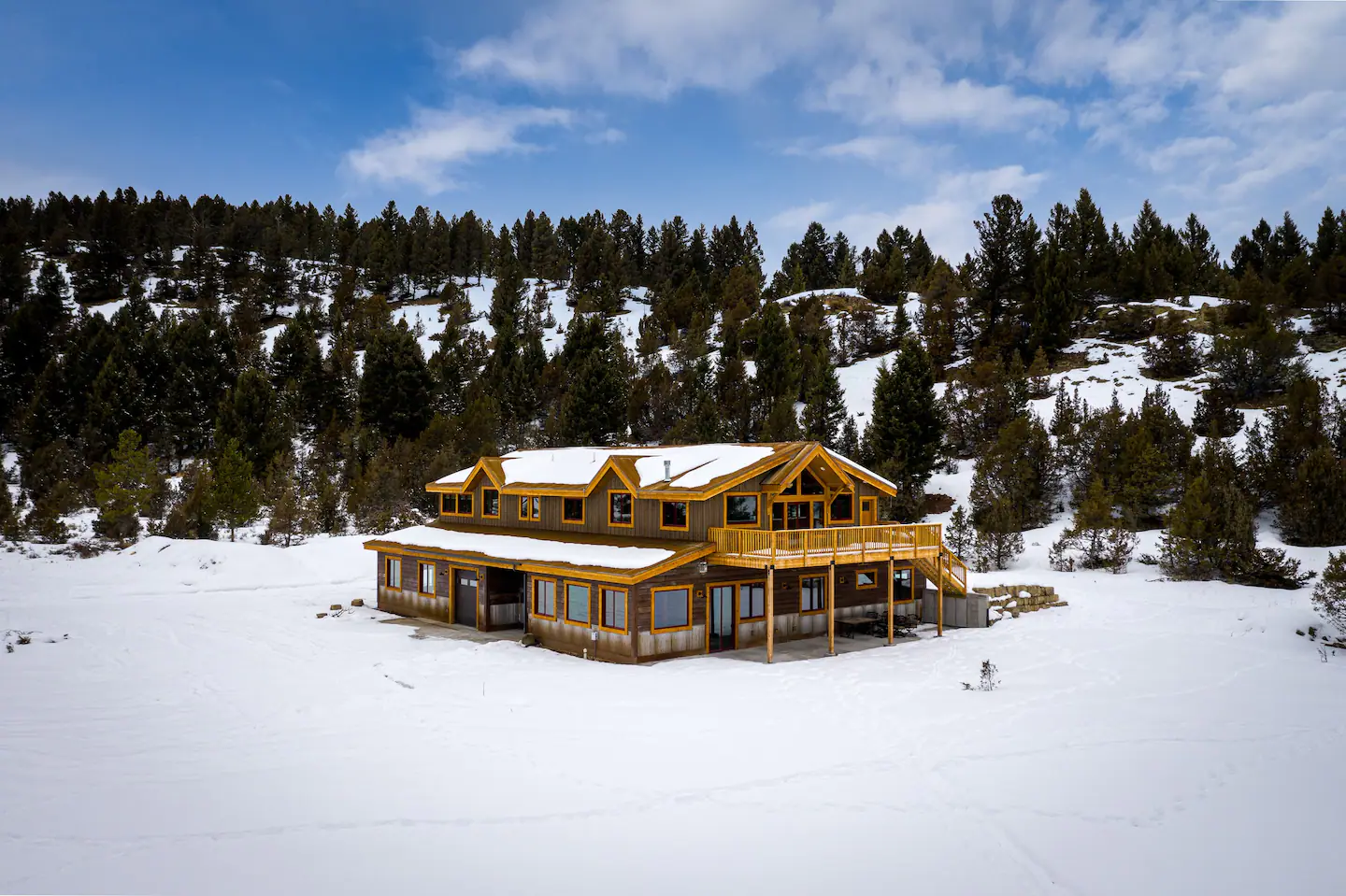 In the heart of Montana's scenic outdoors lies this dreamy vacation home, a wedding dream come true. With two grand kitchens, open living spaces, and six bedrooms, it's perfect for large bridal parties or guest accommodations. Bunk rooms offer additional sleeping options for attendees. A double-sided fireplace sets a romantic mood, while its proximity to Big Sky Resort, Yellowstone Park, and the Gallatin River presents an ideal backdrop for wedding photos.
From the owner:
This home has two spacious kitchens (one upstairs and one downstairs), two great rooms, and six bedrooms, including a bunk room on each level. There's a double-sided fireplace on the lower level and another fireplace upstairs for cozy leisure time. It's perfectly located for easy access to Big Sky Resort (10 min), Yellowstone Park (30 min), Blue Ribbon fishing access on the Gallatin River (walking distance), and countless other outdoor pursuits. It's the perfect solution for multiple families traveling together, a large wedding party or corporate group, or just a bunch of friends looking to vacation together!
Getting The Best Deal
Make the smart choice and save $881 by booking through VRBO, surpassing the prices you'll find on Airbnb.
The Best Airbnb Wedding Venues in the US
BONUS PROPERTY
The Formosa Grand Mansion
Location: Kissimmee, Florida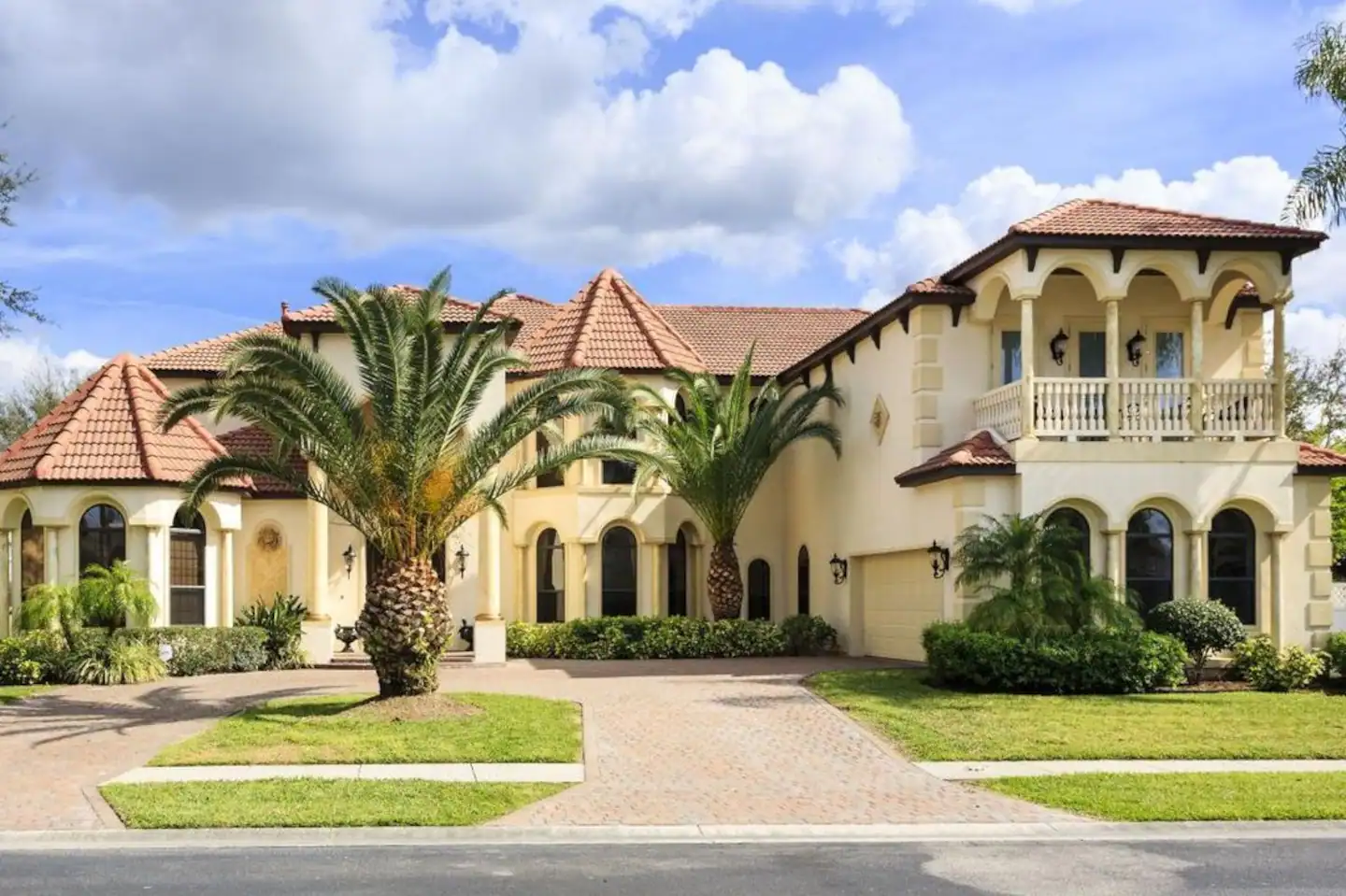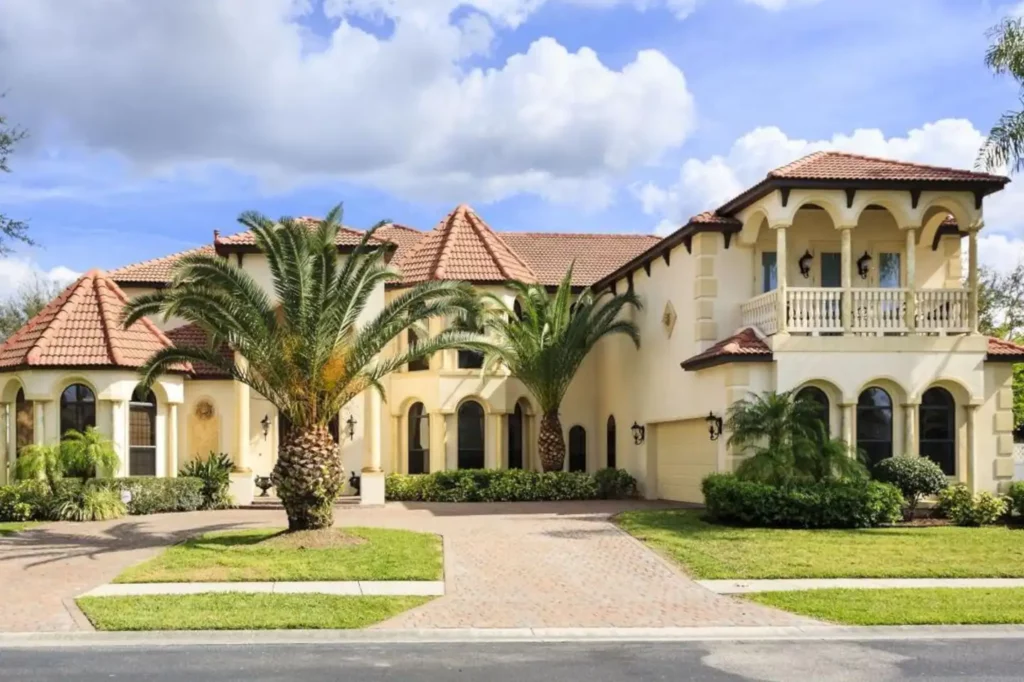 How about a happily ever after wedding that's just a stone's throw away from the happiest place on earth? This ritzy 9-bedroom luxury lakefront villa, the Formosa Grand, is an exquisite venue for unforgettable intimate weddings. Set in the exclusive gated community of Formosa Gardens, it offers a stunning ambiance with polished marble floors, a grand staircase, and soaring ceilings.
The villa features two seating areas, a fully-stocked open-concept kitchen, a panoramic pool, and lake views. All bedrooms are uniquely designed, featuring luxury linens and ensuite baths. Additional amenities include a movie room, a total body nautilus machine, and a game room. The 120ft balcony, infinity pool, and outdoor kitchen overlook the lake, providing a picturesque backdrop for your special day.
From the owner:
Imagine a vacation in a 9 bedroom, 10 bath custom luxury lakefront pool villa. The Formosa Grand is located in the exclusive gated community of Formosa Gardens Estates and one of the closest communities to Disney (less than 10 minutes!!) No expense was spared in the gorgeous estate, making it an ideal setting for intimate weddings.
You will be wowed as soon as you enter and take note of the polished marble floors, grand staircase, marbled pillars, 20ft high ceilings & baby grand piano! The main living area has 2 separate seating areas with a large wall-mounted flat-screen TV for viewing when you aren't taking in the views of the pool & lake. As you enter the open-concept kitchen & dining area, you will immediately notice the custom details and picturesque view overlooking the pool area & lake.
The kitchen is fully stocked if you decide to prepare your own meals & a Keurig is provided for coffee lovers. Granite countertops & large bar area with plenty of seating & prep space help to make this space a chef's dream & perfect for entertaining. The dining table has seating for 10. There is also a wine cellar with a bar & cooler adjacent to the kitchen. The laundry room is on the main floor with a large washing machine & twin dryers for guest use.
Getting The Best Deal
Maximize your savings by opting for Airbnb instead of VRBO, granting you an additional $290 on souvenirs and sightseeing.