We're All In The Airbnb Business Now – Part 2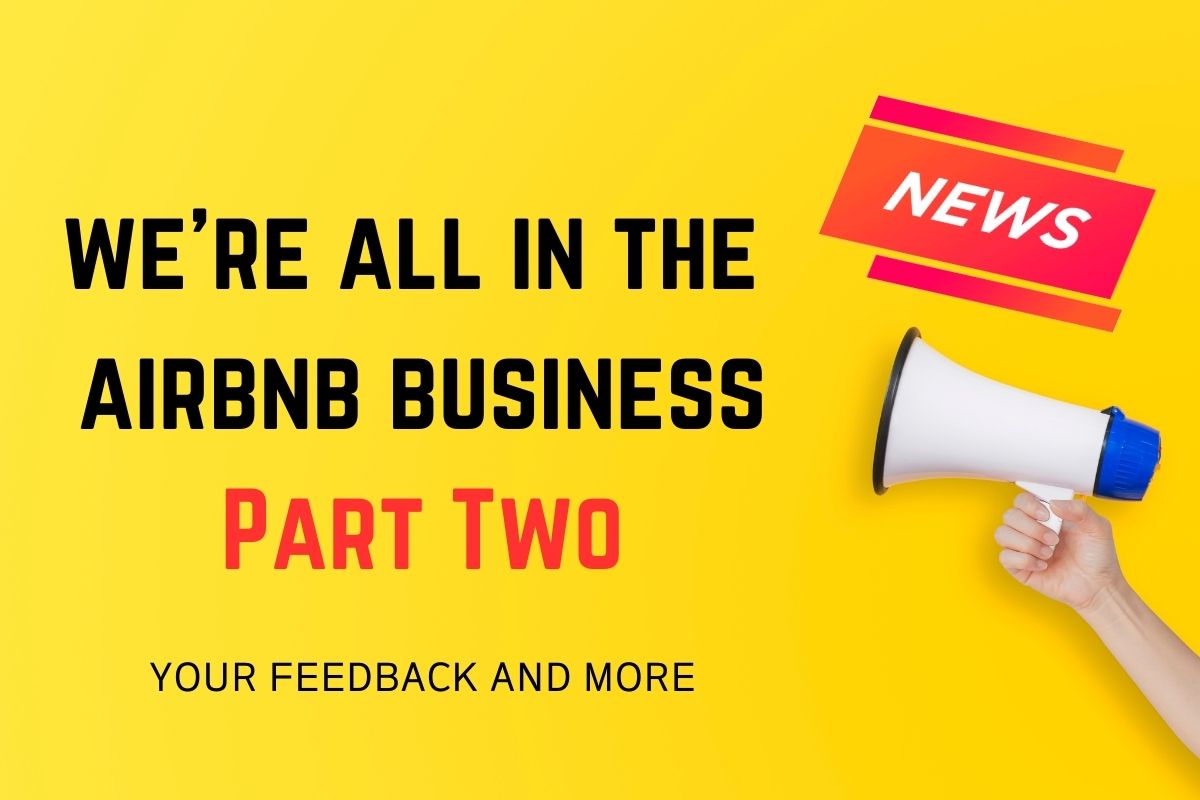 A couple of weeks ago, I published an article showing the search dominance of Airbnb and highlighted the public's use of the word to describe our various businesses.
If you missed it, you can read it here.
I'd like to say a big thanks to those who read it, especially those who commented, because your comments certainly added to the conversation.
This short article looks at some of the discussion raised via your thoughts and comments.
Why has this happened?
One of the most interesting comments came from Vanessa Humes. She said…
This is spot on. In fact, the descriptive list of our properties goes on and on. It includes villa rentals, condos, apartments, glamping, caravan rentals, fincas, ski chalet rentals, tiny home rentals, gites, cabins, boats, STRs, and more.

Airbnb has simply become a collective term for what we all do.
My examples were misleading.
Some people questioned my search data, stating that people don't search for the terms I cited.
That's 100% true, but I couldn't capture all the place names people search for, so I decided to show the trend instead of the details.
For example, Marc Figueras said…
That's a good point, but Airbnb Barcelona was searched for 129 times more than Apartment in Barcelona, last month. 18.1k to 140.
I ran other searches.
Orlando is one of the most popular destinations, so I compared Vacation Rental Orlando and Airbnb Orlando. Airbnb Orlando had 27,100 searches last month compared to just 1,300 searches for Vacation Rental Orlando. That's over 20 times the search volume.
As I said in the original article, I encourage hosts, owners, and managers to run search data for their own type of property and their own destinations. Visit https://neilpatel.com/ubersuggest/, and you can do this for free.
Organic search vs. Overall traffic
Marc's other point was that, looking at my numbers, Airbnb would have 99% of the traffic, and they don't. This is correct.
Many other factors are coming into play when looking at overall traffic.
Paid traffic
Both Expedia (including Expedia's Vrbo) and Booking.com spend over 5 billion a year (each) on paid traffic via Adsense. This level of advertising brings in a lot of traffic and bookings to both companies.
As an example, if someone searches for Airbnb Paris or Airbnb Orlando – they will see paid Google results from Booking.com.
Other marketing channels
Expedia, Vrbo, and Booking.com also run television ad campaigns and have established brand awareness. These factors will bring direct traffic to their sites, as will their mobile apps.
Some of you are out of the woods.
The only outlier I've come across so far is for cabins (well, some cabins, at any rate).
I ran search data for Smoky Mountain cabin rental and Smoky Mountain Airbnb. Smoky Mountain cabin rental gets over seven times the number of monthly searches compared to the Airbnb search.
I initially thought that this may be due to the mental image that we all have of a cabin in the woods. I thought that our inner Hansel and Gretel was too strong for the brand conditioning of Airbnb. But this wasn't the case when I ran other searches in popular cabin destinations.
Here are the numbers for the Blue Ridge Mountains. Airbnb gets around three times the number of searches…
And for cabin searches in The Adirondacks. Both searches here get the same traffic.
Again, I encourage hosts, owners, and managers to run search data for their own destinations and property types. Visit https://neilpatel.com/ubersuggest/,

Please share your results.
The radical book-direct movement
Some owners, hosts, and managers held a much stronger view against rebranding their businesses.
Some won't even mention the Airbnb name in something akin to Macbeth or Voldemort (as if it will bring bad luck or invoke some sort of taboo curse).
Others thought it went against 'True book-direct ethics' or words to that effect.
I was one of the first proponents of people and companies actively seeking direct bookings, and in my opinion, all direct bookings are true direct bookings. If referring to my property as an Airbnb brings me more direct bookings, count me in.
As one comment put it,
Some of the more anti-Airbnb hosts suggested they would brand themselves as 'Not an Airbnb'.
I initially thought this was quite a clever way of introducing the word Airbnb into their marketing. But on reflection, I'm not so sure. As I said in the original article, people are searching for an Airbnb, so saying that you are an Airbnb must help with conversions more than saying that you're not an Airbnb.
All publicity…
Some hosts believe that any mention of Airbnb would harm the book-direct movement. Some said that any time we include the word AirBnb in our listings, website, FB pages, etc., we are, in effect, "promoting" and advertising for AirBnb.
This may be true to some degree, but if you search for the word Airbnb, Google returns over a third of a billion results, so a few more references won't have any impact of note.
The horse has already bolted.
At the end of the day…
I wrote the original article because the data shows overwhelming evidence that the public uses the word Airbnb to a degree that can't be ignored. I think that deep down, most of us already knew that, but the numbers really hammer it home.
I'm not suggesting that if you rebrand as an Airbnb, you will find your website showing up on the first page of Google. Google is smarter than all of us. It uses semantic search – so it already equates Airbnbs with vacation rentals, holiday homes, et al., in the same way that it brackets churches, cathedrals, and chapels together.

This is just about aligning our marketing with our potential and fee-paying guest's vocabulary. If you want to convert lookers into bookers, it's best to do so using their own language.


Alan has been working in the vacation rental sector since 2004, when he first created a listing site for his property management company. He has been helping short-term rental owners and managers to stand out in an over-saturated marketplace for over 12 years and has written thousands of articles in that time.
He has written books on vacation rental photography and was the first in the industry to create online marketing courses for hosts.
He has given keynote presentations across various subjects at The Vacation Rental World Summit, VRMA, VRMintel, Host, and The Book Direct Summit.