The Ultimate List Of Vacation Rental Events That You Should Definitely Go To
A lot of events and activities were postponed or worse canceled due to the pandemic. This caused major impacts on businesses, and the vacation rental industry was no exception. Now, during 2022, people are now ready to be part of these events once more.
These are the upcoming vacation rental events of 2022: (2023 events coming soon)
Avantio Partnership
Because the recent global crisis has re-shaped the industry of hospitality management and vacation rentals, Avantio is launching The Avantio Partnership on September 26-27, 2022 in Valencia, Spain. After 3 years, Avantio is creating an event to build collaborations, recognize and connect industry leaders, and give the participants insights on how to take their rental business to greater heights.
The Avantio Partnership is going to have fireside talks, keynotes, and workshops to help the participants immerse in smart tools and techniques for property management, explore rental management technologies, and gain insights on how to take your property listings to a whole new level.
Venue: Las Arenas Balneario Resort
Address: Eugenia Vines 22-24, 46011, Valencia Spain
Learn more about the event's details here.
---
Liverez Partner Conference
Liverez, a highly complex software system, can be tough to use with its many complicated parts. The Liverez Partner Conference in Asheville, NC this September 26-28, 2022 offers the privilege to meet and greet Liverez experts and deepen your knowledge and understanding of the software by asking questions to industry professionals. There is also a Liverez bootcamp for people who want a more interactive and hands-on experience of the system, with Liverez experts.
This conference will be held at The Omni Grove Park Inn where guests can expect genuine southern hospitality, and features world-class amenities like a luxurious subterranean spa and an indoor pool, a gorgeous golf course designed by no other than Donald Ross, and 5-star rooms with exceptional views.
Venue: The Omni Grove Park Inn
Address: 290 Macon Ave, Asheville, NC 28804, United States
Learn more about the event's details here.
---
VITUR Summit
One of the most significant events in Europe for Holiday Rentals, Vitur Summit is launching its 7th edition on October 6-7, 2022 in Malaga, Costa del Sol's beautiful capital city. This event offers innovative, updated, and cutting-edge content on perspectives, trends, and even the challenges of the rental property sector through high-quality panels and presentations. Vitur Summit also offers plenty of opportunities for networking, discussions about the perks and difficulties faced by the sector, learning how to set your business apart from the competition, and meeting industry leaders.
Venue: The Malaga Trade Fair and Congress Center (FYCMA)
Address: Avenida Ortega y Gasset, 201. Malaga, Spain 29006
Learn more about the event's details here.
---
Here to Stay
The Covid-19 pandemic has undoubtedly hit a lot of sectors and businesses through its course, and that includes the short-term rental industry. Thus, Here to Stay 2022 is focusing on recovery, helping rental property owners transition into the "new normal," and establishing that this sector is "here to stay" in spite of the global crisis.
This two-day conference will be held on October 10-11, 2022 in Gold Coast, Australia. Participants can expect top-notch panel discussions that tackle the most significant challenges in the sector, master classes and keynote sessions that offer relevant and pertinent insights regarding the industry, a trade exhibition that features tools, software, and technologies that make the hospitality business easier, and networking opportunities to meet and learn from stakeholders, managers, and other property rental owners.
Venue: Mantra Southport Sharks
Address: Melia Ct, Southport QLD 4215, Australia
Learn more about the event's details here.
---
Book Direct Show 2022
Aside from helping short-term rental property owners and managers minimize their reliance on booking sites like AirBnB, Expedia, VRBO, etc, the Book Direct Show is also in collaboration with The Destinationaire Awards. This event recognizes professionals in the hospitality industry who deliver exemplary service to their guests and show great leadership to their team. The Book Direct Show will happen on October 3-4, 2022 in the gorgeous Miami, Florida, where they will also feature panel discussions, workshops, and conferences to give rental owners and managers better insights and a deeper understanding of the short-term rental industry.
Venue: Miami Ironside
Address: 7610 NE 4th Ct, Miami, FL 33138, USA
Learn more about the event's details here.
---
VRMA International
Rebranded to embody the international conference that it has become, the previously VRMA National Conference has now been renamed as the VRMA International Conference. The Vacation Rental Managers Association (VRMA) brings together rental property owners and managers to learn, listen, and innovate.
This year, the VRMA International Conference will be held at Las Vegas Nevada this October 22-30, 2022, and it features comprehensive education, substantial takeaways, and the latest resources and materials for rental property owners, managers, and others who are also involved in the vacation rental industry.
Venue: The Legacy Golf Club
Address: 130 Par Excellence Dr, Henderson, NV 89074, United States
Learn more about the event's details here.
---
VRM Intel
The Coronavirus pandemic has changed a lot in the rental property industry game, and property owners and managers need to keep up with the latest trends to keep their businesses afloat. That is why VRM Intel 2022, which will be held in November 3, 2022 in South Lake, Tahoe, is geared towards helping them discover how much of the rental property industry has changed and evolved for the past couple of years.
The even also aims to address topics that shape the industry, explore performance forecasts, and discover new advancements in rental management technology.
Venue: South Lake Tahoe, California
Learn more about the event's details here.
---
Barefoot User Conference
With the theme "Empowering Independence," Barefoot User Confidence 2022 offers exciting opportunities for people in the rental management industry to be independent players. This event will provide them with pertinent content and valuable resources to empower them with knowledge and concepts to help them reach that objective.
Barefoot User Conference 2022 is a two-day event which will be held on November 11-12, 2022 at Hilton Head, and it aims to help rental property owners and managers learn, collaborate, and share the best industry practices with others.
Venue: Hilton Head Beach and Tennis Resort
Address: 40 Folly Field Rd, Hilton Head Island, SC 29928, United States
Learn more about the event's details here.
---
PhocusWright Conference
The Phocus Wright Conference, which will be held on November 14-17, 2002 in Phoenix, Arizona invites rental property owners, managers, and everyone in the travel industry to join the sector's most influential leaders and pioneers in discovering the latest trends and technology, and trailblazing rental management as it evolves into the "new normal."
The event features expert keynote speakers, a very stimulating venue, a pledge to offset every attendee's carbon footprint through out the conference, and lots of opportunities for networking with like minds.
Venue: JW Marriott Phoenix Desert Ridge Resort & Spa
Address: 5350 E Marriott Dr, Phoenix, AZ 85054, United States
Learn more about the event's details here.
---
Scale Rentals – Paris
Conceived with short-term rental property professionals in mind, Scale Rentals is launching an event on November 24-25, 2022 in the lovely Paris, France, to provide opportunities for rental property owners and managers who handle more than 50 properties to be more sustainable and profitable.
This event will cover themes like property acquisition, environmental impact, profitability, exit strategies, owner relationships, and more. It will likewise offer valuable networking opportunities, helpful business growth education, together with industry experts and fellow property management professionals.
Venue: La Bellevilloise
Address: 19-21 Rue Boyer, 75020 Paris, France
Learn more about the event's details here.
---
Expo Rental Vacacional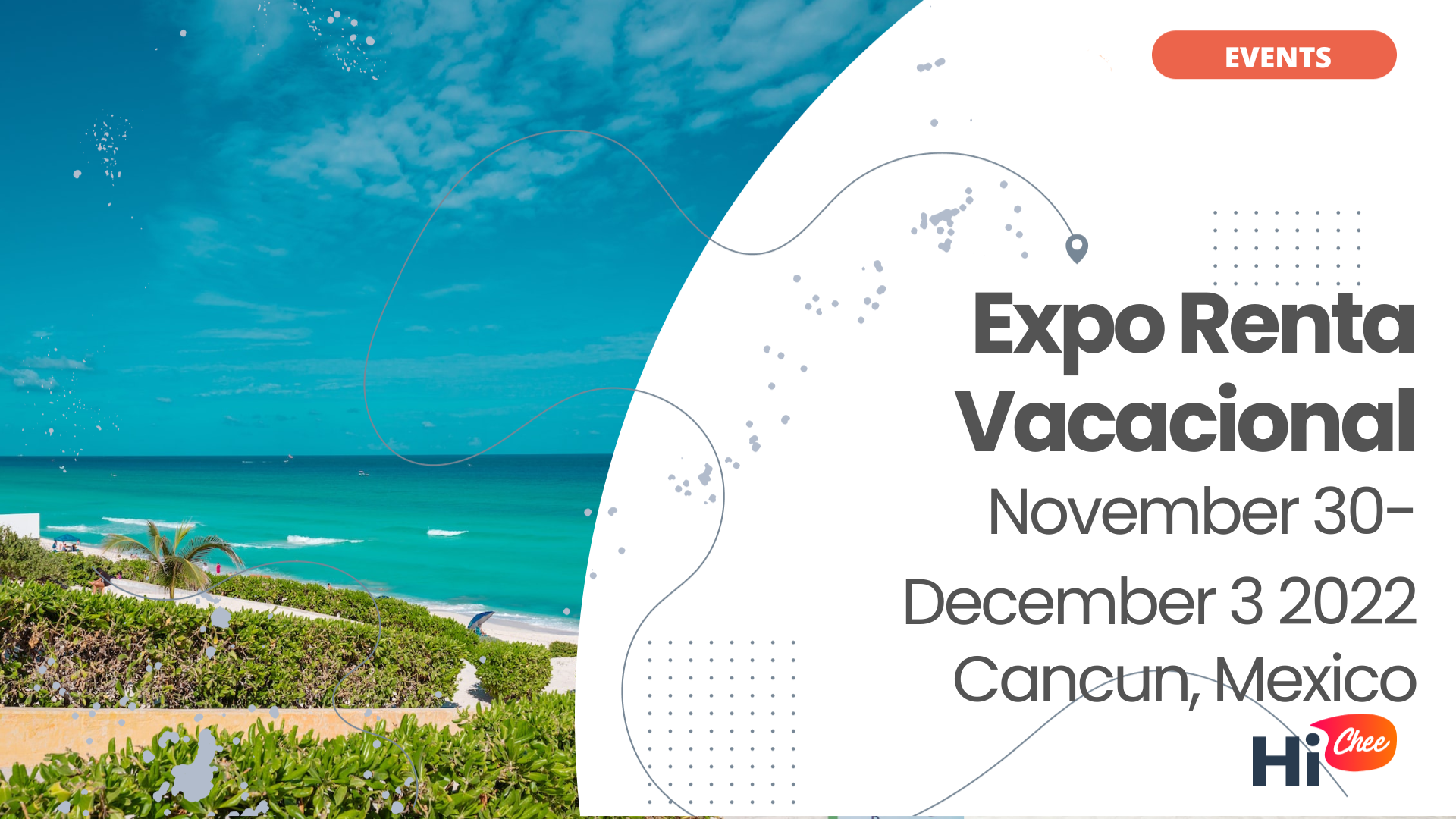 Are you a professional host or a property manager? Then, Expo Rental Vacacional is for you. This event brings together industry leaders
Venue: Cancun Center
Address: Blvd. Kukulcan Km. 9, Punta Cancun, Zona Hotelera, 77500 Cancún, Q.R., Mexico
Learn more about the event's details here.