Harry Potter-Themed Airbnbs – Our Top 8 For A Magical Stay
Harry Potter-Themed Airbnbs
Harry Potter Themed Rentals. Muggles rejoice! You can stop trying to get through Platform 9 ¾ because you can now experience the enchanting world of Harry Potter with our list of the best Harry Potter-themed vacation rentals.
These spectacular properties are perfect for Potterheads and casual fans alike, offering an extraordinary chance to experience the magic of J.K. Rowling's beloved universe. Each vacation home is thoughtfully designed with attention to detail that will leave you enthralled, ensuring your holiday stay is as memorable as the books that inspired them.
From charming apartments to luxurious homes, these vacation rentals cater to every witch, wizard, and Muggle's needs.
Click any of the images below to view the property directly.
Harry Potter-Themed Airbnbs
1. Encantada Resort
Location: Kissimmee, Florida
If you have kids who can't pick a Harry Potter or Mickey Mouse home, let us help you solve that dilemma! This 3-bedroom townhouse in Orlando features a Mickey Mouse-themed room AND a Harry Potter-themed room.
Everybody's happy, am I right? Aside from these themed rooms, this vacation home also offers premium amenities, including a private pool after a day of fun at the parks!
From the owner:
Welcome to this Lovely 3-bedroom Townhouse in Orlando; here is the perfect vacation spot for the whole family! Enjoy the luxury of a private pool area, perfect for a relaxing evening after a day exploring the city.
Two bedrooms are themed with something special, so the kids can have a great time picking out which one they want to sleep in. Whether you're looking for a fun family vacation or a relaxing place, this Townhouse is the perfect destination.
Located in Encanta Resort. Only a stone's throw away from the magical world of Disney. With quick access to all the best attractions in Orlando, you'll never be short on things to do in Festival Resort. So come and stay in this beautiful Townhouse and make your vacation in Orlando one to remember.
Getting The Best Deal
This property is listed on Airbnb & VRBO, as seen on HiChee. However, HiChee estimates it is $121 cheaper on Airbnb than on VRBO.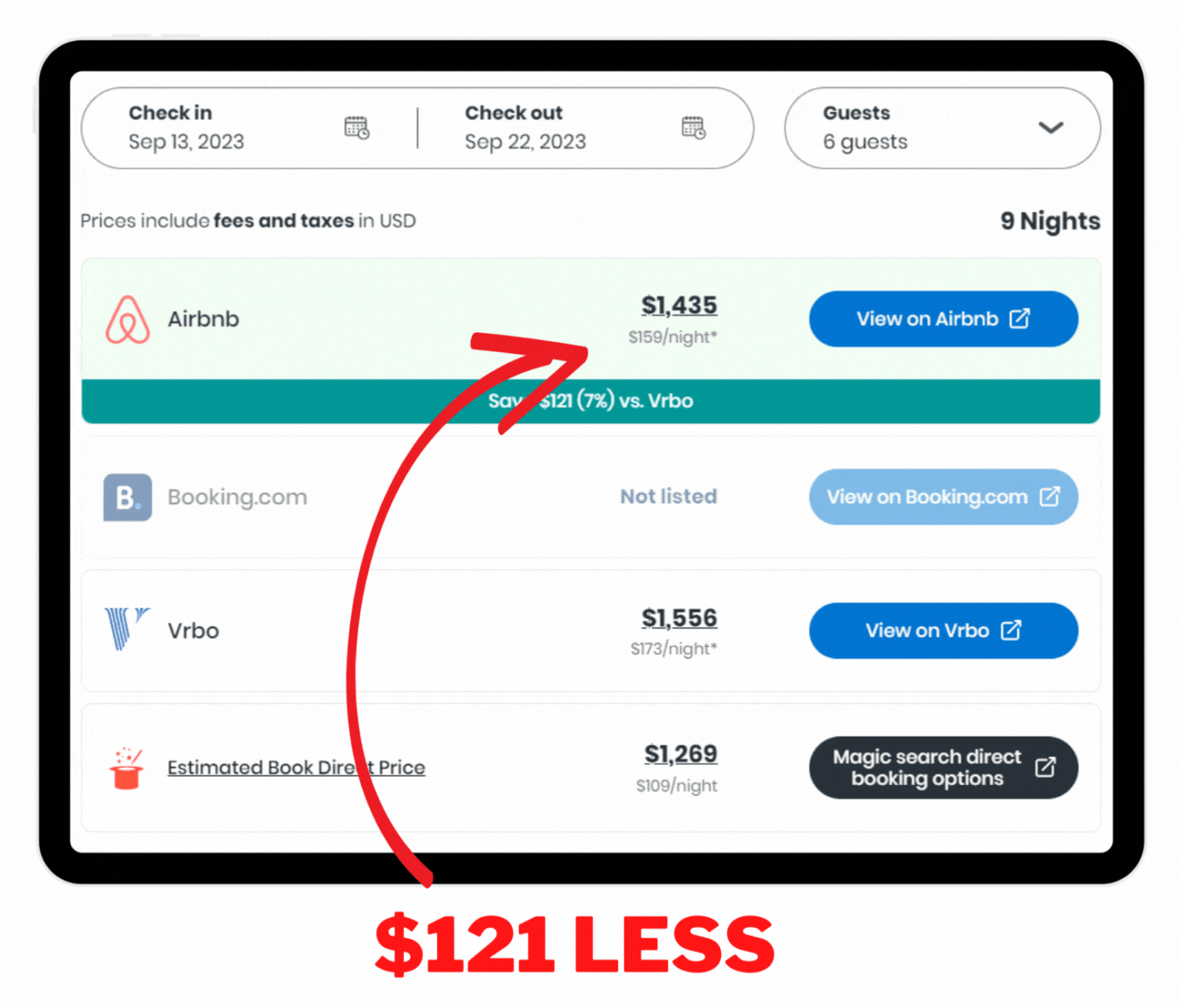 ---
Harry Potter-Themed Airbnbs
2. Harry Potter Magic
Location: Dijon, France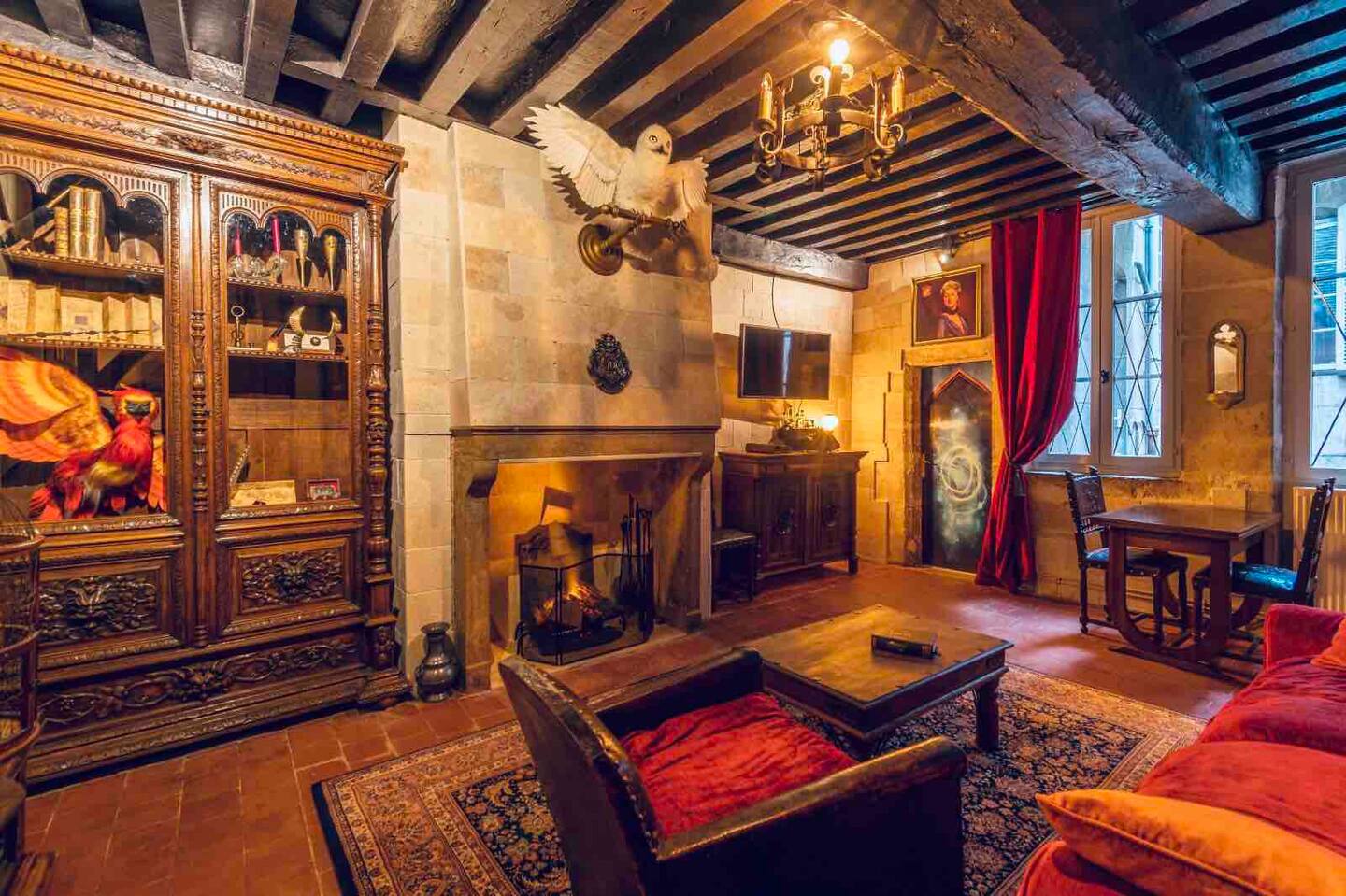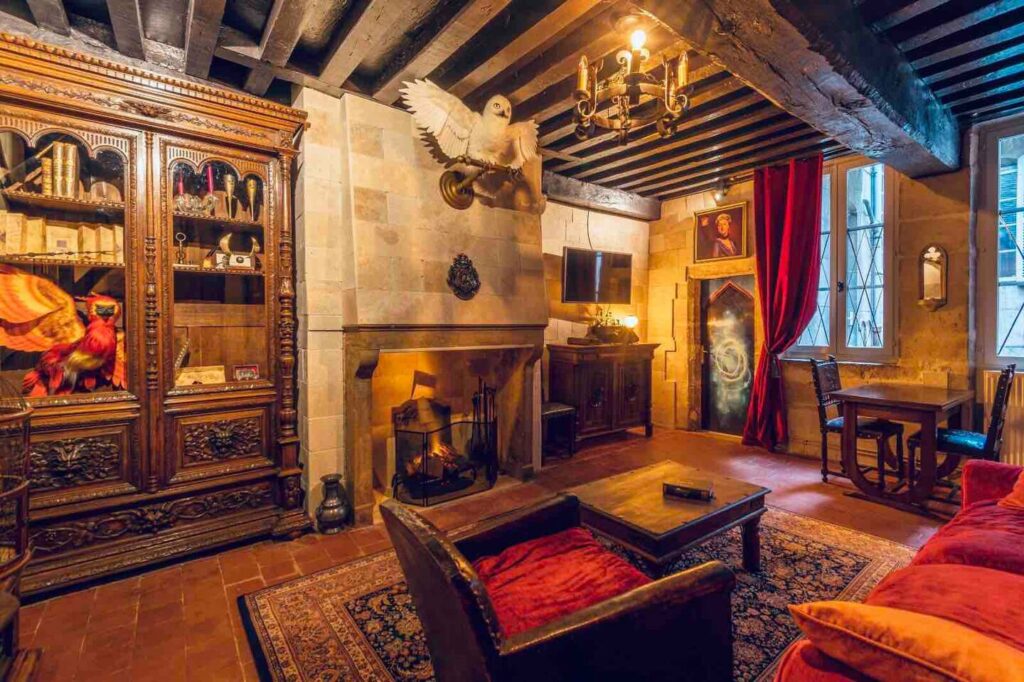 Who says you must go through Platform 9 ¾ to get to Hogwarts? This welcoming Harry Potter-themed apartment in Dijon lets you experience the magical world of Harry Potter and his friends at the Hogwarts School of Witchcraft and Wizardry!
It features a meticulously adorned living room with a life-size figure of Hedwig by the fireplace, the Sorting Hat, and even Harry's scotch-taped glasses! There's also a nice kitchen for your convenience if you forgot to bring some Chocolate Frogs!
From the owner:
Located in Dijon, this welcoming apartment lets you experience it all. Palace of the Dukes of Burgundy and the Church of Notre Dame is just a short walk away, so leave your car at the property, which offers covered onsite parking. If you want to expand your horizons and see other nearby locales, you can catch a train at Dijon-Porte-Neuve Station, a short 11-minute walk away.
There's a coffee maker, a microwave, and cookware for your convenience. Connect to the WiFi, or get cozy in front of the cable/satellite TV. Bathroom amenities include a hairdryer and towels. Other amenities at this 1-bedroom, 1-bathroom rental include a fireplace, bed sheets, and heating.
Getting The Best Deal
You can rent this place on Airbnb & VRBO. But you can save $391 when booking it on VRBO.
Harry Potter-Themed Airbnbs
3. Hogwarts Dorm – Magical Team House
Location: St. Louis, Missouri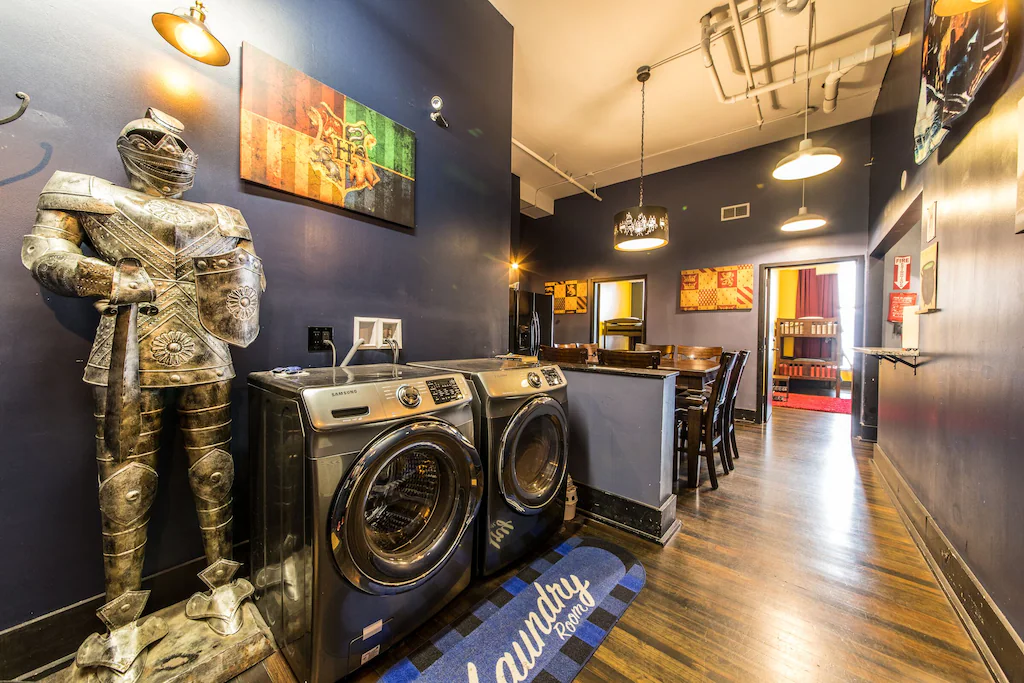 What's better than a Harry Potter-themed vacation home? A bunch of Potterheads to enjoy it with! This Hogwarts-style team space in Downtown St. Louis is the perfect place for groups to immerse themselves in the wizarding world of Harry Potter (we hope Lord Voldemort doesn't show up!).
This rental property can accommodate up to 24 people in its 6 spacious rooms representing the Gryffindor, Slytherin, Hufflepuff, and Ravenclaw houses, the Professors' room, and an entertainment room. It also has a fully-equipped kitchen and 4 ensuite bathrooms, which hopefully aren't haunted by Moaning Myrtle. Either way, your group will surely have a spectacular time creating magical memories!
From the owner:
Our 2,000 sq ft Hogwarts-style team space is excellent for wedding parties and groups attending conventions, especially a group of bridesmaids or groomsmen!
SLEEPS UP TO 24 people in 6 separate rooms reflecting each of the 4 Hogwarts Houses, the Professor's Room, and an Entertainment Room.
Ideal for reunions, bachelor parties, office gatherings, wedding showers, baby showers, visiting sports teams, and large family getaways.
Getting The Best Deal
This magical rental is available on Airbnb, Booking(.com), & VRBO. Though it is estimated that you'll save $1,021 when you book it on VRBO.
Harry Potter-Themed Airbnbs
4. Windsor Hills – Harry Potter Villa
Location: Kissimmee, Florida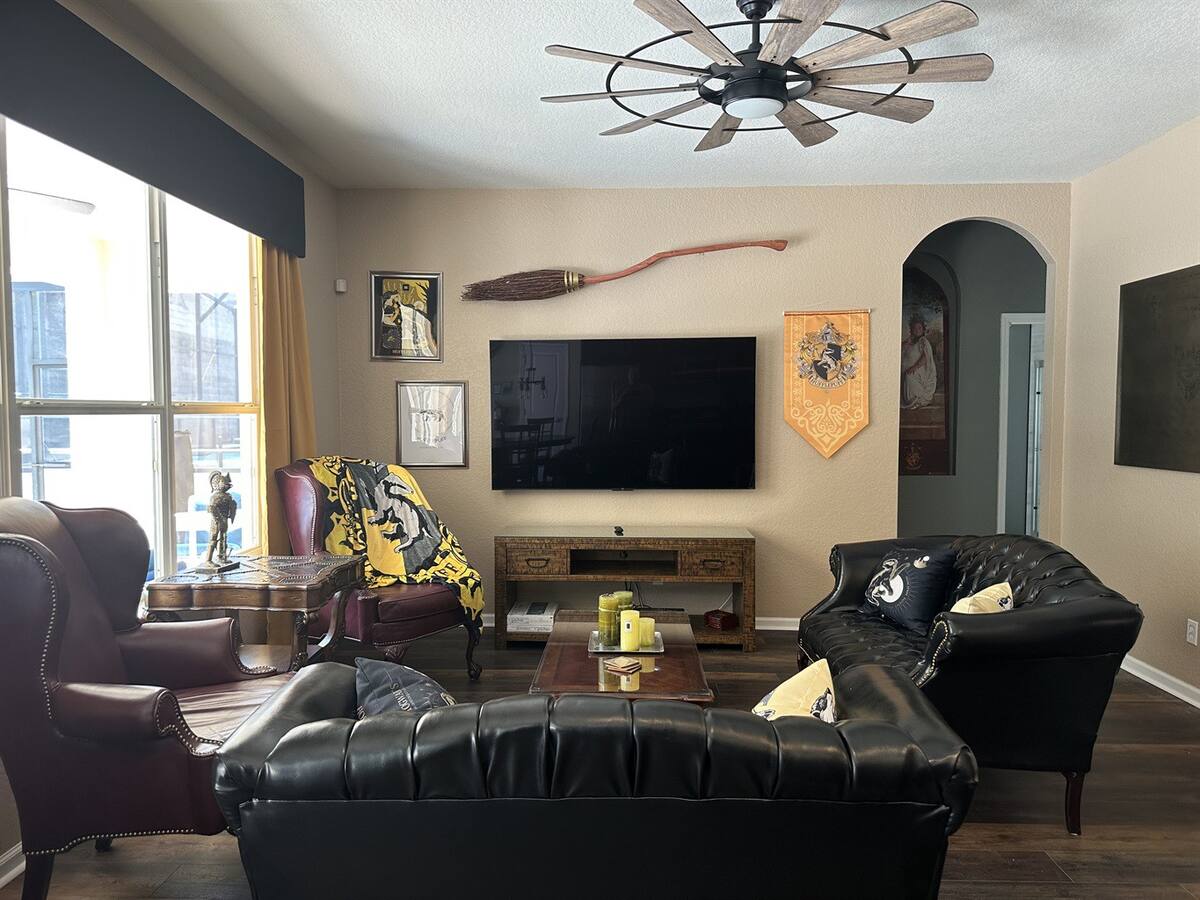 Nestled just a few miles from Disney Parks, this beautiful property will excite the Potterhead in you with its Harry Potter-themed rooms and world-class amenities.
Make sure you bring the Sorting hat because this vacation home has rooms for all 4 houses (though everybody wants to be in Gryffindor, am I right?, and rooms dedicated to Hagrid, Dumbledore, and He-Who-Must-Not-be-Named Lord Voldemort.
This property also features a pool with a Quidditch court to practice your skills after having fun at the parks. Among the other cool offerings are a fully equipped kitchen, access to Windsor Hills' amenities, and the best one—a custom-built Nimbus 2001 above the bed in the Slytherin room.
Getting The Best Deal
This property is listed on Airbnb, but if you book it on VRBO, you can save up to $602!
Harry Potter-Themed Airbnbs
5. Disney Star Wars and Harry Potter Condo
Location: Kissimmee, Florida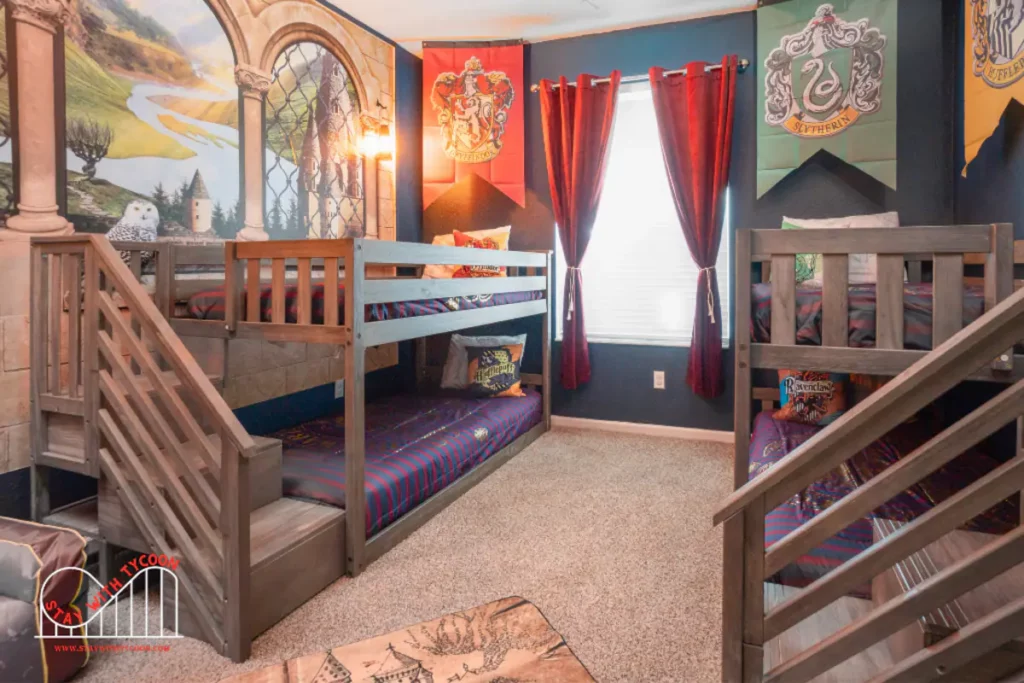 Haven't you received your Hogwarts letter yet? Don't fret! You can still experience what's it like to stay at Hogwarts with this Harry Potter-themed vacation home at Windsor Hill.
This property is near the Disney Parks, Seaworld, and Universal, so you can relax in its wonderfully-themed rooms. You will also have access to Windsor Hills amenities like the clubhouse, pool, waterslides, and more!
From the owner:
Welcome to the 1st-Floor Disney Destination Condo at Windsor Hills. This is one of our family's 3 bedroom – 2 bathroom condos in the safe and gated Windsor Hills that has been refurbished for a family trip to any nearby Disney Parks, Universal, or Seaworld!
The clubhouse includes a full gym, a marketplace, and a grill, which is next to the resort-style pool!
The condo is themed and decorated to continue the magical experience when you come home from a long day at the parks!
You will have full access to the condo, clubhouse, pool, waterslides, and other amenities!
Getting The Best Deal
As you can see from the image below, you can book this wonderful rental on both Airbnb & VRBO. But you can save $172 if you book it on VRBO
Harry Potter-Themed Airbnbs
6. The Dorm Room
Location: Chickamauga, Georgia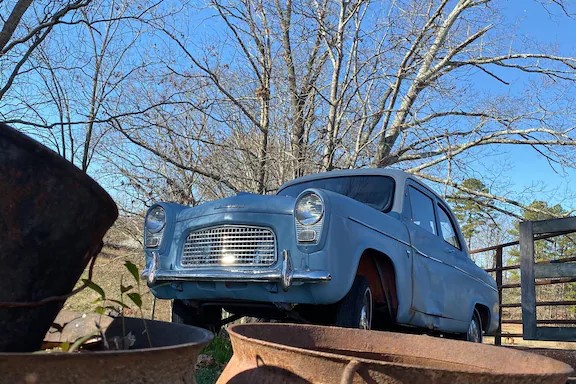 Discover a world of enchantment inspired by the Hogwarts School of Witchcraft and Wizardry! Nestled away from snooping Muggle eyes, this charming vacation home is a treasure trove of magical delights.
In a cozy home that will fulfill your Potterhead dreams, you can create unforgettable memories filled with whimsical relics and enchanting games. It's worth noting, however, that since this is an experienced property, it does not have the amenities other rental properties offer—like an equipped kitchen. However, it has a toaster, a coffee maker, and a microwave for your convenience.
From the owner:
Inspired by our favorite wizarding school across the pond, full of treasures in honor of Harry Potter and friends, this tiny home is full of charm and magic to explore during your stay. This wizarding paradise is tucked away from the prying eyes of Muggles.
It is an inviting and wonderful place filled with magical relics, games to play, books to read, movies to enjoy, and things to explore and experience.
We love this tiny magical oasis and hope you will too!
Getting The Best Deal
I saw The Dorm Room is listed on Airbnb & VRBO. Though I can get it for $180 less by booking it on VRBO.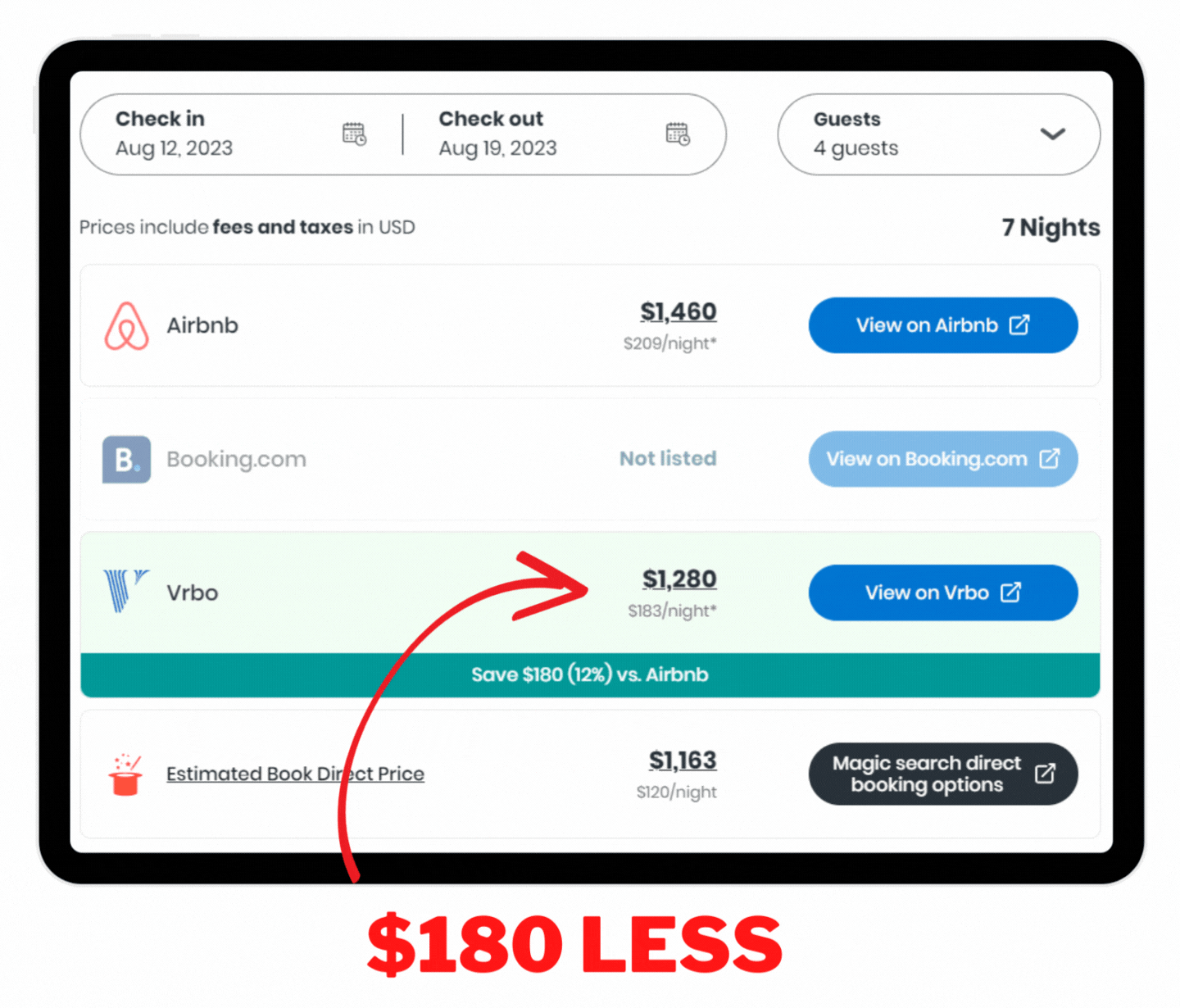 Harry Potter-Themed Airbnbs
7. Regal Palms Resort – Harry Potter House
Location: Davenport, Florida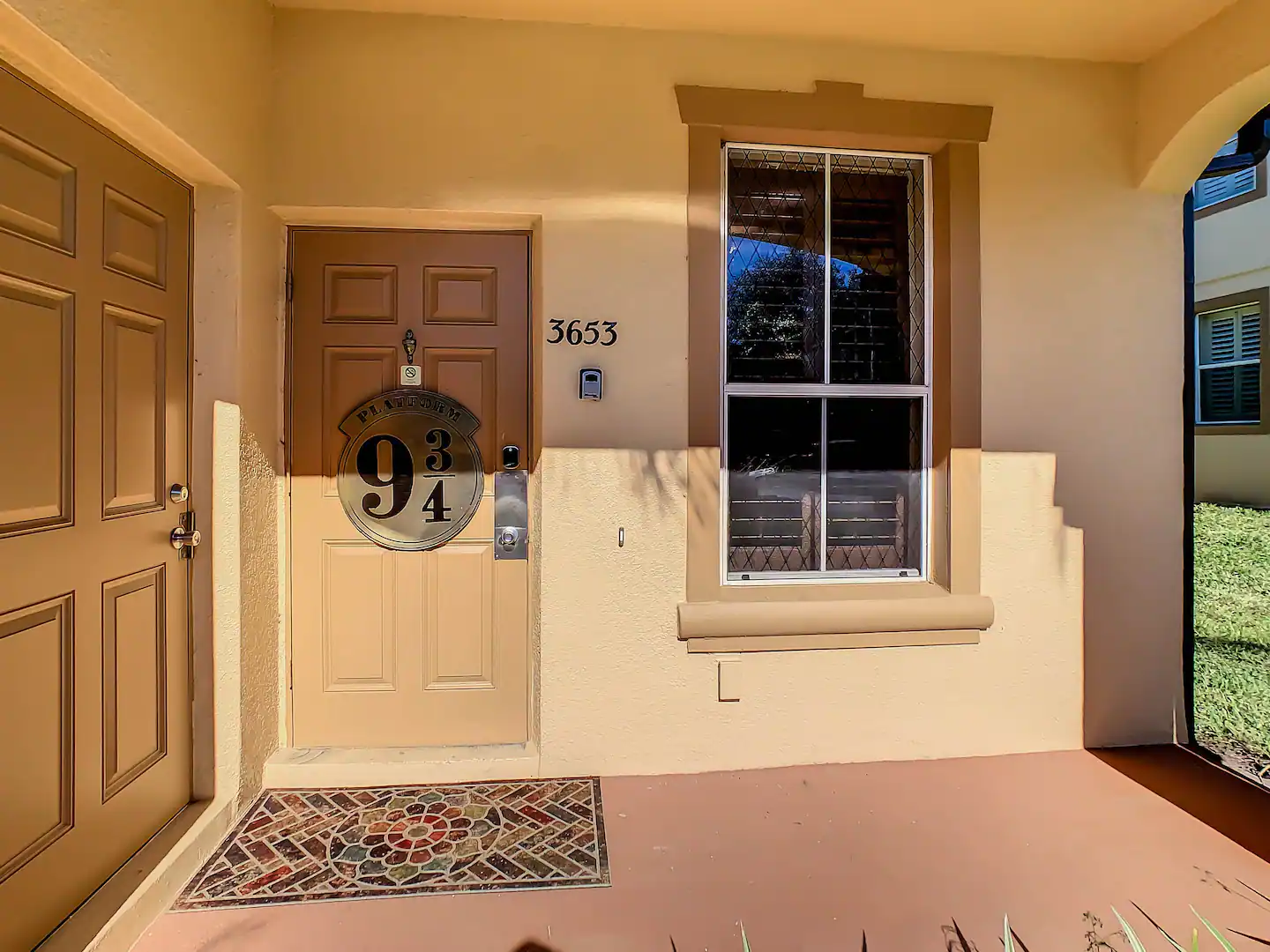 Experience luxury and enchantment in this posh Harry Potter-themed vacation home at the Regal Palms Resort.
It offers a Leaky Cauldron-inspired kitchen complete with the iconic ceiling lights; fixtures and furnishings that will excite any Potterhead; 4 spacious rooms that represent each of the Hogwarts houses, exquisitely designed to remain faithful to the books; an equipped kitchen with modern amenities; and Harry Potter-themed games for your family's enjoyment!
From the owner:
Each of our 4 bedrooms represents a Hogwarts house and features a fireplace, television, custom house bathrobes, and nostalgic decor. The hardest part will be deciding which room to stay in!
Also, when you stay here, you're staying at the luxurious Regal Palms Resort (30 minutes to Universal Studios, 15 minutes to Disney), which includes a lazy river, water slide, charcoal grills, playgrounds, hot tubs, on-site restaurant, gym, tiki bar, ice cream parlor and more!
We're excited to offer a custom Harry Potter-themed home at the luxurious Regal Palms Resort, which features a Leaky Cauldron theme kitchen and dining area as well as 4 bedrooms, each representing a Hogwarts house. The unit is riddled with details that only a true Potterhead can appreciate.
Getting The Best Deal
I found this property on VRBO. It is already on the good price side. However, I like to see if I can book it for less. Thankfully, I can save $552 on Airbnb.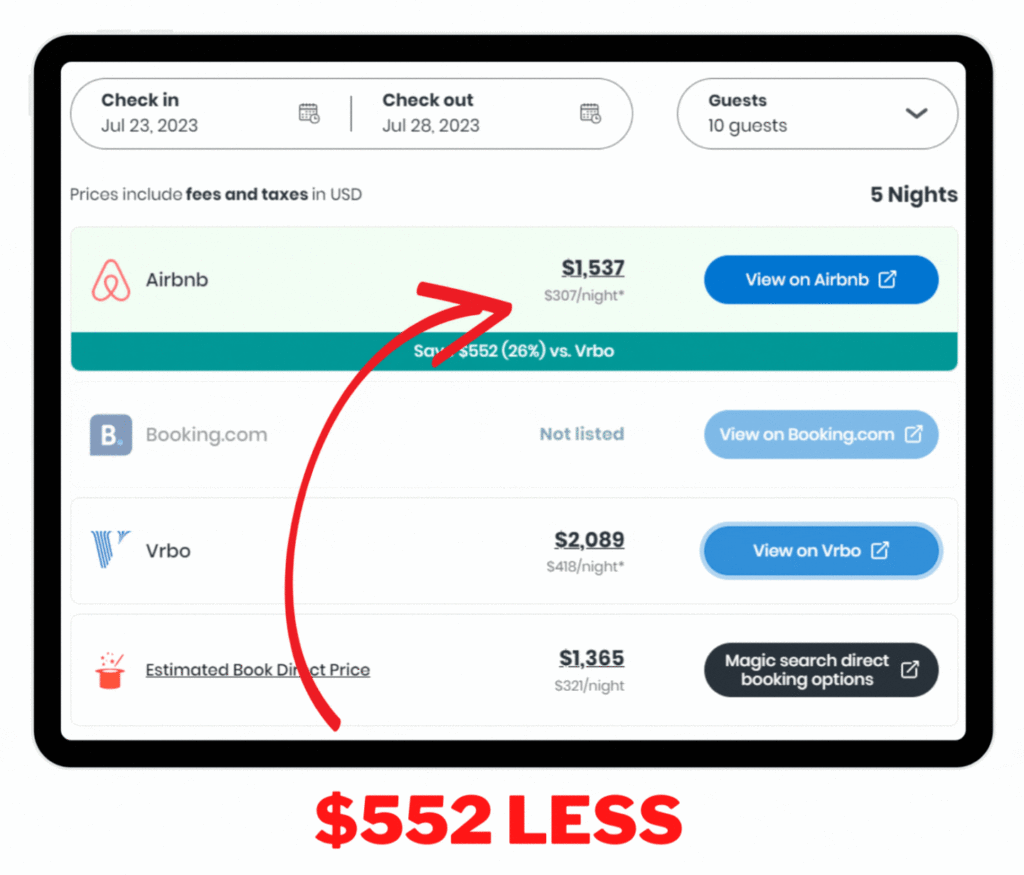 Harry Potter-Themed Airbnbs
8. Wizards Way by Loma Homes
Location: Champions Gate, Florida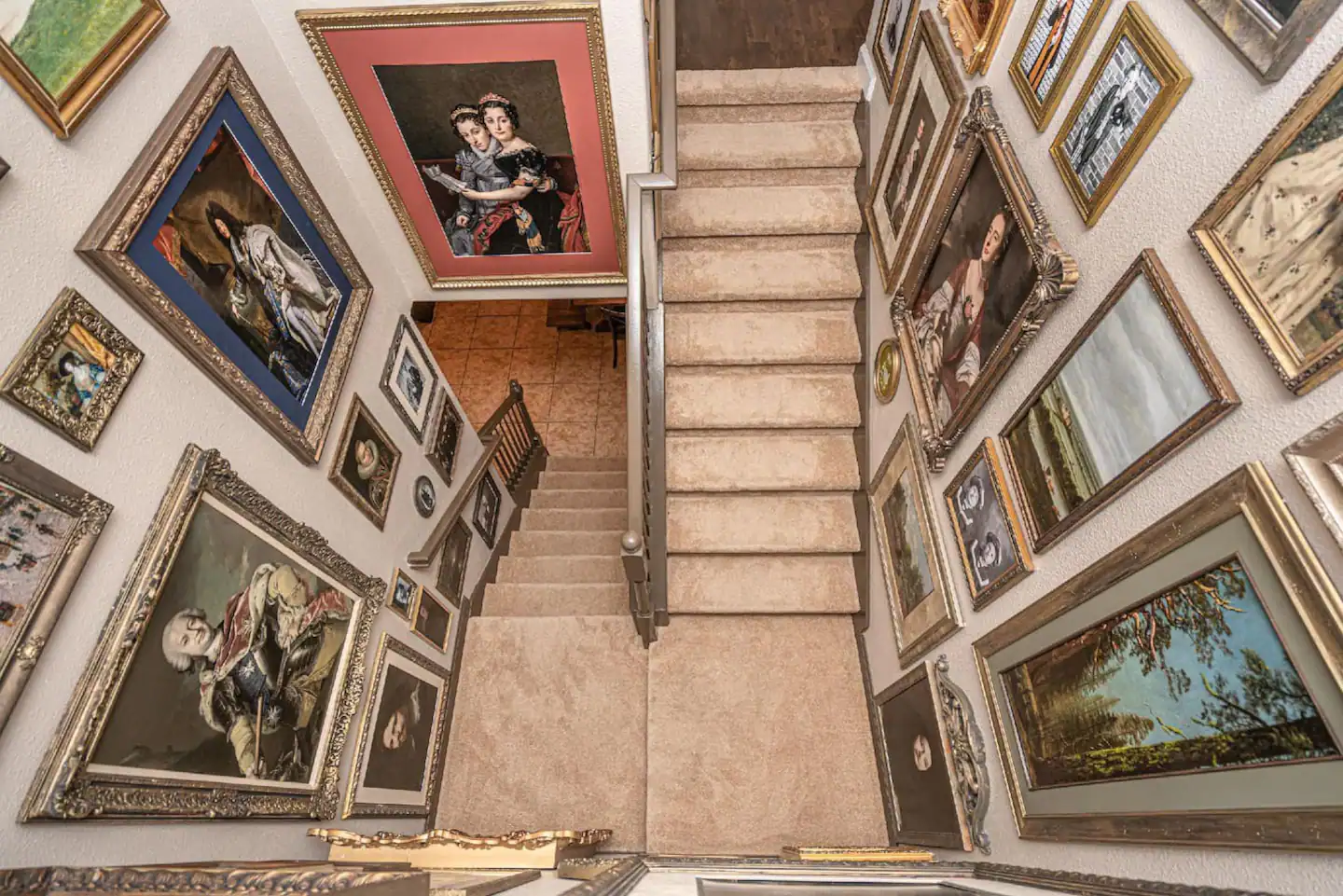 At the Wizard's Way, an 8-bedroom Harry Potter-themed vacation home in Champion's Gate, they utterly mean it when they tell you Go Big or Go Home. Each room in this property is painstakingly designed with meticulous details to give you a wonderful experience you will never forget.
The rooms have custom-carved beds, special effects, mood lighting, and ambient sounds that will transport you and your family to the wizarding world of Harry. This extraordinary property also features a heated pool, theater room, and luxurious amenities and furnishings.

From the owner:
Welcome to Wizard's Way, a magical 8-bedroom, a 5-bath vacation home in Champion's Gate. Step inside and find a home designed to take you to a wonderland of magic, fantasy, and folklore. This home is one of several themed properties owned and managed by Loma Homes.
Loma Homes create spaces that are a one-part immersive experience and one-part luxury vacation rental.
At our newest destination, Wizard's Way, the eight bedrooms let you wake up in a magical setting. Special effects, custom-carved beds, ambient sounds, + custom mood lighting let you be fully immersed in this wizarding universe.
Bathrooms include 1 private ensuite, 3 more shared baths, Jack-and-Jill style, and 1 separate bath.
While wizard enthusiasts will marvel at the precise attention to detail, even grandma will have much to be excited about.
There's the private, heated pool, private theater room, and the many amenities on the Champion's Gate Resort grounds, including a water park with lazy river and water slide, gym, theater room, game room, special area for the kids, a bar, sand volleyball court, and two golf courses.
Getting The Best Deal
This last property is available to book on both Airbnb & VRBO. I originally saw it on Airbnb, but then I remembered about HiChee and saw that it's $201 cheaper on VRBO.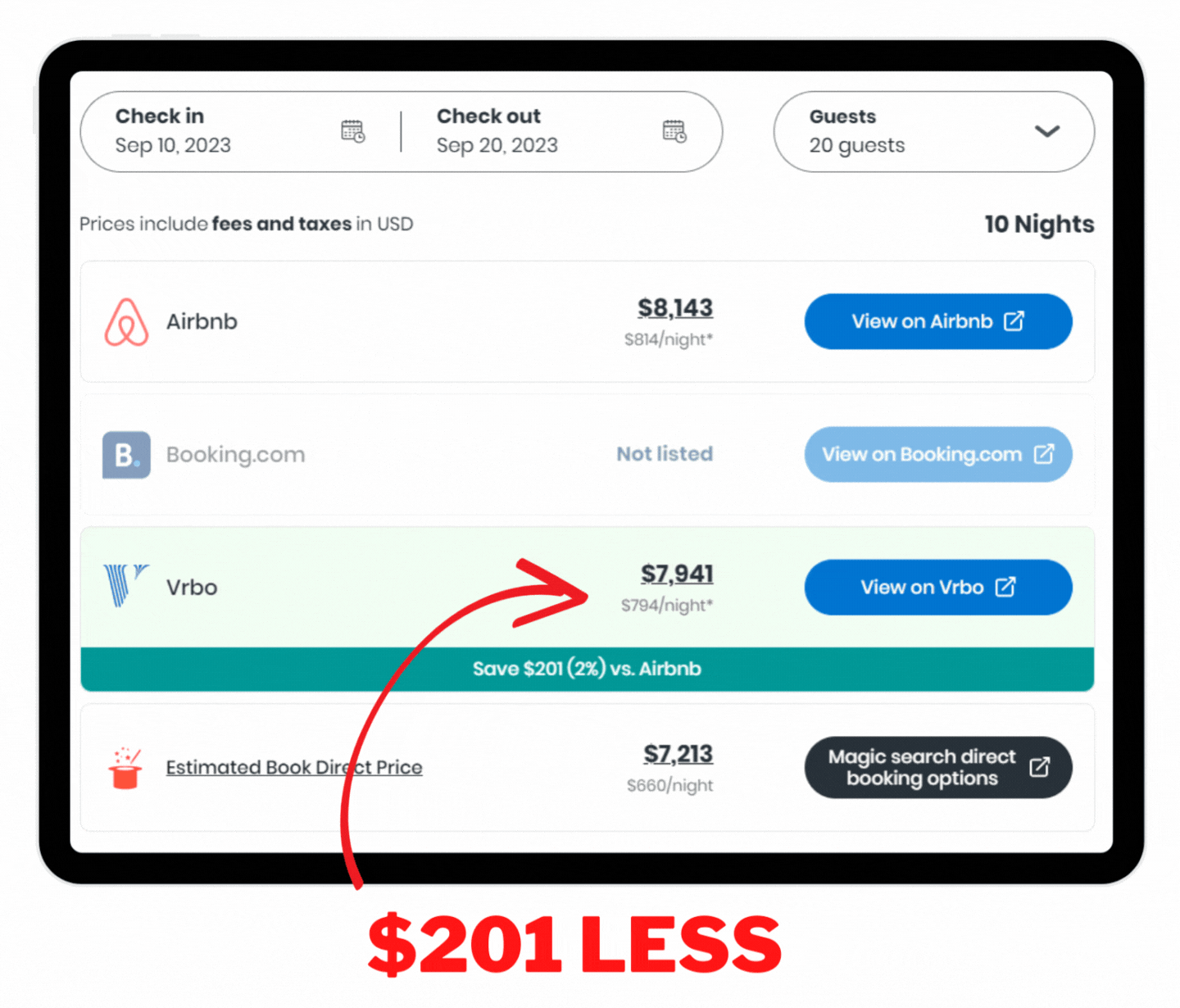 Similar Articles
If you liked this article, you may like these articles too.