9 Of The Coolest Tiny House Rentals You Can Find In The US (And Where To Rent Them For LESS)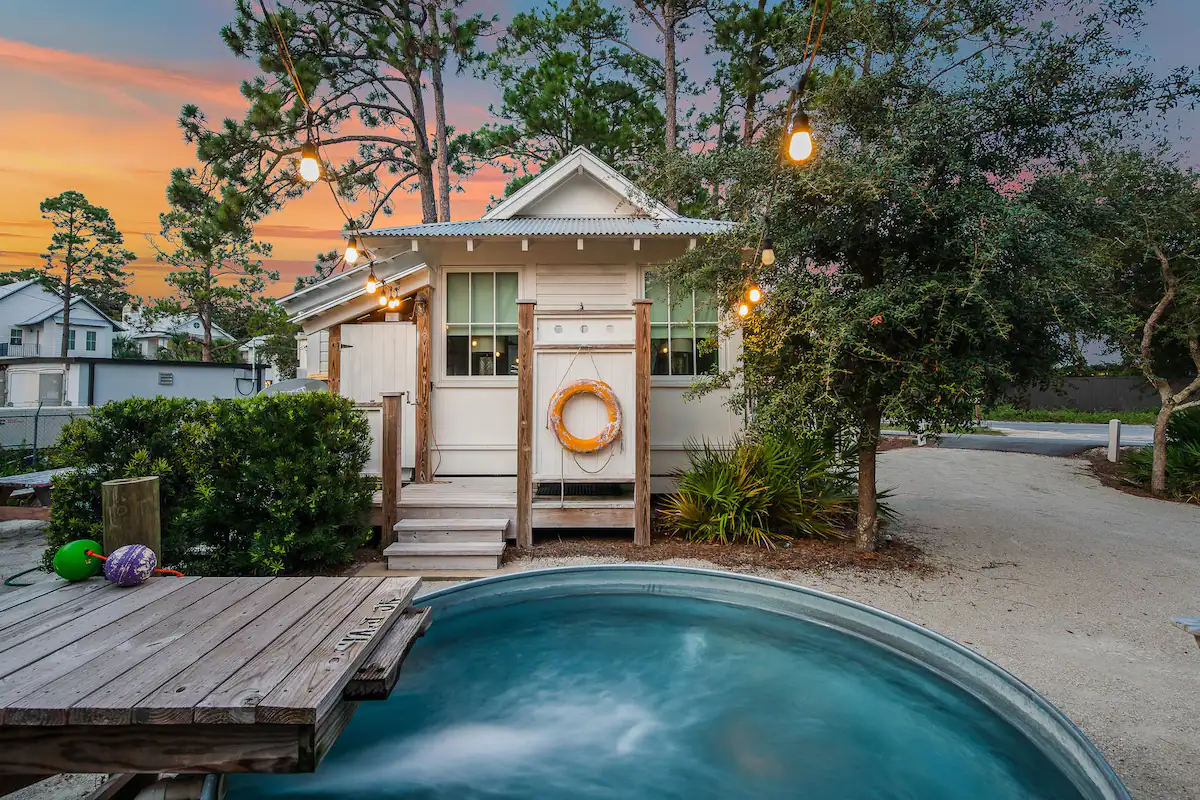 9 Of The Coolest Tiny House Rentals You Can Find In The US
Coolest Tiny House Rentals
1. Flamingo Tiny Home
Location: Matlacha, Florida
If you want a minimalist vacation stay with no fuss and no frills, this rental property in the art district of Matlacha is for you. With just enough amenities to cater to your basic needs, like beds, a kitchen, a toilet, and even a BBQ grill and picnic tables, this tiny home embodies the concept of beauty in simplicity.
From the owner:
Located in the art district of Matlacha on a canal
This is a tiny home with 2 queen beds and a pull sofa. Flat-screen TV, induction cooktop including pot and pans, and linens included.
Access to BBQ grill, deck, and dock, picnic tables
Getting The Best Deal
Let me tell you how to get the best deal for your desired rental. Introducing HiChee. HiChee is a tool that will allow you to know where to rent a certain property for less. For example, this first rental. I first saw this on the Airbnb website. To use HiChee, I simply copied the property's link or code in Airbnb and then pasted it on the search bar that can be seen on HiChee's home page. After that, it will let me see where I can rent this for a lower price on Booking.com!
Available on: Airbnb & Booking (.com)
Savings: $264
Share This Post With Friends
---
Coolest Tiny House Rentals
2. Nova Cottage
Location: New Plymouth, Ohio
Who would've thought that you could use a shipping container for a greater purpose other than helping transport cargo? This tiny house nestled in the heart of Hocking Hills was once a shipping cargo but is now transformed into an elegant and efficient living space. It also features a firepit perfect for S'mores and stargazing, as well as a hot tub for relaxing and unwinding after a long day of sightseeing.
From the owner:
Our cozy Nova Cottage is situated in the heart of the Awe-inspiring Hocking Hills and Lake Hope State Parks. The flat, easy-access driveway is suitable for all vehicles and motorcycles. The tiny house has one bedroom and one bath. We have a well-stocked kitchen with an induction cooktop, pots/pans, a toaster oven, a microwave, and a small refrigerator with a freezer. All cooking and dining accessories are provided. If you prefer outdoor cooking, we have a gas grill available. After a long day of sightseeing, soak in our generous six-person Master Spa hot tub. The fire pit is perfect for relaxing, making s'mores, and stargazing. An electric fireplace sets the mood to sit in, watch the Roku TV, or browse the internet. With our clean and comfortable bedding, you will wake up refreshed and ready to explore the new day. The stocked coffee bar will also help start your morning, and we provide go cups so you can take your beverage with you to begin your exciting adventures.
Getting The Best Deal
Available on: Airbnb & VRBO
Savings: $251
Share This Post With Friends
---
Coolest Tiny House Rentals
3. Making Waves
Location: Santa Rosa Beach, Florida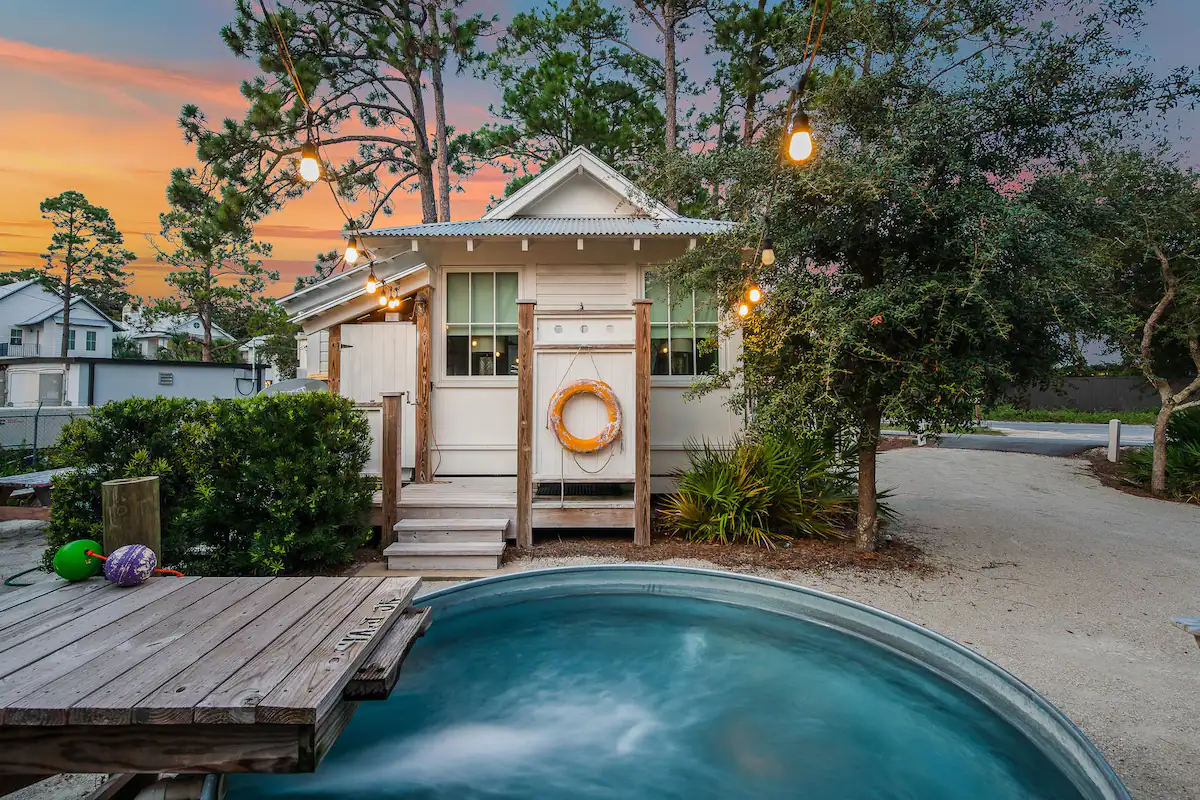 This tiny house might look unassuming at first, but there is more to this rental property than meets the eye. Inside this rustic home is a queen size bed, a kitchenette, and a few chairs to lounge in. Outside, however, is where the fun begins. It features a plunge pool, a BBQ grill, string lights for the 'Gram, and a full washer/dryer for your convenience. You'll also be spoilt for activity options when you stay here; you can explore Eastern Lake and Deer Lake State Park, enjoy the beach, or ride around and enjoy the place with your bicycle.
From the owner:
'Making Waves' is the most CHARMING house, full of character and just steps to the Seagrove public beach access, Seagrove Market, and Surfing Deer restaurant! Also, just a short walk to Publix in WaterColor!
This home is fully equipped with a private plunge pool for those hot summer days, string lights for ambiance, a BBQ for grilling out, an outdoor shower + full washer/dryer, a claw foot soaking tub, queen size bed, cable TV, and more! It truly has it all!
The space
We are in love with this house!
The home's interior is equipped with a queen-sized bed, dining table and chairs for two, cable TV, claw foot soaking tub, and kitchenette.
Outside you will find a darling outdoor living space with string lights, a plunge pool, a BBQ grill, an outdoor shower, and a washer/dryer.
Getting The Best Deal
Available on: Airbnb & VRBO
Savings: $986
Share This Post With Friends
---
Coolest Tiny House Rentals
4. Among The Stars
Location: Oakhurst, California
This next rental property may be tiny in size, but it packs a punch in aesthetics and appeal. Sitting no more than 20 miles from Yosemite and Bass Lake, Among the Stars, as it's aptly called, is the perfect place for you if you want to recharge and unplug from the hustle and bustle of the city and stay in a minimalist and intimate home. But it's not your ordinary tiny home, though—it features a professionally serviced hot tub, A/C and heating, a private Wifi network for your security, and a majestic view of the High Sierras.
From the owner:
Welcome to Among The Stars- a tiny but mighty property located 19 miles from the south entrance of Yosemite and 10 miles from Bass Lake!
A few characteristics we would love to highlight about the home include the following-
Sleeps 3- one queen bed and one twin bed
The hot tub is professionally serviced (which is rare in our area) and available year-round
A/C and heating
Stand in the shower someone well over 6 feet can comfortably shower in
Private wifi network (we have purchased the Vyve Broadband package up to 105mbps)
Smart tv- feel free to log in to your own Netflix/Hulu
Propane Firepit
BBQ Grill
Log swingset
And most importantly…180* Panoramic Views of the High Sierras!
Getting The Best Deal
Available on: Airbnb, VRBO, & Alternative Site
Savings: $194
As you can see, I can save a massive $986 already. But I want to try to get this for a much lower price.
In this case, I tried using HiChee's feature known as Magic Search. This feature helps you look for more booking options aside from Airbnb, VRBO, and Booking (.vom). It can be seen on the main picture as shown below.
After using this feature. I saw that I can book it on another site. And comparing it to the lower price in HiChee, I can still save $194!
Share This Post With Friends
---
Coolest Tiny House Rentals
5. Acute A-frame Cabin
Location: Big Bear, California
No, this isn't Instagram, but this property is sure 'Gram-worthy! Talk about a one-of-a-kind A-frame, rustic interior, amenities like a wood-burning fireplace to keep you warm, a BBQ grill, and a private deck to take in the majestic view of nature and breathe in the fresh air that you can't find anywhere else.
From the owner:
Woodsy A-Frame in Big Bear!
The Acute A-Frame Cabin is in the forest of Big Bear, close enough to drive to the Big Bear Lake and ski resorts but far away to feel like a true mountain getaway. Due to the model and location of this house, you are in the perfect place to view the sunrise from one side and the sunset from the other.
This recently modernized cabin has two sleeping areas (one upstairs and one downstairs), with Instagram-worthy decor and a super sweet spiral staircase.
The living room features a large flat-screen smart TV for watching Netflix, Hulu, and your other favorite streaming services. The cabin also has a wood-burning fireplace in the living room (firewood is not provided). The kitchen is stocked with the essentials like pots, pans, dishes, silverware, and glass you need to prepare your meals (bring your favorite spices if needed). The cabin also has one full bathroom.
The outside deck has a private deck with an outdoor dining area and a charcoal BBQ grill for you to use (charcoal not provided). The cabin's deck is the perfect place to breathe the fresh mountain air and relish in the warm mountain sun.
Getting The Best Deal
Available on: Airbnb & VRBO
Savings: $255
Share This Post With Friends
---
Coolest Tiny House Rentals
6. Bear Ridge Cabin
Location: Clymer, New York
Just big enough to be the perfect rental stay for a small family getaway or a romantic vacation for two, this tiny home by the water has all the essentials you need and a little bit more. It offers an enchanting view of the Bear Ridge pond, an equipped kitchen, fast WIFI for emails that just can't wait, and to top it all off, this tiny home has its own cedar snorkel hot tub that you can relax in a while taking in the majestic sights and the experience of being among the trees and wildlife.
From the owner:
Enjoy an enchanting experience in our cozy cabin by the water. You will be surrounded by trees and wildlife with a breathtaking view of the Bear Ridge pond. This quaint cabin is rustic yet modern and has everything you need. It can sleep up to 4 guests comfortably, so you can enjoy a small family getaway or just a romantic vacation for 2. You are provided with amenities such as a full kitchen, bathroom with a tub and shower, WIFI, pot belly wood stove, outdoor fire pit, and an amazing cedar snorkel hot tub.
Getting The Best Deal
Available on: Airbnb & VRBO
Savings: $246
Share This Post With Friends
---
Coolest Tiny House Rentals
7. The Bermuda
Location: Orlando, Florida
This tiny home in Florida may be limited in size, but the amenities and activities you can enjoy while in it will leave you spoilt for choices. This property by the lake features a comfortable bedroom that can sleep up to 4, a surprisingly spacious kitchen, and high-end amenities. It also offers free use of kayaks and paddle boats and has hammocks, a fire pit, yard games, volleyball, cornhole, a propane grill, and fishing gear available upon request.
From the owner:
This charming home welcomes you to Florida with tropical flair. Bright and spacious, The Bermuda comfortably sleeps three adults. With a sleeping loft for one child (or two tiny ones!) and a spacious, fully-equipped kitchen, this home is perfect for families visiting Orlando's many attractions. The interior is designed with top-of-the-line, high-end materials, giving your tiny house a feel of home-like comfort. Steps from the lake, The Bermuda is the perfect addition to your visit to Orlando!
Getting The Best Deal
Available on: Airbnb & VRBO
Savings: $190
Share This Post With Friends
---
Coolest Tiny House Rentals
8. The Glass House
Location: Hondo, Texas
Have you ever dreamed of laying on a luxurious bed underneath the stars, with nothing but the sounds of nature serenading you to sleep? Then this tiny home in Texas will make your dreamy dreams come true! This one-of-a-kind rental property allows you to sleep outside on a luxurious queen-size bed in privacy, with the peace and quiet that this 72-acre property offers. But if you're more of an indoor couple, you can still enjoy this home with its rustic interior, huge glass windows, and functional kitchen. It also offers a private hot tub, fire pit, and access to hiking areas.
From the owner:
The Glass House is designed as a romantic getaway. Enjoy morning coffee and sun.
Guests have private access to the entire Glass House and free WiFi and parking. Outside, guests have access to their private hot tub, fire-pit, and Blackstone Griddle, and all outdoor areas, including the 72 acres where you are free to explore. You should bring hiking shoes or boots if you want to explore the grounds.
Keys are left in the lockbox. If you have any issues or concerns during your stay, please reach out to us immediately. We live on-site and are available 24/7 to assist you. We want you to have an exceptional stay!
Located on 72 gorgeous tree-covered acres, our tiny romantic home offers the perfect blend of the beauty and peace of the hill country and the luxurious comforts of home. It's time to relax, reconnect, and renew while taking in the sights and sounds of the breathtaking Texas hill country. This unforgettable romantic getaway is perfect for newlyweds, babymoons, anniversaries, or simply escaping the city and breathing in the fresh Texas air.
Getting The Best Deal
Available on: Airbnb & Alternative Site
Savings: $139
Share This Post With Friends
---
Coolest Tiny House Rentals
9. Tiny Bunker
Location: Todd, North Carolina
Designed with sustainability in mind, this tiny house in North Carolina is perfect for those who want to make this world a better place by leaving less and less footprint on the planet. The Tiny Bunker is a meticulously designed rental property that aims to build a connection with nature while still providing the comforts of home. It has a hot tub, high-end rooms, and a comfy seating area to take in the majestic views of the mountains and wildlife.
From the owner:
Have it both ways with the Tiny Bunker – a retreat in nature AND a 5-minute walk to historic downtown Todd or a 15 to 20 min. drive to downtown Boone and W. Jefferson. Enjoy the well-appointed Tiny Bunker and two decks, with private access to a hot tub, fire table, dining nook, and comfy outdoor furniture. Cook meals in Bunker's small kitchen or outdoor grilling area. Relax and refresh while experiencing the joy of tiny living!
The Tiny Bunker was designed and built with the vision of simple yet comfortable living that supports a deep connection with nature and a smaller footprint on the planet. The meticulously designed 160 square-foot Tiny Bunker uses every inch and lacks for nothing.
With the small interior footprint, most of the space is dedicated to two truly magical outdoor areas. The outdoor main deck is equipped with a hot tub, dining area, fire pit, and seating area to relax and enjoy nature. The second deck brings you even further among the trees, accentuating the winter views of the mountains. Read a good book, take a nap, or enjoy the view of the trees while relaxing on the outdoor patio furniture on the second deck. You can expect to see birds, deer, and other wildlife while you enjoy the outdoors.
Getting The Best Deal
Available on: Airbnb & VRBO
Savings: $79
Share This Post With Friends
---
BONUS PROPERTY
Tiny on the River
This tiny home may be small in size, but it doesn't skimp on giving its guests spectacular views of nature outside. With huge glass windows, you can take in the beauty of the Black River while lying on the luxurious beds or lounging on the sofa. If you appreciate the finer things in life, you'll also love this rental property's oak floors, cedar trims, and granite countertops.
From the owner:
Tiny is perched near our home above the Black River. It's a quiet neighborhood just minutes from the interstate, parks, trails, and our vibrant downtown with cafés, shops, and great restaurants.
Enjoy privacy and breathtaking views from the enormous windows or the cozy daybed on the porch! Deer, beaver, eagles, and more make frequent cameos as the seasons paint shifting riverscapes and incredible sunsets.
Exquisite Wisconsin design and craftsmanship are displayed in cedar trim, cherry cabinets, oak floors, and tons of high-end accouterments like granite countertops, heated floors, a fireplace, a heavenly bed, and more.
A wall of windows offers ever-changing views of the Black River. A plush day bed on the screen porch is great for a lazy nap, for listening to the babbling rapids below, or just curling up with a book and enjoying!
Getting The Best Deal
Available on: Airbnb & VRBO
Savings: $143
Share This Post With Friends
---
Similar Articles
If you liked this article, you may like these articles too.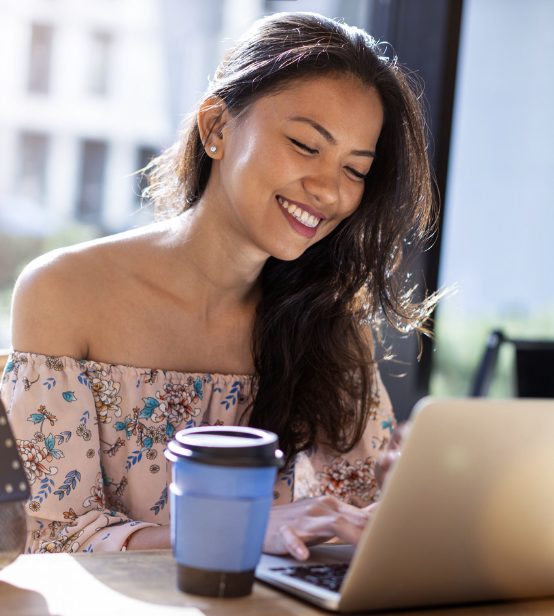 Tiffany Martin, a 33-year-old travel content contributor based in Manila, Philippines, brings the world's beauty to your screen through her writing, narrating the best places in the globe with a charm that resonates.
Aside from being a travel writer and an all-around digital nomad, she's also a wifey, a mom to two girls, and a licensed educator. During her downtime, she loves traveling, cooking, and playing with her energetic Dachshund and cuddly Golden Malinois.