9 Dreamy Beach Houses You Can Rent for Your Next Vacation (With Big Savings!)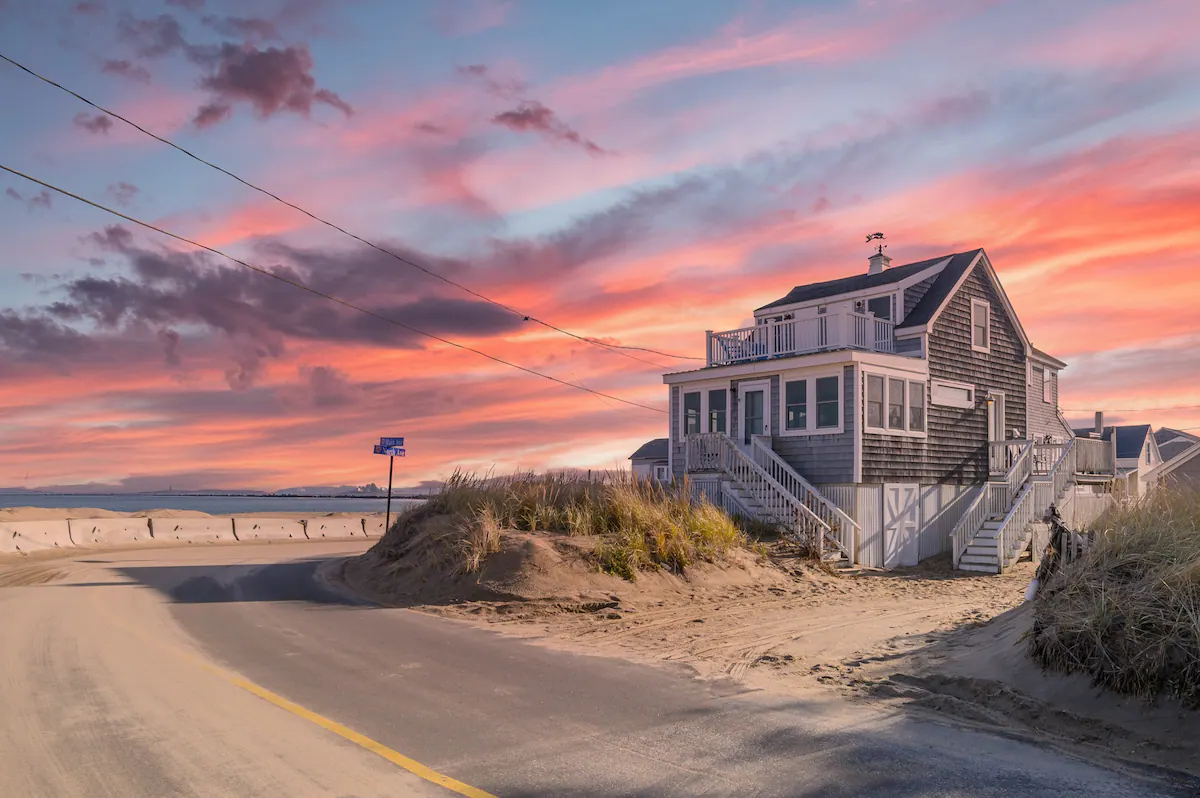 9 Dreamy Beach Houses You Can Rent for Your Summer Getaway (With Big Savings!)
Is there a better way to spend your summer than waking up with a breathtaking ocean view?
Summer is about to end. And you still haven't been able to get up from your couch and experience that once-in-a-lifetime trip that you've been dreaming of. But, no worries! In this article, we will help you take the first step in making that dream a reality.
We have listed 9 of the most amazing vacation rental beach houses that you can find on the web! AND we'll show you how to rent them for less!
Stay tuned until the end for the bonus beach house which will surely make you rent it ASAP.
Click any of the images below to view that property directly.
1. All Private Luxury Beach House
Location: Nevis – St. Kitts & Nevis
If you fancy a property that has a punch of modernity yet is close to nature, take a gander at this one. This villa is a 2-bedroom, 1-bathroom property that can accommodate up to 5 people. Moreover, this has its own pool, in case you're too tired to walk to the ocean or just want to enjoy the ocean view within the house.
The owners take on it…

Zenith Nevis offers the opportunity to rent a high-quality private residence on a stunning beachfront site on one of the Caribbean's most beautiful islands. Everyday service by our beautiful staff, includes room service and daily housekeeping, private chefs & what else you might need when you are here to relax.

Zenith combines elegant residences set in tropical gardens with a seaside lounge and restaurant, swimming pool, and private access to the beach.
How to Get the Best Deal
I found this property on Airbnb, entered my dates and the number of guests and the price is $11,765
To find the best price, I just copy the URL from Airbnb.
Then paste it into the search box on Hichee.com.
I instantly see which listing site offers the best deal.
Watch the 1 minute video below and see how I save $5,836
You can get this property with a $5,836 saving! What a deal right?
Imagine what else you can do with that much money.
---
Share This Post With Friends
---
2. Waterfront Scotland Beach Retreat with Private Beach
Location: Ridge, Maryland
A charmingly whimsical beach house and a dose of Vitamin Sea are just what the doctor ordered to get away from the stresses of city life. Step out the door and into the sand. You can enjoy the remaining days of summer and dive into crystal clear waters, or you could even take an early boat cruise and breathe in the calmness that you can't find anywhere else. Get serenaded by the ocean waves crashing into the shore, or just enjoy the creative and fun vibe that this property offers.
The owners take on it…

Amazing Chesapeake Bay views are abundant from this tasteful, newly constructed waterfront beach house! With totally unobstructed views of the water from nearly every room, your family can kick back and watch the waves roll through. The elegant-yet-casual vacation rental has 4 bedrooms (2 masters), 4.5 baths, 2 spacious living areas overlooking the Bay, and a deluxe kitchen. Take out a provided kayak and explore the shore or lounge on the private beach and enjoy peaceful reflection!
How to Get the Best Deal
This property is available only on Airbnb, VRBO, and Booking.com!
I found this property on Booking (.com) but looking at VRBO, it offers the same property only a bit cheaper. And by using this website, you can see that you'll get a huge savings of $84! Just wow!
Share This Post With Friends
---
3. The Beach House. Oceanfront & Sunrise Views!
Location: Saco, Maine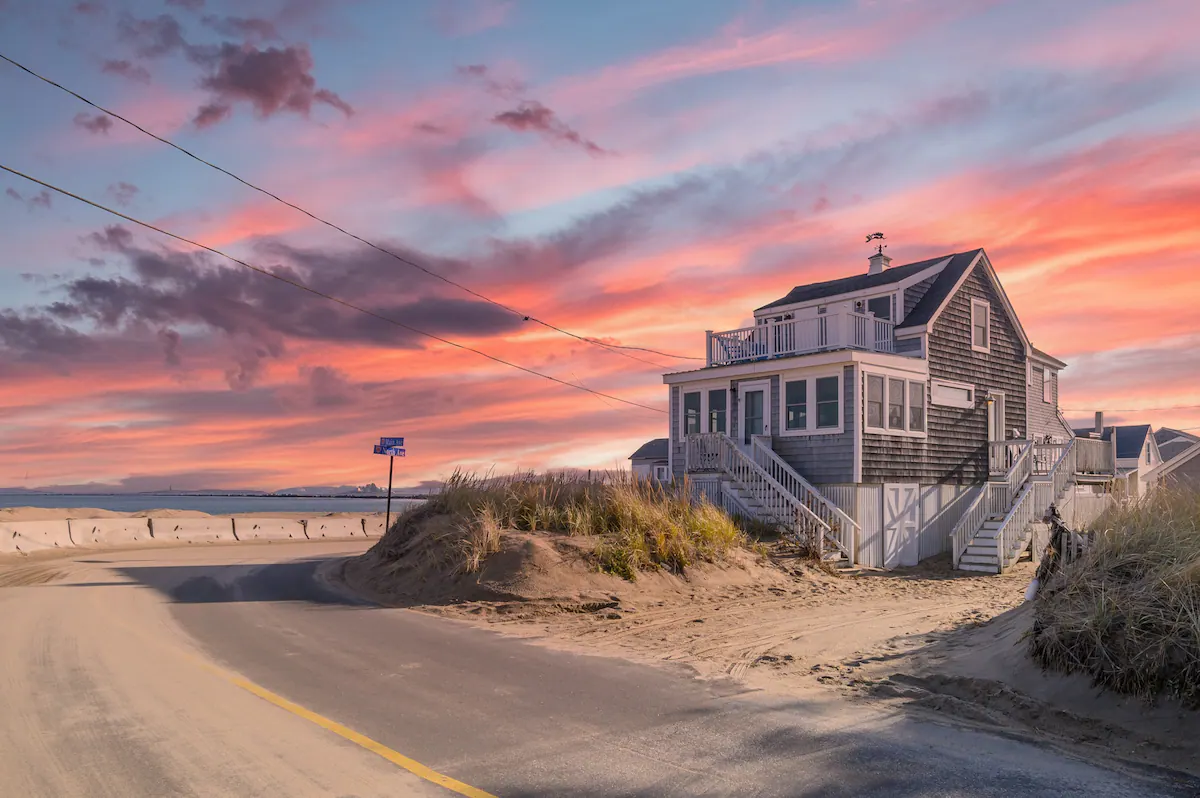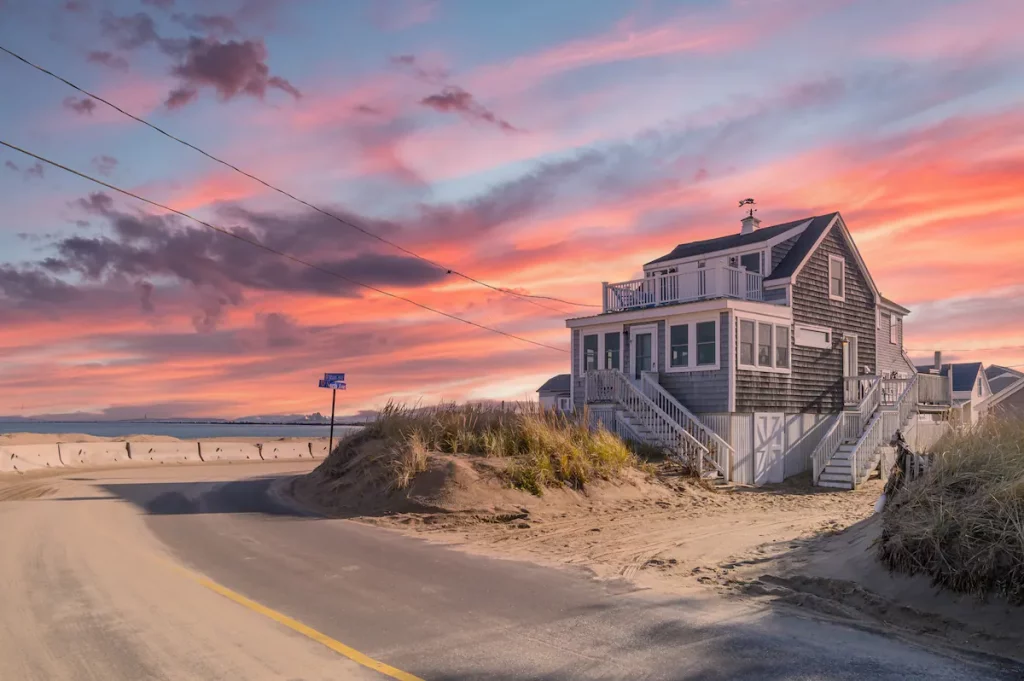 The sea is calling and with a property like this, you just can't help but heed its call. Spacious, stunning, and offering an unprecedented view of the ocean, this beach-front house in Saco is everything you'd want in a beach house and more. It features a stunning beach-themed décor, Queen size beds, hardwood floors, and amazing ocean views. And when you stay here, it's impossible to get bored. Here, you can enjoy miles of sandy beach, exciting fishing excursions, coastal hiking trails, and more.
The owners take on it…

2 min drive to the Saco River
10 min drive to Old Orchard Beach
30 min drive to Downtown Portland
This luxury two-bedroom home offers panoramic views of the water, rooms full of natural light, a gourmet kitchen, spacious living areas, and a private balcony. It's literally steps from the beach and just minutes from local shops and restaurants on the coast. The beautiful home boasts all-modern amenities for a five-star oceanfront getaway.
How to Get the Best Deal
You can rent it on both Airbnb and VRBO
When you try to book it directly for a week, you could pay over $1,000 less. Sweet, right?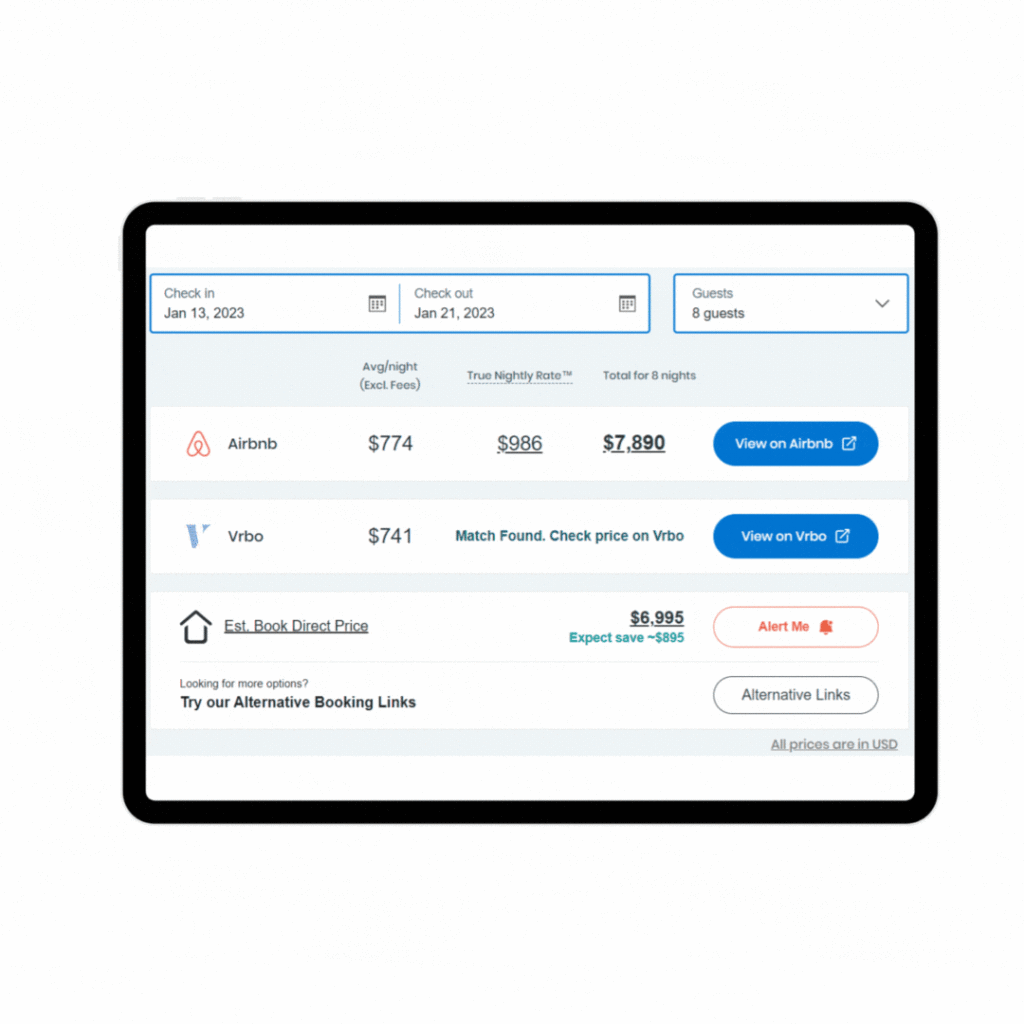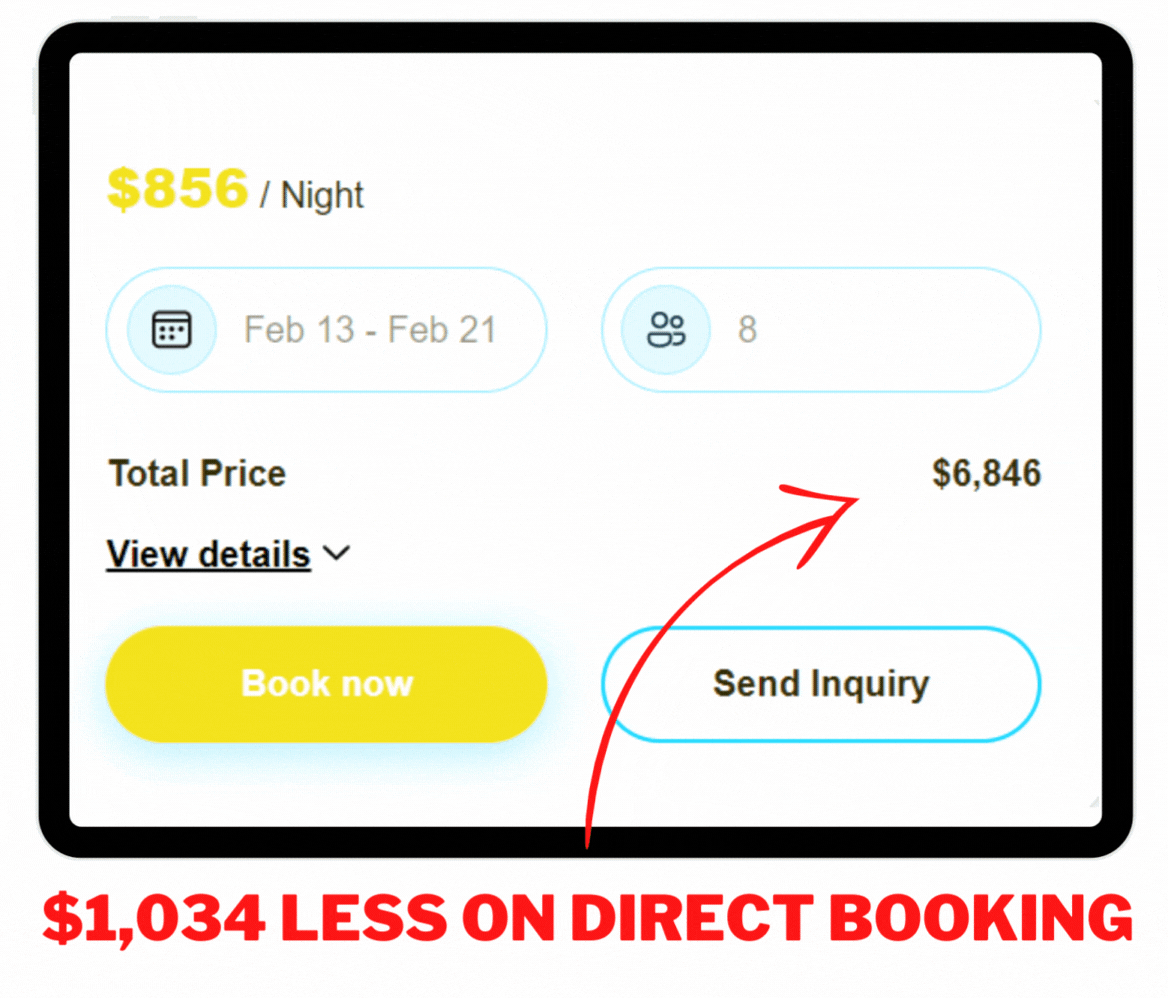 Share This Post With Friends
---
4. Golden Palm Luxury Villa
Location: St. Barts, St. Barts
Everything that you'd want in your dream beach house is here: heated infinity pool, spacious rooms, a Jacuzzi, and a myriad of fun activities that you'd be spoilt for choice! Your little patch of paradise, indeed! This Instagrammable beachfront property also fully air-conditioned, so you can cool down after a whole say of splishin' and splashin'!
The owners take on it…

Living in harmony with nature is easy at Golden Palm, a newly built home in the hills of St Jean. Large windows all around allow the tropical breezes and sunshine to waft through. Warm-toned woods, bronze accents, and botanical-print fabrics give everything a gentle dose of tropical flair.

With its generously sized and well appointed bedrooms, the luxury rental property is well suited for a group of friends traveling together, though it would also work for a family.

The living area, dining space, and kitchen are very welcoming, full of sunlight and decorated with calming, clear tones. The open-plan interior flows smoothly into the terrace, although the living room can be closed off with sliding glass doors and air-conditioned should you prefer. There are dining tables inside and out, each of which seats ten people. The terrace contains a heated infinity pool, Jacuzzi, and a good selection of lounge chairs.

The master bedroom is located to the right side of the living area and it has a bathtub as well as indoor and outdoor shower. Two more bedrooms are on the other side of the living room, and these can be connected to one another. The final two bedrooms are on the lower level, along with a fitness room. Each one has a European king bed and an en-suite bathroom.
How to Get the Best Deal
You could rent this property on Airbnb and VRBO.
For a booking of 7 nights, you could save $3,768! Imagine, if you don't know about this tool, that's a huge sum of money you could potentially lose.
Share This Post With Friends
---
5. Waimea Point Oceanfront House
Location: Haleiwa, Hawaii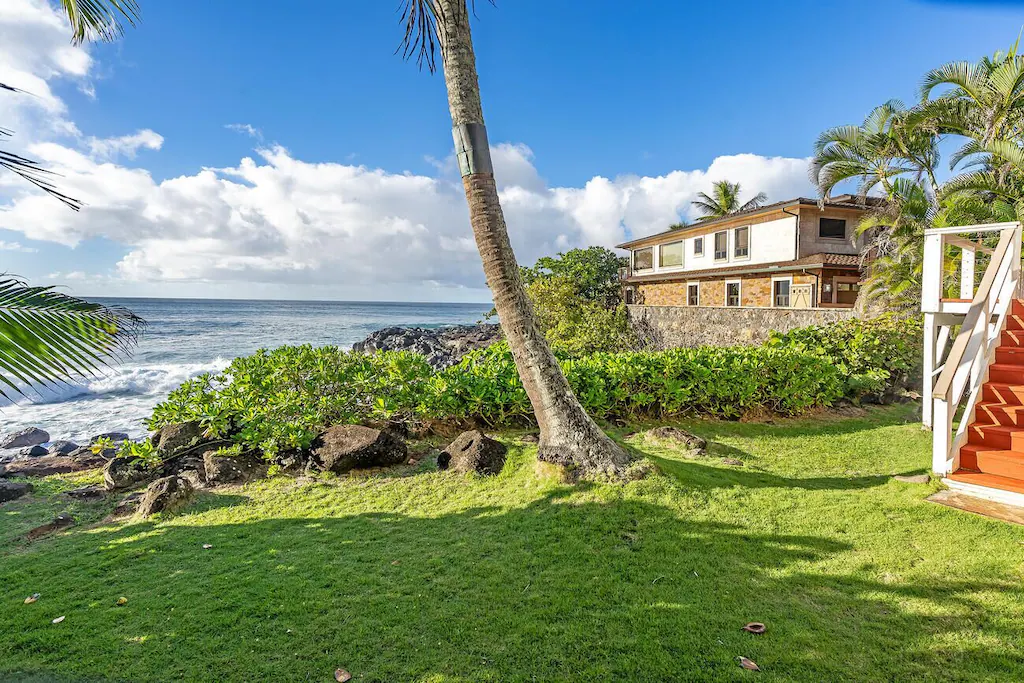 Boasting a balcony with gorgeous ocean views, a tranquil garden, and a relaxing terrace where you can enjoy the breeze and the ocean mist. this beach house sits at the heart of Haleiwa, 1.3 km from Ke Iki Beach. If you want to experience the Hawaiian tropical paradise that you have always dreamed about, this is the best place to go. The property has central air-conditioning, so you can relax comfortably after spending the day in the sun.
The owners take on it…

Our three-bedroom, 2 bathrooms home sleeps up to 6 people on 3 Queen size beds (the third bed is a very comfy futon). We are walking and biking distance to all the beaches and world-famous surf spots this area is known for. This house is located on oceanfront property, situated in the best location on the North Shore. The best scuba diving and snorkeling on this whole side of the island are right off the front of our home and walking distance away at Three Tables Beach and Sharks Cove. The waters off the front of our home are part of the protected Pupukea marine reserve, so the water is crystal clear, and marine life, including sea turtles, dolphins, whales, and schools of tropical fish are daily sightings. The master bedroom and bathroom with a Japanese soak tub overlook the ocean. Our house is perfect for 4 people but sleeps up to 6 people comfortably. If you like to cook, we have a fully stocked kitchen ready for you. Big decks along the entire entrance side and ocean front side of the home. Quiet neighborhood – all you hear is the waves. All the modern conveniences of home are included: high-end Kitchen appliances, free High-Speed Wifi, Cable TV, rain shower heads in the showers, BBQ on the ocean front deck, and an outdoor shower on the grass lawn overlooking the ocean, etc. Bath and beach towels and linens are provided. A private, electric gated parking lot for your car. Beautiful grass lawn and Hawaiian palms and plumeria surround the home. We are just a 45-minute drive from the Honolulu airport. The North Shore town of Haleiwa and Turtle Bay Resort is 10 minutes away by car. The Coffee Bean and Tea Leaf Cafe and Foodland supermarket are just a short walk, 1 block away. It's just a 3-minute walk to Waimea Bay Beach, Waimea State Park and Waterfall, and Three Tables Beach. Famous Pipeline and Sunset Beaches are just a mile away.
How to Get the Best Deal
This beach house is available only on VRBO. You could see that it's a bit on the expensive side.
But thankfully, I could use the Magic Search option seen on the main photo on the left side which would enable me to see if I could book it on other sites.
And look! It's available on Booking (.com)
Inputting the same dates and the same number of guests, I can finally check and compare the prices on Booking (.com) vs. on VRBO. The total price of accommodation is $5,627. That is $1,673 cheaper!
Share This Post With Friends
---
6. Cozy Oceanfront Yurt
Location: Bay City, Oregon
Spectacular ocean views, amazing glamping experience, beautifully rustic yurt, what could be better, am I right? I'll tell you what: your very own private hot tub! You can relax and soothe your tired muscles after splashing in the water and getting some fun under the sun. Or have a barbecue with friends and family while taking in the gorgeous 180-degree views that Oregon Coast has to offer!
The owners take on it…

Enjoy your own private space in this beautiful, large, 525 square foot yurt with luxury amenities! Located on the edge of large bay with 180 degree view, this Bay City vacation rental provides a truly unique Oregon Coast glamping experience!

Sleep in romantic queen-sized handmade alder bed beneath clear a dome to watch the moon and starry night pass overhead. A futon in living room provides room for two more sleepers. This rental is dog-friendly, though please note there is a nightly pet fee and a weight limit of 25 pounds.

Movies and games provided for fun and family entertainment! The kitchen boasts an oak pub table, fine dishes, and tableware so you can prepare home-cooked meals. The bathroom includes shower with snowy towels and comfy robes. Picnic at outside table, build a fire in fire pit at edge of Bay, barbecue a steak, roast smores, and watch the sunset cascade radiating light across the Bay. Keep an eye out for visiting heron and egrets as you enjoy breakfast outside the doors. If you are a fisherman, the owners don't mind if you bring your boat.

In the surrounding area, recreation opportunities are endless: there's an 18-hole golf course ten minutes away, or take the kids to the Tillamook Cheese Factory for ice cream. Travel the scenic Cape Mears Loop to see the historic light house, the famous Octopus Tree, or visit the nearby sandy beaches. The Tillamook Air Museum is one of the largest wooden structures in the world and houses hundreds of vintage airplanes. And, of course, there's great hiking and beach combing galore all around you!
How to Get the Best Deal
This property is available on both Airbnb and VRBO
You'll save $176 for a rent of one week in this beautiful oceanfront yurt.
Share This Post With Friends
---
7. Niantic Bay Beach House
Location: East Lyme, Connecticut
Wake up to gorgeous mornings in this modern minimalist property. It features huge windows that let you bask in the picturesque ocean view while enjoying your morning Joe.

Dreaming of some fun sand and water activities? You're spoilt for options with this property. Bring your kayak, paddle boards, and canoes, or enjoy intimate fishing or bike ride moments with your loved ones. This beach house has a total of 6 spacious rooms in its 2-story design so you can bring your family and friends to soak up the sun with you!
The owners take on it…

This Spectacular Waterfront Beach House gives you the true New England experience, with Niantic Bay in the backyard! The home is a single-family, two-story design. Our brand-new furnished 3 bedroom and 2 bathroom house even allow a group of 12 relatives to live comfortably and lavishly! SLEEPS 12 ADULTS IN BEDS! Maximum 12 occupancies!
Your own private beach/boardwalk is nestled right "IN-BETWEEN" Niantic Bay Yacht Club and Attawan Beach (each less than a 7-minute walk), directly down our waterfront steps/boardwalk. McCook's Beach/McCook's Point Park and Crescent Beach are also less than a half-mile walk.
Great area for walks and bike rides. Surf fishing on shore at night. Bring your kayaks, canoes, and paddle boards.
How to Get the Best Deal
This property is available on both Airbnb and VRBO.
We tried checking in for one week and for a maximum number of guests. And we got saved $707!
Share This Post With Friends
---
8. Sapphire Beachfront Condo
Location: St. Thomas, United States Virgin Islands
Every day is just another day in paradise with this beachfront condo unit. You'll shore-ly have a great time with the property's balcony that gives you an unparalleled view of the ocean and gorgeous sunsets. The property also offers all the comforts of home and unlimited fun time in the sun! You can't go wrong with this newly renovated beachfront property that's complete with the basic amenities and even more!
The owners take on it…

The condo has brand new European Kitchen Cabinets, New Bathroom and brand new Brazilian Floor Tiles.

Imagine the soft sound of the Caribbean sea, and its warm breeze caressing your face, lying on the sandy beach looking out on to the sapphire waters, you are in paradise! Take a swim in the sea, or at the pool, just steps from your condo. Go sight seeing, snorkeling, or water skiing, or just lie on the beach.

Sapphire Beach is one of the most beautiful and relaxing beaches in the Caribbean. From the condo, you have a breathtaking view of the waters and the beach. Inside, you have all the comforts of a one bedroom apartment. The sleeping area can be enclosed by wooden partitions, leading into a comfortable living area with a full sized kitchen.

The resort houses two bars and two restaurants for your convenience. A quick drive to nearby Red Hook links you to ferries to the British Virgin Islands and St. John.
How to Get the Best Deal
You can rent this wonderful beachfront oasis only on both Airbnb and VRBO.
A 10-day vacation in this property using the lower-priced rental site saves me $679!
Share This Post With Friends
---
9. Kembali Villa
Location: Kubutambahan, Bali
A gorgeous view of the ocean while soaking in Bali paradise vibes? Where do we sign up? Enjoy world-class amenities and picture-perfect views here in this newly-remodeled beachfront house. You can also enjoy various water adventures and activities right out the back door. And when you're done for the day, you can marvel at the gorgeous sunset while cooling off in this fully air-conditioned property.
The owners take on it…

'Kembali' means 'welcome and come back', you will fall under the charm of our villa while discovering an authentic Bali, far from the crowd and the South agitation, with some of the most beautiful landscapes on the island: rice terrace fields, volcano calderas, water falls, Lovina's relaxed rhythm of life, Natural Reserves from the West of the island or the wild side of the East coast to Amed.
How to Get the Best Deal
This is available on both Airbnb and VRBO.
This oceanfront home could get you a savings of $87 for a stay of 7 days if you book it directly to the owner!
Share This Post With Friends
---
* BONUS PROPERTY *
10. Bella Vista – Ocean-to-River Estate On The Beach
Location: Fort Pierce, Florida
Everything that you'd want in your dream beach house is here: a private swimming pool, spacious rooms, lovely cabana with lounge chairs, and a myriad of fun activities that you'd be spoilt for choice! Your little patch of paradise, indeed! And here's more: with this luxurious beach getaway, you get your very own private to one of the most stunning beaches in the US!
The owners take on it…

HAVE IT ALL — Live/Work/Play/Relax on your own private beach—and at your very own private luxury ocean-to-river beach house. Get far away from the crowds … and get closer to those who matter the most. Less than an hour away from Palm Beach International Airport, arrive at your own 5-star oceanfront palace on a remote barrier island on the FL Treasure Coast located in Fort Pierce FL, a tranquil oasis, safely isolated worlds away from the troubles of the day. Need to connect online? Enjoy a rare luxury among vacation rentals: Gigabit-speed commercial-grade secure WiFi internet so fast, you can stream 4K movies at night. And the signal is so powerful, you can work from outside, while on the beach.
How to Get the Best Deal
This jaw-dropping beach estate is available on VRBO.
Rent this property for a total of one week with a group of 5 people and expect to save $709.
Share This Post With Friends
---
Similar Articles
If you liked this article, you may like these articles too.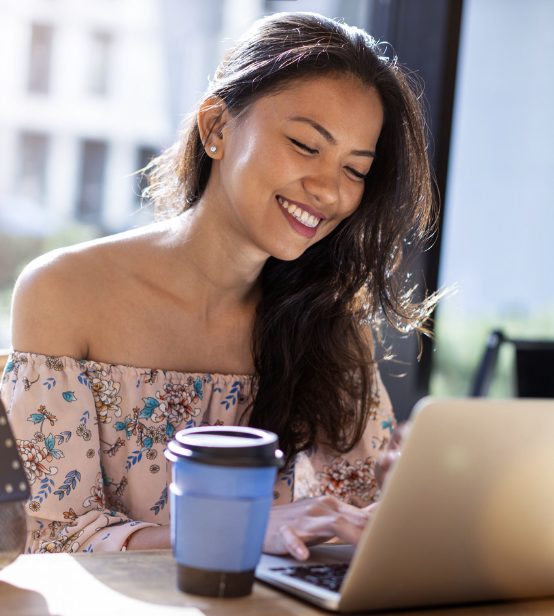 Tiffany Martin, a 33-year-old travel content contributor based in Manila, Philippines, brings the world's beauty to your screen through her writing, narrating the best places in the globe with a charm that resonates.
Aside from being a travel writer and an all-around digital nomad, she's also a wifey, a mom to two girls, and a licensed educator. During her downtime, she loves traveling, cooking, and playing with her energetic Dachshund and cuddly Golden Malinois.